When it comes to a helmet for hockey, it's a no-brainer that you will need one, since hockey is a full-contact sport. It's not just crashing into players that you'll have to worry about either as you can get a concussion from a fall or from bouncing off the wall.
As an Avantlink and Amazon Associate, we earn from qualifying purchases. Disclosure Statement.
Just like any other kind of helmet there are very cheap ones, then there are others that are ridiculously expensive. Why is that? Is it just a marketing scam? And, just to make it even more confusing is that the cheap ones and the expensive ones are equally safety certified.
JUMP TO :
How Much Does A Hockey Helmet Cost?
The Quality Difference In Hockey Helmets
Hockey Helmets in Each Tier
All Things Considered

How Much Does A Hockey Helmet Cost?
The marketing and price structure in hockey helmets is often a curious thing. You can look at two, nearly identical hockey helmets and see a drastic price difference. What it all boils down to is safety and the materials used in the manufacture of the hockey helmet.
Not all hockey helmets are created equally and that holds true no matter what they look like. A premium product in this case usually indicates a premium result, but not always and you'll have to be on the lookout for that as well.
So, as you can see, answering the question of how much does a hockey helmet cost, requires an understanding of what they're made of.
The Quality Difference In Hockey Helmets
Unless you understand the subtle nuances of touching one type of plastic over another type of plastic, you're probably not going to be able to tell the difference in two different hockey helmets that look identical, except for their respective price tags.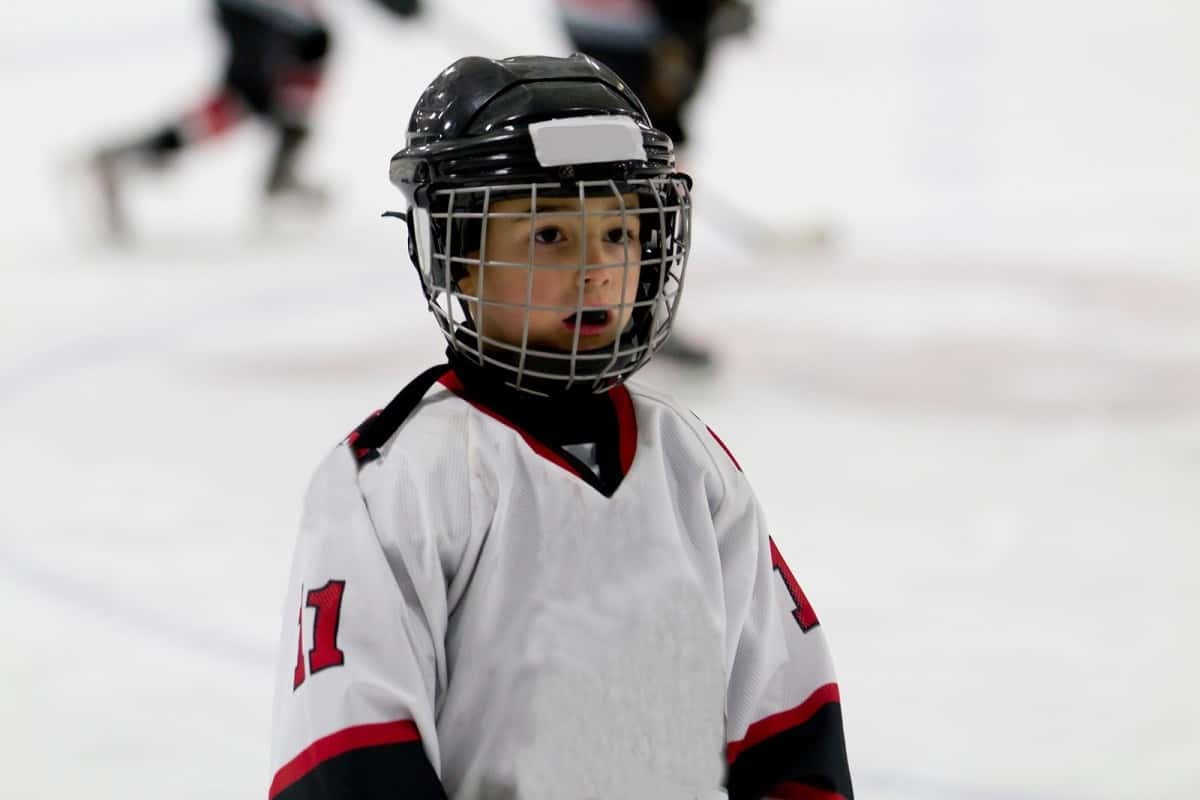 However, there are differences, and the best way to find those differences is to do your research online prior to buying. If you're buying a hockey helmet locally, write down the brands and models, then do your research. The reality is, the differences can be crucial.
IMPORTANT: How to Know Your Helmet Size
Low-End Hockey Helmets
Standard expanded polypropylene (EPP) foam
Plastic shell (low-density polyethylene) with vinyl nitrile
Fixed ear guards
Cheaper material in the straps that lacks poly-cotton webbing
Mid-Tier Hockey Helmets
Higher density PE (polyethylene) plastic shells
No-tool adjustment features for quick and simple fitting
VN or gel-based foams
Premium Hockey Helmets
Gel-based foams
Impact-resistant technology
Liquid filled bladders
High level of comfort
It's easy to see the fundamental differences in the different groups of hockey helmets, typically according to price. Your low-end helmets are going to run $25 to $100, while your mid-tier will run $100 to $200 and your premium helmets are going to run $250 and up.
Hockey Helmets in Each Tier
There's a pretty good selection of hockey helmets at any price point. Just be aware that the cheaper alternatives are really meant for backyard play or teaching one of your kids how to play. The middle tier is for local leagues and anything up to the collegiate level.
This content was originally published on headsdontbounce.com. If it appears on another website, it is a violation of the copyright owned by headsdontbounce.com.
RECOMMENDED: How Long Are Hockey Helmets Good For
After that, you should be eyeballing premium hockey helmets for college, semi-pro, and professional leagues. At that level of play, the premium features that are designed to increase your safety will be challenged on a consistent basis.
Low-End Hockey Helmets
---
---
Mid-Tier Hockey Helmets
---
---
Premium Hockey Helmets
---
---
You can see, as you move up the price-scale, the overall helmet quality improves exponentially. That includes materials and the degree of safety offered with better fits and better protective material.
SUGGESTED: What Is The Most Protective Hockey Helmet
All Things Considered
When considering how much a hockey helmet costs, this is one of those occasions where you generally get what you pay for. There are, of course, exceptions to every rule, including with so-called, premium hockey helmets. However, so long as you know what to look for, you can tell the difference between what's quality and what is nothing more than an expensive price tag.
The primary focus is safety and the rule of thumb is, the better the material, the safer you're going to be.
You Might Also Like:

– Last NHL Player to Not Wear a Helmet
– Hockey Helmet Vs Football Helmet
– What To Do With Expired Helmets?
– Can You Wear A Hockey Helmet For Lacrosse?