Headsdontbounce.com came about as a means to convey information about helmets to encourage the wearing of protective headgear in all kinds of sports and recreational activities.
I personally know two people who were involved in accidents while not wearing a helmet. Fortunately, they weren't killed, although maybe they would be better off if they had been. They both suffered head trauma and now need the assistance of a family member to do the very basic of things like dressing and feeding them, and even going to the bathroom. If only they hadn't been so cocky in their late teens.
It's important to note that headsdontbounce.com is not a review site. We do not review helmets of any kind, however, we do have some articles with helmet links to vendors yet we make no recommendation as to which helmet you should purchase. The links are there, in many cases, to make your search for your ideal helmet a little easier.
We aim to provide answers to the questions that people commonly ask, like, 'How do..', 'Can I..', When should I..', 'How often..', and every other conceivable question that you may have. If you have a question that we don't already cover, shoot your question our way on our Contact form and we'll do our best to provide the answer.
While many of the posts/articles on the site are written by myself, subjects that require a particular type of expertise and/or real-life experience are passed on to our team of writers who are experts in their own fields.
As to whether you should or shouldn't wear a helmet, I'm all for freedom of choice and your right to choose to wear a helmet or not. That said, I would call myself an advocate of common sense rather than an advocate of helmet laws. In the absence of helmet laws, I believe that common sense would tell me that wearing a helmet is a good idea.
For example, if your head were to hit the road or slam into a brick wall at 20 mph, or even 5 mph, do you think that a helmet could possibly lessen the pain? Common sense tells me that wearing a helmet would lessen the pain, so why not just wear it? What if that was your brother, your mother, or your five-year-old child that hit the brick wall? You should encourage them to wear a helmet.
In recent years, I've become very interested in the new helmet safety technologies that have evolved since MIPS hit the market more than a decade ago. There's POC SPIN, Bontraeger's WaveCel, Koroyd, and Leatt's 360 Turbine Technology just to name a few, which are making amazing inroads into helmet safety that wouldn't have been imagined 20 years ago.
Another great thing for helmet safety has been Virginia Tech's helmet safety ratings which has certainly brought helmet safety to the attention of helmet manufacturers as they scamper to make the top rankings on the VT Helmet Ratings lists.
Even with these new technological advances, the price of a basic MIPS road bike helmet can be had for around $50 or less, which is very reasonable. And helmets without MIPS are still safe providing they have the relevant safety certification for your country – CPSC, EN, AU/NZS, these are all good safety standards that are available today in a regular helmet. So, there's no excuse not to wear a helmet to protect the only brain you've got.
Ken Barclay
5325 Elkhorn Blvd #1122
Sacramento, CA 95842-2526
United States

Fax: (916) 349-1620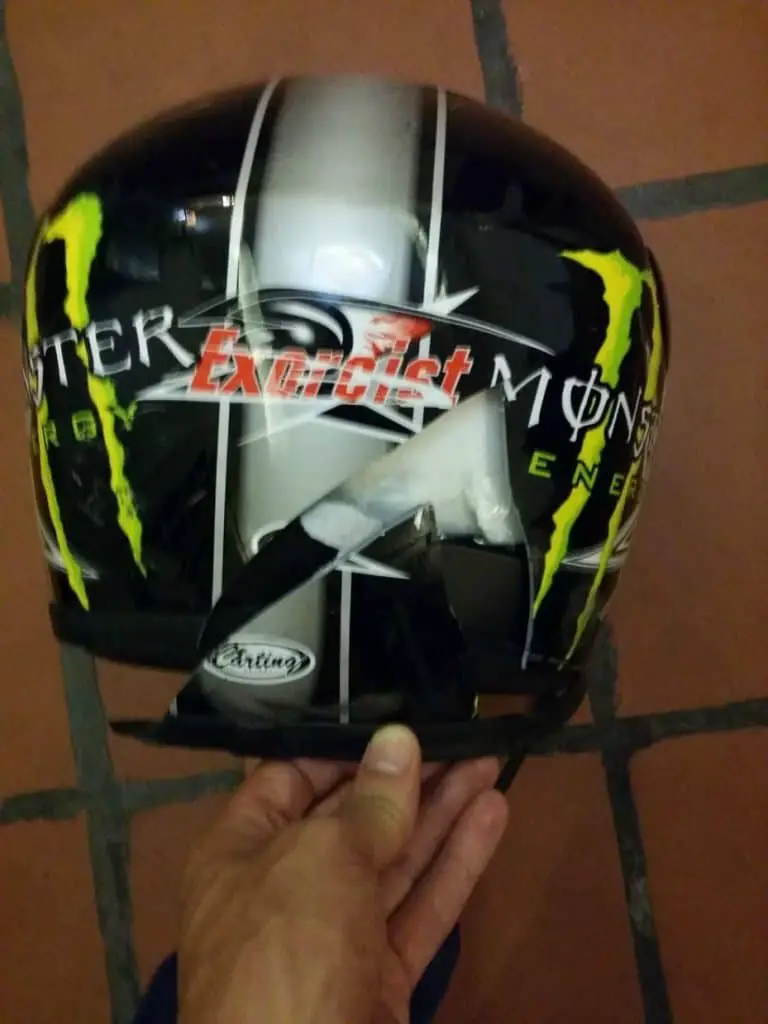 Here's that image again.
A photo of a friend's helmet that he threw on the floor.
Fortunately, his head wasn't inside it at the time.