My name is Ken Barclay. As the owner of headsdontbounce.com, I am the webmaster, editor-in-chief, as well as the Chief Cook and Bottle Washer. Most of the posts/articles on the site are written by myself and some are written by others with more knowledge of various subjects than I. Hence, all posts are credited to 'Editorial Team'.
I am a semi-retired IT guy, former business owner and business manager.
I would call myself an advocate of common sense rather than an advocate of helmet laws. In the absence of helmet laws, I believe that common sense would tell me that wearing a helmet is a good idea.
Just to expand on that, if your head were to hit the road or slam into a brick wall at 20 mph or 20 kph, even 5 mph/kph, do you think that a helmet could possibly lessen the pain and injury? Common sense tells me that wearing a helmet would lessen the chance of injury, so why not just wear it? What if that was your brother, mother, or five-year-old child that hit the brick wall? You should encourage them to wear a helmet.
Sadly, common sense isn't all that common anymore. 🙁
My wife rides a small motor scooter, and despite the helmet law, she will often ride without a helmet (no common sense – she married me didn't she). What she and many others who insist it is their right to choose whether to wear a helmet or not don't consider is that if the unthinkable were to happen, who would be the ones to suffer? It would be me and our children who would either have to live the rest of our lives without her, or take care of her in her vegetative state for the remainder of her days.
These advocates of freedom of choice are selfish and fail to consider how the consequences of their bad choices will affect others in the event of an accident.
I lived in Cambodia from the late nineties for 20 years. In the early 2000's I taught English for a few years. At that time there were no motorcycle helmet laws in Cambodia, but the government was pushing to bring in a law making it compulsory to wear a helmet when riding a motorcycle. Much of the public thought that wearing a helmet was not necessary and were very much against the new law.
After the law was introduced, motorcyclists not wearing a helmet were fined 5000 riel (equivalent of $1.25usd). I would often remind my young students to be sure to wear a helmet when riding their motorcycle home. They would scoff and grumble about the helmet law. When I asked students whether they realized what could happen if they didn't wear a helmet, their own head safety was the last thing on their mind, "Yes" they would reply, "the police will catch us and we have to pay 5000 riel".
Fortunately, nowadays it's almost second nature for most motorcyclists to put a helmet on before they go anywhere. However, it's not unusual to see young people still flouting the law.
I personally know two people who were involved in an accident while not wearing a helmet. Fortunately, they weren't killed, although maybe they would be better off if they had been. They both suffered head trauma and now need the assistance of a family member to do the very basic of things like dressing and feeding them, and even going to the bathroom. If only they hadn't been so cocky in their late teens.
Moving on . . .
In recent years I've become very interested in the new helmet safety technologies that have evolved since MIPS hit the market more than a decade ago. There's POC SPIN, Bontraeger's WaveCel, Koroyd, and Leatt's 360 Turbine Technology just to name a few, which are making amazing inroads into helmet safety that wouldn't have been imagined 20 years ago.
Another great thing for helmet safety has been Virginia Tech's helmet safety ratings which has certainly brought helmet safety to the attention of helmet manufacturers as they scamper to make the top rankings on the VT Helmet Ratings lists.
Even with these new technological advances, the price of a basic MIPS road bike helmet can be had for around $50, which is very reasonable. And helmets without MIPS are still safe providing they have the relevant safety certification for your country – CPSC, EN, AU/NZS, these are all good safety standards that are available today in your standard helmet. So, there's no excuse not to wear a helmet to protect the only brain you've got.
Anyway, I'll finish there. If you buy something from following a link from this website, we possibly get a small commission which helps to make this all worthwhile. Thank you!
And, don't forget, heads don't bounce. Be sure to wear a helmet!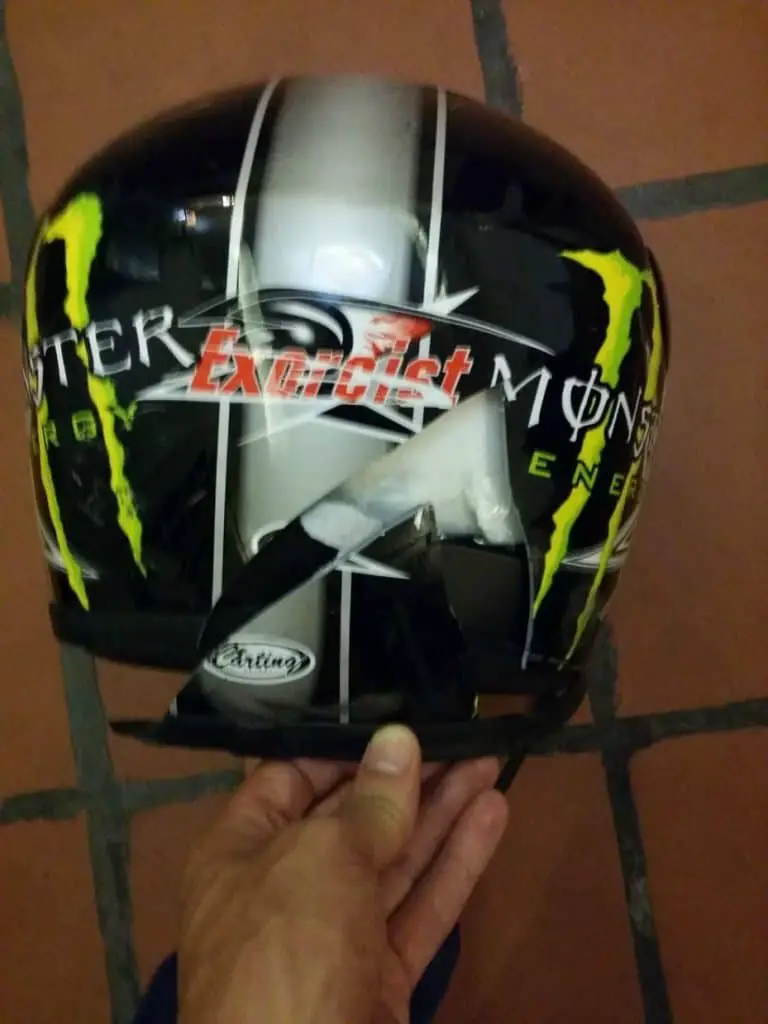 Here's that image again.
A photo of a friend's helmet that he threw on the floor.
Fortunately his head wasn't inside it at the time.