How To Know Your Helmet Size
There are many important considerations to make when buying a helmet, like color and style for instance. However, as important as color and style are, there is one thing that is not negotiable and that is how well the helmet fits.
If it's too tight, it will be uncomfortable and may exacerbate potential injuries if you have an accident. If it's too loose, then it may fall off in an accident, or move so far that it doesn't cover your head on impact with the ground.
Page Content
Disclosure: As an Avantlink and Amazon Associate, we earn from qualifying purchases. Disclosure Statement.
So, it is of utmost importance to have a helmet that fits properly. This brings us to the dilemma of how to know your helmet size.
How Do I Know My Helmet Size?
1. Grab yourself a tape measure. One like a Tailor uses to measure your waist.
2. You need to measure where the helmet will sit on your head. That is just above the ears, and about 2 centimeters (about 1 inch) above your eyebrows.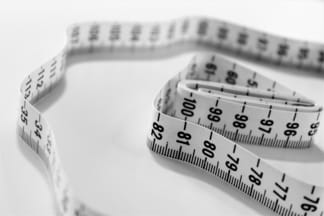 3. If you're alone, do it in front of a mirror, and measure at your forehead so you can see. Better still, get someone to help you, just to be sure.
4. If possible, note the measurement in centimeters and inches as some brand helmets will have only one or the other. Sometimes they have both. And sometimes they just have S, M, L.
5. Measure your head size two or three times to be sure you have the correct measurement.
RELATED: How Tight Should A Motorcycle Helmet Be?
But, what if I don't have a tape measure? You can just use a piece of string or even a USB cable or similar, then use a ruler to measure the length of the string.
IMPORTANT: When you are looking for a suitable helmet, you will notice that different helmet brands will show different measurements for different sizes. For example, one brand may say that M (medium) fits a head that measures 58-59 cm. While another brand could say that M fits 55-58 cm. So, be sure to look for the size in centimeters (or inches) rather than look for size M.
And, it is also a good idea to check and confirm the size of the specific brand that you intend to buy. See our post 'Bike Helmet Size Charts' where we list the sizes for most major bicycle helmet brands.
At the end of this article, we have included some video how-tos for measuring and fitting different types of helmets (motorcycle, ski/snowboard, equestrian, and more) even though the same principles apply to all helmets.
Getting The Right Fit
Assuming you measured your head correctly and checked for the right size on the Helmet Size Chart, the helmet that you receive should be very close to a perfect fit for your head. I say 'very close' because there are some adjustments that you might need to make to customize the fit to suit your head shape and size. This is where the 'adjustable fit systems' and 'padding' comes in.
This content was originally published on headsdontbounce.com. If it appears on another website, it is a violation of the copyright owned by headsdontbounce.com.
Before you start fiddling with the adjuster and/or adding padding, it is important to keep in mind what it is that you are aiming for, and that is a helmet that fits securely but not so tight that it is not comfortable. Also, when adding padding, you should only need a small amount. If you need a lot of padding then your helmet is probably too big!
SUGGESTED: How To Wear A Bike Helmet
Another thing to consider before you start customizing the helmet fit is your hair style. If you have long hair or thick hair, you need to wear your hair the way that you would normally be wearing it while riding. A ponytail, a hair bun, a bandana, headband, or any other hair-wear needs to be incorporated into your helmet fitting customization.
Adjustable Fitting Systems
Almost all modern bicycle helmets have an adjustable fitting system built-in to them. Unfortunately, there are far too many different systems to go through here except to say that they mainly consist of a dial at the back of the helmet which you can easily turn to adjust the tightness of the fit around your head.
When you unbox your new helmet, inside the box should be an instruction sheet to guide you through the system that your helmet uses and how to adjust it accordingly. The foam pads will help you achieve a perfect fit giving your helmet that comfy, snug feel which will allow you to wear the helmet for extended periods without it becoming uncomfortable.
Now, for adjusting the helmet using the built-in fitting system, adding foam pads and adjusting the chin straps to give you a customized fit, I ask you to watch these two videos to see for yourself how simple it can be. Both videos are clear in what to do, so long as you don't mind a British accent. (Definitely worth a watch).
Your perfectly fitted helmet should not wobble around when you shake your head around. It shouldn't move if you bend over, or nod your head backward and forwards. At the same time, there should be no pain or discomfort from your helmet.
Safety Certification For Helmets
It is illegal to sell or import helmets into the US, Europe and Australia that do not comply with that country's Safety Standards (Read more about 'Bike Helmet Certification' here). Just take a look inside the helmet for the Certification sticker, it will be there. If it's not, then don't buy it.
We have included below the various standards applicable to each type of helmet.
Head Measuring Video Guides
Be sure to look for the Safety Standards relevant to your country.
Bicycle Helmets
Applicable Safety Standards: CPSC 1203, ASTM F1447 , EN-1078, AS/NZS:2063
Link to our Bike Helmet Size Chart.
---
Mountain Bike Helmets
Applicable Safety Standards: CPSC 1203, ASTM F1447 , EN-1078, AS/NZS:2063
Downhill bikes ASTM F1952-15
MTB helmet sizes can also be found on our Bike Helmet Size Chart.
---
BMX Helmets
Applicable Safety Standards: ASTM F2032, AS/NZS:2063
BMX helmet sizes can also be found on our Bike Helmet Size Chart.
---
Equestrian Helmets
Applicable Safety Standards: ASTM F1163, PAS015:2011, VG1 01.040 2014-12, ARB HS 2012
---
Football Helmets
Applicable Safety Standards: NOCSAE ND002, ASTM F717
---
Hockey Helmets
Applicable Safety Standards: NOCSAE ND030; ASTM F1045
---
Motorcycle Helmets
Applicable Safety Standards: DOT FMVSS 218, ECE 22.05, AS/NZS 1698
---
Ski/snowboard Helmets
Applicable Safety Standards: ASTM F2040, EN 1077A/B, CSA Z263.1
Link to our Snow Helmet Size Chart.
---
If you liked this post, why not share it with your friends.