For some people, finding an oversized helmet that fits their oversized head, is like winning the lottery. Sometimes you get close, but not quite close enough, and other times it's just never going to fit even if you were to cover your head with grease or vaseline.
In an attempt to make life a little better for those who are looking for a large motorcycle helmet, we offer an ever-updating list of the best motorcycle helmets for big heads that are greater in size than 64 cm (24¼"). That would be 3X-Large or bigger.
Shop page of Extra-Large Motorcycle Helmets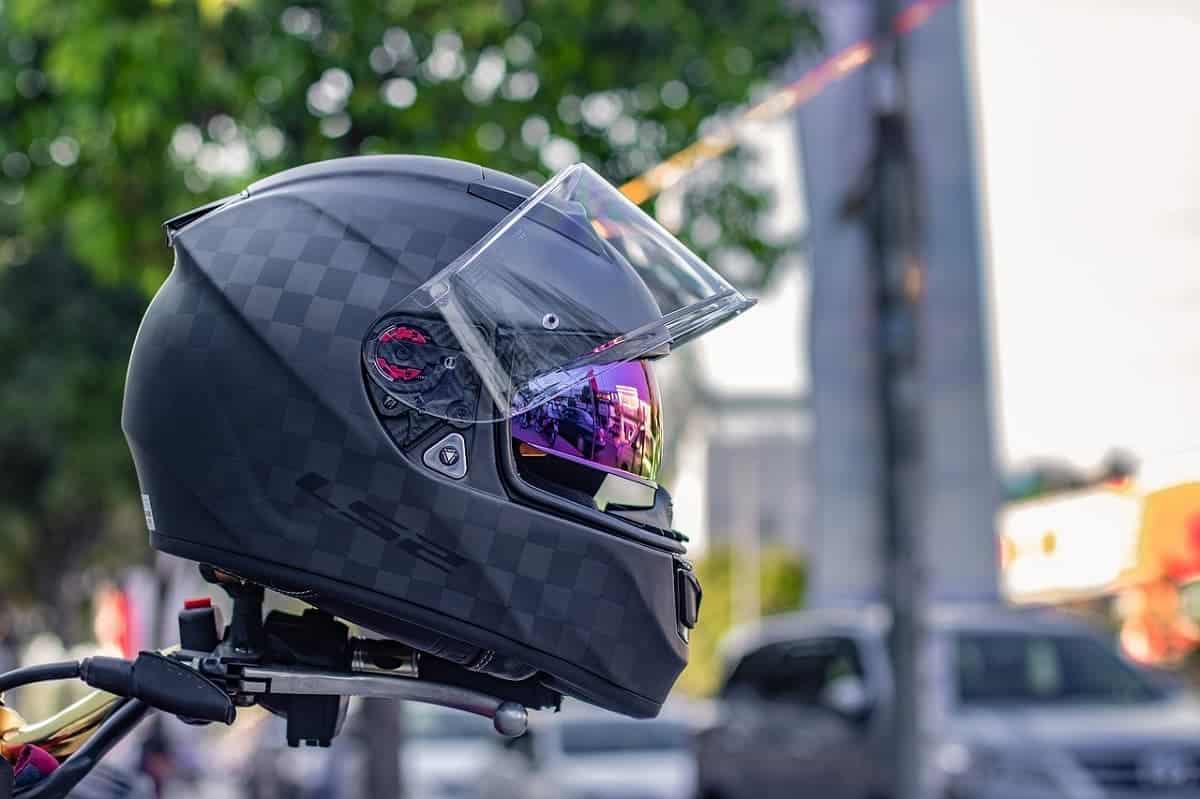 As an Avantlink and Amazon Associate, we earn from qualifying purchases. Disclosure Statement.
Best Motorcycle Helmets For Big Heads
If you're interested in reading about motorcycle helmets for big heads, then you're in the right place.
On the other hand, if you're looking to purchase one of the best motorcycle helmets for big heads, then you'd be better off checking out our Large Motorcycle helmets shop page where you can find several 5XL motorcycle helmets, as well as 4XL and 3XL motorcycle helmets.
Recently, HeadsDontBounce has partnered with Revzilla to bring to you a larger selection of helmets from the best motorcycle helmet brands from the guys at Revzilla who really know their stuff. Swing over to the Shop page linked above to check out those extra large helmets.
Extra large motorcycle helmets are available in all types of helmets, so you should have no problem finding a helmet to fit your head in a Full-Face, Open-Face, Half-Shell, Modular, or Off-Road style.
SUGGESTED: DOT Approved German Style Motorcycle Helmets
There are a few things you need to consider before deciding which helmet you want to buy. Of course, there's always the price that should be within your budget, but there's more to it than buying a 4XL motorcycle helmet just because your friend's 4XL helmet fits perfectly.
Shop Large Motorcycle Helmets >>>>>>
6XL Motorcycle Helmets
Finding a 6XL motorcycle helmet is like looking for hen's teeth. Vega used to have a 6XL motorcycle helmet that went by the name of Ultra Big Head, but it has become unavailable. The last time I checked, it was no longer mentioned on their website, so possibly it is no more.
If a 6XL helmet becomes available in the future, we will put it right here. In the meantime, if you need a helmet larger than the 5XL, you could possibly contact HJC and ask if they can do a custom job for you.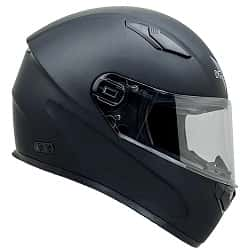 The no longer available Vega Ultra Big Head Motorcycle Helmet.
IMPORTANT: How to Know Your Helmet Size
Best 5XL Motorcycle Helmets
There is quite a good selection of 5XL motorcycle helmets available in Full-Face, Modular, Off-Road, and German Style half-shell. HJC clearly dominates in the 5X-Large size range which is probably why they are the number 1 brand in North America.
All of the helmets that we have listed are DOT FMVSS-218 approved, and those that are ECE certified will be shown in the table where applicable.
You will also find that most Full-Face and Modular helmets these days either come equipped with a pinlock or are pinlock ready.
The HJC i90 modular helmet offers exceptional value for a flip-up helmet. Available up to 5X-Large it makes for a great choice for riders looking for a larger helmet. This DOT-approved helmet has a centered, single button, one-touch flip front release system, and is even prescription glasses friendly. The liner and cheek pads are completely removable and washable.
Both the HJC i90 and HJC C91 are designed to accept the Smart HJC 10B or 20B Bluetooth communication system which was developed in conjunction with Sena (the Bluetooth experts).
The 5X-Large helmets shown below are just a glimpse of what is currently available. You need to head over to our Large Size Motorcycle Helmets page to see the full range of 5X-Large motorcycle helmets of various types and brands.
Shop 5XL motorcycle helmets >>>>>>>>
Best 4XL Motorcycle Helmets
There are plenty of helmet brands and types to choose from in the 4XL size range. Usually, 4XL motorcycle helmets are readily available, and quite easy to come by.
On our Shop Page, you will find Full Face, Modular, Half Shell, 3/4 shell, and Off-Road 4XL helmets from a variety of helmet manufacturers in a range of prices.
Daytona has a wide range of helmets for the motorcyclist with a larger head. If you ever wanted to make a statement as a biker, then wearing a Daytona helmet would be more than any words could ever possibly say.
Daytona Helmets boast the lightest DOT approved motorcycle helmets, as well as the smallest DOT 1/2 shell helmet. For the larger head size we're looking for the 3X-Large and the 4X-Large. Be sure to measure your head size before ordering as Daytona's sizing is a little different to other brands!
A Daytona Modular Glide is a great helmet for those who want the option of a full-face as well as an open-face at the click of a button. Modular helmets are super convenient when you want to chat with your buddy, take a quick drink, or fill the gas tank without needing to remove your helmet. Not to forget the Daytona Glide Modular is affordable and DOT approved!
The 4X-Large helmets shown below are just a teaser of what is currently available. You need to head over to our Large Size Motorcycle Helmets page to see the full range of 4X-Large motorcycle helmets of various types and brands.
Shop 4XL motorcycle helmets >>>>>>>>
Best 3XL Motorcycle Helmets
As we move into the 3XL size range, the number of the best motorcycle helmet brands and models grows exponentially, giving the buyer a huge range to choose from.
On our Shop Page, there is even a Bell Off-Road helmet with MIPS. For those who don't know, MIPS (Multi-directional Impact Protection System) allows the helmet to rotate slightly during an impact. This rotation displaces the impact energy resulting in fewer head injuries.
The Nolan N100-5 Modular Helmet's ultrawide face shield gives a clearer field of vision while also removing that closed-in feeling you get with some helmets. It is fully DOT certified and has speaker pockets ready for you to install your choice of Bluetooth speakers.
The polycarbonate shell is aerodynamically designed for reduced noise and less drag on the rider's head. The flip-front button is easily handled while wearing gloves, and the locking system is lined for secure closure.
The 3X-Large helmets shown below are just a sneak preview of what is currently available. You need to head over to our Large Size Motorcycle Helmets page to see the full range of 3X-Large motorcycle helmets from leading helmet brands.
Shop 3XL motorcycle helmets >>>>>>>>
Availability Of Large Size Motorcycle Helmets
The availability of large-size motorcycle helmets can change from one day to the next. If it's a 3XL motorcycle helmet that you're looking for or even a 4XL motorcycle helmet, then you will find the best motorcycle helmet brands represented on our large motorcycle helmet shop page.
As the helmet size increases, the range of brands and the availability of sizes decreases. 5X-Large motorcycle helmets are usually available but sometimes you may need to come back a few days later due to lack of stock or supply-chain issues. Just keep trying!
This content was originally published on headsdontbounce.com. If it appears on another website, it is a violation of the copyright owned by headsdontbounce.com.
Right Size and Fit
If your helmet does not fit correctly, then it can't protect you properly which is why you bought it in the first place. If your helmet is too small / too tight it will be extremely uncomfortable, can give you a headache, and make you tired. That's the last thing you need while out riding.
It is true that the cheek pads of a new helmet should be pushing against your cheeks, but if your helmet is pinching and leaving red marks, then it is too small.
If your helmet is too big / too loose, then you stand the chance that in a fall your helmet may slip off your head completely, or shift sufficiently that it doesn't offer protection where it should.
New helmets should fit snugly and comfortably. After about 20 hours of wearing the helmet, the break-in period, the liner will have compressed slightly to conform to your head shape.
Measure Your Head
Measuring your head size isn't rocket science and can be done quite easily by yourself with a tape measure or a string and a ruler. Take a look at our article How to Know Your Helmet Size for a quick written and video tutorial.
Fortunately, most motorcycle helmet manufacturers follow the same sizing, so that a 3XL HJC is the same measurement as an XXXL Scorpion. However, Daytona differs very slightly as you can see in the charts below.
The point is that you need to be absolutely sure of your head size, as well as the sizing used by the manufacturer of your intended helmet purchase.
Motorcycle Helmet Certification
When buying a motorcycle helmet anywhere, you need to be sure that it has the necessary certification for where you will be riding.
All of the helmets we have listed have DOT FMVSS-218 certification. Some have both DOT and ECE certification, and some of the 3XL helmets may have Snell certification, though for whatever reason manufacturers don't usually submit larger sized helmets for Snell testing and certification.
Proper certification is necessary for legal reasons, plus it can give you some reassurance that the helmet has been tested and approved for road use.
When buying a helmet beware of fake helmets, which may even have fake certifications. They may look real and be a bargain-basement price, but they won't protect your head when you need it most.
The rule of thumb here is that if the price sounds too good to be true, then it's better to avoid it for the sake of keeping your head in one piece.
I'm sure you will find a large motorcycle helmet to suit your needs.
I hope we have helped you to find the 'best motorcycle helmets for big heads' to your satisfaction. If you enjoyed this article, take a look at the related reads below for some more interesting reads!
If you liked this post, why not share it with your friends.