Best Motorcycle Helmets for Big Heads [2023 UPDATE]
If you're looking for the best motorcycle helmets for big heads, then right here is where you will find either the right helmet for you or a good lead to find that helmet elsewhere.
We are confident that you will find the right extra large motorcycle helmet in the style you prefer from a brand that you feel comfortable with, and with proper DOT certification.
You see, the problem with helmet manufacturers is that they prefer to produce helmets they know they can sell, like Joe Average's head size. It's the same problem for all types of helmets. Now, let's take a look at some helmets.
Page Content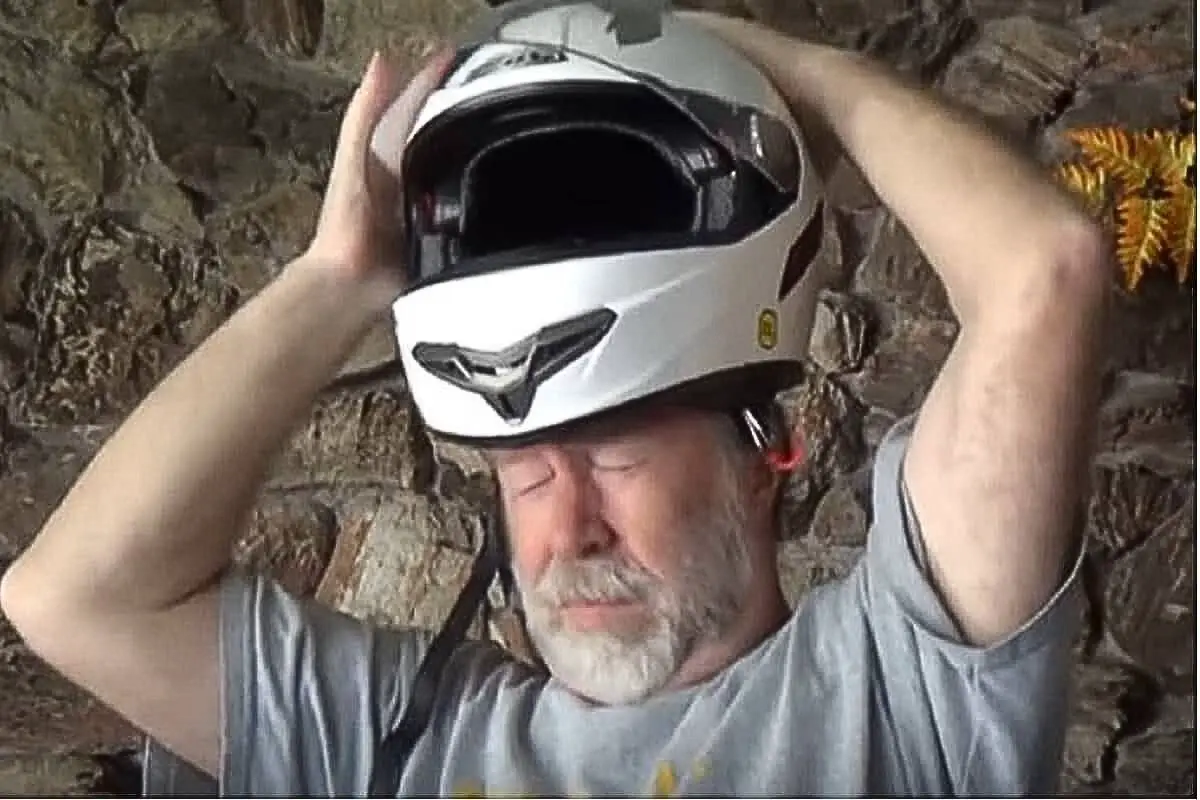 Disclosure: As an Avantlink and Amazon Associate, we earn from qualifying purchases. Disclosure Statement.
Large Size Motorcycle Helmets
There are a few things you need to consider before deciding which helmet you want to buy. Of course, there's always the price that should be within your budget, but there's more to it than buying a 4XL motorcycle helmet just because your friend's 4XL helmet fits perfectly.
Measure Your Head
Measuring your head size isn't rocket science and can be done quite easily by yourself with a tape measure or a piece of string and a ruler.
Fortunately, most motorcycle helmet manufacturers follow the same sizing, so that a 3XL HJC is the same measurement as an XXXL Scorpion. However, Daytona differs very slightly as you can see in the charts below.
Even if your current motorcycle helmet has expired and you know the helmet size, it's always a good idea to measure your head each time you plan to purchase a new helmet. Just to be sure!
The point is that you need to be absolutely sure of your head size, as well as the sizing used by the manufacturer of your intended helmet purchase.
Find Your Head Shape
Starting out with the right size helmet is just the first step to a perfect fit, the second step is knowing your head shape. To find your head shape, you will probably find it easier if someone were to look down at your head from above.
Intermediate Oval shape is the most common, and as a result it will be the shape that most helmets come in. If your head shape is Long Oval then you will find that the Intermediate Oval doesn't feel right and you will probably be better off looking for a helmet to suit your head shape.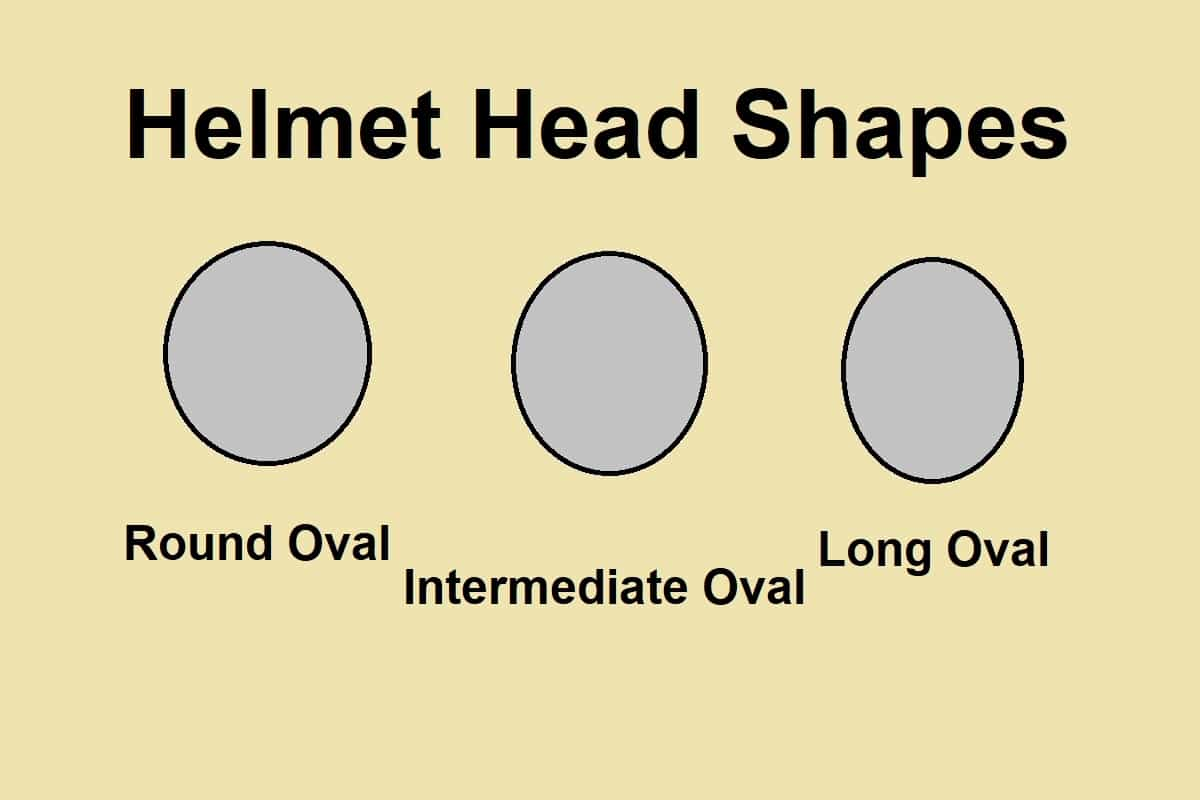 Best Motorcycle Helmets For Big Heads
For your convenience, we've split the following sections into helmet type (i.e. Full Face, Modular, Half Shell, etc.). Hopefully that will make your search just that little bit easier!
Full Face 5XL Motorcycle Helmet
With a reputation for all round protection, the full face helmet is a popular choice by motorcyclists, which at the moment is dominated by the most popular helmet brand in North America, HJC. If you're looking for a motorcycle helmet for big heads in a full face, then you can't go wrong with an HJC i10 helmet.
HJC i10 Full Face Motorcycle Helmet
First up, we have the HJC i10 Full Face Motorcycle Helmet. Crafted with an Advanced Polycarbonate Composite Shell, this helmet ensures a lightweight design for superior comfort, all thanks to cutting-edge CAD technology.
You can ride with confidence, knowing that the "ACS" Advanced Channeling Ventilation System is there to provide you with a continuous front-to-back airflow, effectively eliminating heat and humidity keeping you cool and comfortable.
HJC i10
Full Face Helmet
5XL, 4XL, 3XL
Polycarbonate
Intermediate Oval
Bluetooth Ready
DOT Approved
MSRP 170USD
The HJ-31 Shield is like your window to the road, offering 99% UV protection while being Pinlock® ready to prevent fogging. On the inside, the 'muticool interior' fabric doesn't just keep you dry; it's your partner in fighting bacteria, ensuring you always enjoy a fresh and comfortable ride. You will also enjoy the convenience of removable and washable Crown and Cheek pads.
There's a warranty of up to 3 years from the date of purchase or 5 years from the manufacturing date, whichever comes first. Plus, it's also worth noting that this large motorcycle helmet is Bluetooth ready.
DOT and SNELL* certification complete the package, making the HJC i10 an ideal choice for both safety and style (*3XL – 5XL DOT only) for those looking for the best motorcycle helmet for big heads in a full face helmet.
See other options in Full Face 5XL motorcycle helmets.
---
Modular 5XL Motorcycle Helmet
A flip up helmet is a popular choice among motorcyclists of all head sizes so it makes sense that the major helmet manufacturers are willing to make motorcycle helmets for big heads in modular 5XL size.
HJC C91 Modular Motorcycle Helmet
Introducing the HJC C91 Modular Motorcycle Helmet – where affordability meets advanced features. Engineered with an Advanced Polycarbonate Composite Shell, it's lightweight and offers superior fit and comfort.
You can operate the chin bar with ease, even while wearing gloves. Plus, an internal sun shield adds protection when the sun is low, and you'll keep a cool head with the large top vent for efficient airflow.
It features ACS Advanced Channeling Ventilation for optimal airflow and a Pinlock® ready HJ-17 Shield offering 99% UV protection. Shield replacement is tool-less with the RapidFire™ system.
HJC C91 Solid
Modular Helmet
5XL, 4XL, 3XL
Polycarbonate composite
Intermediate Oval
Bluetooth Ready
DOT Approved
MSRP 180USD
The SuperCool top liner and cheek pads enhance your comfort with moisture-wicking and anti-bacterial fabric. Cleaning is a breeze with removable and washable Crown and Cheek pads are just a couple of reasons this large motorcycle helmet is so popular.
The HJC C91 has been designed with eyeglass wearers in mind with built-in glasses grooves. This great helmet is also Bluetooth ready for communications connectivity. Experience affordability and advanced features with the DOT-approved HJC C91 Modular helmet.
There are several other choices available if you want to see more Modular 5XL motorcycle helmets for big heads.
---
Half Shell 5XL Motorcycle Helmet
Half shells can be really cool looking helmets, but, admittedly, they're not everyone's cup of tea. Not only that, but when wearing a half shell you really need a matching really cool set of wheels, but it's not compulsory. The Highway 21 stands out as a motorcycle helmet for big heads in a half shell.
Highway 21 9mm German Style Half Shell Motorcycle Helmet
Embrace the spirit of the open road with the Highway 21 9mm German Style Half Shell Motorcycle Helmet for big heads, designed to give you the freedom and adventure you've been craving.
Crafted with a durable lightweight ABS shell, this helmet is your ticket to feeling the wind in your hair as you cruise the road. The diamond-stitched Coolmax® liner ensures your comfort as you savor the breeze against your face.
Highway 21 9mm
Half Shell Helmet
5XL, 4XL, 3XL
ABS Shell
Dual D-ring
DOT Approved
MSRP 70USD
When it's time to refresh, simply remove and machine wash the interior to keep it feeling like new for your next ride. The dual D-ring chinstrap ensures a secure fit, and it even comes with a protective helmet bag.
With its classic German style, this helmet is the ideal choice for riders who yearn for the thrill of the open road without compromising on safety. Rest easy knowing it's DOT approved, and get ready to hit the highway, experiencing the true essence of freedom – it's all about you and the road ahead.
If the Highway 21 9mm helmet doesn't do it for you, take a look at other options in Half Shell 5XL motorcycle helmets for large heads.
---
Off-Road 5XL Motorcycle Helmet
Not all motorcyclists in search of extra, extra large motorcycle helmets are looking for a Full Face or Modular helmet. Some people need their helmet for hitting the trails and getting that much needed adrenaline rush! So, here we are . . . , a motorcycle helmet for large heads in an off road helmet.
FXR Blade Carbon Off-Road Motorcycle Helmet
If you're an off-road enthusiast, then here's a 5XL helmet just for you. Introducing the FXR Blade Carbon Off-Road Motorcycle Helmet – your trail-ready companion. It's engineered for a precision fit with three shell sizes from XS to 5XL.
Crafted from hand laid carbon fiber it guarantees an ultra light weight of around 1250g. The visor offers protection with a soft rubber bumper and easy-to-adjust, glove-friendly, lightweight screws. It's designed to reduce drag and shield you from roost and snow.
Comfort is key, with progressive density cheek pads, and a hygienically-treated, removable, washable comfort liner. It's equipped with integrated, removable breath-box-ready tabs and offers additional optional accessories.
FXR Blade Carbon
Off-Road Helmet
5XL, 4XL, 3XL
100% Carbon Fiber
3 Shell Sizes
DOT Approved
MSRP 460USD
Safety is paramount with the titanium double D-ring buckle, a neck brace-compatible low profile rear diffuser, a dual-density EPS safety core, along with impact-absorbing chin EPS.
With this DOT and ECE certified helmet you will embrace your off-road adventures with style and confidence, courtesy of the FXR Blade Carbon Helmet.
If you're not looking for a helmet as awesome as the FXR Blade Carbon, you might like to check out some other options in the way of Off-Road 5XL motorcycle helmets for big heads.
---
Open Face 4XL Motorcycle Helmet
At this time, we were unable to find any open face helmets larger than 4XL. That's not to say they don't exist. But, even in the 4XL range it's pretty slim pickings. In fact, the Daytona Cruiser was the only Open Face 4XL motorcycle helmet we could find!
Daytona Cruiser Open Face Motorcycle Helmet
Introducing the Daytona Cruiser Open Face Motorcycle Helmet for big heads, where style meets safety. This classy, vintage looking 3/4 shell helmet, not only meets but exceeds DOT FMVSS 218 standards.
Experience a sleek, contoured shell that eliminates the mushroom look. The custom-formed interior ensures extreme comfort, and moisture-wicking fabric keeps your head cooler. The reinforced strap retention system and quick-release lock with a one-finger release lever make detachment easy.
Nickel-plated, steel rivets and a goggle strap add to the helmet's durability and functionality. It's even Bluetooth compatible, combining style, comfort, and technology for the modern rider. Get ready to hit the road in style and safety with the Daytona Cruiser Helmet.
Daytona Cruiser
Open Face Helmet
4XL, 3XL +
ABS Shell
Intermediate Oval
3 Shell Sizes
DOT Approved
MSRP 105USD
The Daytona Cruiser stakes claim to being the smallest DOT 3/4 shell helmet ever made. Though that becomes irrelevant if you're looking for a big head helmet. Nonetheless, it is made in three different shell sizes which will give you the absolute perfect fit.
The package includes a removable, snap-on Gloss Black Bubble Visor for added style. Plus, it comes with a free head wrap and a cloth drawstring bag.
As charming as the Daytona Cruiser is, I can understand that it might not be for everyone, so feel free to check out more Open Face 3XL motorcycle helmets for large heads.
---
Dual Sport 3XL Motorcycle Helmet
Finding dual sport helmets in the upper size ranges is somewhere between difficult and impossible. For now, the largest that we could find is in the 3XL size. This section will be updated if/when that changes. But in the meantime . . .
Bell MX-9 Adv MIPS DLX Dual Sport Motorcycle Helmet
Meet the Bell MX-9 Adv MIPS DLX Dual Sport Motorcycle Helmet, your ticket to adventure without limits. This versatile helmet seamlessly combines the best of dirt and street riding for the ultimate adventure.
Whether you're tackling rugged single-track or cruising the open road, the MX-9 Adventure MIPS delivers protection with style. It's equipped with an integrated anti-fog, anti-scratch 'transitions' face shield that flips up to accommodate goggles when the going gets rough or can be removed entirely. The adjustable visor is also removable for a sleek street look.
Safety is paramount with MIPS protection, ensuring added security during your rides. The Velocity Flow ventilation system keeps you cool, while a removable, washable, anti-microbial liner ensures comfort.
Bell MX-9 Adv MIPS DLX
Dual Sport Helmet
3XL +
Polycarbonate
Intermediate Oval
3 Shell Sizes
ECE Certified
DOT Approved
MSRP 370USD
This helmet comes with a photochromic shield, adapting to changing light conditions. It's available in various colors, certified by DOT and ECE standards, and offers NutraFog II anti-fog, anti-scratch, and UV protection coatings.
The MX-9 Adventure DLX Mips opens up a world of possibilities for your riding adventures, offering adaptability, style, and safety in one package. Ride the way you want, on or off the road, with this exceptional helmet.
If the Bell MX-9 is not quite what you were looking for, then you can see other options in Dual Sport 3XL motorcycle helmets for big heads.
---
6XL Motorcycle Helmets
And now for the bad news. Vega used to have a 6XL motorcycle helmet that went by the name of Ultra Big Head, but it is no longer available. The last time I checked, it was not even mentioned on their website, so possibly it is no more.
If a 6XL helmet becomes available in the future, we will put it right here. In the meantime, if you need a helmet larger than the 5XL, you could possibly contact HJC and ask if they can do a custom job for you.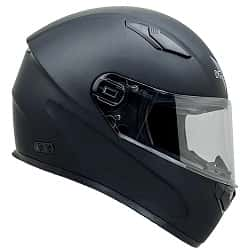 The no longer available Vega Ultra Big Head Motorcycle Helmet.
Availability Of Large Size Motorcycle Helmets
As the helmet size increases, the range of brands and the availability of sizes decreases. 5X-Large motorcycle helmets are usually available but sometimes you may need to come back a few days later due to lack of stock or supply-chain issues. Just keep trying!
Right Size and Fit
If your helmet does not fit correctly, then it can't protect you properly which is why you bought it in the first place. If your helmet is too small / too tight it will be extremely uncomfortable, can give you a headache, and make you tired. That's the last thing you need while out riding.
It is true that the cheek pads of a new helmet should be pushing against your cheeks, but if your helmet is pinching and leaving red marks, then it is too small.
If your helmet is too big / too loose, then you stand the chance that in a fall your helmet may slip off your head completely, or shift sufficiently that it doesn't offer protection where it should.
New helmets should fit snugly and comfortably. After about 20 hours of wearing the helmet, the break-in period, the liner will have compressed slightly to conform to your head shape.
This content was originally published on headsdontbounce.com. If it appears on another website, it is a violation of the copyright owned by headsdontbounce.com.
Motorcycle Helmet Certification
When buying a motorcycle helmet anywhere, you need to be sure that it has the necessary certification for where you will be riding.
All of the helmets we have listed have DOT FMVSS-218 certification. Some have both DOT and ECE certification, and some of the 3XL helmets may have Snell certification, though for whatever reason manufacturers don't usually submit larger sized helmets for Snell testing and certification.
Proper certification is necessary for legal reasons, plus it can give you some reassurance that the helmet has been tested and approved for road use.
When buying a helmet beware of fake helmets, which may even have fake certifications. They may look real and be a bargain-basement price, but they won't protect your head when you need it most.
The rule of thumb here is that if the price sounds too good to be true, then it's better to avoid it for the sake of keeping your head in one piece.
I'm sure you will find a large motorcycle helmet to suit your needs.
I hope we have helped you to find the 'best motorcycle helmets for big heads' to your satisfaction. If you enjoyed this article, take a look at the related reads below for some more interesting reads!
If you liked this post, why not share it with your friends.