Top 3 Best Full Face Kayak Helmets for 2023
Despite the danger, kayaking in white water rapids is an extremely popular, adrenaline pumping activity. When you consider the ever-present submerged rocks in the fast moving water, you have to wonder whether it's worth the risk.
Smart kayakers mitigate the risk by wearing a full face kayak helmet to protect their head against the hidden dangers.
In this article learn how a full face whitewater helmet can help protect your head from potential dangers, and how to choose the best full face water helmet.
Page Content
Disclosure: As an Avantlink and Amazon Associate, we earn from qualifying purchases. Disclosure Statement.
Choosing The Best Full Face Kayak Helmet
When it comes to choosing the best full face kayak helmet, there are several things to consider. The most important feature is the ability to protect the face. It may be necessary for you to be able to see under water, so a wide eye-port is essential while protecting your face at the same time.
The helmet must have the necessary safety certification, have a highly durable construction, and most importantly be comfortable to wear whether wet or dry.
To help with your decision, let's take a look at three of the best full face kayak helmets that are available today.
1. Sweet Protection Rocker Full Face Kayak Helmet
The Sweet Protection Rocker offers unrivaled safety with its lightweight, high-tech carbon reinforced design and its durable shock-absorbing properties. This high-performance helmet allows you to experience the freedom of kayaking like never before, while providing protection when needed.
Thermoplastic Laminated Carbon fiber upper shell combined with an ABS lower shell and jaw guard.
EPP liner for multi-impact absorption.
CoolMax liner for comfort.
Occigrip tensioning system.
Removable, shatter-proof visor.
MSRP is a little over $300 and is available online from backcountry.com
---
2. WRSI Moment Full Face Kayak Helmet
The WRSI Moment Full Face Helmet is ideal for whitewater kayaking. It is lightweight, has a multi-impact shell with a removable/replaceable padded liner, and a padded chin strap and offers protection from above-water hazards as well as underwater obstacles. This helmet can be worn all day without feeling uncomfortable.
Multi-impact ABS shell with a polyurethane sub-shell.
Multi-impact EVA foam liner.
Self-adjusting interconnect retention system.
Removable plush comfort liner.
Adjustable O-Brace Harness for safe head positioning.
MSRP is around $180 and is available online from Amazon.com
---
3. Shred Ready Standard Full Face Kayak Helmet
Shred Ready's Standard Full Face Kayak Helmet can take a beating, and it's about as lightweight as you can find. The easy to adjust fitting system, along with the four-point retention system will ensure that your helmet stays firmly on your head. The real gem of this helmet is the ridiculously affordable price tag.
ABS injection molded shell.
EPP liner can handle multiple impacts.
BOA dial retention system.
Interchangeable fit pads for customized fit.
Non-corrosive stainless steel rivets.
MSRP is around $150 and is available online from backcountry.com
---
---
White Water Kayaking Can Be Dangerous
You've no doubt heard of the dangers of white water kayaking: the first thing that comes to mind is being smashed against a rock, or even getting knocked unconscious and drowning, right?
Kayaking through white water rapids can be an exhilarating experience, but the high danger level of white water kayaking is what stops many people from giving it a try.
If you are seriously thinking of going white water kayaking for the first time, you would be well advised to do some research about your choice of river. Talk to an expert or two, and get all the necessary gear before you take your first plunge.
Proper protective gear is especially important as white water kayaking involves both fast-moving water and shallow water. By wearing a full face whitewater helmet, you can protect your head against submerged rocks. Even if you are not kayaking in white water, a miscalculation can cause your head to take an unexpected beating in any water conditions.
Why Choose A Full Face Kayak Helmet?
In kayaking, as in most other things in life, safety comes first. In the water, this means wearing the right equipment and using it correctly.
A full face kayak helmet is made of high-quality, durable materials and can protect your head, face and ears from injuries. It has multiple layers of protection and can be used for multiple purposes such as white water kayaking, rafting, and sea kayaking.
Full face water helmets, by design, have a built-in chin bar that protects your chin and face from injuries from rocks and other underwater hazards.
On a properly certified full face whitewater helmet, the chinstrap will ensure that the helmet is kept securely attached to your head even under the pressure of hydraulic forces from the fast-moving water.
Naturally, full face water helmets are available in different sizes, so you must choose a helmet that perfectly fits your head.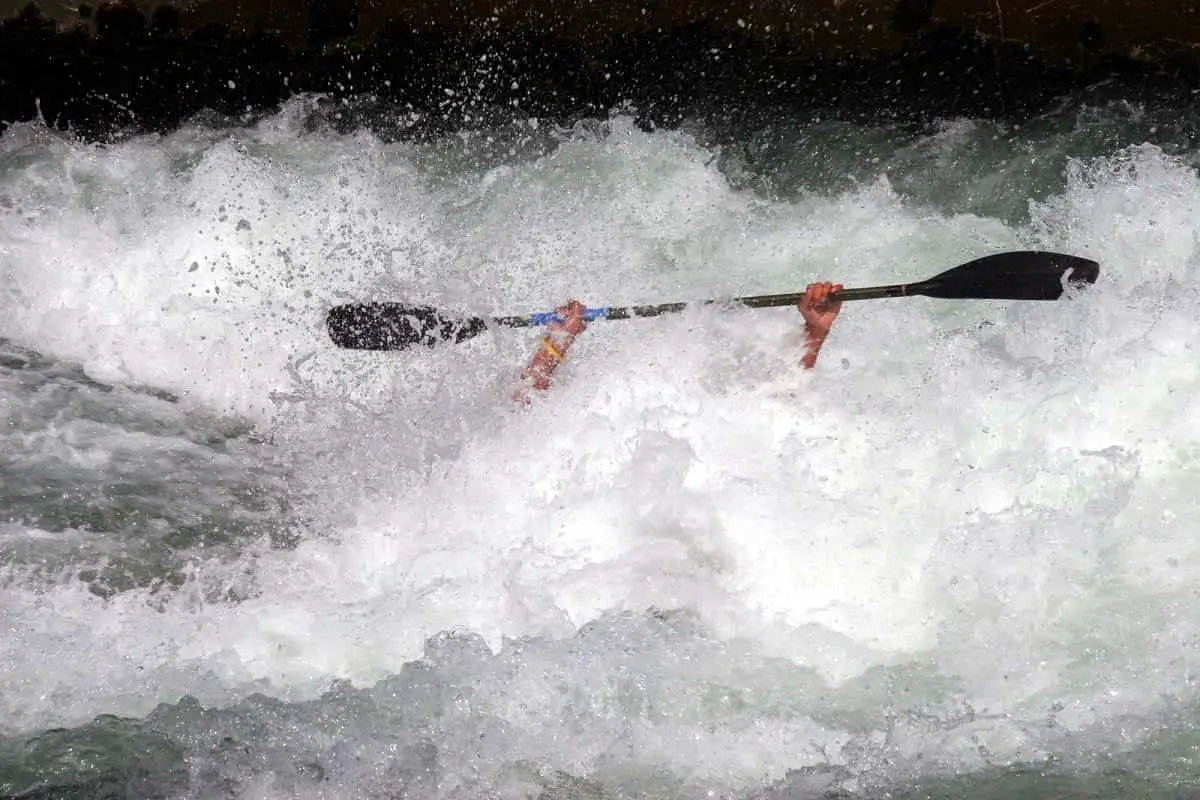 Benefits & Features Of A Full Face Kayak Helmet
A full face kayak helmet is designed to protect your head in extreme whitewater conditions up to class IV rapids. With full protection for your face, ears, top of the head, and back of the head, the helmet is designed to provide maximum safety and comfort and is constructed accordingly.
Features of a full face whitewater helmet:
More protection against head-injury than open-face helmets.
Durability: made of high-quality, hardened plastics that resist damage from rocks, branches, etc.
Wide eye-port for better visibility.
Easily adjustable chin strap and a quick release buckle for rapid removal.
The air vents/drainage system allows water to easily drain out of the helmet.
Padded liner for better comfort.
The comfort padding is easily removable and washable.
The front visor blocks bugs, branches, sunlight, and other elements.
Lightweight and buoyant.
Available in various colors and sizes.
EN 1385 Helmet Certification
The recognized certification for water sports helmets is CE EN1385, which covers helmets for canoeing and white water sports in waters between class 1 – 4 rapids on the International Scale of River Difficulty.
The EN1385 standard covers such things as construction materials, testing procedures, testing conditions and a whole lot more. However, the main points that are covered in the testing and certification are:
Section 6.1 Impact protection
Section 6.2 Retention system strength
Section 6.3 Retention system effectiveness
Section 6.4 Buoyancy
Whichever helmet you choose to purchase/wear for kayaking, whether it be open-face or full face, it is imperative that it has the tag inside the helmet showing that it has been tested and approved to EN1385 standards.
It is important to note that water sport helmets are not designed for use with motorized watercraft, such as jet-skis or similar.
This content was originally published on headsdontbounce.com. If it appears on another website, it is a violation of the copyright owned by headsdontbounce.com.
The Right Fit
The right fit is the most important point for any type of helmet. Achieving the right fit starts with measuring your head, then selecting the helmet size that is closest to your head size. If you're not sure how to measure your head size, see our article here about How to Know you Helmet Size.
By starting with the right sized helmet, you have half the battle won. Depending on the fitting system that your new helmet employs, it should be as simple as:
adjusting a dial at the rear of your helmet
adjusting the chin straps
adding or removing any additional padding that came with your helmet.
Before you even think of jumping into your kayak, be sure that your helmet is properly secured to your head. It doesn't take much of a river flow to turn a loose helmet into a lost helmet.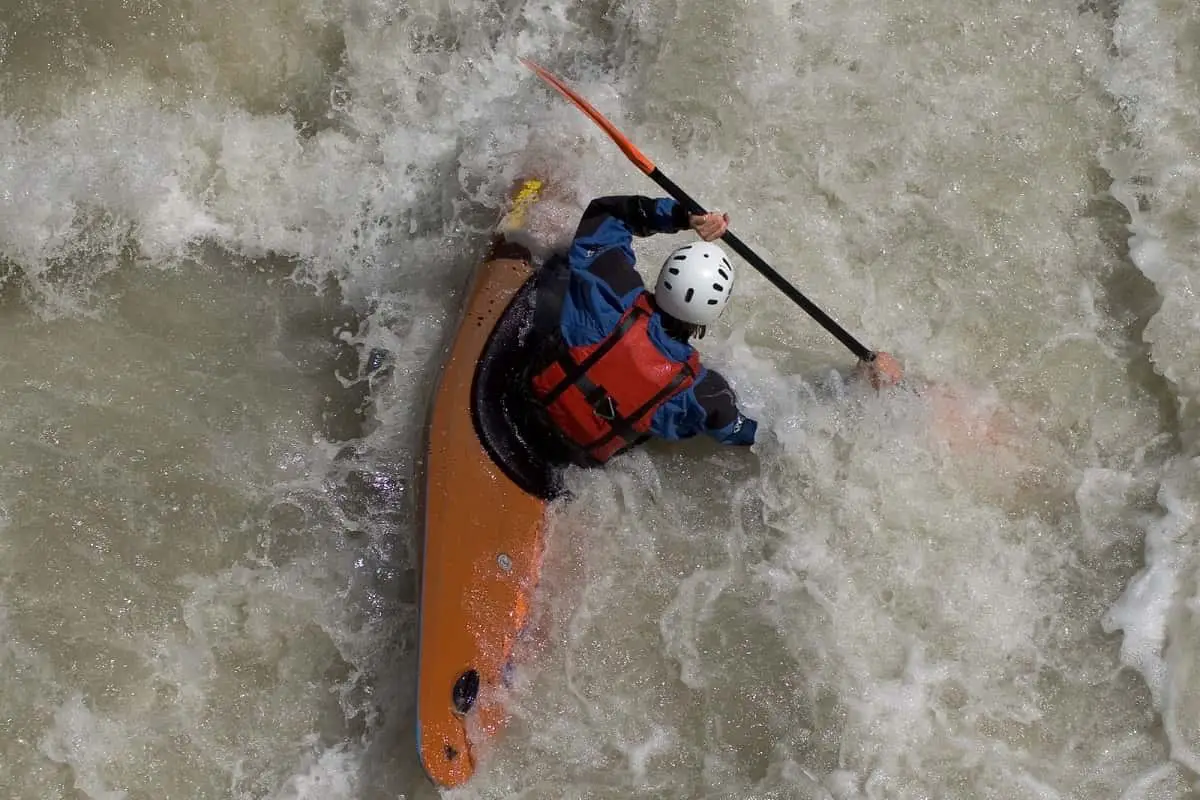 Conclusion
A full face helmet is the number one safety requirement to protect yourself from head injuries against submerged rocks and other dangers when whitewater kayaking. You can get a high-quality one at a reasonable price on the links above.
If you liked this post, why not share it with your friends.