Are you looking for creative bike helmet storage ideas so you can hang your helmets neatly on the wall or shelf? Are you wondering where you could store your bike helmet where it will be out of harm's way but easily accessible? Look no further!
If you're anything like me, then your helmet probably just sits on your desk or on the kitchen table or bench, that is until my wife decides to tidy up and put it in a random closet (usually one where I would never look).
Like you, I needed a better and more practical solution.
There are some great ideas to better organize your bike helmets including using 3M Command strips with hooks; a bike and helmet mount; or even floating shelves.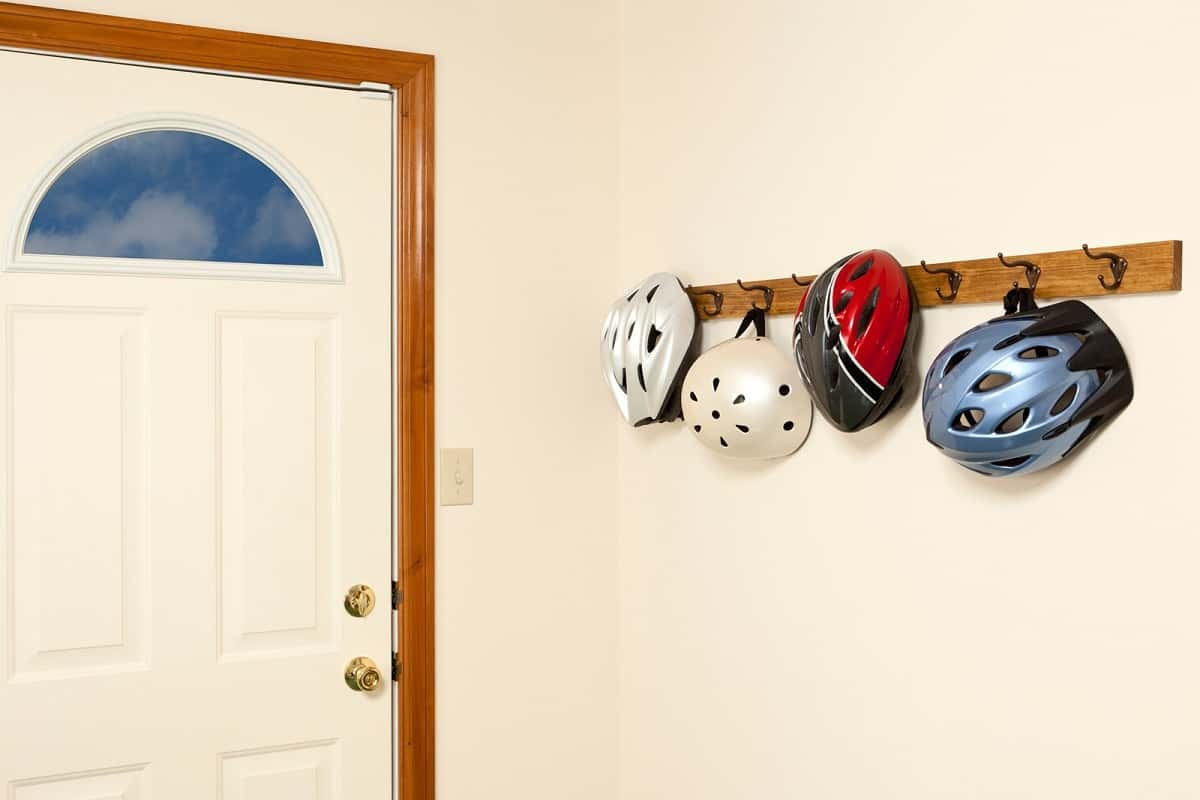 As an Avantlink and Amazon Associate, we earn from qualifying purchases. Disclosure Statement.
3M Command Strips
3M Command strips work by having a double adhesive strip. You stick one side to the wall, and the other side sticks to the back of the hook so you can hang something up, er, like a bike helmet.
RECOMMENDED: 12 of the Safest Road Bike Helmets
3M Command strips are famous for their ability to be relocated without damaging the paint on your wall (providing you follow the instructions), so don't worry if you're putting one up on a recently painted room or in a rented apartment or house.
Command also offers a cord bundler. While it is designed for loose electrical cords, it can also be used to tether bike helmets.
To install the Command cord bundler, the plastic base attaches to the adhesive strip. Below that is a plastic loop to wrap around cords. Then there is a flared tongue that attaches to the plastic base.
You can even have the loop go through the vents in your helmet, and the cord bundler doesn't fail to hold your helmet neatly against the wall.
Using Command strips, you can easily create a display of all your different bike helmets.
Video: How to Apply Command™ Brand Hooks
Mounts For Bikes And Helmets
A lot of bike storage mounts come with additional space for your helmet, either in the form of hooks or a shelf. These are especially useful if you have multiple bikes or helmets, as they are typically designed to hold a whole array. They can either be for the whole family or just for you if you're an aficionado.
Mounts for bikes and helmets are particularly helpful because they create a clean, polished look that isn't as crafty as other options.
They often come in sleek black and will be the centerpiece of your room.
It's not a bad idea to buy two racks: one to keep in your house during the season, and one to keep in the garage during the off-season (unless you like looking at your bikes longingly all winter!)
Floating Shelves
Floating shelves are shelves that have a floating appearance because they have no mount. People often use these for books or trinkets, but if you get ones that are deep enough, you can fit your bike helmets!
SUGGESTED: Best Bike Helmets For Women
These create a unique display because, with a little imagination, it looks like your bike helmets are floating. If you are more of the artsy type or have a minimalist home, these are a great option for you.
There are see-through floating shelves that create even more of a floating effect.
You can display them off-center to keep things from being too uniform and really create something special.
Other Considerations
Here are some considerations to think about when storing your bike helmet:
Temperature: Don't put your bike helmet in a sunny window. It will be too hot and can also create sun spots.
Dampness: If your house is humid, consider a dehumidifier in the room where you store your helmet to avoid mildew.
Pets & pests: Keep your helmets on the wall away from pets and pests.
This content was originally published on headsdontbounce.com. If it appears on another website, it is a violation of the copyright owned by headsdontbounce.com.
Caring For Your Bike Helmet?
Replace it after a crash
Most bicycle helmets are only designed to withstand only one crash. Even if it was a small crash and you think it was no big deal, you still should replace your helmet. Your helmet's EPS foam liner compresses during crashes and will not be able to absorb any more energy in a second crash.
Don't forget to replace your helmet at least every five years, or as often as the manufacturer recommends. See Do Bike Helmets Expire for more details.
Wash your helmet
To wash your helmet, use water and mild soap. Rinse your helmet thoroughly and let it air-dry.
See How To Clean A Bike Helmet for instructions.
Summary
Command Strips, mounts for bikes and helmets, and floating shelves are all creative ways to store your helmets inside your home. How creative you want is entirely up to you. Command hooks are practical, floating shelves are creative and add a nice touch to your environment, and bike/helmet mounts are tidy and portray a sense of professionalism.