How Often Should Bike Helmets Be Replaced?
In our article 'Do Bike Helmets Expire', we learned that there is no predetermined expiration date set for bicycle helmets, only suggested dates of between 3 to 10 years.
Yet, how often should bike helmets be replaced, and under what circumstances should you replace them are among the most asked questions by cyclists the world over.
In this article, we will explore the various scenarios that may determine when it's time for you to get a new bicycle helmet.
KEY TAKEAWAYS
* CPSC suggests replacing a bike helmet within five to ten years.
* Replace your helmet after a heavy crash.
* Replace your helmet if you see a dent or crack in the shell.
* Replace your helmet if it no longer fits properly.
* Replace your helmet to enjoy improved helmet technology.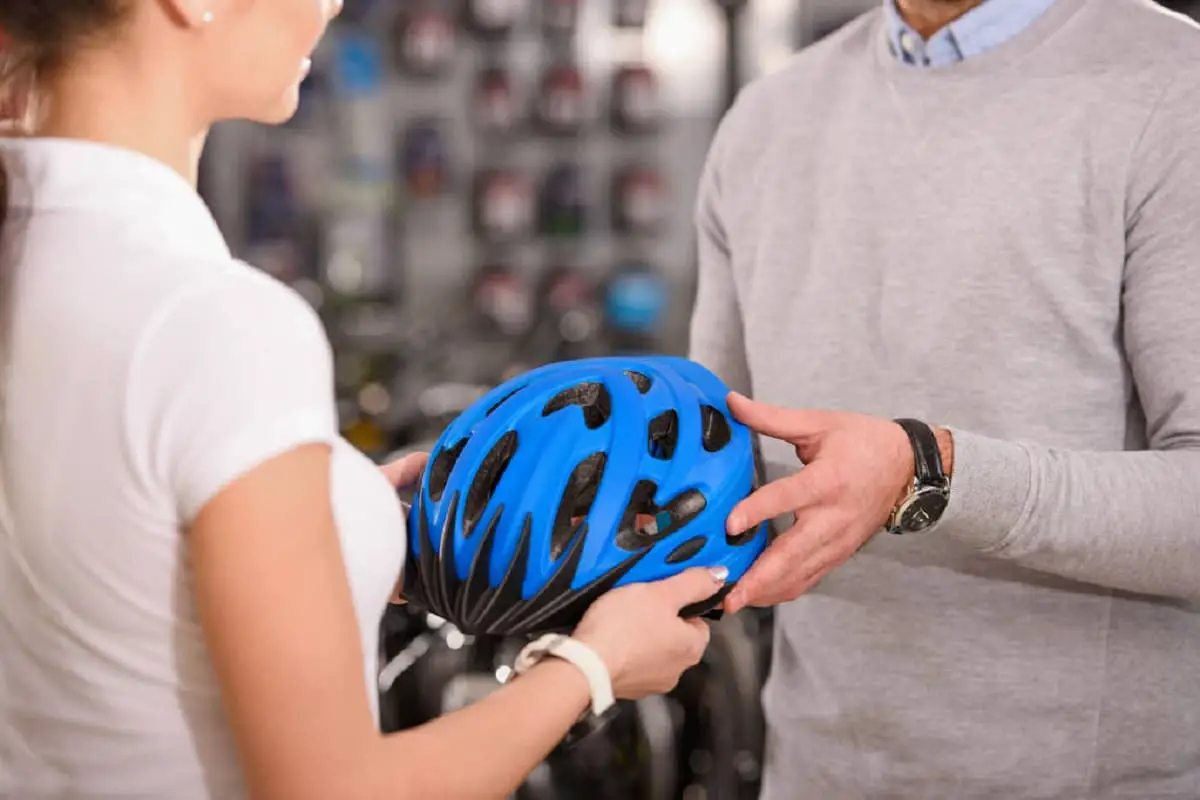 Disclosure: As an Avantlink and Amazon Associate, we earn from qualifying purchases. Disclosure Statement.
Page Content
How Often Should Bike Helmets Be Replaced?
Let's say, for example, that the average life expectancy of a cycling helmet is five years. There are some situations when you would be strongly encouraged to replace it earlier than that, and there are also situations when you really must buy a new helmet immediately.
After An Accident
One of the reasons that you must replace your bike helmet immediately is if it has been involved in a heavy crash or impact. In some cases, the helmet will show clear signs of damage in the form of a cracked shell. This is a definite sign that the helmet's life is over, and it should be replaced immediately.
It is worth noting that some of the big names in the bicycle helmet industry, namely Bell, Giro and Bontrager, offer crash replacement schemes. If you damage your helmet in a crash, you may be eligible for a free or discounted replacement. Naturally, conditions apply, but definitely something worth considering in your next helmet purchase.
Other times, in a minor crash, the damage may not be visible at all. It's times like these that you need to use your best judgment as to whether your helmet needs replacing or not. For example, if the EPS (Expanded Polystyrene) foam liner has been compressed, it cannot return to its original condition, and therefore it cannot absorb the impact in the next crash. Replace it immediately.
SUGGESTED: Affordable MIPS Cycling Helmets
You also need to inspect your helmet for damage to the outer shell, such as the slightest indent or a hairline crack. It might not look life-threatening, but on the next impact, that crack could easily force the helmet to split into two, exposing your head to potential injury.
When making that judgment call on whether the damage warrants replacing the helmet, be critical and keep in mind that a slightly damaged helmet is the same as wearing no protective helmet at all. Here you can find a pretty comprehensive bike helmet inspection checklist from the Bicycle Helmet Safety Institute.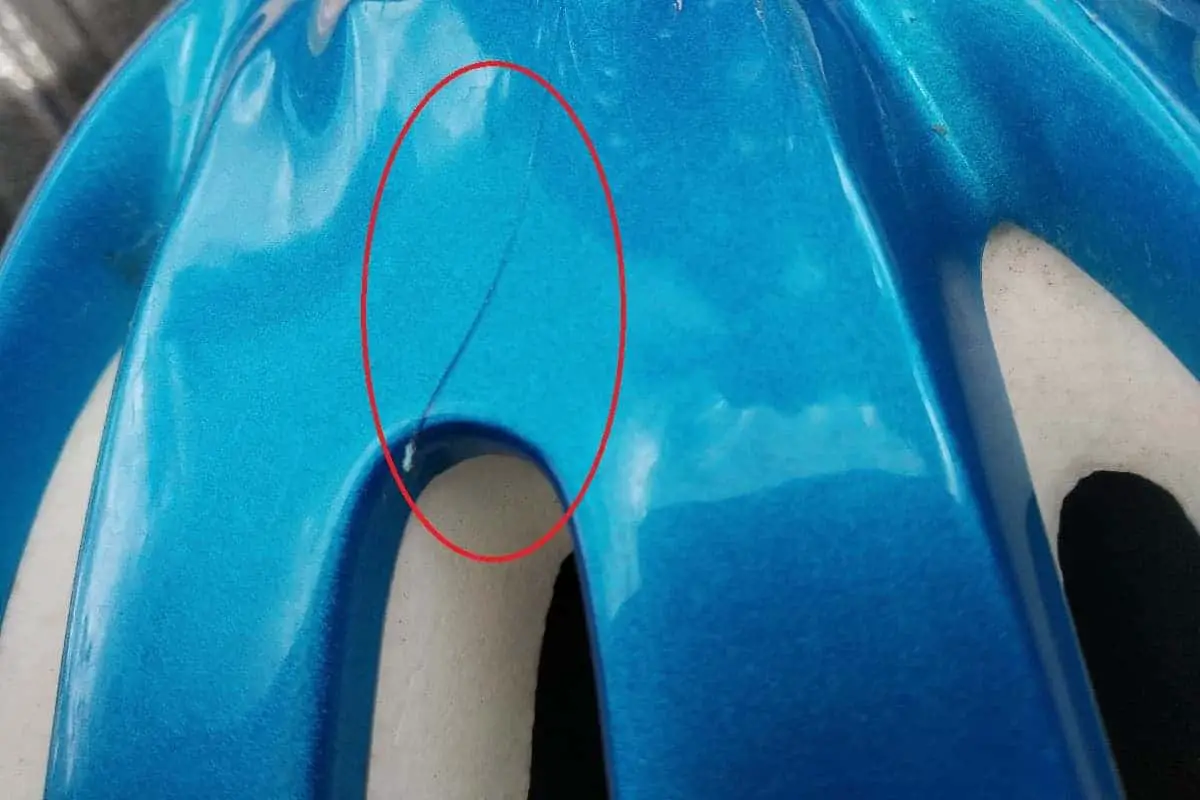 Bike Helmet Material Degradation
Material degradation will reduce the helmet's effectiveness in protecting your head. In many cases, this degradation will correspond with how often you use your helmet. A helmet that is used daily has a higher chance of degradation compared to one that is used monthly.
While the Standards that bicycle helmets need to pass to be CPSC Certified are very stringent regarding the quality of materials used in their manufacture, there are always exceptions to the rule. This means that although the helmet's shell, EPS liner, chin strap, glues and stitching should be good in all weather conditions for at least as long as the helmet manufacturer recommends, it doesn't guarantee that they will last forever.
After several years of use, your helmet may come into contact with various chemical products, such as insect repellents, hair oils, and body fluids from your sweaty brow, which can take a toll on foam inserts and helmet liner materials.
Environmental exposure also needs to be considered. Helmet degradation could be hastened if you live in a location that has high rainfall, extreme temperatures, or in tropical or sub-tropical areas where humidity is high.
Excessive exposure to sunlight can have a damaging effect on polycarbonate, causing it to become brittle.  Helmet manufacturers are well aware of this problem and add a UV inhibitor to the polycarbonate.  However, sun exposure or constant exposure to UV will cause the helmet color to fade signaling that it's time to replace your helmet.
All of these conditions are factored in to the bicycle helmet standards, but once again, it comes down to how the helmet is used during its lifetime.
A Dropped Helmet
If your helmet slips off your handlebar onto the concrete path, then it certainly needs a thorough check for possible cracks in the shell. That's not to say that every time you drop your helmet it needs replacing. However, a drop from a significant height could easily damage the helmet shell. As mentioned above, the slightest indent or a hairline crack could be the beginning of something bigger.
Obviously, if you drop your helmet onto grass or your living room carpet, there should be nothing to worry about. But a drop from higher up onto a solid surface needs a thorough inspection inside and out, and a judgement call made as to whether to replace it or not. If the helmet has visible cracks, dents, or other damage, it should be replaced. The damage may compromise the helmet's ability to protect your head when you need it most.
This content was originally published on headsdontbounce.com. If it appears on another website, it is a violation of the copyright owned by headsdontbounce.com.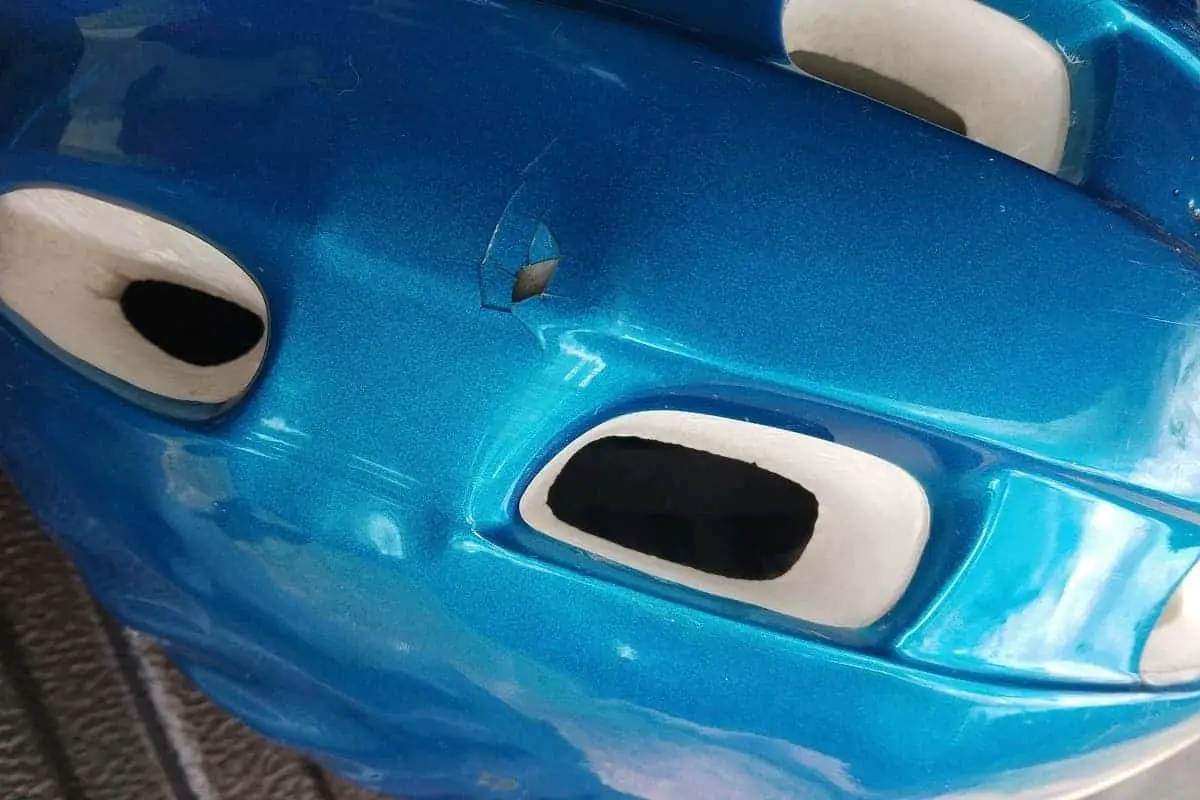 Helmet No Longer Fits Properly
Whether your helmet no longer fits properly because of head growth or simply because the dial-fit slide adjusters are broken is a safety issue on its own. If the dial-fit system is broken, it can usually be replaced or it's time to replace the helmet.
As a child or teen your head is still growing and it will eventually get to a point that your helmet is just too tight and uncomfortable. Wearing a tight helmet will give you headaches, and is a very good reason to upgrade to a larger sized helmet.
Whether you are a child, a teen or an adult when you purchased your new helmet, if you had long, thick hair but now you've gone for a shorter hair style, it's highly likely that your helmet is now too loose. A helmet that is loose is downright dangerous as it can very easily slip during an accident exposing your head, or even come right off at the most inconvenient time.
If your helmet is too tight, or too loose then it's time to get a new helmet that fits properly.
Bike Helmet Technology Improvements
Even if you have taken meticulous care of your bike helmet for five years or more, and your helmet looks to be as good as new, buying a new helmet can bring other noticeable improvements.
Advancements in helmet technology in recent years, not only in production methods but advances in materials such as shell durability, improved fit and better chin strap locking mechanisms, along with improved protection against rotational impact like MIPS, Wavecel and several others.
Upgrading to take advantage of bike helmet technological improvements and advancements in helmet safety is always a great idea.
Conclusion
Now that you know how often your bike helmet should be replaced, you should get in the habit of physically checking your helmet's condition regularly.  Giving your helmet a good clean with mild soap regularly will also help to extend its lifespan.
Don't take chances. If in doubt, replace your helmet.
If you liked this post, why not share it with your friends.