How Should A Horse Riding Helmet Fit?
Getting the right fit for an equestrian helmet is every bit as important as the helmet itself. You lose much of the safety features that the helmet is supposed to provide if it doesn't fit you properly, whether it's too tight or too loose on your head (chinstrap included).
The importance of wearing a helmet while on horseback can't be understated, especially if you like jumping and/or riding fast. Like helmets for any other mode of transportation or sport, it's important to properly fit them. But, how should a horse riding helmet fit?
Properly fitting a helmet involves measuring your head so you can choose the correct size helmet for your head.
As you see with footwear, different manufacturers will be a little different with their sizes so never assume that because your current helmet is a Medium size that all Mediums will therefore fit your head.
Page Content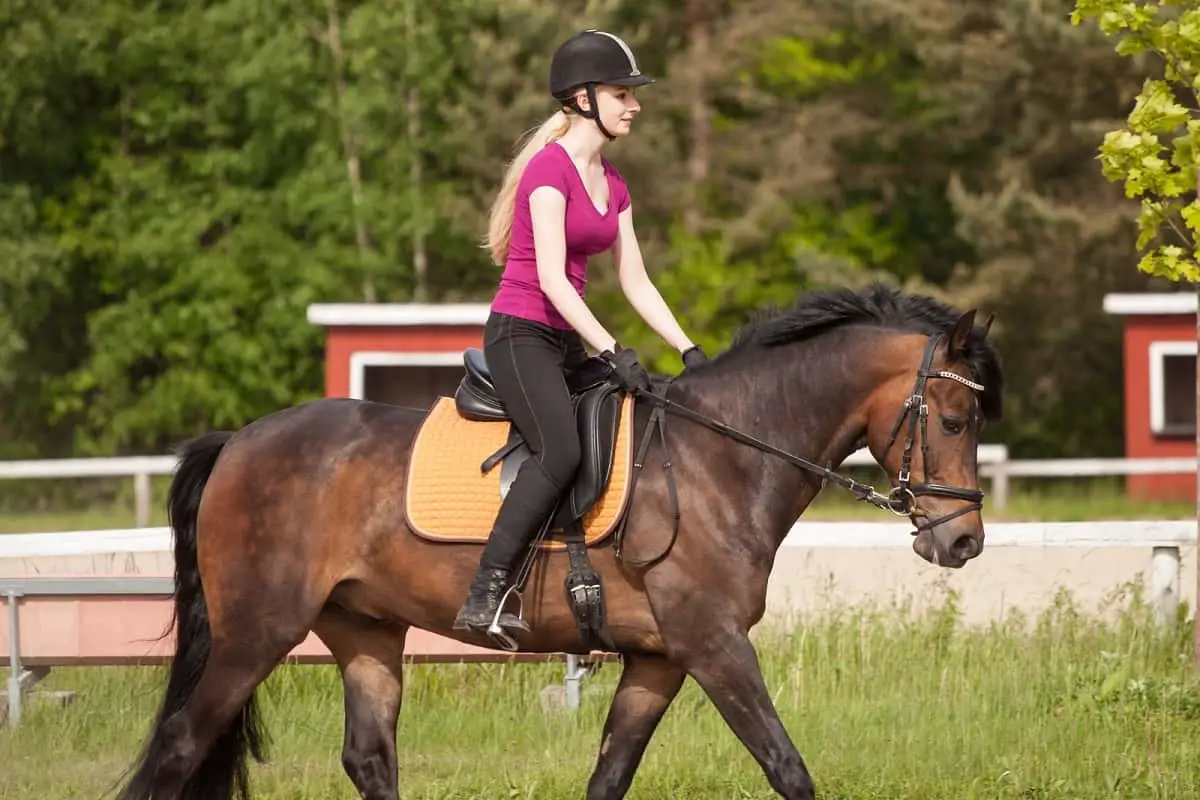 Disclosure: As an Avantlink and Amazon Associate, we earn from qualifying purchases. Disclosure Statement.
How To Measure For A Horse Riding Helmet
First things first. Before you worry about how a horse riding helmet should fit, you need to know how to measure for a riding helmet.
The best way to measure and fit a helmet for horse riding is to do just that, measure. It's best to use a tape measure that's made of fabric. Measure all the way around your head until the tip of the measuring tape meets itself just about an inch above your eyebrows.
RECOMMENDED: Horse Riding Helmets for Kids
When you measure, it is a good idea to note the measurement in both inches and centimeters because when you go to choose a helmet the size might be shown in inches, centimeters, hat size, or as Small, Medium, or Large. There will be a size chart for each helmet brand which will then show you what size you need.
Once you have the circumference of your head measured, you'll have plenty of helmets to choose from. If you happen to be kind of in-between sizes, always round up to the next size. If you round down a size, you will end up getting headaches which will make riding not very enjoyable.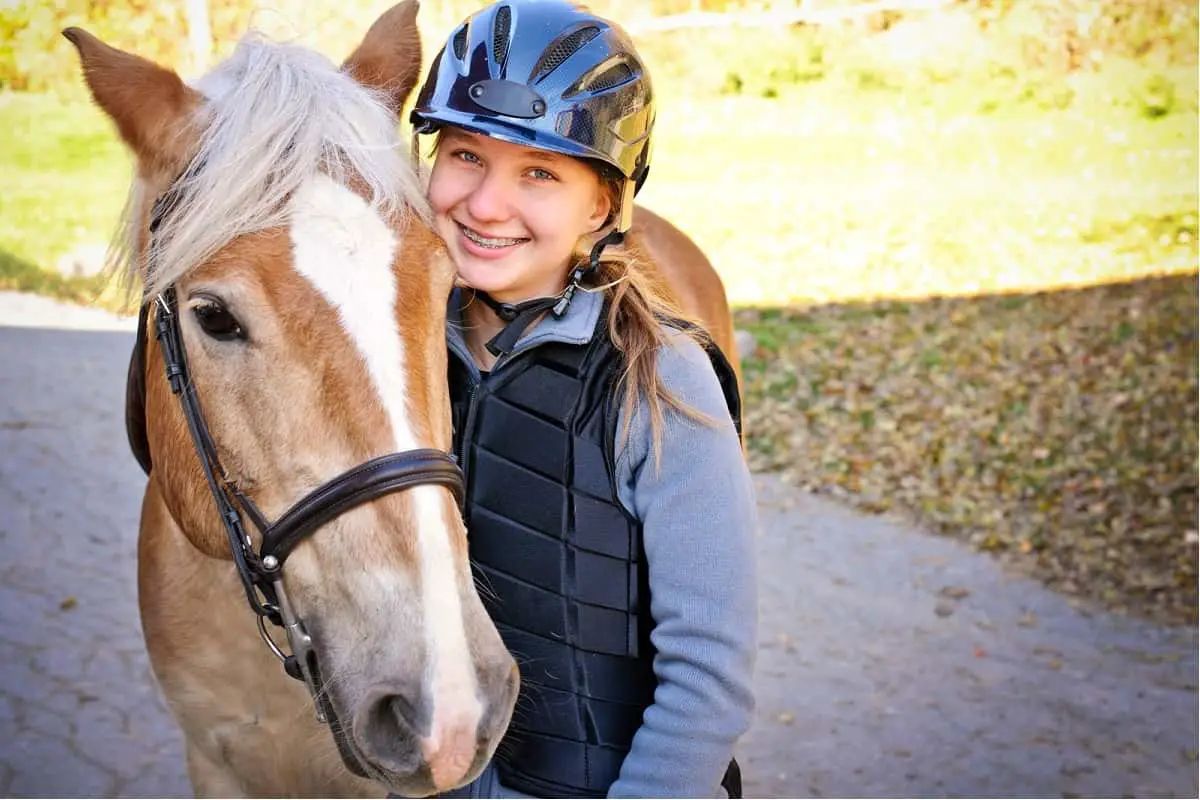 Many equestrian helmets will come with a dial-fit system just like a bicycle helmet so that it will fit you regardless of your head size. You simply slide the helmet down over your head, in a comfortable position and twist the dial in the back until it is snug.
How To Fit A Riding Helmet
You always want to make sure that the front rim of the helmet is at least an inch over your eyebrows. Any lower is considered unsafe as it may limit your ability to see. If it's adjustable, lower the rim to the right spot for your comfort and tighten the rear dial and the chinstrap until it is snug.
A helmet that is too loose can shift around on your head, limiting your vision and—if it's even slightly loose— creating an uncomfortable degree of heat friction. Too tight and you'll irritate the "pressure points" on your head, which is just asking for a pounding headache later in the day.
IMPORTANT: How to Know Your Helmet Size
If you're purchasing a helmet that has no dial adjuster, all you need to do is make sure that it is a snug fit that isn't overly restrictive but won't fly off of your head in a stiff breeze or during a brisk canter.
This content was originally published on headsdontbounce.com. If it appears on another website, it is a violation of the copyright owned by headsdontbounce.com.
Of course, most equestrian helmets have chin straps, so you'll have to factor that in as well when you're trying to find the best fit.
Another important consideration is your hairstyle. If you have long hair which you tie back, or wear plaited or braided, or in a bun, you really need to try on your new helmet while your hair is styled the way that you will normally have it when riding.
Safety Certification
The American Society of Testing and Materials (ASTM) and the Safety Equipment Insitute (SEI) are one of the sources of certification for equestrian helmets in the United States. When you purchase one, ensure that a certification label is on it or you won't be able to engage in United States Equestrian Federation competitions.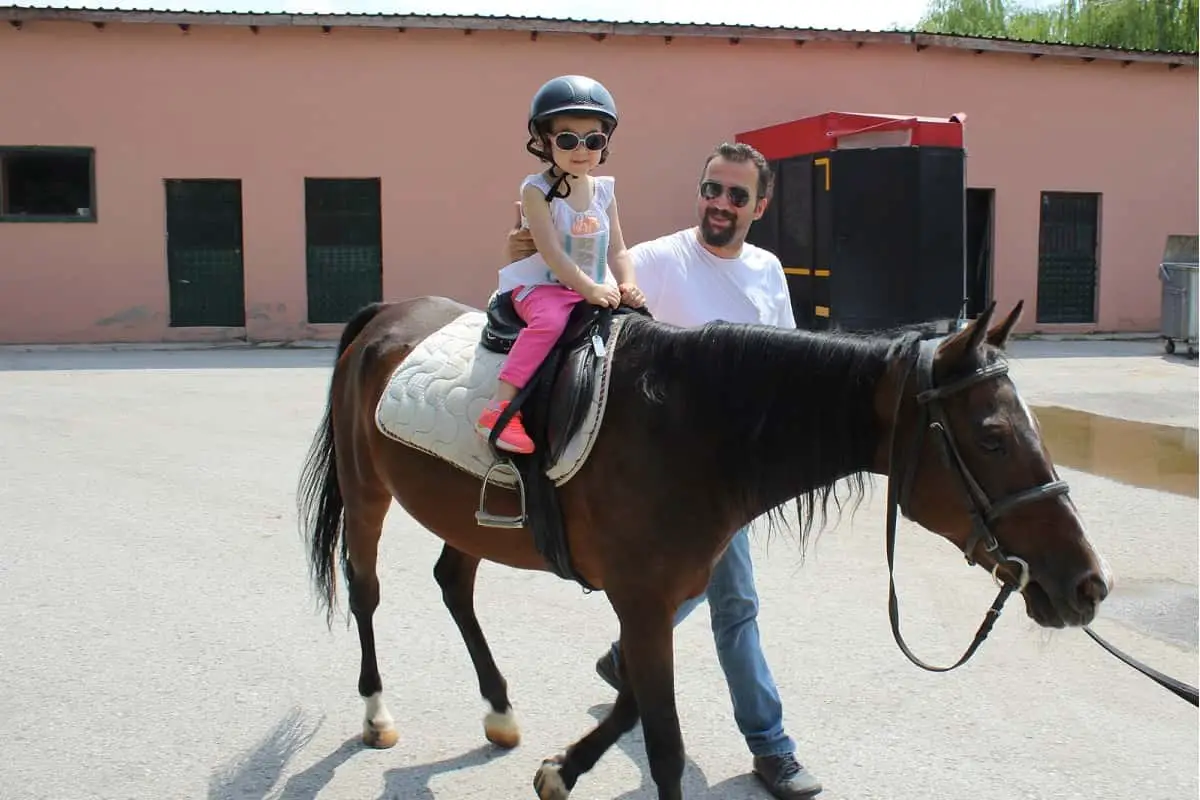 These are the same safety partners behind almost every approved Personal Protective Equipment (PPE) in the manufacturing industry. If you're purchasing an equestrian helmet, and it is labeled ASTM or SEI, then that means that the helmet has been tested for equestrian use.
SUGGESTED: Horse Riding Helmets For Toddlers
Of course, manufacturers of helmets for horse riding are continuously striving to improve the safety standards of the equipment they produce. So you know if you see the above labels on your helmet, then it has gone through a rigorous testing procedure.
Final Thoughts
So long as you properly measure your head, you will always know the size requirements necessary for you, personally. Make sure that your equestrian helmet provides a snug, but not overly tight, fit.
If you plan on entering a competition, you also need to make sure that your helmet is labeled with either ASTM or SEI. This will ensure your ability to participate and also equip you with industry-tested equipment that is the safest you can buy.
If you liked this post, why not share it with your friends.