Best Toddler Helmet For Scooter [2023 Update]
Nowadays, I see kids of all ages riding kick scooters. It would seem that scooters are in style. When I was a kid, I too had a scooter, but at that time scooters weren't 'in'.
I was the only one with a scooter. Everyone else had a two-wheeler bicycle, and there was me kicking along with my scooter. They all got to sit on a bike seat while I had to stand on the scooter. I rarely rode my scooter.
Below, you will find the best toddler helmet for scooter, all of which are CPSC certified. The good news is that as bicycle and scooter certification is the same, then all of the scooter helmets below are also the best bike helmets for toddlers too!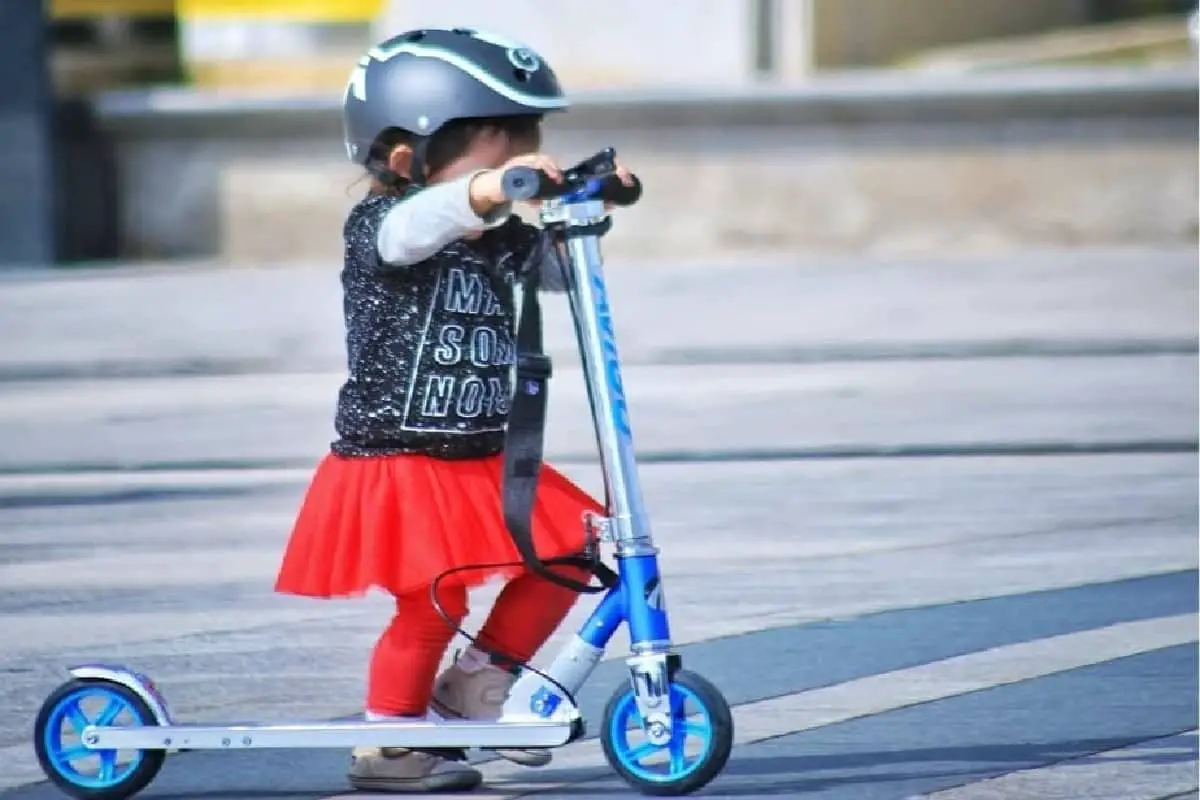 Toddler Scooter Helmet Comparison Table
On Mobile Devices, drag Table left to see more, if necessary.
And, while the focus of this article is on 'scooter helmets for toddlers', most of the helmets featured below will have larger sizes suitable for older children.
So, if you're looking for scooter helmets for kids or bike helmets for kids, you are sure to find a suitable helmet below.
SUGGESTED: Scooter Helmet Vs Bike Helmet
This content was originally published on headsdontbounce.com. If it appears on another website, it is a violation of the copyright owned by headsdontbounce.com.
Best Toddler Helmet For Scooter
Some abbreviations you'll see below:
CPSC – (United States) Consumer Product Safety Commission
ASTM – American Society for Testing and Materials
CE – European Conformity [European equivalent of CPSC]
PC – Polycarbonate
PVC – Polyvinyl Chloride [a synthetic plastic polymer]
ABS – Acrylonitrile Butadiene Styrene [a thermoplastic polymer]
EPS – Expanded Polystyrene [polystyrene foam]
---
1. Bell Sidetrack II Youth, Child, and Toddler Bike Helmet
This helmet represents quality, and will suit any parent looking for a helmet that will stand the test of time from a name that you can trust.
The helmet has a mountain bike helmet look about it with its front visor, so if either parent is into mountain biking, then your child might like the look of this Bell helmet.
Available in two different sizes, Universal Toddler (45 – 52 cm), and Universal Child (47 – 54cm). Actually, it has a third size of Universal Youth, but as we are focusing on Scooter helmets for Toddlers it doesn't quite fit, does it.
There are 10 colors to choose from dependent on which size you require. The Universal Toddler helmet weighs in at 270 grams (9.5 oz), and the Universal Child size at 310 grams (11 oz).
It is fully certified for both the US and European markets (bicycling), and has a rear adjustable dial to fine-tune the fit to suit your child's head size and shape.
It has 14 vents to keep your child's head cool, and the front visor is removable.
A great, professional-looking helmet probably more suited to a kid whose parents are active mountain bikers.
If you're looking for the best toddler scooter helmet, you really can't go past the Bell Sidetrack.
IMPORTANT: How to Know Your Helmet Size
RELATED: BELL Bike Helmet Size Chart
---
2. TeamObsidian FunWave Kids Bike Helmet
Yet another helmet from a reputable brand, the TeamObsidian Funwave looks pretty much like a regular adult style bike helmet with decals on to make it look cool.
A bit heavier than the other helmets in this review at 14.4 oz (408 grams).
The TeamObsidian FunWave seems to come in one size ranging from 48 cm to 54 cm. Making it fit a smaller head is done by way of 10mm thick pads in conjunction with the dial system at the rear of the helmet.
If it is to fit a larger head the 10mm pads can be replaced with 5mm pads and adjusting the dial system to a looser fit.
When you purchase the helmet, it comes with the 10mm pads preinstalled and the 5mm pads in the box with a set of instructions. The instructions fully explain how to adjust the size you suit your child's head size.
The TeamObsidian FunWave helmet is CPSC certified for bicycling, has 14 vents for cooling air-flow, and the chin straps are fully adjustable.
TeamObsidian have earned themselves a reputation for the best kids helmets for bicycle or scooter.
The FunWave is available in 4 different colors with an integrated visor, are durable with fun designs, and will make your kids want to wear their helmets.
IMPORTANT: How to Know Your Helmet Size
RELATED: TEAMOBSIDIAN helmet size chart
---
3. OutdoorMaster Kid's Multi-Sport Helmet
OutdoorMaster has been around for a few years now with a variety of great quality products that always have excellent ratings and customer reviews. Not to mention the amazing prices.
This sturdy kid's helmet is no exception. Made with a reinforced ABS (Acrylonitrile Butadiene Styrene) shell with impact absorbing EPS lining on the inside. The helmet also comes with 2 internal comfort pads which can be removed for washing.
It has a dial fit system at the rear of the helmet so you can adjust to get the perfect fit for your child's head, as well as an adjustable nylon chin strap to keep the helmet firmly in place. There are 12 air vents to keep you little one's head cool whilst scooting, skating or cycling.
The OutdoorMaster Kid's Multi-Sport helmet is available in 13 different colors, and the Small size will fit a 46 – 52 cm (18.1″ 20.5″) head.
The Kid's Multi-Sport helmet comes with CPSC and ASTM certification for scooter, bicycle and skateboard. OutdoorMaster stands by the quality of their helmet by giving a 1 Year warranty.
IMPORTANT: How to Know Your Helmet Size
OutdoorMaster Kids & Toddler Bike Helmet
If you wanted a kids/toddler bike helmet that is a little chunkier and a little more stylish, you might prefer OutdoorMaster's Kids & Toddler Bike helmet.
It is available in 12 colors, some of which include spacey dinosaurs and unicorns, while others are simply bright and colorful.
Definitely sturdy in design, but also built for comfort with 14 air vents to keep your child cool while playing. This helmet is fully CPSC and ASTM certified to guarantee your child's safety, with the reinforced ABS shell and shock absorbing EPS liner.
Adjustable straps and a rear dial adjuster means you can make the necessary adjustments for the perfect fit. Available in 2 sizes, the Small size would be most suitable for toddlers and pre-schoolers with a head circumference of 48 – 52 cm (18.8″ – 20.5″), while the Medium will fit 52 – 58 cm (20.5″ – 22.5″).
Includes OutdoorMaster's 1 year warranty!
---
4. Nutcase Little Nutty Helmet
One helmet manufacturer that's making a big impression with helmets for toddlers and little kids is Nutcase Helmets. Sporting a variety of kid-approved designs, Nutcase immediately appeals to the younger generation while the quality and technology that goes into Nutcase helmets get the thumbs up from their parents.
Starting with a sturdy injection-molded ABS (Acrylonitrile Butadiene Styrene) shell with an EPS (Expanded PolyStyrene) foam liner to protect your little one's head from falls, Nutcase helmets are also equipped with a MIPS (Multi-Directional Impact Protection System) liner to protect your child's brain from rotational impacts.
Once you have chosen the right size helmet, then the fit can be customized using the rear dial fit system along with interchangeable pads to line the helmet's interior. Then, to ensure that the helmet stays firmly in place, the reflective, adjustable chin-strap is secured with a powerful magnetic buckling system called Fidlock.
To ensure your child's head remains comfortable, there are 11 air vents to enable air-flow through the helmet. Thus ensuring that your kids feel cool as well as look cool.
For bigger kids, these Little Nutty helmets also come in a larger size range from 52 – 56 cm.
"But, what about the baby", I hear you asking. Yes, there is also the Nutcase Baby Nutty (see below).
Nutcase Baby Nutty
The Nutcase Baby Nutty is suitable for kids aged 1 year and older. The Baby Nutty has all of the features of the Little Nutty detailed above, including MIPS protection, but is slightly lighter weighing in at 9.9 oz (280 grams).
I must warn you that this helmet is so popular that it is constantly running out of stock. So, if it's unavailable today, you may try again next week or possibly pre-order to avoid disappointment.
IMPORTANT: How to Know Your Helmet Size
---
5. TurboSke Child Helmet
Here's a good one for those who are watching their budget. Fully certified to CPSC and CE standards so you can rest easy knowing that your child's head is protected in compliance with the relevant safety standards.
Looking pretty much like a regular adult road bike helmet, the TurboSke Child Helmet is a simple design yet sturdy helmet for children. The helmet shell is made of PVC with an internal EPS foam lining for shock absorption in the event of an accident.
In addition to the EPS foam, there are narrow strips of foam padding for extra comfort which can be removed and washed as necessary.
At the rear of the helmet is a dial to adjust the fit to suit your child's head. The chin straps are also fully adjustable.
Weighing in at the light weight of 230 grams (8.1 oz), and with 14 air vents for cooling, your child won't be bothered wearing this helmet.
With 7 colors to choose from and a size range of 48 cm to 52 cm, this should be well suited for your toddler.
IMPORTANT: How to Know Your Helmet Size
---
6. Ouwoer Kids Bike Helmet
Ouwoer might be a funny name but that hasn't stopped it from becoming one of the most popular helmets online for toddlers and kids. In fact with sizes ranging from 48 cm up to 61 centimeters this helmet is definitely not limited to just the little folks.
The Ouwoer kids bike helmet is constructed with a sturdy ABS (Acrylonitrile Butadiene Styrene) shell, and impact-absorbing EPS foam for head cushioning, this cozy fitting helmet is not only good-looking but good quality.
Eleven air vents for better airflow will keep your child's head cool and comfortable for hours. The rear crank dial adjustment system and 2 sets of different thickness pads (5 mm and 8 mm) provide a better, more snug fit as well as comfort.
The pads are removable for replacement or washing to keep the helmet free of bacteria and bad smells.
There's also a fully adjustable chin strap with extra padding in the chin area to protect your child's sensitive skin so that you can personalize the fit to your child's head and know that it is firmly held in place.
The Ouwoer Kids Bike helmet comes in 7 colors and three sizes from 48 – 61 cm (18.9″ – 24″). It is also in compliance with CPSC & EN 1078 safety standards for use with a bicycle, inline skates, roller skates, and kick scooters.
IMPORTANT: How to Know Your Helmet Size
---
7. Raskullz Toddler and Child Helmets
If it's unicorns and kitty cats that you're looking for, Raskullz is the brand for you. Not only are there two animals to choose from, but there are different colors, styles and two different size groups to choose from.
A small one at 48cm – 52cm, and then a little larger at 50cm to 54cm. Unfortunately, the unicorn only seems to come in the larger size.
Also, not content with just CPSC certification, they are also ASTM certified for 'skateboard helmets'. The molded 3D design has an EPS inner shell for impact absorbing head protection, and adjustable nylon straps.
Raskullz really covers all bases when it comes to the best toddler scooter helmets. With these amazing helmets, your little ones can easily skip from scooter to bicycle to skateboard with just the one helmet.
Be warned, external parts like ears, noses and unicorn horns can fall off, and most likely will fall off eventually.
Also, it does not have a size adjustable rear dial, only foam padding is used to accommodate smaller or larger heads. They are also a bit on the heavy side weighing in at 1.5 lbs (680 grams).
IMPORTANT: How to Know Your Helmet Size
---
Important Considerations
So now that scooters are cool and trendy every toddler should have one, right? This is a great age for kids to learn the importance of wearing a helmet to protect their head in the event of a fall, and also a great age to start to develop the habit of wearing a helmet.
SUGGESTED: Affordable Bicycle Helmets With MIPS
Head size, NOT age!
You will see and hear numerous parents ask "what's the best size for a 'X' year old?" That question is as answerable as 'how long is a piece of string'. Do NOT buy a helmet based on your child's age.
No matter what the manufacturer's packaging says. Some kids have small heads, some kids have big heads, and some kids have something in between.
Order your child's helmet based on your child's head size, NOT AGE!
Read our article 'How To Know Your Helmet Size' and be sure to measure your child's head correctly.
The Correct Size Helmet
As previously mentioned, DO NOT buy a helmet based on the age of your child! Always, measure your child's head, and buy a helmet according to your child's head size!
Of all things that you could consider when purchasing a helmet for not only your child but for any family member, including yourself, is to buy the correct size.
Throughout this article and every other article on this website, I provide links to our article How To Know Your Helmet Size because it is super important.
Wearing the wrong size helmet is akin to those young guys you sometimes see on their motorbikes with a helmet on their head but the chin straps hanging down unfastened. It serves no purpose if it's just going to fall off in an accident.
If the helmet is too big or unfastened it can very easily fall off or at the very least shift to the side, front or back, exposing the face or head.
If the helmet is too small, it will either just sit on the top of the head not protecting anything, or if it is forced onto the head it can be too painful that your child won't want to wear it.
Be sure to measure your child's head, and purchase the correct size for your child's head.
Scooters And Helmets
All of the helmets reviewed above have been built and designed for toddlers and young children in mind, so for the most part their weight is suitable for that age group.
Ideally, you want a helmet that is so light that you don't even notice you're wearing it, yet, at the same time, strong enough to do its job and protect your head when its needed.
Your dainty little pixie of a daughter will probably appreciate a lighter helmet than your stocky, solid built son, or vice versa.
Buckles and Straps
Most modern helmets have appropriate buckles and strong straps as part of the manufacturing process because a strong 'retention system' is necessary to become safety certified by CPSC or CE.
However, little kids have soft skin which can easily become irritated by a chin strap rubbing against their skin for extended periods.
You need to keep an eye out for this sort of thing happening. If your child gets a rash under the chin, perhaps you have the chin strap too tight.
Alternatively, you could make a small sleeve from a soft material to cover the chin strap, though I would hope that this is not necessary. Many chin straps are already padded.
Do Toddlers Need Helmets For Scooters?
Legally or morally? For 'Legally' see the next section 'Safety and Certification'.
Morally comes into play if there are no laws in your country/state/town that make wearing a helmet compulsory.
If you make the moral decision that wearing a helmet is not necessary, you will need to be prepared to accept responsibility for that decision in the case that the unthinkable happens to your child.
Helmets can be considered cheap insurance. They can't protect anyone's head from concussion, but they can certainly soften the blow.
Helmet Certification
In the United States, the only mandatory Safety Standards are CPSC standards. ASTM Standards are voluntary standards and are not mandatory.
That said, it is still possible for local jurisdictions to implement local laws that can be enforced within that local area. Therefore, you, the consumer, will need to check whether there are local laws that require scooter riders to wear a helmet or not in your local area, like this one below.
NYC local law:
§ 19-171. Helmet requirement for persons [under the age of fourteen] operating scooters and bicycles.
The term "scooter" means a device propelled by muscular power, consisting of a footboard between end wheels and an upright handle attached to a front-wheel or to the footboard.
In the United States, there is no CPSC standard for scooter helmets, however, most scooter helmets will have CPSC 1203 certification.
CPSC 1203 is the standard for bicycle helmets, which means that all of the scooter helmets shown above are also the best bike helmets for toddlers as well.
There is ASTM F1492-15 (Standard Specification for Helmets Used in Skateboarding and Trick Roller Skating), and ASTM F1447-18 (Standard Specification for Helmets Used in Recreational Bicycling or Roller Skating), but even though they don't cover scooters, you may find some scooters that are tested to those standards.
I hope we have covered the subject of 'best toddler helmet for scooter' to your satisfaction. If you enjoyed this article, take a look at the related reads below for some more interesting reads!
If you liked this post, why not share it with your friends.