How Should A Bike Helmet Fit?
Based on statistics from the National Safety Council (NSC), a total of 1,260 fatalities due to biking-related accidents were recorded in 2020. This number is 16% higher than bicycle-related, preventable deaths that occurred in 2019. That's almost three times the increase from 2018 to 2019 of 6%!
Your bicycle helmet is the most essential piece of safety gear that you can wear whenever you go for a ride, but if it doesn't fit correctly you could be putting your life in danger.
But the question, how should a bike helmet fit, isn't always as straight forward as some people think. In this article, we'll take a look at how it should fit, as well as how to make your bike helmet fit better.
KEY TAKEAWAYS
* Start with the right sized helmet for your head size.
* Ensure the helmet is sitting flat on your head.
* Adjust any sweat pads and the dial at the rear of the helmet.
* Tighten the buckle and/or the chin strap.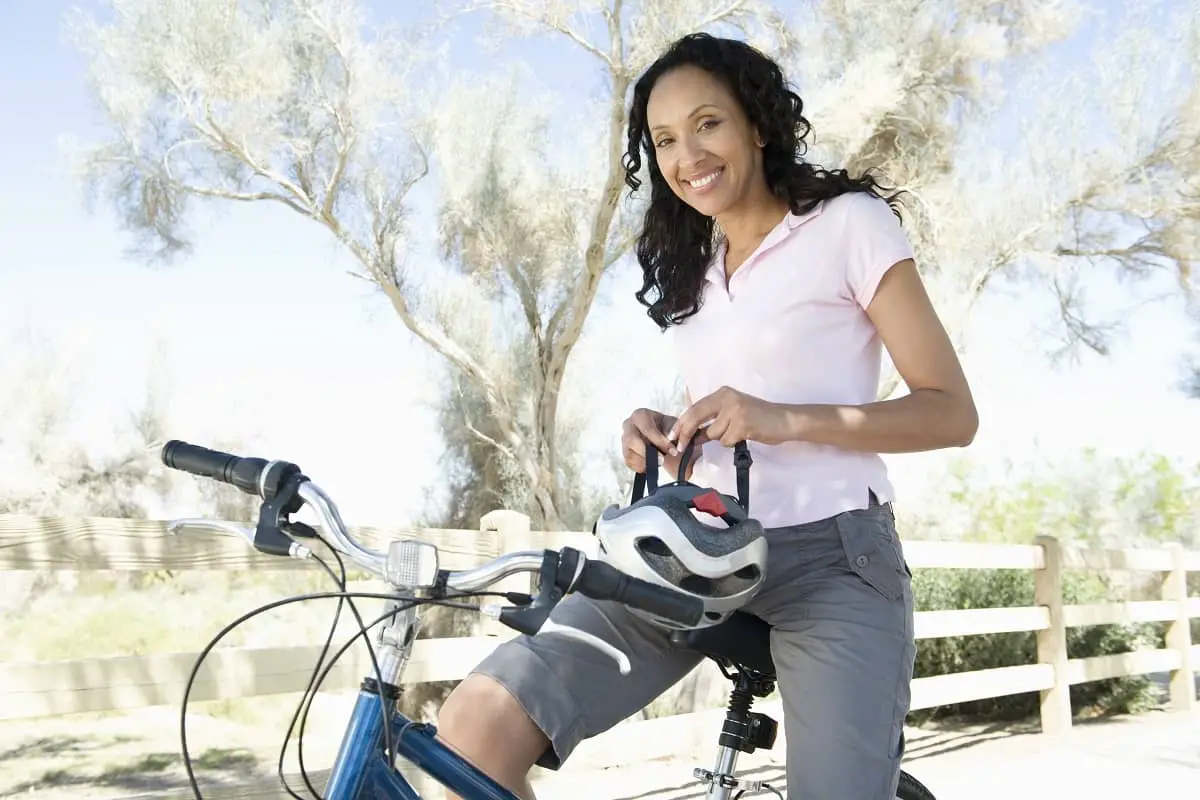 Disclosure: As an Avantlink and Amazon Associate, we earn from qualifying purchases. Disclosure Statement.
Page Content
How Should a Bike Helmet Fit?
Bicycle helmets come in different styles, shapes, and sizes. To ensure that your bike helmet provides the maximum head protection you need, it should fit your head snugly and comfortably.
It's not just a case of wearing a bike helmet 'so therefore I'm protected', but most importantly, wearing the right-sized helmet which has been properly adjusted to fit your head. Too big and it can wobble around or even fall off just when you needed it the most. Too small and it will give you a headache which will make you not want to wear it.
How to Make Your Bike Helmet Fit
Bike helmet sizes typically range from extra small to extra-large, and some models are one-size-fits-all, but most have an adjustable fit system. Bike helmet manufacturers often indicate the helmet size based on head circumference, either in inches or centimeters, and occasionally by hat size.
The following steps can help you make helmet adjustments and ensure the proper bike helmet fit:
VIDEO: How To Measure For A Bike Helmet
Measure your head size.
To get the correct measurement, use a measuring tape and wrap it around your head. The tape should sit half of an inch above your eyebrows. You'll want your bike helmet to fit securely but comfortably, so don't wrap the measuring tape too tightly.
Image Amazon.com
Try on different bicycle helmets.
Note that bicycle helmets come in different types and styles. Some helmets are suitable for commuting and fitness riding, while there are models that are meant for mountain biking and road racing.
Sample different brands too until you find one that feels like the perfect fit. It should be a helmet that you like wearing and that's meant for the type of riding you plan to do. The closer to the right fit you begin with will make achieving the perfect fit so much easier.
Keep the helmet position in check.
When wearing the bike helmet, make sure that it sits flat on your head and doesn't slip or wobble. Keep the helmet low on your forehead. Ideally, the front rim of the helmet must be an inch or two fingers width above your eyebrows. This position safeguards your forehead upon impact.
RECOMMENDED: How To Wear A Bike Helmet
This content was originally published on headsdontbounce.com. If it appears on another website, it is a violation of the copyright owned by headsdontbounce.com.
Adjust the sweat pads or fitting ring.
Most helmet models have removable pads inside the helmet. In fact, many manufacturers provide spare pads for the purpose of personalizing the helmet fit.
If the helmet is too loose, it means that it is either too large for your head or you need to add more padding. But if the helmet fits uncomfortably tight, you can remove the pads or use thinner ones. Doing this may reduce ventilation slightly, but it is hardly noticeable.
Other bike helmets, like the one-size-fits-all models, are equipped with a fitting ring with an adjustable dial at the back of the helmet instead of (or as well as) removable sweat pads. If the helmet you choose has a dial-fit ring, you need to adjust it tightly, but not uncomfortably tight, so it remains stable on your head.
Secure the side straps.
The straps should lay flat against the side of your face and form a "Y" shape below your ears. Pay attention as well to the clasps or sliders. Adjust them in the proper position so they won't be too high or too low. Lock the slider, if possible, so it won't loosen or slip when you move your head.
Tighten the buckle or chin strap.
You'll know that the chin strap is tight enough if not more than one finger fits between the strap and the underside of your chin. Most bike helmets have straps that you can pull from the rear of the helmet so you can tighten or loosen it.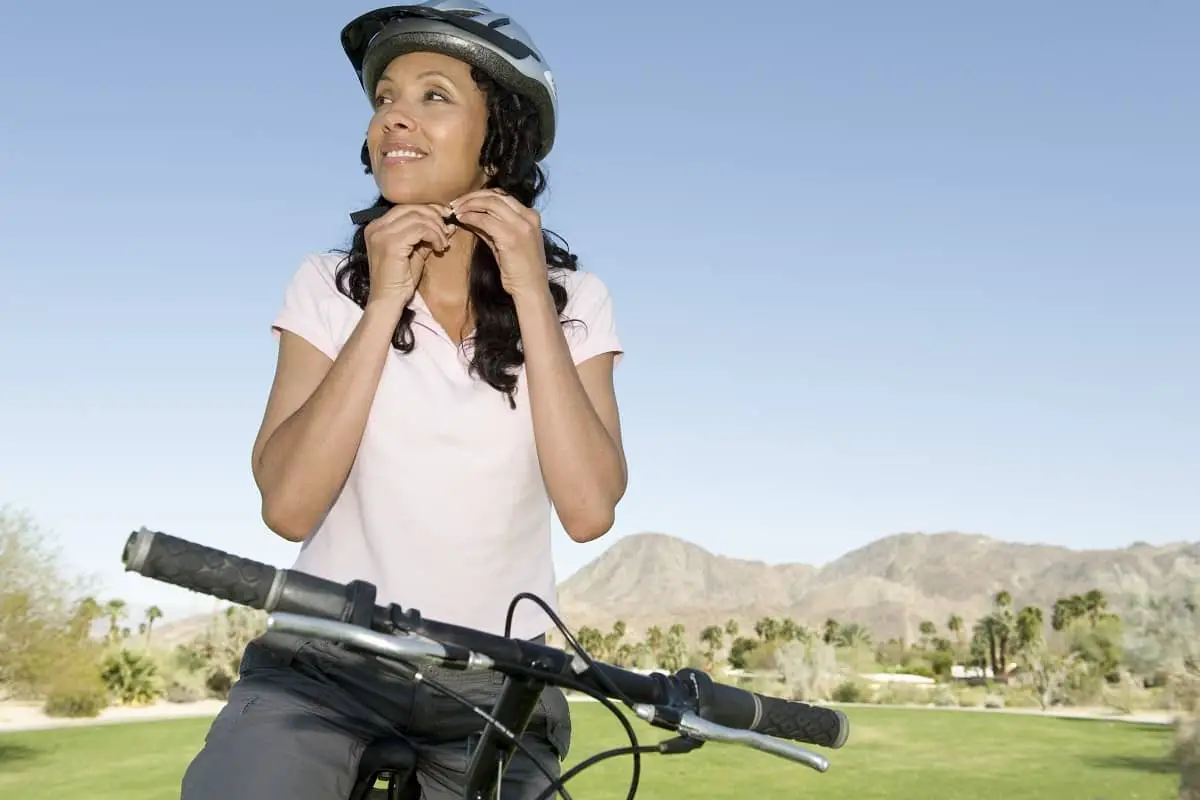 Bike Helmet Fit Test
So, how can you know if your bike helmet fits properly? These tips will tell you if your helmet is securely strapped on your head.
Open your mouth wide, like when you're having a big yawn. Your helmet should pull down and the inner shell should press against the top of your head.
If you look up, you should see the rim of the helmet or the tip of the helmet visor. Otherwise, you need to make a few re-adjustments on the side and chin straps.
Lean your head forward. If your helmet slides down, you need to shorten the rear straps. If you tilt your head backward and your helmet slides towards your nape and exposes your forehead, you need to tighten the front straps.
Shake your head sideways and from the front to back. If your helmet moves, you may need to adjust the universal fit ring or add more sizing pads.
Why is it Important to Wear a Bike Helmet?
The answer is pretty simple. Whether you're a beginner or you've been riding a bike for a long time, a bicycle helmet serves as a lifesaver in the event of an unexpected fall or crash. Wearing a bicycle helmet protects your head from impact, preventing serious head injury or brain trauma.
If you have any doubts about the effectiveness of bike helmets, take a look at our article 'Do bike helmets work?', you might be surprised.
Always remember that when it comes to road safety, wearing a bike helmet is only part of the equation. You also need to obey traffic rules and respect other riders, drivers, and pedestrians you encounter on the road.
If you liked this post, why not share it with your friends.