Do I Need A Helmet To Ride An Electric Scooter?
Every day I see more and more people of all ages scooting around on electric scooters. Some with and some without helmets. Which raises the question of whether you need a helmet to ride an e-scooter or not?
On the legal side of things, there are several states with laws regarding the wearing of helmets while riding an electric scooter. However, these laws, generally speaking, are for riders under the age of 18.
As for whether you 'need' a helmet to ride an electric scooter, the answer is that you don't 'have to' but it's probably a good idea for several reasons.
For example, if you're traveling on a device that easily exceeds 20 mph, wearing a helmet is highly recommended, and it's strongly advised that you do so. The bottom line is that helmets are a type of PPE that are definitely worth wearing.
Page Content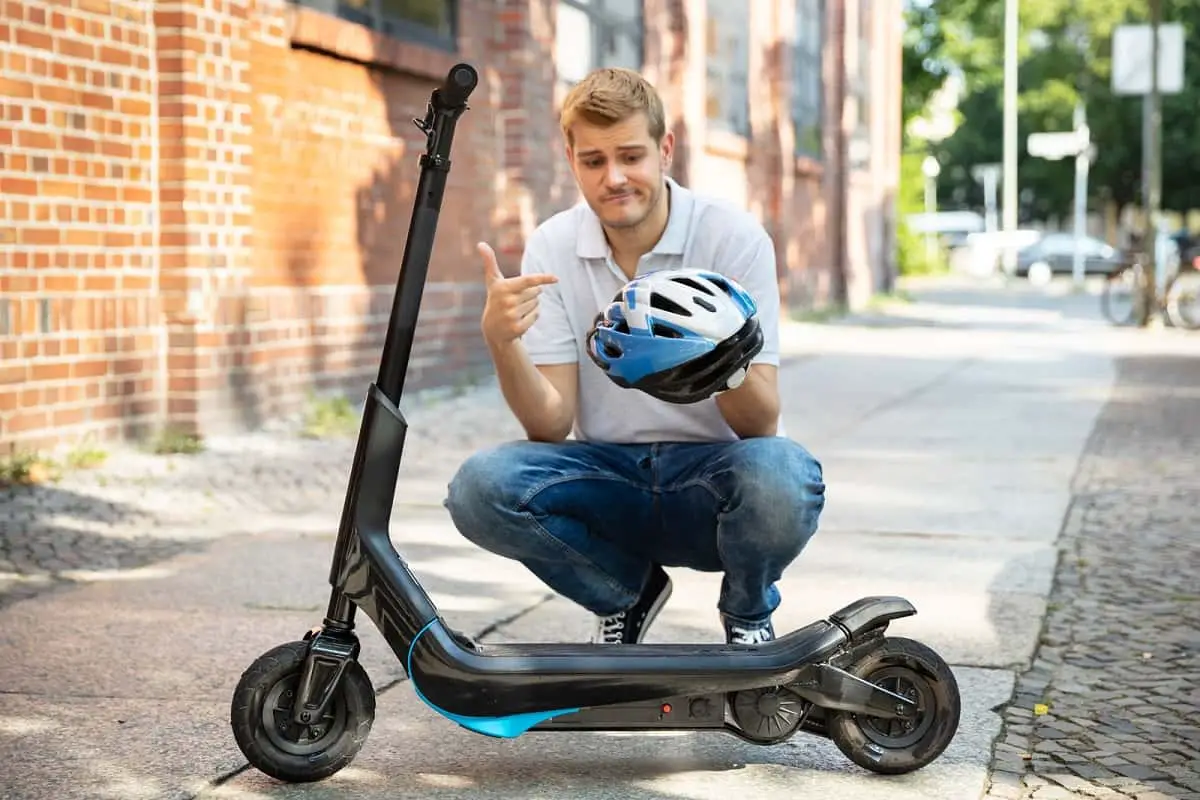 Disclosure: As an Avantlink and Amazon Associate, we earn from qualifying purchases. Disclosure Statement.
Are Electric Scooters Legal?
In the United States, electric scooters are street legal in 48 states, with the two holdouts being Pennsylvania and Delaware. Now, that's not to say that you can't own one in those two states and no one will probably bother you over it in local communities and streets.
What it does mean, is you will probably get ticketed if you bring your electric scooter out onto any kind of heavily trafficked area. We're not suggesting that you ride an e-scooter in Pennsylvania and Delaware, however, no one will probably flip a lid if you take one for a spin around your cul-de-sac.
States With E-Scooter Helmet Laws
In the United States, currently, there are 12 states, including DC, where a helmet is a legal requirement when riding an electric scooter. Here's a quick summary of where e-scooter helmet laws are enforced:
California: Required for riders under the age of 18.
Connecticut: Required for riders under the age of 16.
Delaware: Required for riders under the age of 16.
Louisiana: Required for riders under the age of 17.
Massachusetts: Classed the same a mopeds, thus, helmets are required.
Minnesota: Required for those under the age of 18.
New York: Required for riders under the age of 18.
North Dakota: Riders under the age of 18 must wear a 'motorcycle' helmet.
Oklahoma: Required for riders under the age of 18.
South Dakota: Required for riders under the age of 18.
Washington D.C.: Helmets required for those under 18 on shared scooters only.
West Virginia: Helmets are required for everyone under 15 riding an 'e-bike'.
This content was originally published on headsdontbounce.com. If it appears on another website, it is a violation of the copyright owned by headsdontbounce.com.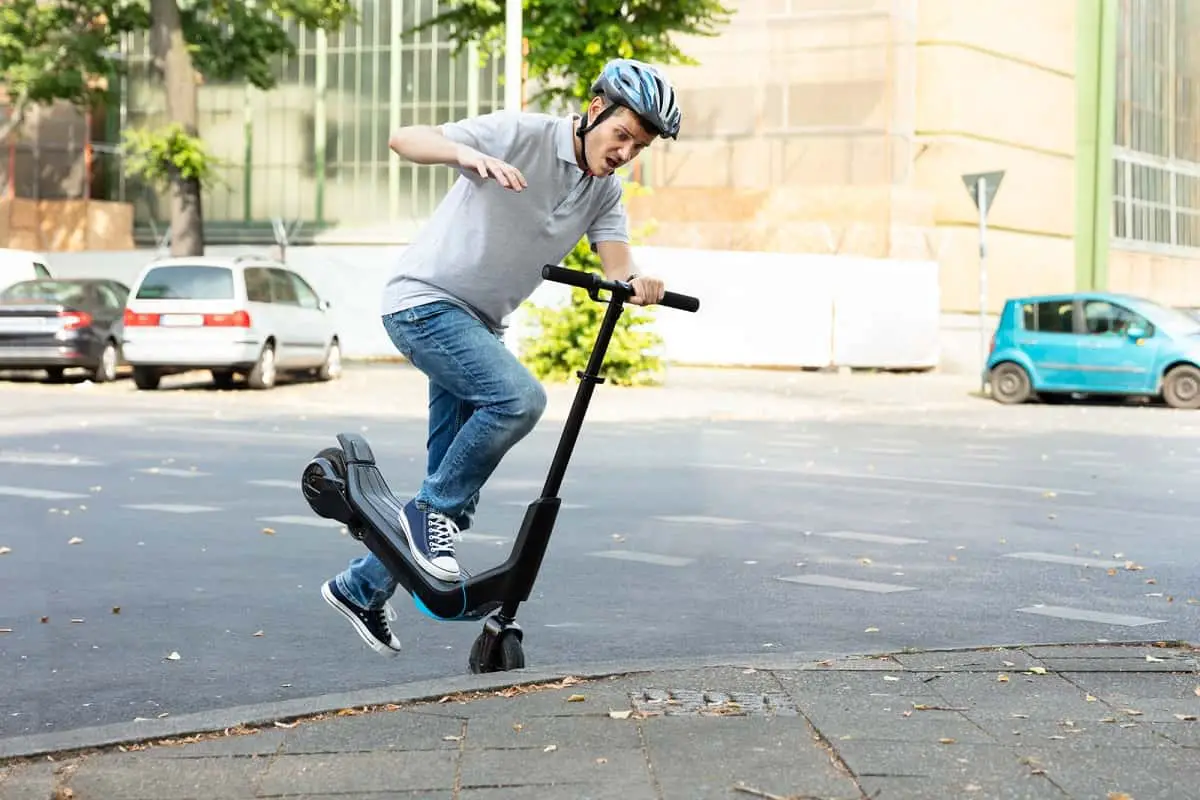 What Type Of Helmet For Electric Scooters?
There are a lot of different types of helmets out there but none specifically classed as, or, certified as an e-scooter helmet. So, in the absence of a helmet law or a certified e-scooter helmet, we have to resort to good old-fashioned common sense.
Even the CPSC has no definitive ruling that covers all e-scooters because, quite simply, they are not all the same. The CPSC has different suggestions based on the speed capabilities of the e-scooter.
For e-scooters that travel at speeds below 20 mph, then a bicycle helmet may be appropriate.
For e-scooters that travel at speeds greater than 20 mph, and are likely to interact with motorized vehicles, then CPSC suggests that a motorcycle helmet would be more suitable.
You probably don't need a full-fledged, DOT-approved, full-face motorcycle helmet to ride sedately around your local area. Though there would be nothing wrong with doing so.
IMPORTANT: How to Know Your Helmet Size
What it all boils down to is using a bit of common sense and considering how you think you will use your e-scooter, and deciding what you feel is best for your protection, and determining the appropriate helmet accordingly.
What's the max speed and how often will you reach it?
Will you do any of your ridings at night?
Will there be a lot of traffic around you?
Will you be riding on icy roads?
There are several types of helmets that you could consider. For instance, if you feel that a motorcycle helmet is a bit over the top, but a bicycle helmet doesn't feel safe enough, go for something in between, such as a Downhill mountain bike helmet or a BMX-type of helmet.
Bicycle Helmet (CPSC certified)
Skateboard Helmet (CPSC or ASTM F1492 certified)
BMX Helmet (ASTM F2032 certified)
Downhill MTB Helmet (ASTM F1952 certified)
Motorcycle Helmet (DOT FMVSS 218 approved)
Each one has its pros and cons and meets different safety standards. The motorcycle and downhill helmets are probably appropriate for high traffic areas and driving around in icy weather. BMX, skate, and bicycle helmets are more appropriate for low traffic and night rides, especially for short distances.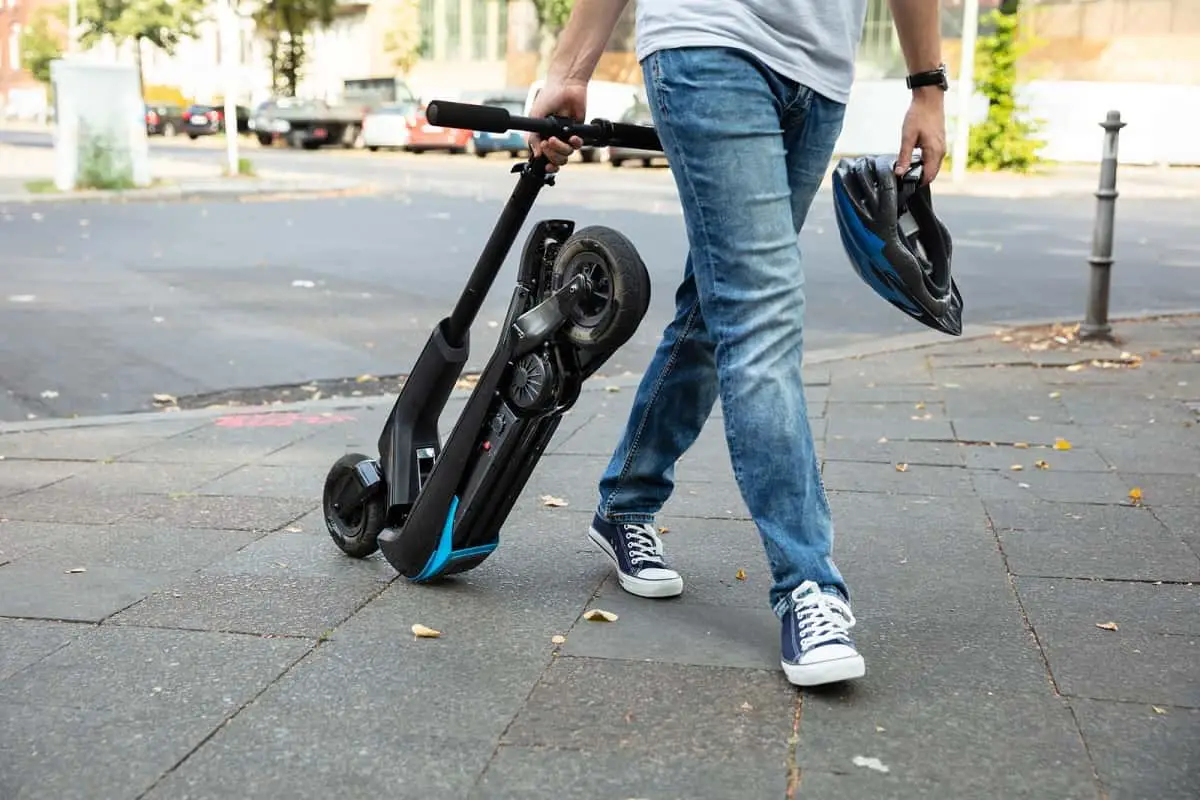 Electric Scooter Helmet Certification
As mentioned, there are five different helmet types that you could consider when it comes to riding electric scooters, however, there is one more worthy of consideration which is the Dutch NTA-8776 E-Bike Helmet Certification.
SUGGESTED: Is MIPS Worth It?
NTA-8776 was developed for e-bike helmets traveling up to a speed of 45 kph (about 28 mph). The best thing is that they are lightweight and look very much like a regular bicycle helmet with high-end safety standards.
You can see a selection of NTA-8776 certified helmets here.
If you're riding an electric scooter and you are wearing a helmet that has Dutch NTA-8776 certification, you're wearing the maximum level of protection necessary.
Conclusion
One thing is for sure, you'll have plenty of different options when it comes to keeping your head safe on an electric scooter. While there are few laws concerning whether or not you should have to wear one, it's entirely up to you to determine your level of safety.
Just because states don't have much in the way of helmet regulation on electric scooters doesn't mean that you can't wear one. The reality is, you probably should, and now that you're more informed on the matter, pick the one that's right for you and stay safe when you ride.
If you liked this post, why not share it with your friends.