What To Do With Expired Helmets – Part 2 (Re-purposing)
If you were to put your old motorcycle helmet into your recycle bin thinking that it might get recycled, the fact is that it will most likely end up in the landfill.
The reason being that recycling of helmets is, for the most part, just not economically viable.
There may be some local municipalities that do actually do some helmet recycling, so probably best to call them first to find out what the deal is in your local area.
If you missed it already, you can follow this link to read What To Do With Expired Helmets Part 1.
You don't really want to add more to the local landfill than is necessary, so what can you do with that old helmet.
The answer really depends on how old the helmet is, the condition of the helmet, and what suits you.
Page Content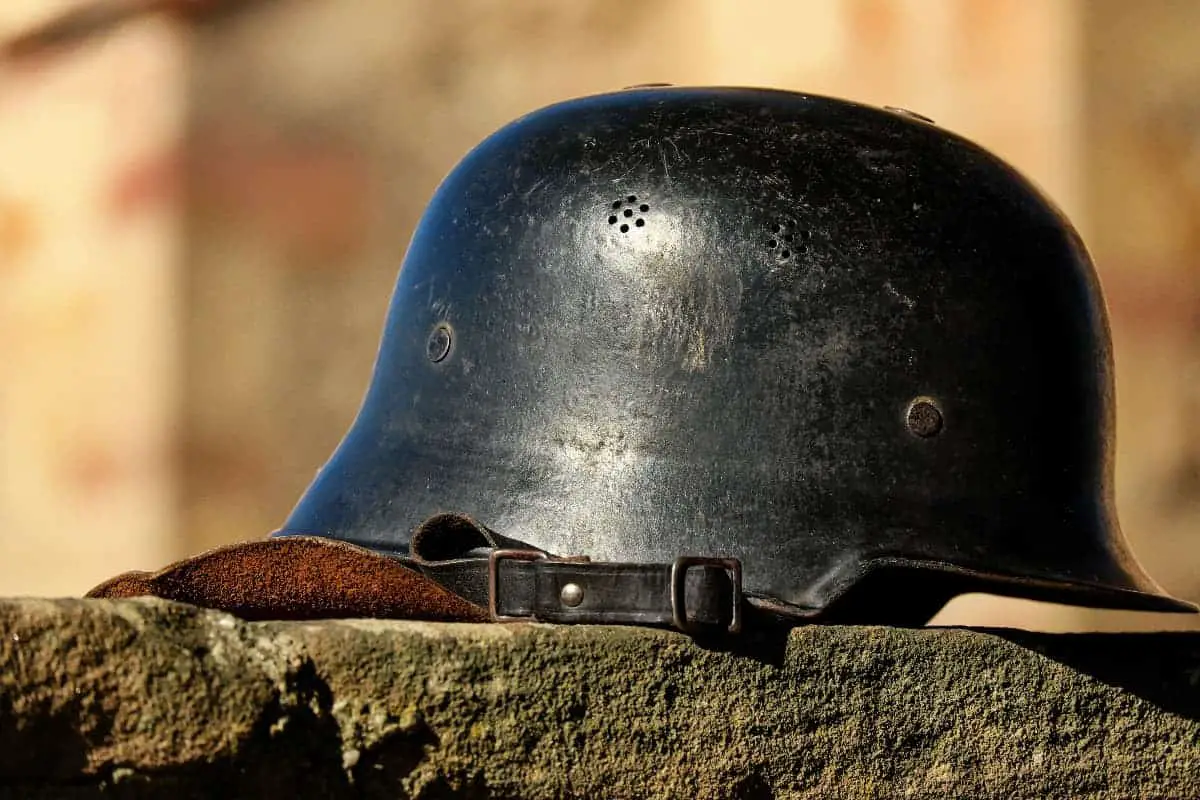 Disclosure: As an Avantlink and Amazon Associate, we earn from qualifying purchases. Disclosure Statement.
Re-purposing Old or Expired Helmets
Trade-In
If you intend to buy a new helmet, you should check online or with your local helmet shop to see if the manufacturer of your helmet is doing a trade-in deal. Sometimes, manufacturers will offer discounts for returning your old helmet. This way you can get a new helmet at a discount and at the same time pass the burden of what to do with the old helmet on to the manufacturer.
If the helmet is old and tattered, or old and ugly, or has been crashed or damaged in some way, it would probably be best just to cut the straps off, hit it a few times with a sledge hammer and put it in the trash or recycle bin (maybe they do recycle locally). Or, see the section below titled 'Get Creative'.
If the helmet is damaged in any way, or you know it has been involved in a crash, then do not give it away or even throw it away. It you decide to send it to the landfill, be sure to cut off the straps so that you can be sure that no-one will try to re-use it. Alternatively, a damaged helmet can be re-purposed as outlined in this article. See 'Get Creative' below.
SUGGESTED: Bicycle Helmets With Bluetooth
Donation
If it's your old helmet that you've had for a few years but haven't used it, it may very well be in good condition. Or even your child's helmet that they have outgrown but it's still in good condition, and provided that you're sure that it hasn't been involved in a crash of any kind, then you could possibly donate the helmet to:
a friend who can't afford to buy a helmet.
a friend who won't buy a helmet, but you feel may use it if you give it to him.
emergency services or first aid groups for training.
a school or drama group for use in a play or dress ups.
Other Ideas
If none of the suggestions above suit you, but you want to do something without getting overly creative.
– If you're a gardener, you can remove the EPS foam, chop it up and use it in your potting mix for aeration, or even for aeration in clay soils.
– If you're a shooter or archer, you can paint a bullseye on the back of the helmet and use it for target practice.
– If you have plenty of wide-open space, and a few drinking buddies that you could invite around for a barbecue, you could invent your own 'mini-olympics helmet toss'. Yeah, I just made that up, but hey, why not?
Alternatively, you can get creative and do something artistic with your helmet.
Get Creative
Helmet Art
Just to get you warmed up and to get the old gray-matter into creative mode, take a look at this video. This guy is a tattooist who took up helmet painting a few years ago. He staged his third Upcycle Helmet Art Show displaying almost 40 helmets, painted by himself and friends, in July 2019.
Upcycle Helmet Art Show – motorcycle helmet art
Unfortunately, the 2020 Upcycle Helmet Art Show was cancelled due to the COVID-19 pandemic.
If you can imagine yourself doing some helmet painting of your own, then here are some more videos to give you some ideas.
Ok, so maybe you have no interest in hosting painted helmet art shows, but like the idea of getting artistic with your old helmet. I've heard of some people who have made some money by painting old helmets then selling them on etsy.com. Alternatively, you could sell them locally at your local weekend craft market, or do a google search for "places to sell handmade items online".
Old Helmet Display
If you have a few old helmets around but don't feel like painting them, why not just put up some shelves in the living room, rumpus room or your man-cave and create a helmet display. You can add to your collection as the years go by.
SUGGESTED: Are Expensive Bike Helmets Worth It?
Hanging Basket
Use as either a hanging basket or wall-mounted basket for your plants. You can see lots of pictures of all types of old helmets being used for hanging baskets on the internet. This idea can be done with not much effort.
Just remove the padding from the helmet and fill with potting mix. You can either remove the helmet straps or not, and/or add some wire or chain to use to hang the helmets on your balcony.
This content was originally published on headsdontbounce.com. If it appears on another website, it is a violation of the copyright owned by headsdontbounce.com.
Most modern bicycle helmets have lots of air vents. This type of helmet is well suited for orchids if you're an orchid fan. Just remove the internal padding, then line the inside of the helmet with coconut husk fiber. Add your orchid spikes and keep moist.
Here is a video showing step by step how to turn an old helmet into a hanging basket.
[Cultural note: If you're as curious as I am, she is speaking Malayalam which is a language spoken in the Indian state of Kerala. It is spoken by 38 million people]. You don't need to understand her to see what she is doing. She has quite a collection!
Helmet planter / Helmet reuse idea
Mailbox
You may have already seen commercially available football helmet mailboxes, so there's no reason why you can't turn your helmet (any helmet) into a mailbox. It doesn't need to be too fancy, and you can paint it any color you want. Probably a helmet with a visor would be best so as to protect your mail from the rain.
Snack Dispenser
This might sound a bit weird, but a friend of mine actually did this. I remember visiting him one time and noticed the helmet sitting on his office desk, and didn't give it a second thought. Why would I? It's just a helmet sitting on the desk, right?
Then he said to just help myself to some peanuts if I wanted, nodding at the helmet. I was a little confused. He then lifted the visor to expose a large flat bowl inside full of peanuts.
He told me that he fills it with whatever he has available at the time – peanuts, popcorn, Doritos, M&Ms, etc.
Indoor or Outdoor Lamp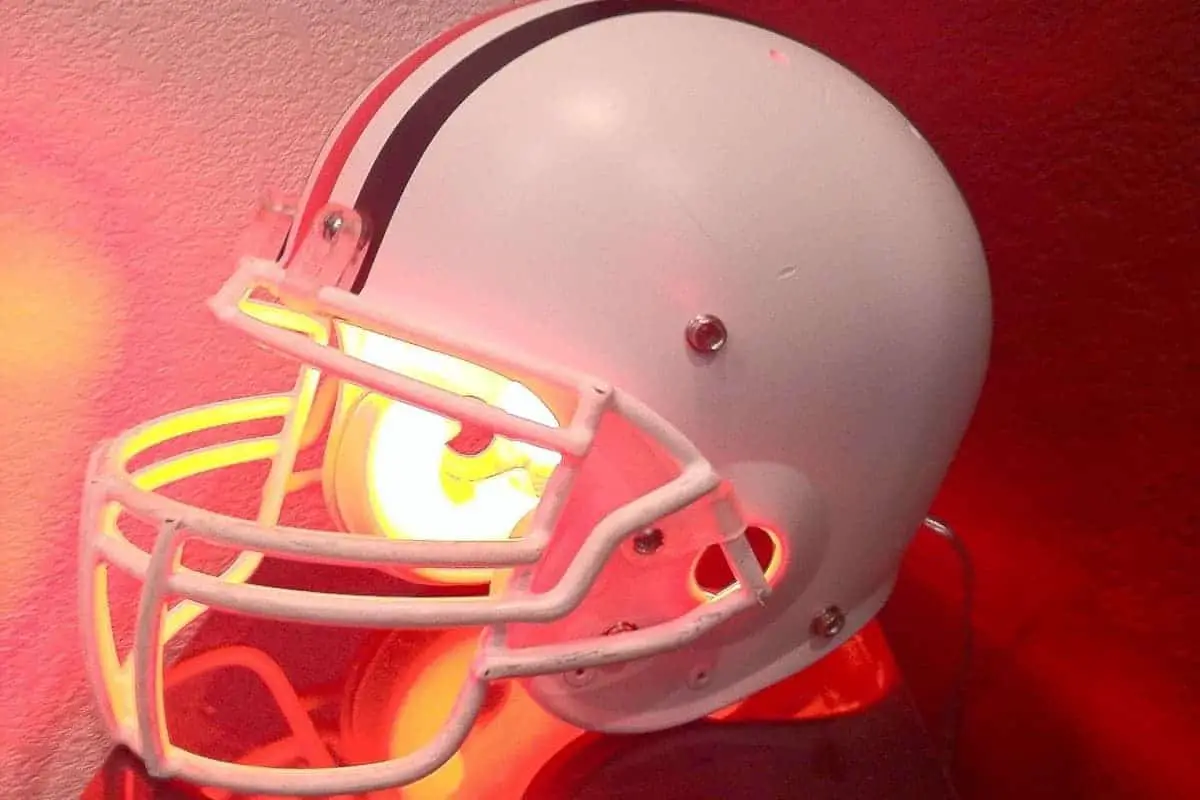 If you're wondering what to do with that old motorcycle helmet, then this may just be the answer. I've seen a few of these on the internet, and they can look great as an indoor or outdoor lamp, either wall-mounted or standing on a desk or side table.
Probably would be best to use a helmet that is still reasonably good looking, but any old helmet can be sanded and air-brushed to look nice again. Lamp Making Kits can be bought on Amazon at very reasonable prices, and they usually include instructions as well.
Nesting Box
If you have an aviary, then an old helmet could very easily be put to use as a nesting box. The helmet doesn't even need to look nice, the birds won't be too fussy. As long as the birds can get in and out, and feel that it offers protection to their chicks it should get their stamp of approval.
Bird Feeder
While we're talking about our feathered friends, what about a bird feeder (or squirrel feeder as the case may be). A half shell helmet would probably be better suited as wild birds just want to stand on the edge and peck seeds rather than go climbing inside to get them.
Wall Plaque
And finally, if you have a helmet that you absolutely love and took care of for many years, but now it's time to upgrade but you just can't bear the thought of parting with it, then you can give your prized helmet pride of place on the wall of your home or office.
Watch this video, be sure to see the finished product at the end of the video.
You have to admit, that helmet wall plaque above does look pretty cool.
Your old motorcycle helmet, expired ski helmet, crashed mountain bike helmet, or any other helmet can be re-purposed to become anything. You are only limited by your own imagination.
Get out there and get creative, folks!
If you liked this post, why not share it with your friends.