Some people may not realize that there are many different types of bike helmets, for the different types of bikes and/or biking activities. Choosing the right type of bike helmet is the same as choosing the right tool for the job.
At a glance, all bike helmets may look similar. However, certain features set one bike helmet apart from the others. These features typically vary based on the type of riding the bike helmet is intended for.
This guide will help you decide which cycling helmet is suitable for the type of riding activity you plan to do.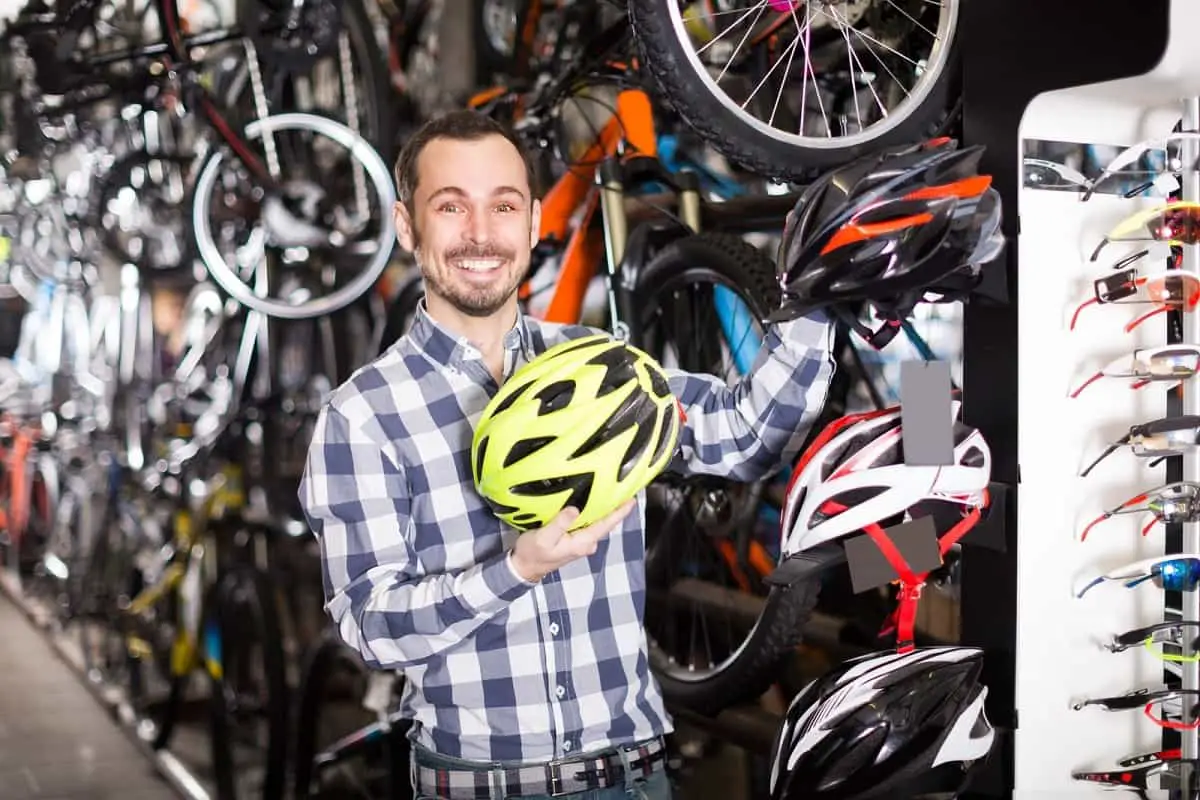 Types of Certification for Bike Helmets
The primary goal of a bike helmet is to offer head and brain protection. But, how can you know that a particular helmet can do this in case of an accident?
Before being sold, bike helmets are tested for safety and performance to ensure that they can deliver head and brain protection. When it meets safety standards, it should bear the code that represents the type of standards the helmet was tested for.
RECOMMENDED: Low Profile Bike Helmets
Below are some examples of riding activities and the applicable safety standard/s:
Bicycling/Bike riding – CPSC 1203 (US); CE EN-1078 and EN-1080 (Europe); AS/NZS 2063 (Australia)
Downhill MTB and BMX – ASTM F1952
BMX Cycling – ASTM F2032
E-bike riding – NTA 8776
Skateboarding and biking (Dual-certified bike/skate helmets) – ASTM F1492
It's also quite common for a helmet to carry more than one type of certification. For example, many BMX bike helmets will be certified for BMX (ASTM F2032), Downhilll (ASTM F1952), as well a general cycling certification (CPSC, EN, or AS/NZ).
RECOMMENDED: How To Wear A Bike Helmet
---
Types of Bike Helmets
With different types of bike helmets out there, choosing one that suits your needs may seem confusing. To make your decision easier, you can always go for the cycling helmet that matches the type of bike you have. The following are the most common types of bike helmets.
Regular Bike Helmets
Regular bike helmets are typically worn when you're cycling on the road, whether you're commuting or having a leisurely ride around the neighborhood. You can also wear regular bike helmets for exercising and road racing. Regular bike helmets are lightweight and built with multiple vents because speed and comfort while riding are essential in some of these types of activities.
RECOMMENDED: Affordable MIPS Bike Helmets
Recreational Bike Helmets
If you're looking for the best bike helmet for casual riding, consider wearing a recreational bike helmet. Recreational bike helmets typically range from low to mid-level in terms of pricing because they don't have the additional features that bulky cycling helmets for extreme sports or activities have. But still, a recreational bike helmet offers decent impact protection and has lots of ventilation to keep you cool.
RECOMMENDED: How to Clean a Bike Helmet
Road Bike Helmets
Just like recreational bike helmets, road bike helmets are ideal for both casual riders and road racers. Road bike helmets are also lightweight like recreational bike helmets, but they are built to be more aerodynamic and have bigger air vents for improved ventilation. For these reasons, some road bike helmets will retail slightly higher than most recreational bike helmets.
This content was originally published on headsdontbounce.com. If it appears on another website, it is a violation of the copyright owned by headsdontbounce.com.
RELATED: Safest Road Bike Helmets
When choosing a road bike helmet you should also look for features like adjustable retention systems, Y-shape chin straps, removable inner pads, and an in-mold type outer shell. While these features improve the riding experience, keep in mind that they may also affect the price of the bike helmet.
Commuter/Urban Bike Helmets
Many commuter/urban bike helmets are dual certified, meaning they meet both the CPSC and ASTM F1492 standards. Hence, dual-certified helmets are suitable for bike riding, skateboarding, longboarding, and trick roller skating. Besides head protection against impact, commuter bike helmets come with features that allow better airflow and convenient fit adjustment. Commuter bike helmets have a broad range of color options and some are built with additional safety features such as LED lighting to increase visibility, especially at night.
SUGGESTED: Best Bike Helmets For Women
---
Off-Road Bike Helmets
As the name suggests, off-road bike helmets are meant for trail riding. Unlike most regular bike helmets, off-road helmets have a built-in visor that protects the eyes and face from dust, dirt, and sunlight. Several models of off-road bike helmets provide additional coverage on the temples as well as the nape to deliver better protection against head and brain injury.
SIMILAR: Mountain Bike Helmet Vs Road Bike Helmet
Mountain Bike Helmets
Mountain Bike or MTB helmets should pass CPSC helmet standards. If an MTB helmet is safe for downhill rides, it should have ASTM F1952 certification for downhill.
MTB helmets may be either full face or open face. Full-face MTB helmets are ideal for serious mountain bikers who prefer to ride downhill or through difficult trails. The outer shell of a full-face MTB helmet not only offers head protection but also covers the chin and mouth.
Downhill MTB Helmets
Downhill MTB helmets, as mentioned above, meet ASTM F1952 helmet standards. Because riding downhill at fast speeds poses many risks, most downhill MTB riders prefer wearing full-face bike helmets. Downhill MTB helmets typically retail above $100 with some helmet models costing almost $500.
RECOMMENDED: Downhill Mountain Bike Helmets
BMX Bike Helmets
Like MTB helmets, BMX bike helmets can either be full face or open face. Full-face BMX bike helmets meet CPSC, ASTM F2032, and ASTM F1952 safety standards, while open-face BMX bike helmets comply with CPSC and ASTM F1492 requirements. The price of BMX bike helmets can range between $25 to $500 with full-face helmets being more expensive than open face.
---
Aero-Style Bike Helmets
Aero-style cycling helmets are designed with fewer vents compared to regular bike helmets. This design allows aero-style bike helmets to recrease wind resistance.
Aero Bike Helmets
Aero bike helmets combine the essential features of a road bike helmet and a time trial helmet. It doesn't have the elongated rear of a TT helmet, but it is aerodynamically designed to eliminate drag. Like road bike helmets, aero bike helmets have multiple vents that deliver optimal air circulation. Because of their versatility, aero bike helmets are a great option for both casual riders and serious racers.
Time Trial Bike Helmets
Time trial (TT) or triathlon helmets are ideal for solo speed racing and not for group rides. The most recognizable feature of a TT helmet is the elongated rear. The long tail design reduces drag which enables riders to go faster and take seconds off their all-time personal record.
---
Recent Additions
Helmet manufacturers continue to introduce new helmet technologies to meet the evolving needs of bike riders. The following are some of the emerging trends in bike helmets.
Collapsible and Foldable Bike Helmets
If you ride a bike when commuting to and from your workplace, you know how cumbersome it is to carry around or store your bicycle helmet. Foldable and collapsible bike helmets are one of the niftiest inventions in bike gear and equipment, increasing the portability of bike helmets. These types of bike helmets cost from less than $50 up to over $100.
Electric Bike Helmets
Regular road bike helmets that meet CPSC standards may be used as e-bike helmets. However, if your e-bike runs over 20 mph, consider wearing an NTA-8776 compliant bike helmet. E-bike helmets cost between $100 to $300.
Smart Bike Helmets
Smart bike helmets incorporate convenient elements along with the typical safety features of regular road bike helmets. Because of the added technologies, this type of helmet comes with a higher price tag, most of which cost above $100. Some of the innovative features of smart bike helmets are:
Bluetooth connectivity that allows GPS navigation, listening to audiobooks, music, or podcasts
Speakers for hands-free voice calls
Turn Indicators to let motorists and pedestrians know which way you're turning
Built-in LED lights for increased visibility when riding at night or low-lit areas
SUGGESTED: Bike Helmets With Bluetooth
Conclusion
So, which bike helmet is the best for you?
With the above information at hand, it is easier to decide which type of bike helmet to go for. Always remember that bike helmets are designed for your safety and protection. But to make your purchase worthwhile, consider the type of bicycle you have, the riding activity you engage in, and of course, your budget.
Every time you go for a ride, the risk of getting involved in a road accident is always present. This is why wearing a bike helmet is a must whether state laws require it or not. A bike helmet protects you from head and brain injuries in case you hit your head during a crash or collision.
If you liked this post, why not share it with your friends.