Types of Motorcycle Helmets: The Complete Guide
Whether it's your first time riding a motorcycle or not, one of the most essential pieces of safety gear that you must own is a motorcycle helmet.
Wearing a motorcycle helmet may stop you from feeling the cool breeze on your hair and face or enjoying a complete view of your surroundings, but it will protect you in case of a motorcycle accident.
Page Content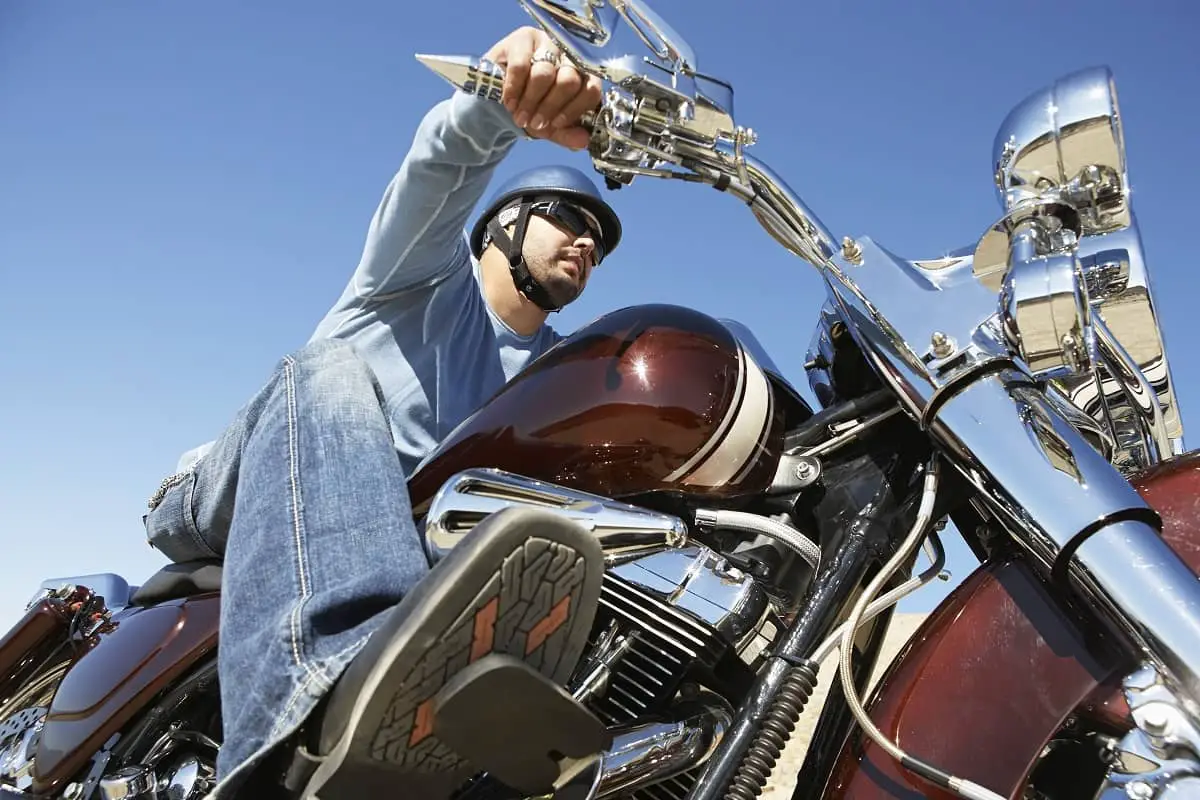 Disclosure: As an Avantlink and Amazon Associate, we earn from qualifying purchases. Disclosure Statement.
Why Is Wearing a Motorcycle Helmet Important?
Compared to people who are riding in cars and trucks, motorcycle riders have little to protect themselves while on the road. For this reason, using a motorcycle helmet contributes significantly to ensuring a rider's health and safety in the event of a crash or collision.
A motorcycle helmet protects riders against head injuries and lessens the risk of fatalities due to brain trauma. Using a helmet also shields the eyes, teeth, nose, and face from flying debris, the elements, and glaring lights from other vehicles.
In a 2020 report, the World Health Organization stated that motorcyclists, together with pedestrians and cyclists, are most at risk of road traffic injuries and even death. The same report also lists that non-use of safety equipment, such as motorcycle helmets, increases the vulnerability of road users to road accidents.
IMPORTANT: How To Know Your Helmet Size
The following statistics further support the importance of wearing motorcycle helmets as protective riding gear:
Head injury is the top cause of death in motorcycle accidents.
In 2018 alone, there were 82,000 motorcycle injuries and more than 5,000 motorcycle accidents that resulted in death in the United States.
The CDC quotes the NHTSA (National Highway Traffic Safety Administration) as saying, wearing a helmet reduces the chances of suffering from head injury by 69% and fatalities by 37%.
The 7 Types of Motorcycle Helmets
The primary purpose of a motorcycle helmet is to protect the rider in the case of an accident. However, there are several different types of motorcycle helmets and each one caters to a particular riding style.
Below are the most common types of motorcycle helmets available in the market today.
1. Full Face Helmets
Designed to be the safest among all types of motorcycle headgear for road riding, the full-face motorbike helmet offers maximum coverage and protection from the head to the neck region. It is a good option for long or unpredictable rides. This type of helmet is also called a street helmet or sports bike helmet.
One of the most distinctive features of a full-face helmet is the chin bar. This feature is helpful as based on many studies, about 35% of motorcycle accidents affect the chin and jaw. A helmet's chin bar is typically made of materials such as plastic, carbon, or fiberglass.
Tourers, scooter riders, and adventurer riders prefer this type of helmet because it allows them to ride in an upright position more comfortably. For this riding style, a lower chin bar is ideal. Sports riders who crouch while riding to maintain fast speeds often use a full-face helmet to keep the helmet visor in place. This riding style often requires a high chin bar and a visor that is slightly angled towards the upper part of the helmet.
SUGGESTED: Motorcycle Helmet Communications Systems
Many full-face helmet models have a well-designed ventilation system that can easily adapt to changing weather. During the warmer months, the open vents allow air to circulate, helping prevent the visor from fogging and keeping the rider's head cool and dry. In the cold season, the rider can close the vents to trap warm air inside and keep the cold out.
Pros:
Covers the entire head to reduce impact during an accident
Provides extra protection against sun, wind, debris, dirt, bugs, and other objects
Eliminates the need to wear sunglasses or goggles
Tinted models hide the face and offer anonymity
Insulates sound to minimize distraction
Does not have hinges or additional components, making them more lightweight and aerodynamic than other helmet types
Cons:
Can get stuffy during summer
May make the wearer claustrophobic or feel disconnected/isolated
Reduces hearing and visibility
Needs to be taken off if the rider wants to talk to other people
---
2. Half Helmets
As the name implies, half helmets cover the top portion of the head. Also referred to as brain buckets, pudding basins, or jockey helmets, this type of helmet provides excellent protection for the head and brain. On the downside, half helmets offer little to no protection to the face, which makes them less suitable to wear on tough terrain or poor weather conditions. Many versions of the half face helmet are DOT-approved, and offer enhanced airflow due to their openness.
Unlike a full face helmet, a half helmet does not have a chin bar or a built-in visor, which reduces its ability to protect the wearer against injuries to the face and chin. This design also requires the rider to wear goggles, face shields, or other masks for eye protection and coverage against insects, dust, sunlight, raindrops, and other flying debris.
Half helmets are often a popular choice among cruisers, scooter riders, or vintage riders (bikers who ride Harley-Davidson motorcycles).
Pros:
Lets the rider have a more immersive riding experience
Makes conversing with other riders/people more convenient
Does not need to be taken off when you need to drink, eat, or wipe the sweat off your face
Feels lightweight and is easier to wear or remove
Offers the best ventilation
Looks cool and attractive
Cons:
Does not provide full crash protection, especially on the face and chin
Leaves the rider exposed to harsh elements and warm or cold weather
Rider must wear a bandanna, goggles, or face guards for additional protection
SUGGESTED: German Style Motorcycle Helmets
---
3. Open Face or 3/4 Helmets
Open face helmets, as the name suggests, do not have any coverage on the front, hence, provide minimal protection to the face. Instead, this helmet type covers the forehead down to the base of the skull. They are less safe than full-face helmets because they have no chin bar to protect the rider's chin and jaw from impacts. Some versions don't come with a visor, while other models can have a detachable or snap-on visor for eye protection.
This type of helmet can be DOT-approved and is an ideal choice for cruisers, tourers, scooter riders, or racers who want to feel the cool, fresh air on their face. They are also a good option for riders who want to navigate easy or medium trails, where the chances of accidents are slim to none. People who ride their motorcycles to commute to work can also use open face helmets as it provides better peripheral vision, minimizing the risk of missing traffic lights and road signs.
Pros:
Offers good ventilation while providing impact protection to the head and neck
Allows the rider to communicate, talk, drink, eat, smoke, or touch their face without taking the helmet off
Feels more lightweight and provides a wider field of vision compared to a full-face helmet
Does not feel restraining or claustrophobic
Cons
The open design leaves the rider's face and chin more vulnerable to injury
Does not offer much coverage and protection during cold weather
Does not do a good job at canceling or reducing noise
Feels uncomfortable or unstable when riding at high speeds
---
4. Modular or Flip-Up Helmets
Flip-up motorcycle helmets come with some features of both a full-face and open face helmet. They feature a chin bar the rider can move up or down, as necessary. In some versions of modular helmets, the chin bar is detachable.
This helmet type also has a flip-up visor for protecting the eyes. Some models have a secondary visor underneath for extra protection against the sun's rays. There are riders who may prefer tilting the visor up while traveling at low speeds, but professional bikers recommend keeping the visor in the locked position when riding.
Next to full-face helmets, modular helmets are the next choice for most riders for safety purposes. Typically, a modular helmet has different safety ratings in the open and closed/locked position. If the modular helmet doesn't have a safety rating for the open position, it means that it should be used only in the closed position.
RELATED: Top 6 Best Modular Motorcycle Helmets
Modular helmets are suitable for casual riding styles or those that involve an upright riding position. It is an ideal alternative for riders who like to go touring, cruising, and scooter or adventure riding, but don't feel comfortable wearing a full-face helmet.
Pros:
Converts from a full face helmet to an open face helmet with a single push of a button
Provides good ventilation and a comfortable riding experience, similar to an open face helmet
Protects riders from the elements, but lacks some of the safety features of a full face helmet
Versatile design makes it convenient to use in both cold and warm weather
Allows the rider to chat, have a drink, take a breath of fresh air without removing the helmet
Cons:
Feels and looks heavier than a full face helmet because of the hinges that allow the visor and chin bar to pivot
Detachable/flip-up chin bar can make the helmet's structure less sturdy during impact
Not totally safe at high-speed rides or when the chin bar is open
---
5. Off-Road/Motocross/Dirt Bike Helmets
Off-road, motocross, or dirt bike riding are rough, strenuous activities, so they require a specialized type of helmet. An off road helmet is designed with an elongated peak and chin bar. These safety features provide excellent protection in tough biking conditions. They protect the biker from obstacles such as dust particles, low-hanging branches, and flying debris from other riders, which may cause an accident.
Most off-road helmets are made of composite material, such as Kevlar, fiberglass, and carbon fiber. Because off-road helmets are lightweight, riders can add riding gear such as goggles, body armor, or neck brace to increase safety and protection.
IMPORTANT: How Should A Dirt Bike Helmet Fit?
Off road helmets are not suitable for commuting in the city or using in highway rides.
Pros:
Spacious interior can accommodate goggles or sunglasses
Extended chin bar makes breathing easier and allows air to circulate better
Wide sun peak keeps sunlight away from the eyes
Minimal weight reduces fatigue on the head and neck, especially in long rides
Cons:
Don't usually have a visor
Provides little insulation against cold
---
6. Adventure/Dual-Sport Helmet
Dual sport helmets are also called crossover, ADV, Hybrid, or Enduro helmets. They are handy when riders want to switch between riding on or off the road.
This type of motorcycle helmet sports an exterior design similar to an off-road helmet. Most versions have a large, aerodynamic visor. Dual sport helmets also have an elongated chin bar, though it is not as long as the chin bars of off road helmets. The interior of dual sport helmets has more padding, just like many full-face helmets, providing the wearer more comfort when riding.
This content was originally published on headsdontbounce.com. If it appears on another website, it is a violation of the copyright owned by headsdontbounce.com.
Many dual sports helmets are outfitted with a wide visor that provides better visibility and eye protection. Riders can have the visor in a locked position whether riding on city streets or tough trails or tilt it up and wear goggles to let fresh air circulate.
Pros
Flip up visor allows the use of goggles on off-road rides
Integrated chin bar provides better protection to the jaw and chin
Wide sun peak shields the eyes and face from bright sunlight
Offers better sound insulation than full face helmets
Cons
Can be more expensive than other helmet types because of the rich features and multiple configurations
Provides less ventilation compared to dirt bike helmets
Heavier than dirt bike helmets but lighter than full face helmets
---
7. Smart Helmets
While nothing is more important than a rider's safety, having a few enhancements to make a biker's riding experience more convenient is welcome. Smart helmets bring a lot more to the table than just ensuring road traffic safety.
Additional innovative features such as Bluetooth connectivity, emergency buttons, voice assistance, tracking systems help make driving safer and more convenient. Many smart helmets also come with elements that allow riders to listen to music, record videos, take photos, or make and accept phone calls hands-free. Smart helmets are also energy-efficient, making use of batteries or solar power to operate.
Pros
Comes with upgraded hardware and better padding for accident prevention
Connects to smart devices letting the rider enjoy hands-free operation
Equipped with smart features such as navigation, entertainment, and communication systems that make driving more convenient
Cons
Additional features might distract the rider while driving
Comes with a higher price tag than other helmet types
SUGGESTED: Can You Use A Bicycle Helmet On A Motorcycle
---
Frequently Asked Questions
Q. What is the best type of helmet?
A. The answer depends on the type of riding you plan to do and the motorcycle you'll be riding. If you plan to ride your motorcycle when commuting to work or running an errand, a half helmet or open face helmet will be a comfortable and convenient choice. But, if you're the adventurous type and like to go on off-road journeys, wearing a dirt bike helmet would be more suitable. However, if your safety and versatility are your priority, you can opt for either a full face helmet or a modular helmet.
Q. Should I wear a helmet all the time?
A. Wearing a helmet is mandatory in many US states, so it is recommended to wear one whenever you're riding a motorcycle. Even if you are in a state with no helmet laws, that doesn't mean you should forsake your safety just because.
Common sense should dictate when and when not to wear a helmet, not laws or the police.
I hope we have covered 'types of motorcycle helmets' to your satisfaction. If you enjoyed this article, take a look at the related reads below for some more interesting reads!
If you liked this post, why not share it with your friends.