Best Full Face MTB Helmet Removable Chin Guard [2023 UPDATE]
Mountain biking is the perfect activity for riders who love to blend the fun of biking with adrenaline, as it entails an unpredictable, passionate, and exhilarating experience.
I've observed that mountain bike helmets with removable chin bars seem to have grown in popularity among newbie or intermediate riders who value the importance of extra protection and versatility.
The current crop of full face MTB helmet removable chin guard come more refined than their earlier editions.
Although they are suitable for all mountain bike riders, they are especially suitable for racers who may want to alternate their helmet depending on their current race requirements.
Let's face it, the best mountain bike helmet is a full-face mtb helmet. And the best full-face mtb helmet is a full-face mtb helmet removable chin guard! Think about it: 2 helmets for the price of one!
Page Content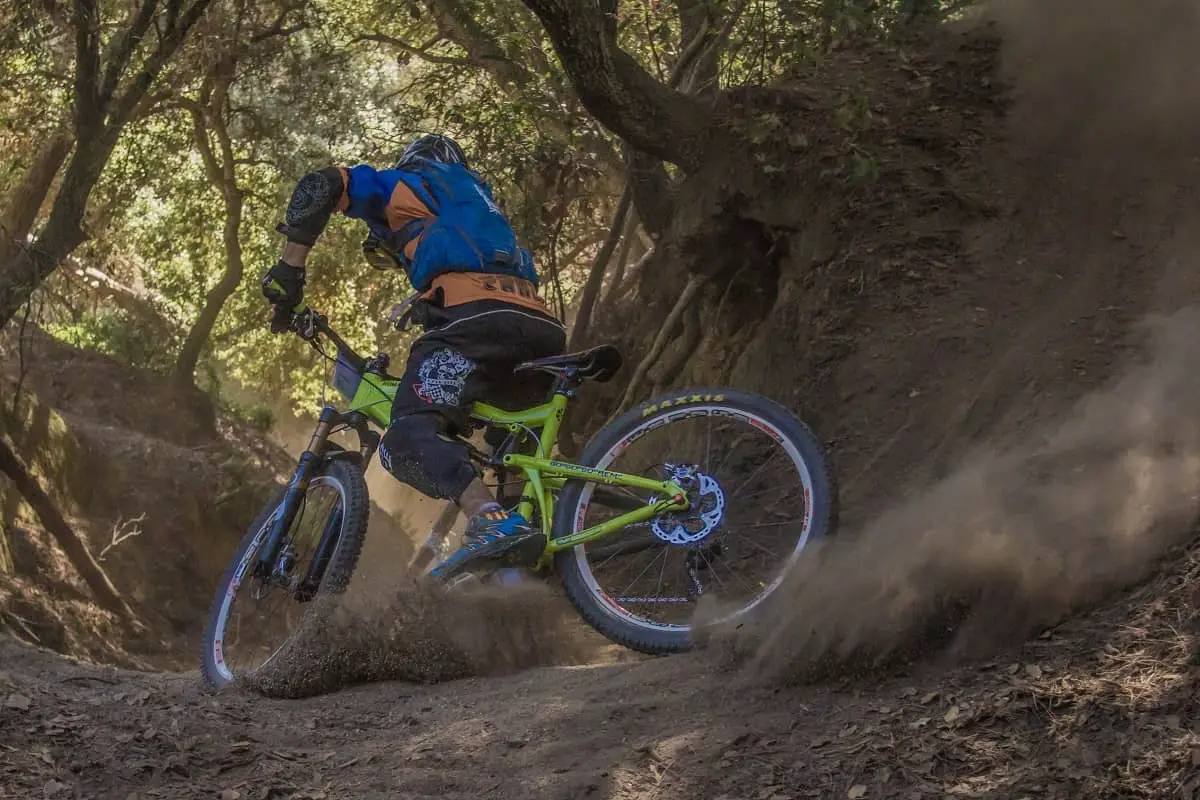 Disclosure: As an Avantlink and Amazon Associate, we earn from qualifying purchases. Disclosure Statement.
Removable Chin Bar Helmets
The detachable chin bar is a very handy innovation for any rider who explores variable terrains and conditions.
So, in order not to lumber with a full-face helmet on rides that demand endurance, this type of helmet allows you to remove the chin bar for weight reduction as you climb uphill. Once you're ready to hit the downhill, you can reattach the chin bar.
This content was originally published on headsdontbounce.com. If it appears on another website, it is a violation of the copyright owned by headsdontbounce.com.
Here are 5 of the best mountain bike helmets with removable chin guard on the market today.
VIDEO: How To Measure For A Bike Helmet
If you can't see the video below, please allow this site in your Ad Blocker.
RELATED: How Should A Mountain Bike Helmet Fit?
MTB Convertible Helmets Comparison Table
On Mobile Devices, drag Table left to see more, if necessary.
Name / Image
Certifications
Size Range
Weight (approx)
With chinbar
Without chinbar
Bell Super 3R


CPSC 1203
52 – 62 cm
784 grams
(27.6 oz.)
433 grams
(15.3 oz.)
Bell Super DH


CPSC 1203
ASTM F1952-DH
ASTM F2032-BMX
CE EN 1078
52 – 62 cm
850 grams
(30 oz.)
487 grams
(17 oz.)
Giro Switchblade


CPSC 1203
ASTM F1952-DH
CE EN 1078
52 – 62.5 cm
980 grams
(34.5 oz.)
692 grams
(24.5 oz.)
Bell Super Air R


CPSC 1203
CE EN 1078
52 – 62 cm
640 grams
(22.5 oz.)
422 grams
(14.9 oz.)
Met Parachute MCR MIPS


ASTM F1952
ASTM F2032
CPSC 1203
CE EN1078
AS/NZS 2063
52 – 61 cm
840 grams
(29.6 oz.)
455 grams
(16 oz.)
RELATED: Best Downhill Mountain Bike Helmets
---
Best Full Face MTB Helmet Removable Chin Guard
1. Bell Super 3R MIPS Adult MTB Helmet
The Bell Super 3R MIPS Adult MTB Helmet is known for piloting the emergence of the current generation of removable chin bar technology.
I actually began my love of detachable chin bar helmets with the Bell 2R way before it got an upgrade in 2017, which focused on improved fit.
Bell Super 3R is a perfect upgrade from Bell 2R. Bell removed and reconfigured certain areas of the interior padding to solve the problem and remade a Super 3R with an added Float Fit retention system.
Another important element was the incorporation of the MIPS slip-plane safety technology.
What does the Bell Super 3R MIPS MTB helmet have to offer?
There are multiple reasons to make the Bell Super 3R your go-to choice, and it's not just because your protection is number one, even though Bell ensured that this model is MIPS-equipped so that you can benefit from optimal protection.
MIPS is short for Multi-directional Impact Protection System and it describes the cutting-edge slip-plane technology built into the interior of the helmet. Its function is to reduce rotational forces that can come from certain impacts during accidents.
No-Twist Tri-glides: You also get quick-adjustable fasteners that help the straps to stay in position.
There are X-static and Xt2 padding that are composed of quick-drying material plus original silver fibers that help inhibit bacterial and fungal growth that can initiate bad odor inside the highly durable and sturdy polycarbonate shell.
Overbrow Ventilation: I've always been impressed by the ventilation ports the helmet offers on its brow for cool air intake. They push the air through the air-channel matrix so that riders get full-head ventilation.
With 23 vents, 4 brow ports, and 6 chin bar vents, wearing the super 3R keeps you in rare freshness all the time.
With 6 color choices, and three sizes, alongside safety certification for standard bicycle use it's hard to go past this MTB helmet. At a price ranging between USD220 – USD230, I think you're onto a worthy investment while also having your safety guaranteed.
Pros:
Full ventilation
Easily removable chin bar
MIPS incorporated
Breakaway camera mount
Smooth integration with goggles
Adjustable visor
Adequate vision
Great variety of color choices
Cons:
Not downhill certified
Should have a place to carry chin bar when unused
RELATED: Bell Helmet Size Chart
IMPORTANT: How to Know Your Helmet Size
Bell Super 3r MIPS Review 2018 – Awesome Helmet
---
2. Bell Super DH MIPS MTB Helmet
After upgrading the Bell 2R to the Super 3R in 2017, Bell went further to build the Super DH in 2018. The Super DH is among the comfiest MTB helmets I've worn on long-distance rides. It is essentially a beefier version of the Super 3R.
The Bell Super DH is BMX and DH-certified. It seems more comfortable for enduro racers, any uphill and downhill riders or those seeking to make a single helmet trip involving both bike park and singletrack so as to save space in their duffel bag.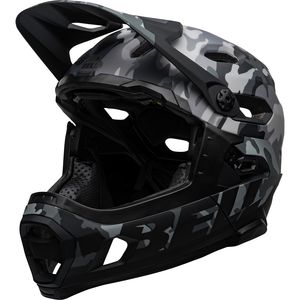 What does the Bell Super DH MIPS MTB Helmet have to offer?
First off, this convertible lid is not only comfy but built solidly with a fusion in-mold polycarbonate shell, plus progressive layering to protect you and have you feel amazing every time.
The Super DH is the first of Bell's convertible mtb helmets with the ASTM F1952 downhill standard for full-face mode riding. It's pretty much like the brand's Full-9 helmet, used widely in the World Cup ranks.
One other unique thing I personally appreciate about this model is that you can remove and fit its chin bar without having to take it off.
Besides that, the lightweight Super DH includes a new in-built MIPS Spherical system that protects your head against any impact resulting from rotational forces upon impact. That's why its low-density EPP foam is placed in the inner shell inside its main EPS foam shell and then fixed to cover the interior of the helmet's polycarbonate outer shell.
How good is the ventilation?
Combining the light weight, 19 vents with deep internal channeling, and two brow ports, the Super DH turns quite airy when worn with no chin bar in place.
However, with or without the chin bar on, users of this helmet, experience great airflow. With four mesh-free vents built on the chin bar, breathing remains seamless throughout even on your wildest riding adventures.
The helmet goes for between USD300 and USD330 which is pretty good value for its versatility, not to mention that it's almost as if you're buying 2 helmets in one.
Pros:
Easy to move
Wicks sweat well
Polycarbonate outer shell
Easily removed/re-attached chin bar
Awesome ventilation
Lightweight
ASTM F1952 (DH) & ASTM F2032 (BMX)) certified
Cons:
RELATED: Bell Helmet Size Chart
IMPORTANT: How to Know Your Helmet Size
Two Helmets in One – Bryn Atkinson Unleashes the New Bell Super DH
---
3. Giro Switchblade MIPS MTB Helmet
The Giro Switchblade MIPS MTB helmet is an ASTM DH-certified helmet with a removable chin-bar. From all the tests we ran on the GIRO Switchblade as well as vetting user reviews, there's no doubt it's an excellent choice for any rider.
Although I found it felt hotter with the chin bar removed, particularly whilst idle, it was fine when mobile again and not so uncomfortable as to be irritating or annoying. I would certainly be comfortable wearing it for aggressive downhill rides.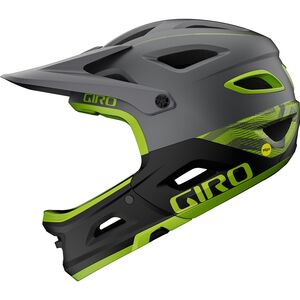 What does the Giro Switchblade MIPS MTB Helmet have to offer?
We always put your protection first and we wasted no time in considering the Switchblade an extremely unique and heavy-duty convertible MTB helmet.
It comprises a MIPS system for smart head protection which means it has you covered when it comes to aggressive and safe riding.
No wonder it features pads with layers of material underneath and on top of the helmet's foam, all designed to move slightly during any angled impact, limiting rotational forces on the brain.
The Giro Switchblade is ASTM DH 1952, EN1078, and CPSC certified and it's applicable when in full-face or half-shell modes.
With the Switchblade, you can get good ventilation in each setting. But there needs to be improvement when it comes to the airflow you get in the half-shell mode.
It allows you to breathe much better than with non-convertible helmets with over-the-ear extensions and a high-cheek zone that reduces airflow. When set at full-face setting, speeding down the trail comes with impressive airflow and that's important.
The visor of the Switchblade is pretty solid and works excellently in full-face mode though it always looks a little weird when pointed towards the sky.
The box includes a spare visor that features a camera mount. In terms of pricing, it sells from between USD250 and USD270 which is more than reasonable.
Pros:
Great fit system
Easily switchable between full and half-shell configurations
Awesome ventilation for the category
Additional coverage in half-shell mode
Fully downhill certified
Cons:
Thick chin strap which builds up heat
Hotter and heavier without the chin bar
RELATED: Giro Helmet Size Chart
IMPORTANT: How to Know Your Helmet Size
Giro Switchblade Review
---
4. Bell Super Air R MIPS Spherical MTB Helmet
The team at Bell continues on their quest to continually improve removable chin bar technology by bringing us the Bell Super Air R MIPS Spherical Helmet.
With safety at the forefront, the Super Air R has been built with Bell's patented Spherical Technology by layering both EPP (Expanded Polypropylene) foam and EPS (Expanded Polystyrene) foam inside the shell to add a 'ball and socket' effect to the existing MIPS brain protection system. Brilliant and effective.
What does the Bell Super Air R MIPS MTB Helmet have to offer?
First and foremost, the Super Air R is a lightweight convertible mtb helmet that is extremely comfortable.
It's a new model helmet that has been inspired by its predecessors and designed to assist you to transition from full-face shred while riding downhill to an open-face design as you traverse to the next stage all with the same helmet.
When it comes to your safety, Bell's fusion in-mold process for bonding the outer polycarbonate shell with the inner EPS foam liner, along with the progressive layering of variable EPS foam densities makes this helmet particularly durable adding further to your protection.
The wraparound chin bar is easily removed with 2 clicks making it the ultimate convertible mountain bike helmet for serious trail riders.
Being 22% lighter than its predecessor, the Bell Super 3R, you won't even notice that you're wearing a helmet at all. But, don't be fooled by its light weight though, it is fully CPSC 1203 and CE-EN 1078 compliant.
The Float-Fit dial at the rear of the helmet, which integrates with MIPS, makes it easy to adjust the helmet to perfectly fit your head size and shape without undue pressure.
The visor is adjustable and has three positions which it can easily click into by pushing upwards or downwards as necessary.
Just like me, you too will appreciate the excellent breathable, moisture-wicking X-static padding, woven with real silver fibers that help inhibit bacterial and fungal growth in your helmet's interior.
And who wouldn't be excited having eighteen strategically placed vents in the main body of the helmet plus four brow ports, as well as an additional eight vents in the removable chin bar to provide superior ventilation for the hottest of rides.
What's not to like about this well-ventilated, lightweight convertible mtb helmet from one of the leaders in removable chin bar technology? Available in 8 colors and 3 sizes with prices ranging around USD270 to USD280. Definitely worthy of your consideration.
Pros:
Extremely lightweight
Excellent ventilation
Adjustable visor
2 click removable chin bar
Compatible with googles
Comes with replacement pads
Breakaway camera mount
Very comfortable
Cons:
Not downhill certified
Short visor
RELATED: Bell Helmet Size Chart
IMPORTANT: How to Know Your Helmet Size
---
5. Met Parachute MCR MIPS Helmet
Met has been producing world-class, race-winning enduro helmets for long enough to be recognized as an industry leader. Their innovative designs are at the cutting edge of safety and quality.
The Met Parachute MCR MIPS helmet is professional and stylish, yet rugged enough for the toughest enduro and all-mountain challenges, not to forget, the helmet of choice for e-MTB riders.
This award-winning enduro helmet is equipped with a MIPS low-friction liner to protect you from rotational impacts in the event of a nasty spill. On top of that, the Met Parachute is complete with ASTM DH and ASTM BMX certification, as well as EN 1078, CPSC 1203, and AS/NZS 2063.
What does the Met Parachute MCR MIPS Helmet have to offer?
The sturdy, lightweight, in-mold polycarbonate shell with EPS liner offers awesome comfort and ventilation. Naturally, the chin bar can be effortlessly removed for the hard slog uphill, all the while, the enhanced ventilation doing its job of helping to keep you cool.
The visor is adjustable, as you would expect, allowing you plenty of room to stow your goggles when you don't need them, but within reach when required. The visor is designed to bend in the event of an accident rather than twist your head and neck awkwardly.
The detachable chin bar is easily attached and detached utilizing Met's MCR (Magnetic Chinbar Release) which makes it virtually impossible to get wrong. Once attached, the chin bar will stay firmly in place. To detach the chin bar you need to turn the left and right side locking mechanisms.
The BOA retention system will have the helmet fitting evenly around your head for complete comfort while competing, enhanced by the internal channeling and 21 air vents allowing a cool airflow through your helmet. The chin strap is easily snapped into place with the magnetic Fidlock buckle.
Last but not least, the Met Parachute is neck-brace compatible and comes in 3 sizes ranging from 52 cm to 61 cm, and six different color options to choose from. It's not cheap at around 379USD, but then it's probably not for beginners.
Features:
Magnetic chin bar release
21 vents
MIPS liner
Pads wick sweat well
Flexible, adjustable visor
Compatible with goggles or sunnies
BOA retention system
FidLock magnetic buckle
IMPORTANT: How to Know Your Helmet Size
---
Frequently Asked Questions
Q. Why do mountain bikers wear full-face helmets?
A. When riders first start mountain biking, they will usually wear a regular open-face mountain bike helmet while they get the feel of the sport. As they progress to more difficult trails, the terrain can become more challenging and they will try to ride faster. It is at this point that many riders start to consider the extra protection of a full-face helmet.
If the riders progress to timed enduro biking, or full-on downhill mountain biking they will more often than not start to wear a full-face or convertible MTB helmet, though some may continue with an open face MTB helmet.
Q. What does downhill certified mean?
A. Downhill certified means that a mountain biking helmet is in compliance with ASTM F1952 (Standard Specification for Helmets Used for Downhill Mountain Bicycle Racing).
ASTM F1952 involves more rigorous testing compared to the regular bicycle CPSC 1203 certification, as mountain bike riders may negotiate steep, rocky inclines with jumps, trees, and other obstacles along the way. ASTM F1952 tests for greater impact resistance, energy absorption, and retention testing.
I hope we have inspired your search for a 'full face mtb helmet removable chin guard' to your satisfaction. If you enjoyed this article, take a look at the related reads below for some more interesting reads!
If you liked this post, why not share it with your friends.