If you're going to be serious about riding your mountain bike at break-neck speeds down gnarly terrain while chasing the clock for the ultimate adrenaline rush, then you need to be properly equipped with a helmet that is ASTM Certified for Downhill Mountain Biking.
As they say, "don't bring a knife to a gunfight".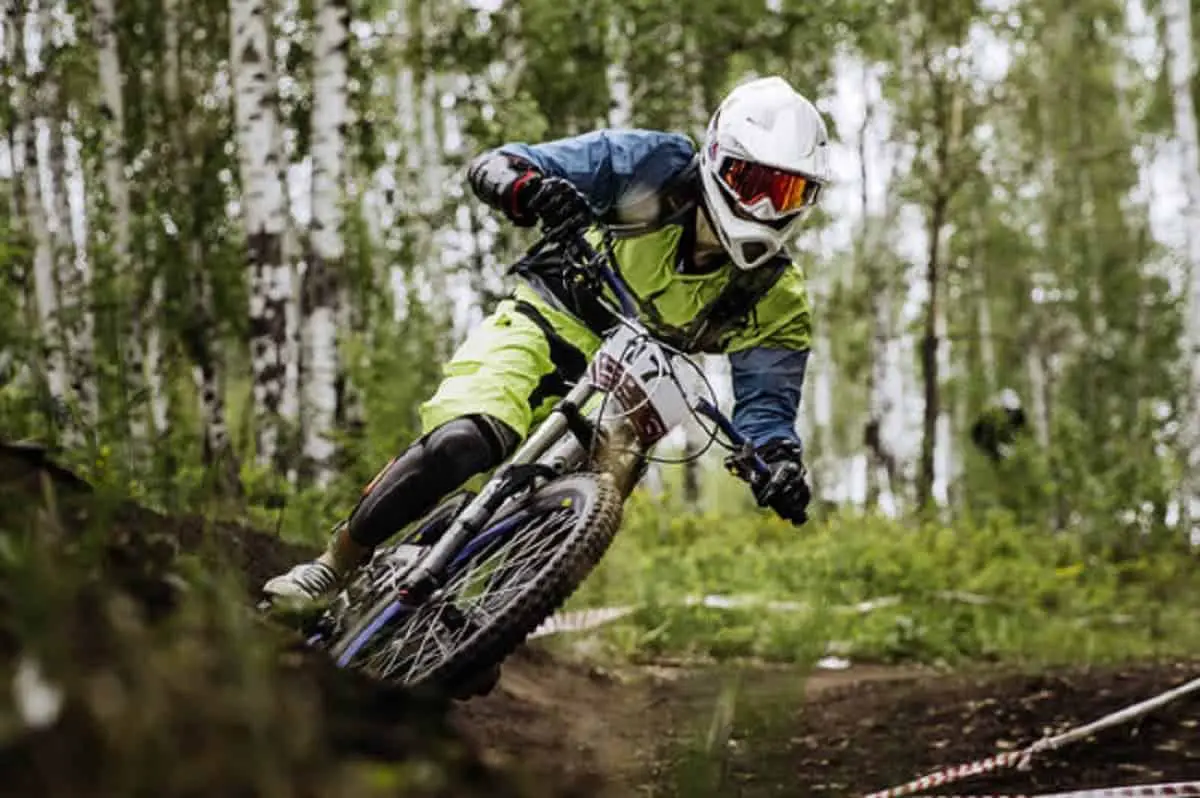 As an Avantlink and Amazon Associate, we earn from qualifying purchases. Disclosure Statement.
Downhill MTB Helmets Comparison Table
On Mobile Devices, drag Table left to see more, if necessary.
Brand / Image
Certifications
Size Range
MIPS
# Vents
Weight
TLD Stage


CPSC 1203,
CE EN1078,
ASTM F1952-DH,
ASTM 2032-BMX,
AS/NZS 2063
54 – 63 cm
Yes
25
690 grams,
24 oz.
(size M/L)
TLD D3 Fiberlite


CPSC 1203,
CE EN1078,
ASTM F1952-DH,
ASTM 2032–BMX
52 – 65 cm
No
20
1225 grams,
43 oz.
Bell Full-9 Fusion


CPSC 1203,
CE EN1078,
ASTM F1952-DH,
ASTM F2032-BMX
51 – 63 cm
Yes
13
1080 grams,
38 oz.
(size M)
O'Neal Warp


CPSC 1203,
CE EN1078,
ASTM F1952
54 – 64 cm
No
Several
1050 grams,
37 oz.
Smith Mainline


CPSC 1203,
CE EN1078,
ASTM F1952
51 – 65 cm
Yes
21
770 grams,
27 oz.
(size M)
Fox Rampage


CPSC 1203,
CE EN1078,
ASTM 1952-DH,
AS/NZS 2063
55 – 62 cm
Fluid Inside
19
1230 grams,
43 oz.
(size M)
Below, we showcase 6 of the best full face mountain bike helmets that are currently available. These six helmets are also the most popular and highest rated downhill mountain bike helmets.
All of the 6 helmets below are certified to ASTM F1952 DH standard for downhill mtb bikes, as well as CPSC and CE bicycle certification.
JUMP TO :
+++1. Troy Lee Designs Stage Helmet w/MIPS
+++2. Troy Lee Designs D3 Fiberlite Helmet
+++3. BELL Full-9 Fusion MIPS Helmet
+++4. O'Neal Warp Full-Face Helmet
+++5. Smith Optics Mainline MIPS Helmet
+++6. Fox Racing Rampage Pro Carbon Helmet

RELATED: Mountain Bike Helmets with Removable Chin Guard
---
1. Troy Lee Designs Stage Full Face Mountain Bike Helmet with MIPS
The Troy Lee Designs Stage helmet ticks all the boxes of what you should be looking for in a downhill mtb helmet – lightweight, superior ventilation, and MIPS technology!
The TLD Stage boasts a polylite shell with fiber reinforcement and polyacrilite injected chin bar. In English, that means, it has a fiber-reinforced polycarbonate shell.
As for polyacrilite, they probably mean polyacrylate which is a polymer that is known for its elasticity and resistance to breakage.
So, that's all good news, as is the exoskeleton structure which adds additional strength to the shell of the helmet.
Built-in to the shell's frame are 25 well-placed vents, eleven of which are high-flow intakes which then pass the incoming air through deep-max internal channeling to 14 exhaust ports at the rear.
Included in those 25 vents are huge vents in the EPP lined chin bar as well as vents behind the ears to ensure your whole head is cool and comfortable when you need it most. The vents by the ears also make it easier to converse with other riders.
On the inside of your polylite shell, you have dual-density EPS (Expanded Polystyrene) and EPP (Expanded Polypropylene) foam to provide a double level of protection to your head in the case of an accident.
Add to that, you have the MIPS Brain Protection System's slip-pane technology which is designed to reduce rotational energy and to protect your brain from angled impacts.
To keep your head cool and more comfortable, there is contoured 3D XT2 cheek pads and a washable, moisture-wicking X-Static liner. The X-Static liner is quick-drying and helps to reduce odors.
The Troy Lee Designs Stage also comes with extra pads that you can use to optimize the fit to suit your own head size and shape. Includes 2 x liners, 3 x cheek pad sets, and 2 x neck rolls.
Some additional features of note are the visor which can be adjusted up and down by 40mm (just over 1.5 inches); and, the chin strap is buckled by means of a magnetic Fidlock which allows for one-handed use even when wearing gloves.
There's not much to not like about the Troy Lee Designs Stage downhill mountain bike helmet. It's lightweight, well-ventilated, and safety certified to the back teeth, CPSC 1203, CE EN1078, ASTM F1952-DH, ASTM 2032-BMX, and AS/NZS 2063-2008.
Pros
Lightweight
Well ventilated
MIPS protection
break-away visor screws
Cons
Cheek pads might not be comfortable for some riders.
Chin straps may also be uncomfortable for some.
IMPORTANT: How to Know Your Helmet Size
RELATED: TROY LEE DESIGNS Bike Helmet Size Chart
---
2. Troy Lee Designs D3 Fiberlite Silhouette Helmet
Next up from Troy Lee Designs is the D3 Fiberlite Silhouette which is a top-quality helmet, as you would expect, that shares similar features to the pricier D3 Carbon and Composite helmets.
The D3 Fiberlite's aerodynamically designed shell is made of fiberglass and development has been refined through wind-tunnel testing.
The twenty vents of the airflow system, 14 for intake and 6 for exhaust, have been injection molded into the fiberglass shell, and channel air through deep channeling for optimal airflow.
All of the vents holes, including the ones in the chin bar, are mesh-lined to block insects from entering.
The EPS (Expanded Polystyrene) foam liner is thicker with dual density padding to give a comfortable, plush, padded feel against your head.
The heavy padding gives it an appearance not unlike a motorcycle helmet and is not as well ventilated as riders may like in warmer climates. This is immediately noticeable when you stop and the comfortable padding becomes rather uncomfortable.
On a positive note, the moisture-wicking interior padding is removable and washable, and the 3D cheek pads are 'quick-release' to allow for emergency helmet removal.
There are purpose-built internal cavities for audio integration which you may choose to use as the amount of soft, cushy padding can make hearing difficult.
The Troy Lee Designs D3 Fiberlite Silhouette is an extremely comfortable helmet, however, it is not as breathable as I would like which is important when trying to maintain focus on a downhill run.
At 1225 grams, it is noticeably heavier than the TLD Stage. Though it is properly downhill certified, it has no MIPS or alternate slip-pane technology.
This content was originally published on headsdontbounce.com. If it appears on another website, it is a violation of the copyright owned by headsdontbounce.com.
A good sturdy helmet, nonetheless, and at a good price for anyone just entering the full-faced downhill helmet market.
Fully certified for CPSC 1203, CE EN1078, ASTM F1952-DH, ASTM 2032–BMX.
Pros
Reasonably priced
Very comfortable
Adjustable, Innovative break-away visor
Cons
Average ventilation
Hot when not moving
A bit on the heavy side
No MIPS
IMPORTANT: How to Know Your Helmet Size
RELATED: TROY LEE DESIGNS Bike Helmet Size Chart
---
3. BELL Full-9 Fusion MIPS Full-Face Helmet
We can always count on Bell to take a legendary helmet like the Full-9 and make it better! The Bell Full-9 Fusion has been built on the success of the Full-9 but replacing the carbon shell with a fiberglass shell along with a wider field of view.
The Bell Full-9 Fusion is a world-class helmet in every way. Naturally, it is equipped with MIPS (Multi-Directional Impact Protection System) which can protect your head by reducing rotational forces that can result from certain impacts utilizing its slip-plane technology.
The plush interior is soft and cradles your head in the comfortable nest-like padding. The quick-drying X-Static padding is woven with silver fibers to inhibit the growth of odor-causing bacteria and fungus.
Despite the 10 vents and 3 brow ports, the helmet tends to be on the warm side on a hot day. Though, the 3 brow ports do manage to suck in the air and push it into the internal channel for enough cooling on a not so hot day.
Also, the vents on the EPP-lined chin bar are rather small and your hot breath will become noticeable when laboring your way uphill. Could be worth looking into a convertible helmet for those hot days.
The flying-bridge visor can easily be adjusted, even while wearing gloves, and will always remain out of the rider's field of view. The larger opening at the front of the helmet gives a wider field of view and can accommodate all major goggle brands.
It comes standard with an integrated breakaway camera mount which is designed to break off upon impact. As you would expect, the Bell Full-9 Fusion has all the necessary certification for mountain biking, enduro, or BMX.
Pros
Extremely plush interior
Flying bridge visor
Innovative break-away camera mount
MIPS equipped
X-Static Padding
Cons
Ventilation could be improved
Uncomfortable on hot days
IMPORTANT: How to Know Your Helmet Size
RELATED: BELL Bike Helmet Size Chart
---
4. O'Neal Warp Full-Face Bicycle Helmet
Many full-face helmets, including removable chin-bar helmets, can get a bit pricey, but not always. The O'Neal Warp full-face bicycle helmet is reasonably priced for both entry-level purchasers as well as seasoned full-face helmet wearers.
The main thing is that it is ASTM F1952 certified for downhill use, and CPSC and EN1078 certified for bicycle use.
Sporting a lightweight, durable ABS (Acrylonitrile Butadiene Styrene) shell with several large air vents for superior airflow through the helmet, the Warp is specifically aimed at competitive riders either for training or in competition.
The moisture-wicking liner pads are removable and washable so you can keep your helmet fresh and comfortable for your next ride.
The O'Neal Warp has a large open front which provides a wider field of vision for improved focus while shredding the most demanding trails.
The visor is highly adjustable and sits up high so as to not obscure your vision. The visor is held in place by three bolts which can be hand tightened.
The chin strap is secured with a Fidlock magnetic buckle system which is strong enough to keep the helmet firmly attached to your head, yet able to be fastened and unfastened single-handedly.
Weighing a little over 1 Kg, this is a great helmet for those looking for a safe, downhill certified full-face helmet, while keeping an eye on the budget.
Pros
Large air vents
Moisture-wicking removable padding
Wide field of vision
Fidlock magnetic buckle system
Cons
Tends to sit high leaving the lower jaw exposed
No MIPS
IMPORTANT: How to Know Your Helmet Size
---
5. Smith Optics Mainline MIPS Full-Face Helmet
The Smith Mainline MIPS full-face helmet is definitely a head-turning, eye-catching entrance by Smith into the world of full-face downhill certified helmets.
The sturdy, modern design is feature-packed with the rider's safety and comfort foremost in the design process.
The Aerocore technology used in the construction of the polycarbonate shell combines with MIPS and an EPS foam liner to provide the ultimate in safety, ventilation, and rider's comfort.
The Aerocore tubes (koroyd) provides impact resistance in conjunction with the EPS foam, while the MIPS liner provides the slip-plane technology that can reduce rotational forces during an impact.
The Aerocore technology increases air-flow throughout the helmet in conjunction with the 21 vents of the AirEvac system, which also aids in preventing goggle fogging.
On the chin bar, the vents have been intentionally left open to allow better air-flow while laboring on an uphill ride.
To achieve the perfect fit, Smith recommends experimenting with the provided padding to find the fit that suits your head size and shape.
In the box, you will find 3 sets of cheek pads, 2 sets of crown liners, and 2 neck rolls, all of which are in different sizes so that you can find the perfect combination that suits you.
All of the anti-odor pads are removable and washable.
The chin strap has a D-ring fastener to keep your helmet firmly attached to your head. The front visor is adjustable to either an up or down position.
Overall, the Smith Mainline MIPS full-face helmet is good-looking, lightweight (approximately 780 – 800g for Medium size), and fully certified for downhill or regular cycling – EN 1078, CPSC 1203, ASTM F1952.
Pros
Rich in safety features
Good air-flow thru chin bar
Cons
MIPS tends to squeak a little
IMPORTANT: How to Know Your Helmet Size
---
6. Fox Racing Rampage Pro Carbon Helmet
The shell of the Fox Racing RPC helmet is made from carbon fiber and FRP resins using a Multi-composite technology to create a lightweight yet strong shell to protect your head.
Featuring superior ventilation and rotational management systems to provide the rider with comfort along with an exceptional safe riding experience.
On the inside, a dual-density EPS foam liner provides the first line of defense as a form of crumple zone.
Next in line is the Fluid Inside liner which is a rotational impact technology that not only acts as additional padding, but will rotate slightly to disperse energy from rotational impacts.
Then, for the rider's comfort is the removable and washable X-Static moisture-wicking, antimicrobial comfort liner.
The Rampage Pro Carbon helmet is very well ventilated with a total of 19 vents with injected mesh screens. Fifteen large intake vents and four exhaust ports keep the air-flowing for cool heads on a hot day.
The visor is fixed firmly in place as it utilizes Fox's MVRS (Magnetic Visor Release System). Extra strong magnets will keep the visor firmly attached whilst traversing the roughest terrain but can detach easily in the case of a fall thereby saving your head from sudden twists during an accident.
The helmet is held securely in place with a stainless steel D-ring closure on the chin strap. Completely certified for both downhill and bicycle – CPSC, EN 1078, ASTM 1952-15, and AS/NZS 2063.
Pros
Well ventilated
Fluid Inside rotational impact technology
Moisture-wicking removable padding
MVRS Visor
Cons
Sizes run small! (If you want a Large, maybe try an XL. If you need a Medium, give an L a try.)
IMPORTANT: How to Know Your Helmet Size
RELATED: FOX RACING Bike Helmet Size Chart
---
You Might Also Like:

– Best Mountain Bike Helmet With Removable Chin Guard
– Full-Face Vs Open-Face Mountain Bike Helmets
– Mountain Bike Helmets For Big Heads
– What To Do With Expired Helmets – Part 2