Skateboarding Without A Helmet
As we learn more and more about the lasting repercussions of a concussion and other head injuries, it's becoming clearer every year that wearing a helmet as a skateboarder is incredibly important. 
Helmets should always be worn when skateboarding. Even small falls can cause a concussion or other serious head injuries, so skateboarders should always take their own safety seriously and wear a helmet and other protective gear. 
To protect yourself and set an example for young skateboarders just starting out in the sport, let's explore the importance of skate helmet protection.
Page Content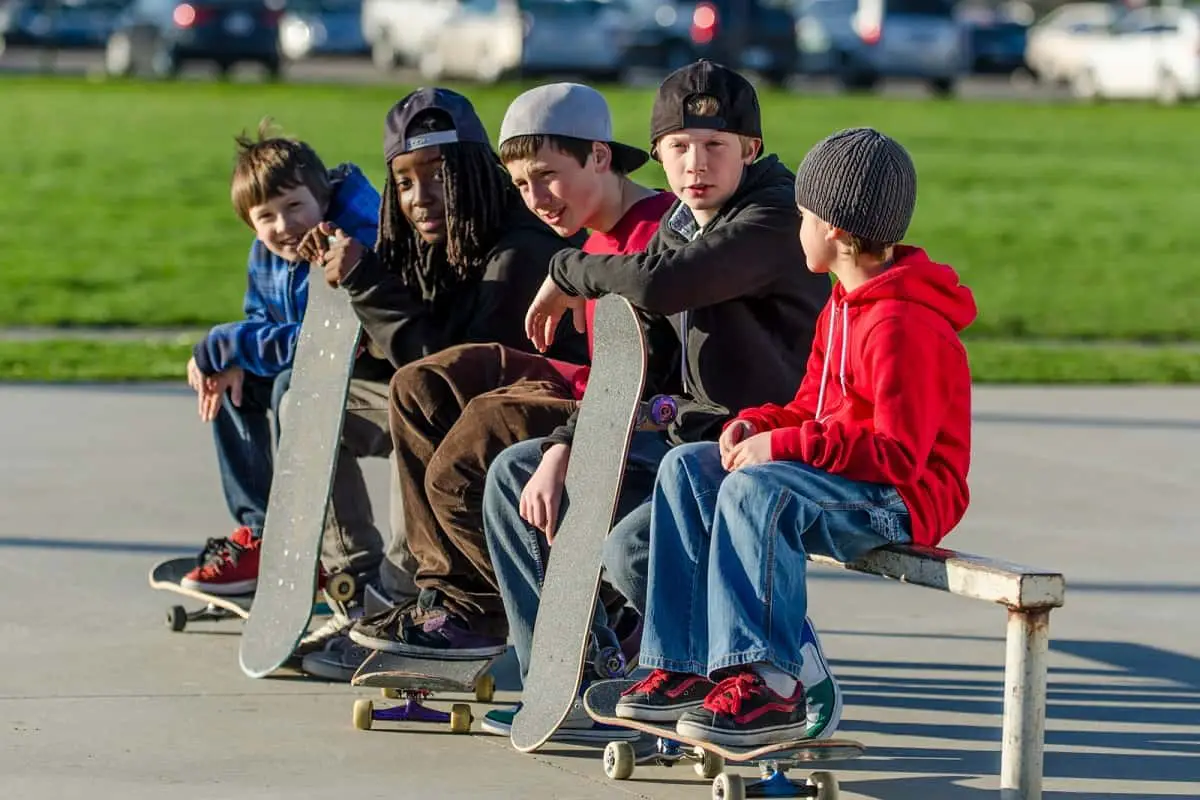 Disclosure: As an Avantlink and Amazon Associate, we earn from qualifying purchases. Disclosure Statement.
Should You Skateboard Without a Helmet?
Simple answer: No, you should not skateboard without a helmet to protect your head. 
A head injury from skateboarding without a helmet is no joke. Out of all injuries reported by skateboarders in 2017, 3.1% were serious head injuries like concussions, skull fractures, and blunt trauma. More than 70% of hospitalized skateboarders are 18 years old or older.
RECOMMENDED: Top 6 Best Skateboard Helmets for Youth
Wearing a proper skate helmet drastically reduces your chances of injury, and should be done every single time you take your skateboard out for a ride. 
How To Choose a Skate Helmet
When choosing your new helmet, there are a few steps that can be taken to make sure the helmet is protective and comfortable, including:
Trying the helmet on first.
If buying for someone else, bring them along for the shopping trip.
Measure your head. The most protective helmet is one that fits properly!
Make sure the helmet is ASTM F1492 certified. That is the recommended standard for skate helmets in the United States. In Europe, you want CE EN1078.
Is It Safe to Skateboard Without a Helmet?
It is not safe to go skateboarding without a helmet. Head injuries make up a vast amount of all skateboard injuries that could be prevented simply by wearing a helmet.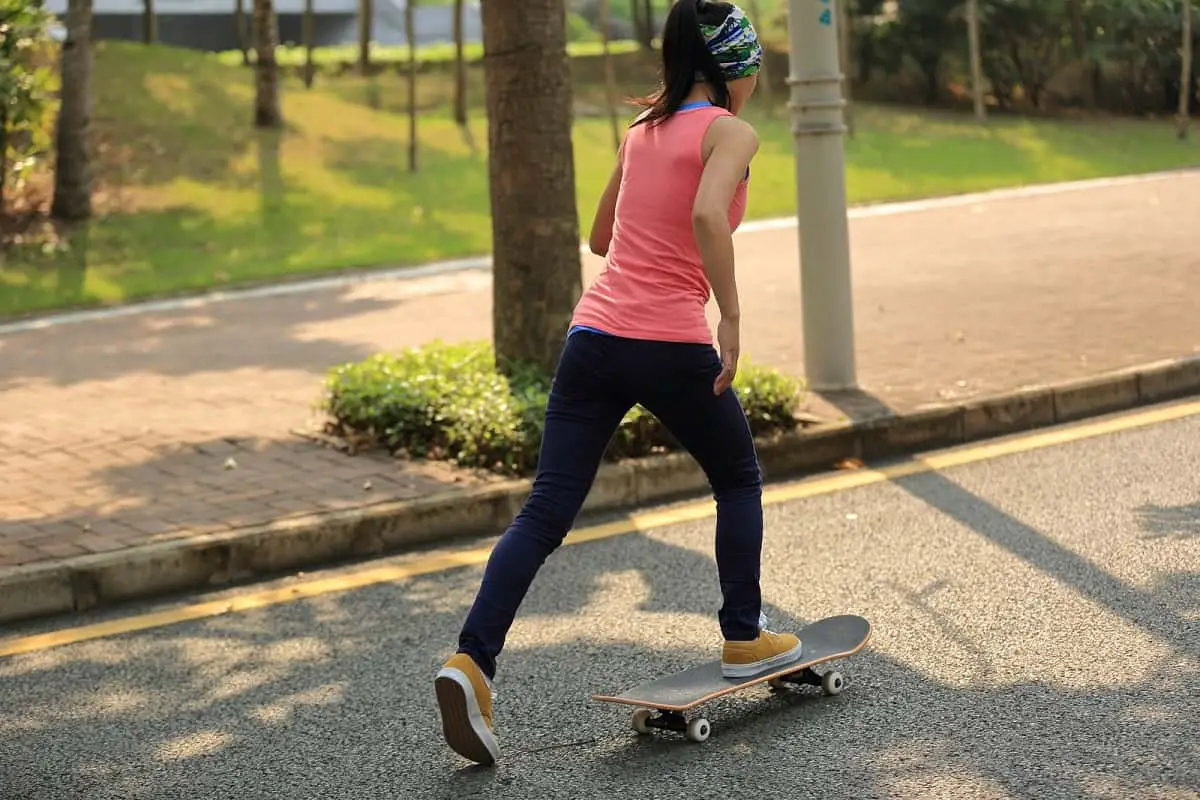 Skateboarding is inherently dangerous and is usually performed on hard concrete or asphalt. Even a brief fall onto the concrete can cause serious damage to your skull, and we are discovering more every year about how detrimental head injuries can be to our long-term health.
To avoid debilitating head injuries, always wear a helmet anytime you are skateboarding, even if you're just riding on a flat surface. 
RELATED: Why Don't Skaters Wear Helmets?
This content was originally published on headsdontbounce.com. If it appears on another website, it is a violation of the copyright owned by headsdontbounce.com.
Why Don't Skateboarders Wear Helmets in the Olympics?
While it's true that adult skateboarders don't have to wear helmets at the Olympics, competitors under the age of 18 do have to wear them! This helps avoid catastrophic head injuries happening to young Olympic skateboard competitors.
IMPORTANT: How to Know Your Helmet Size
Adults don't have to wear helmets at the Olympics because they claim it obscures their field of vision and since they've never worn a helmet before, the helmet would put them at a disadvantage in the Olympic games. 
That isn't to say that you can't win a medal while skateboarding with a helmet. Japanese skateboarder Momiji Nishiya won a gold medal in the women's street competition at only 13 years of age, all while wearing a helmet!
The lack of helmets required in Olympic skateboarding is a hotly contested subject, so many expect that in future Olympic games, helmets will be mandatory for both youth competitors and adults. 
Olympic Gold Medalist Wearing a Triple 8 Skateboard Helmet!
Is It Illegal to Skateboard Without a Helmet?
It is not illegal to skateboard without a helmet unless you live in California. It is also required that minors under the age of 16 wear a helmet in Florida.
Helmets are almost always required for all skateboarders at publicly-owned skate parks, and by a vast majority of private skate parks as well. This is for insurance purposes because without helmets, the potential for serious head injuries during a fall skyrocket. 
RELATED: Best Scooter Helmets For Toddlers
Many skate parks don't enforce the rule as strictly as they should. California, on the other hand, is more strict about helmet use and even requires all riders, no matter the age, to wear a helmet during all skateboard activities. 
So it may be legal to skateboard without a helmet, but if there is any chance of an accident occurring, wear one anyway.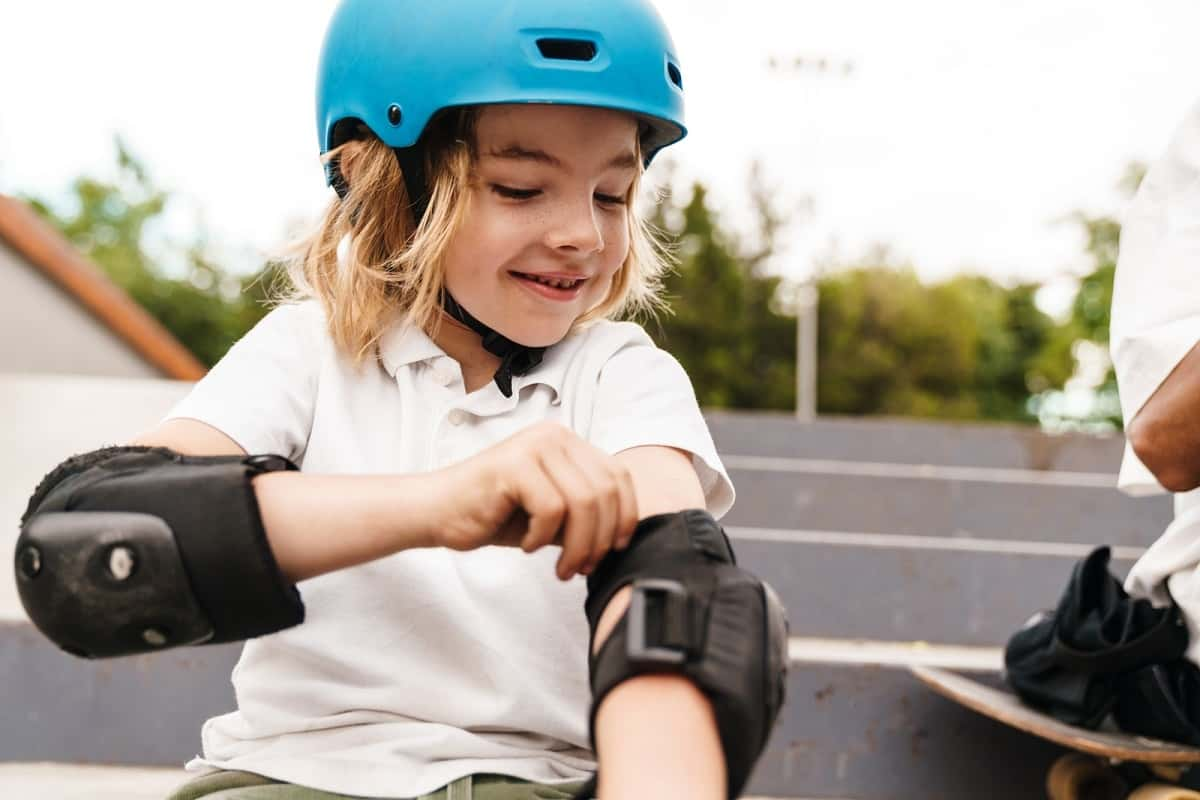 In Summary
Skateboarding is a high-speed sport beloved by adrenaline junkies everywhere, but safety equipment is key for staying healthy while riding a skateboard. 
Not all skateboarders wear helmets, but with head injuries becoming so common in the sport, especially among young skateboarders, helmet use is on the rise.
If you liked this post, why not share it with your friends.