Mountain Bike Helmet Vs Road Bike Helmet
Mountain bike helmets and road bike helmets are both designed to protect your head from injury in case you fall off a bicycle or crash into something while riding.
They have similar designs and features so it's not surprising when discussing mountain bike helmets vs road bike helmets that the following two questions inevitably arise:
Can you use a road bike helmet for mountain biking?
Can you use a mountain bike helmet for road biking?
Why would I need two different helmets? I am, after all, still just riding a bike.
Page Content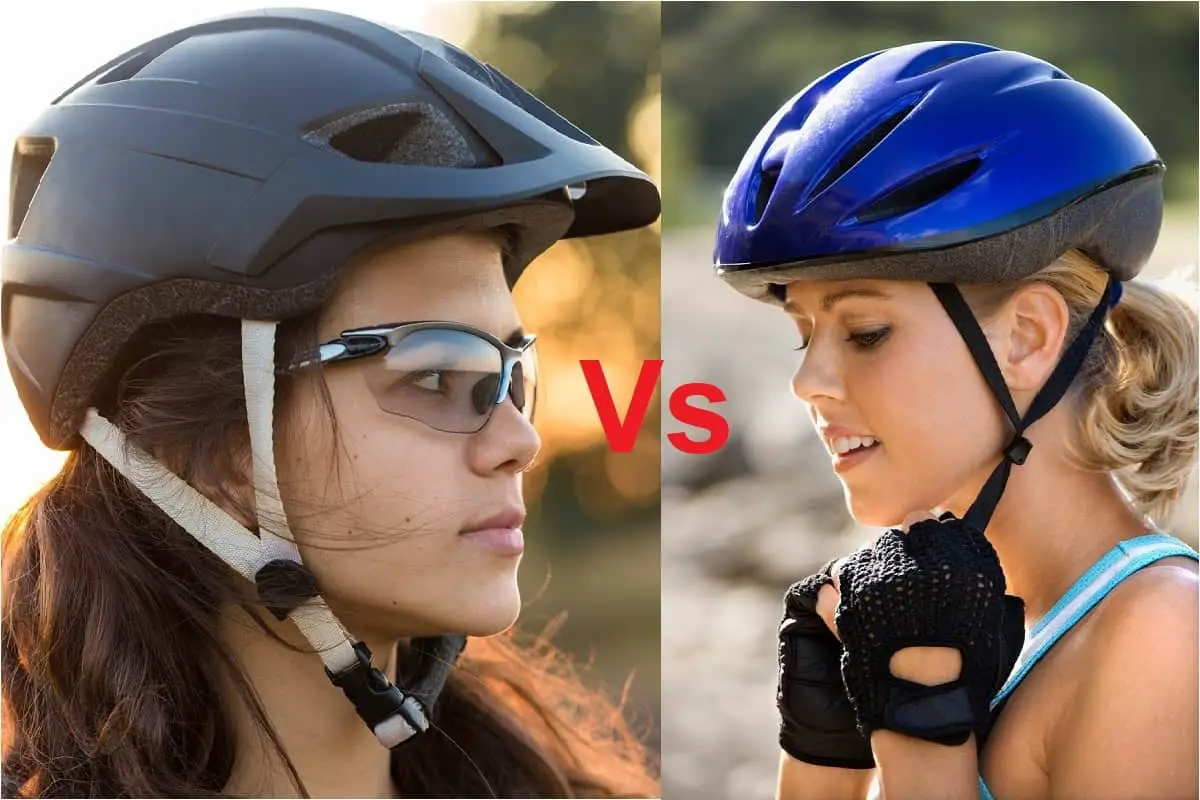 Disclosure: As an Avantlink and Amazon Associate, we earn from qualifying purchases. Disclosure Statement.
Mountain Bike Helmet Vs Road Bike Helmet
First up, let's be clear that we are only looking at road bike helmets and 'open-face' mountain bike helmets here, not full-face helmets.
The questions above had me perplexed. There is some sense to the question of why one would need two different helmets, but perhaps there is some underlying, not so obvious reason that I had missed. So, I set out to find out once and for all the answer to the mountain bike helmet vs road bike helmet dilemma.
With all the best intentions in the world, my research only confounded me even more. There were just as many reasons given for having a separate helmet for each biking style, as there were for just using one helmet for both activities. So, let's take a step back and look at things logically, try to debunk a myth or two, then come to a conclusion based on facts.
Mountain Bike Helmets: Overview
Mountain biking is one of the most exhilarating sports in the world, yet it can be fraught with danger on slippery trails with rocks, bushes, trees, and jumps. As such, good head protection is very important on a mountain bike, but so is good head protection required on other types of bikes including road bikes.
They may look like regular bicycle helmets insofar as they are usually made with a polycarbonate shell and an EPS foam liner.  In addition, there is venting to allow for airflow over the rider's head. It also has a chin strap that goes under your chin to keep the helmet securely strapped to your head.  Unlike regular bike helmets, MTB helmets also usually have a visor attached.
SUGGESTED: Mountain Bike Helmets with MIPS
Although mountain bike helmets come in different shapes, sizes, and designs, they are basically just a conventional bicycle helmet with a visor attached. The price of mountain bike helmets varies depending on their features. For example, some have extra vents for enhanced ventilation while others offer better protection against impact by way of MIPS (Multi-Directional Impact Protection System) technology.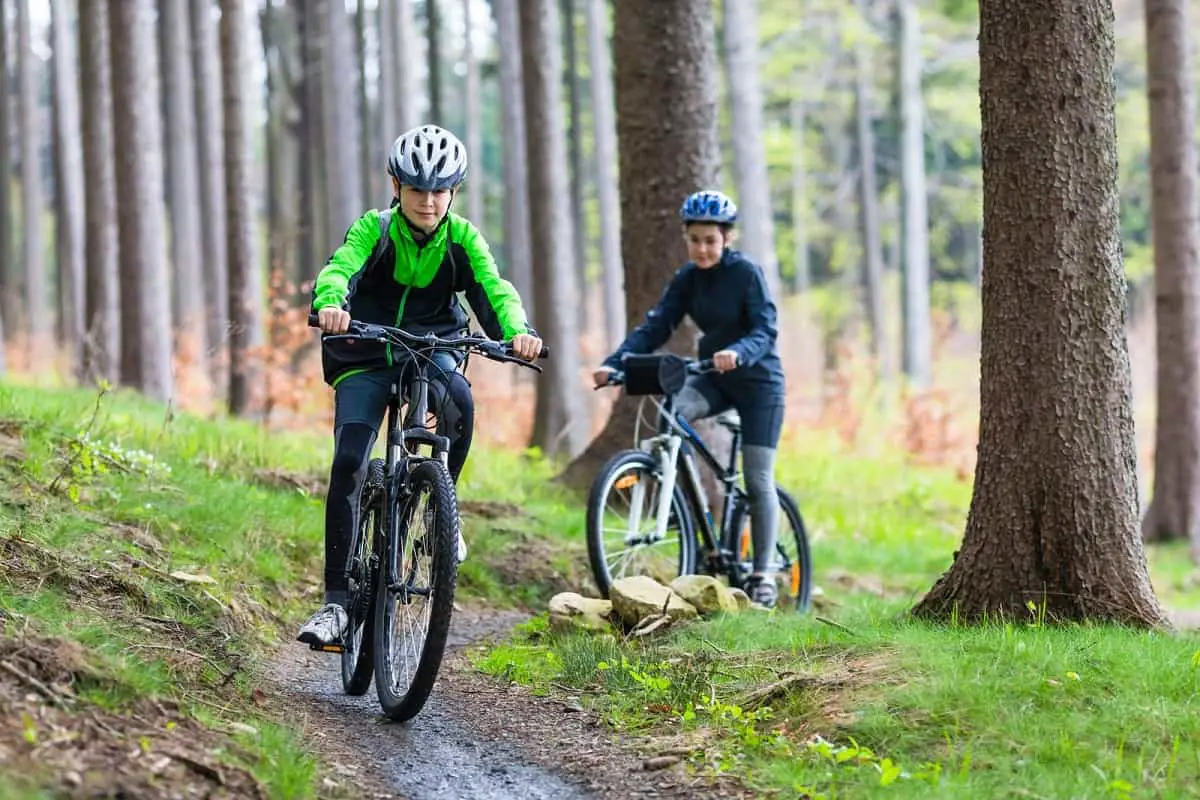 Road Bike Helmets: Overview
Road bike helmets are often used for road racing, commuting, or recreational riding. 
SUGGESTED: Safest Road Bike Helmets
Most road bike helmets have a durable polycarbonate shell to protect the rider's head in case of a crash.  The interior of the helmet has an EPS foam liner which is designed to absorb energy and protect the head and brain during an impact.
Other features include adjustable chin straps so the helmet will fit snugly and comfortably, then there are air vents that allow cool air to enter the helmet and warm air to exit.
And, just like MTB helmets, road cycling helmet prices vary depending on additional features, such as extra ventilation, MIPS technology, or similar protective enhancements.
The conclusion so far is that they sound pretty much the same except for visors on mountain bike helmets.
Mountain Bike Helmets vs Road Bike Helmets: Differences
The first obvious difference between the two helmets is the visor on the MTB helmet. According to previous research and an article on this website, the visor is supposed to protect the rider's face and head from branches, roost, and provide some relief from the sun and rain. Yet, several mountain bikers state that the visor impedes their field of vision and they remove it.
Many people will say that road helmets offer a more aerodynamic design, but really, once you remove the visor from an mtb helmet they are just as aerodynamic as a regular helmet. It's pertinent to mention that most visors are, in fact, removable. So, maybe visors really don't serve any purpose at all.
SUGGESTED: Mountain Bike Helmets For Big Heads
The next difference that is often cited is that mountain bike helmets have sightly more coverage at the rear of the helmet.
When looking at the images below it is more than clear that the amount of additional coverage at the rear of the MTB helmet is quite negligible. (Helmet images below from Amazon.com)
---
The differences between mountain bike helmets and road bike helmets would appear to be only visual, but do subtle differences like these mean that the helmet is not suitable for use other than what its name implies.
This content was originally published on headsdontbounce.com. If it appears on another website, it is a violation of the copyright owned by headsdontbounce.com.
Myth Busting
Ventilation
The number of vents on both types of helmets is a matter of contention with many contradictions, depending on what you read and where.
Overall, the general consensus is that mtb helmets have more vents than road bike helmets. Yet, there are others who contend that road bike helmets offer maximum ventilation because the rider often has to sit at traffic lights amongst traffic. Feel free to scratch your head over that one.
If road bike helmets need more vents due to traffic light stops, spare a thought for those riders who have chosen to wear a commuter bike helmet that has very few vents in comparison.
SUGGESTED: Types of Bike Helmets
As someone with quite some experience with all sorts of helmets, I was baffled by the assertion that one or the other has more ventilation holes than the other. This is simply not true.
In order to disprove this claim about which helmet has more vents, I did 2 searches on Amazon. The first for 'road bike helmets', and the second for 'mountain bike helmets'. From each search result page, I took the first 5 results of different makes/models of helmets and found the information regarding how many vents each helmet had, mainly from the bicycle helmet manufacturer's website.
In the table below, you can see the result for five mountain bike helmets and five road bike helmets. Of course, if I had checked 50 or 500 helmets, the results may have been slightly different, but I did this to satisfy my own curiosity rather than to prepare a scientific thesis.
The results show that, in this selection of helmets, mountain bike helmets had an average of 17.2 vents compared to 18.6 for road bike helmets. Clearly, not a huge variance in the number of vents between these two types of helmets.
Comparison of the number of Vents table:
| Mountain Bike Helmets | # Vents | Road Bike Helmets | # Vents |
| --- | --- | --- | --- |
| Giro Fixture | 18 | Giro Isode | 24 |
| Fox Speedframe | 19 | POC Omne Air | 10 |
| Bontrager Quantum | 14 | Kask Protone | 20 |
| Bell Nomad | 15 | Smith Optics Signal | 21 |
| Smith Optics Convoy | 20 | Bell Z20 | 18 |
| Average | 17.2 | Average | 18.6 |
Helmet Weight
The weight of these two types of helmets was another point of contention with some saying that mtb helmets are made with lightweight materials and so are therefore lighter overall. While others were adamant that road cycling helmets were lighter as they have more venting holes plus road racers prefer lighter helmets.
IMPORTANT: How to Know Your Helmet Size
Naturally, while checking the number of vents in each helmet, I also checked the weight of each helmet. It's interesting to note how some helmets have a different weight depending on whether they are for the U.S. market or the European market. In such cases, I have taken an average of the two weights.
Comparison of Helmet Weight table:
Mountain Bike Helmets
Weight
Road Bike Helmets
Weight
Giro Fixture
320g cpsc (Uni)
290g ce (Uni)
Giro Isode
285g (Uni)
Fox Speedframe
360g (M)
POC Omne Air
305g (M)
Bontrager Quantum
365g (M)
Kask Protone
215 g (M)
Bell Nomad
333g (Uni)
Smith Optics Signal
300g (M)
Smith Optics Convoy
300g (M)
Bell Z20
310g cpsc (M)
270g ce (M)
Average
334g
Average
279g
This time we can see quite clearly that mountain bike helmets weigh more than road bike helmets. However, if we were to remove the weight of the visor on the mountain bike helmets, let's say around 50 grams, then the weight of both types of helmets is very similar.
Durability
The argument here is that mountain bike helmets are much more durable because they need to protect against harder impacts like rocks and trees. Sorry, but I don't buy it. Yeah, sure rocks and trees are not soft that's for sure, but then again neither are bitumen roads, cars, curbs, and numerous other objects that a road cyclist could impact with.
Helmet Certification
A mountain bike helmet may be visually different from a road bike helmet, but at the end of the day, they both do the same thing: that is, provide protection for your head.
Both mountain bike helmets and road bike helmets are CPSC 1203 certified. (And that has nothing to do with the number of vents, weight, visors, etc.). What that means is that both types of helmets are put through the same safety testing, and are ultimately approved to exactly the same safety standard giving riders the same level of protection.
If you want to enter in a road race, or a mountain biking event, there are usually conditions of entry that will state that riders must wear a CPSC 1203 certified helmet or similar. The conditions of entry do not say that the helmet must have at least 27 vents, or must weigh at least 300 grams, or must be orange with blue spots. Why? Because it doesn't matter how many vents, grams, visors, or colors the helmet has, just so long as it is certified to the appropriate safety standard.
SUGGESTED: Best Mountain Bike Helmet With Removable Chin Guard
The only time the above would change is if the mtb event was a downhill race in which case they might stipulate that riders must wear a downhill helmet certified to ASTM-1952 standards. In that case, a CPSC 1203 helmet would be ineligible.
So, there you have it. Yes, you can wear a road bike helmet for mountain biking, and Yes, you can wear an mtb helmet on a road bike. Just be sure to choose a quality helmet that carries the necessary certification for your particular country (CPSC, CE EN, AS/NZ, etc.).
Conditions of Entry:
A protective helmet that meets recognised standards (ASTM, EN1078, CPSC or Snell B95) is compulsory at all times while racing.

https://www.appenninica-mtb.com/en/race-rules/#.YYhX94ZBzcs
It is mandatory that all riders wear a safety approved cycling helmet complying with latest standards.

https://acycling.com/terms-conditions/
and wear a safety approved cycling helmet complying with latest CE standards EN1078, or equivalent.

https://bostinride.com/event_terms_and_conditions/
Please note that while taking part in a British Cycling-sanctioned race or sportive, the use of a helmet conforming to a recognised safety standard is mandatory.

https://www.britishcycling.org.uk/about/article/20150701-about-bc-static-Helmet-policy-0?c=EN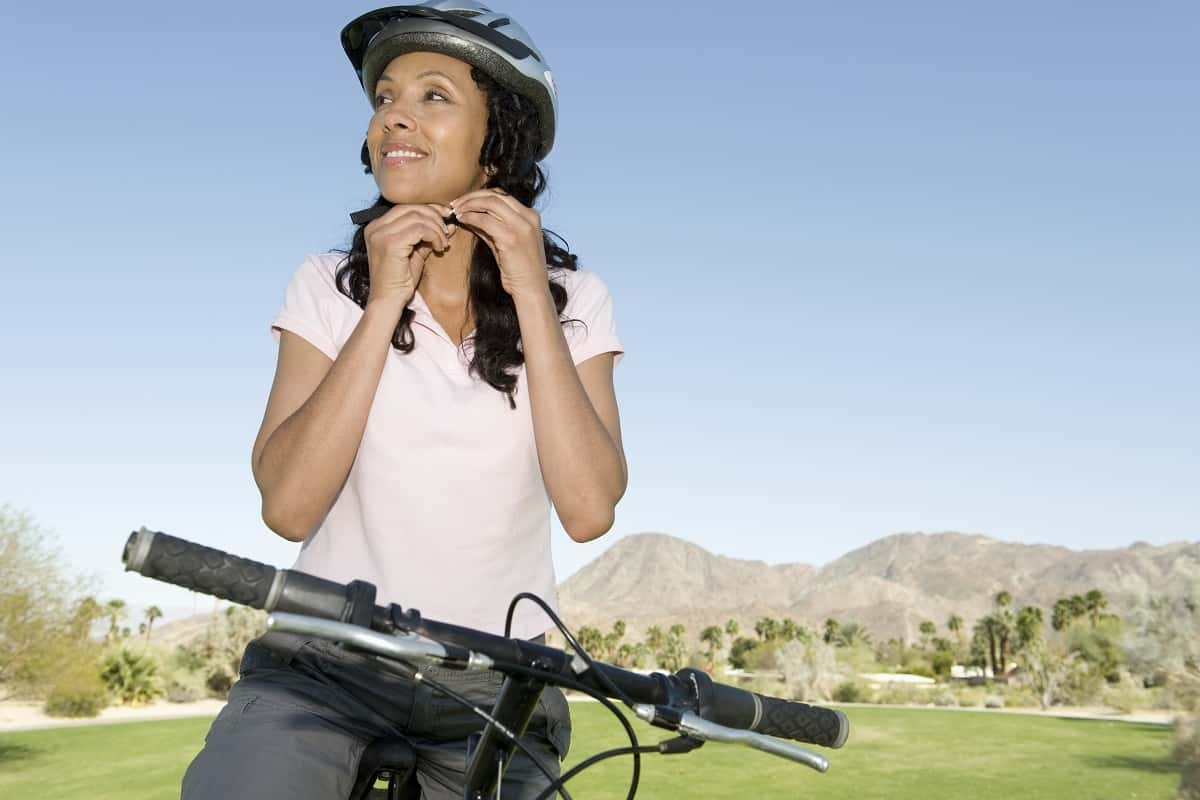 Conclusion
Are mountain bike helmets the same as road bike helmets? Visually they are similar, except the mtb helmet may have a visor. Apart from that, there's no real difference and you are free to wear whichever one fits best and feels most comfortable for you.
It's also interesting to see many road bikers wearing a peaked cap under their cycling helmet. Maybe they should just wear a mountain bike helmet with the built-in visor.
And finally, from the most recent Virginia Tech bike helmet ratings, take a look at how similar these figures are:
Total Road style helmets tested = 78
Road style helmets with 5 stars = 41 (47% of road helmets scored 5 Stars)
Total MTB style helmets tested = 63
MTB style helmets with 5 stars = 34 (46% of mtb helmets scored 5 stars)
If you liked this post, why not share it with your friends.