When it comes to bike helmets, the focus is invariably on the outer shell and the foam liner on the inside of the helmet.
However, there are more to helmets than appears at first glance, but, the question 'what are bike helmets made of' is one worth looking into and learning more about.
There are five parts to a bike helmet, but just looking at one, you wouldn't think so, and, to be honest, the fifth is really an optional sort of add-on.
KEY TAKEAWAYS
There are five parts to a standard bike helmet.
An Outer shell which is usually made of ABS (Acrylonitrile butadiene styrene) or Polycarbonate.
The inner Foam liner made from EPS (expanded polystyrene).
A Fit system which could be as simple as extra padding, or a rear dial type of system.
The all important chin-strap and its plastic buckle.
An optional MIPS (Multi-directional Impact Protection System) liner for added safety.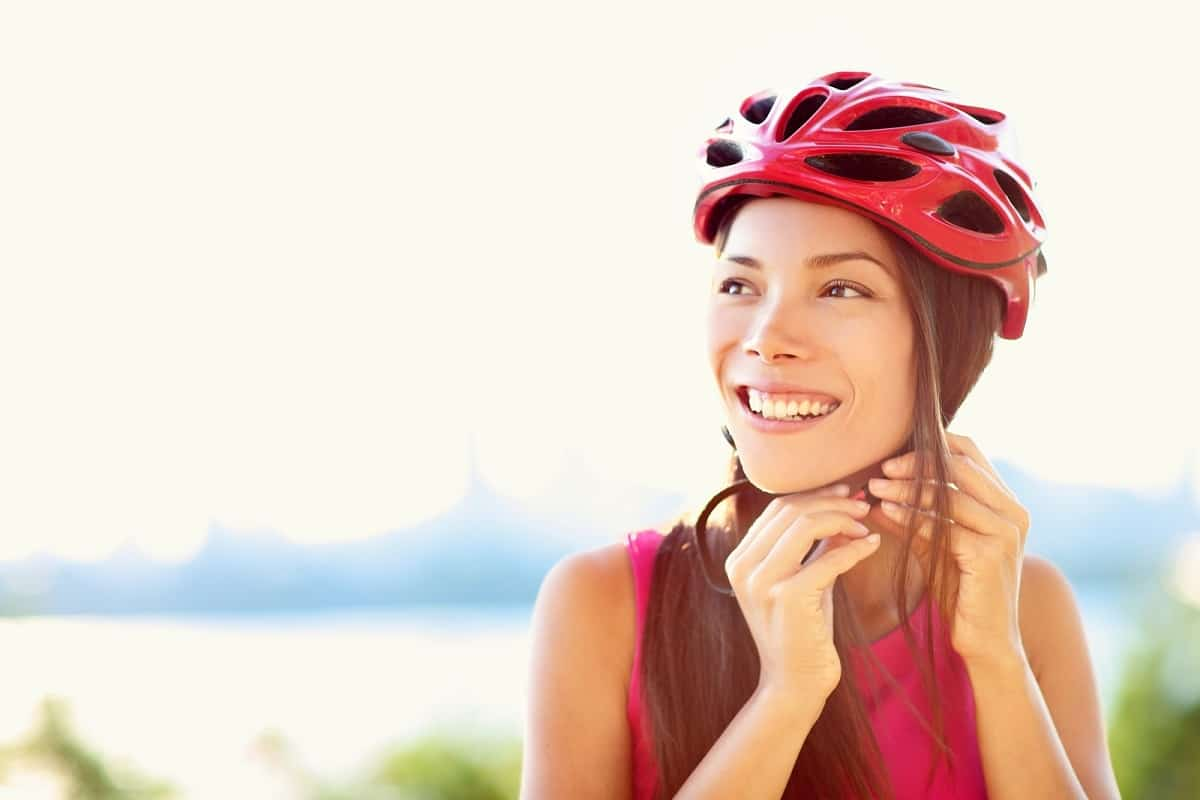 As an Avantlink and Amazon Associate, we earn from qualifying purchases. Disclosure Statement.
What Are Bike Helmets Made Of?
Simply put, bike helmets are made of a variety of plastics. The outer shell, the hard part that protects your head is usually made from a polymer, but more about that below. Inside the shell is the foam liner that does the energy absorption in an accident, well that's another kind of plastic.
Then you have the chin straps and buckle which are often made of nylon with a plastic buckle. Then there's the fitting system with its plastic dial.
Although that doesn't sound very interesting, it actually is quite amazing what goes into the making of a modern bicycle helmet and how well it does its job of protecting heads from serious injury.
Bike Helmet Material
Not all bike helmets are manufactured in the same way. Most of them are marketed on their aesthetic qualities rather than keeping you or your child's head safe. How many parents buy their kids Disney 'Frozen' bike helmets because they meet industry safety standards?
Regardless of the "why", there are the above-mentioned five parts to a helmet, some of which are manufactured using different materials than others, whether it is a polycarbonate, ABS (Acrylonitrile Butadiene Styrene), or PVC (Polyvinyl chloride).
RECOMMENDED: Best Affordable MIPS Bike Helmets
Parts Of A Bike Helmet
A bike helmet isn't a complex machine, but if you dissect it into its multiple layers, you'll find that something is interesting about each one. Not to mention the fact that the five typical parts of a bike helmet each have parts of their own, which we will cover in full below.
Helmet Shell
The majority of bike helmet shells are polycarbonate, while a few others have an ABS shell and the cheapest ones being made out of PVC. These types of polymers have different qualities including cost of raw materials and durability and as such the type of helmet shell plays a major part in the helmet price.
In polycarbonate and ABS shells the EPS liner is often formed together with the shell in what is often referred to as in-mold. The EPS is expanded using steam in the mold with the shell at a very high level of temperature. In-mold construction makes for a much sturdier and durable helmet.
PVC helmet shells are usually created separately from the EPS liner then glued together.
EPS Liner
As we touched on above, the EPS liner is the interior part, beneath the shell, that is composed of a softer, impact-absorbing foam material.
It is molded directly into the shell of most helmets during the manufacturing process and is the largest percentage of protection capability in the helmet. 
EPS stands for Expanded Polystyrene, though there are about a hundred little variables within that single property.
For instance, like the cheaper bike helmets use PVC for the shell, EPS can be altered in cheaper and simpler manufacturing methods as well. 
The EPS liner, as your 'internal' impact resistance, is of a smaller quantity in standard bike helmets, since it doesn't have to drop low over the brow or form ear-holes.
Helmet Padding
This is additional padding that serves potentially two functions.
The liner pads aren't necessarily for impact resistance, though they might contribute to that in an unintended way.
Some helmets come with additional removable padding for fitting purposes, which can be added or removed as necessary.
Depending upon the material of the liner pads, they may also be used for wicking away moisture, which is a feature that you will find in the more premium helmets designed for competitive cycling.
MIPS Liner
MIPS (Multi-directional Impact Protection System), is designed to reduce the 'rotational' force of impact, caused by oblique impacts or glancing impacts. This is not a feature that you find in all bike helmets, though it probably should be.
MIPS is an additional liner and is designed to grab your head and force it into the direction of the rotational impact.
The theory is that it will help keep your brain from playing a full game of pong inside your skull in what amounts to a fraction of a second. 
The design of a bike helmet with MIPS includes a thin, yellow polycarbonate layer (slip-plane) between the EPS liner and the rider's head.
The MIPS slip-plane connects to the inside of the helmet by elastomeric attachments which can move slightly, about 10 – 15 millimeters, in any direction.
Our article, 'Is MIPS Worth It', is a good read that will help you decide if you really need MIPS in your bike helmet or not.
Bike Helmet Chin Strap
The bike helmet's chin strap is usually made out of nylon or polypropylene. They are used to secure the helmet to your head with dual clasps on either side along with a single clasp in the middle, to the left or right of the chin.
This content was originally published on headsdontbounce.com. If it appears on another website, it is a violation of the copyright owned by headsdontbounce.com.
Bike Helmet Strap Divider
The upper part of the chin strap separates in a Y-shape, running one side behind the ear and the other side in front of the ear, on both sides of the head.
This helps redirect the force of the chin strap to the whole of the helmet and can sometimes be adjusted, depending on the manufacturer that designed it.
Bike Helmet Buckle
Typically made out of plastic or nylon strapping, with the nylon type utilizing a "pinch release" mechanism, known as Fastex.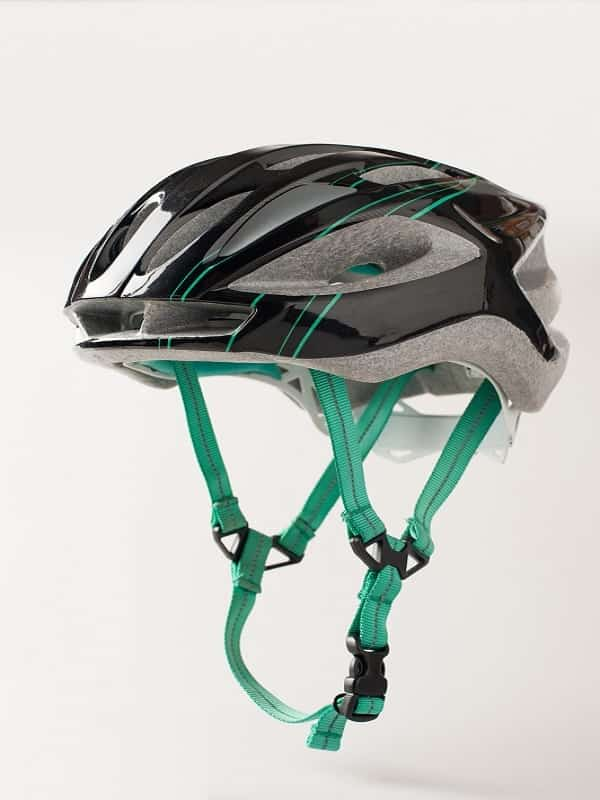 The other buckle, Fidlock, consists of an ingenious magnetic locking feature that will automatically lock into place as soon as the magnetic fields make close contact. And, although the magnet holds it closed securely while riding, unfastening is as simple as a twist.
Bike Helmet Fit System
The fit system is the adjustable part that sits almost directly behind your skull, where the brain stem connects to your brain (an interesting way of putting it). It's known as an occipital stabilizer and is usually designed to tighten or loosen the fit with a clockwise or counterclockwise turn.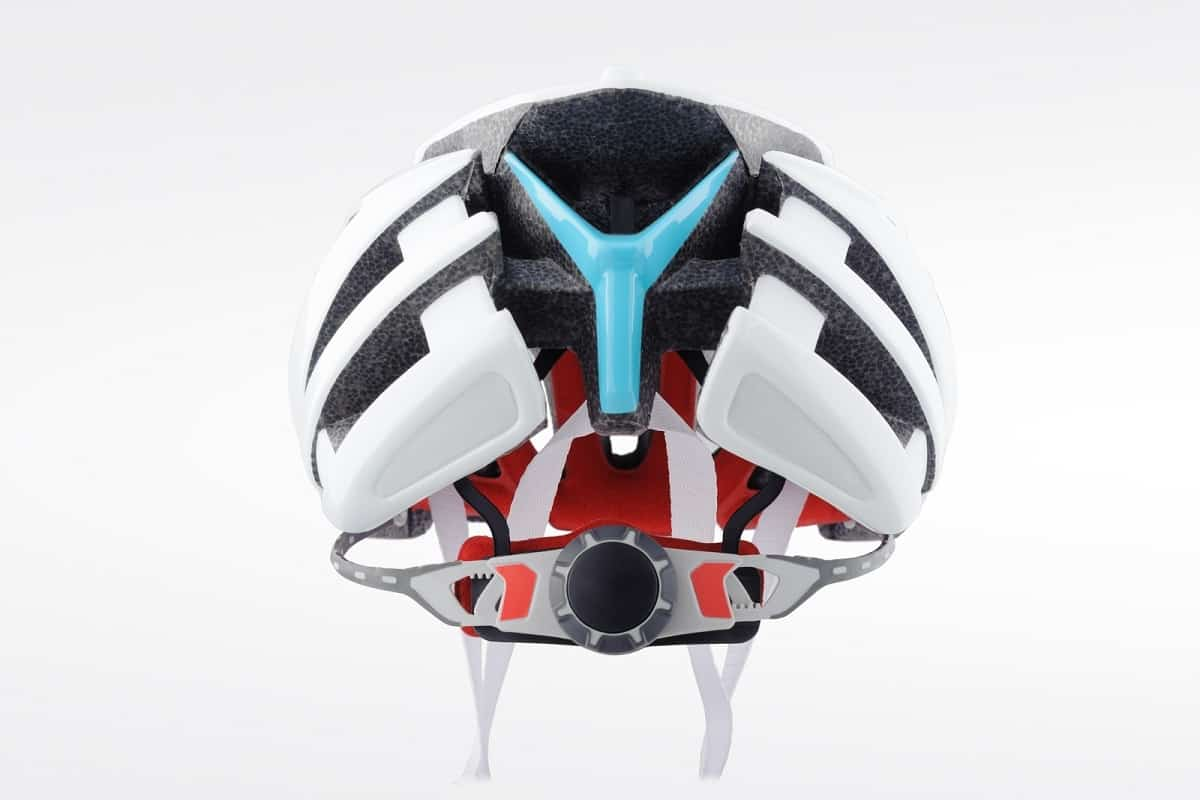 Summing Up
There you have it, everything that goes into the manufacturing of a cycling helmet. If you ever want a complete understanding of what goes into a bike helmet, just read through the above again, as that covers the entirety of the fully assembled bike helmet.