Many people don't realize that in some parts of the United States there is snow all year round. So, if you're lucky enough to be hitting the trails in summer, or winter, and need a new ski helmet, you may want to give some thought to a ski helmet with a visor.
In this article, we'll be looking specifically at the best ski helmet with visor as they are rapidly gaining popularity on the slopes.
There are several benefits of a ski helmet with visor you can explore in the linked article, however here we will touch on only a couple of the immediately obvious ones.
First and foremost, it is worth noting that there is no difference between a ski helmet and a snowboard helmet. They are both certified by ASTM F2040 in the US, and EN-1077 in Europe (see 'Ski Helmet Certification' for more details).
Whether you're looking for a snowboard helmet with visor or a ski helmet with visor, you're looking for the same helmet!
…there are no laws in the United States requiring skiers or snowboarders to wear helmets . . . . . . ASTM F2040 is a voluntary, self-certifying standard

https://www.helmetfacts.com/standards/astm-f2040/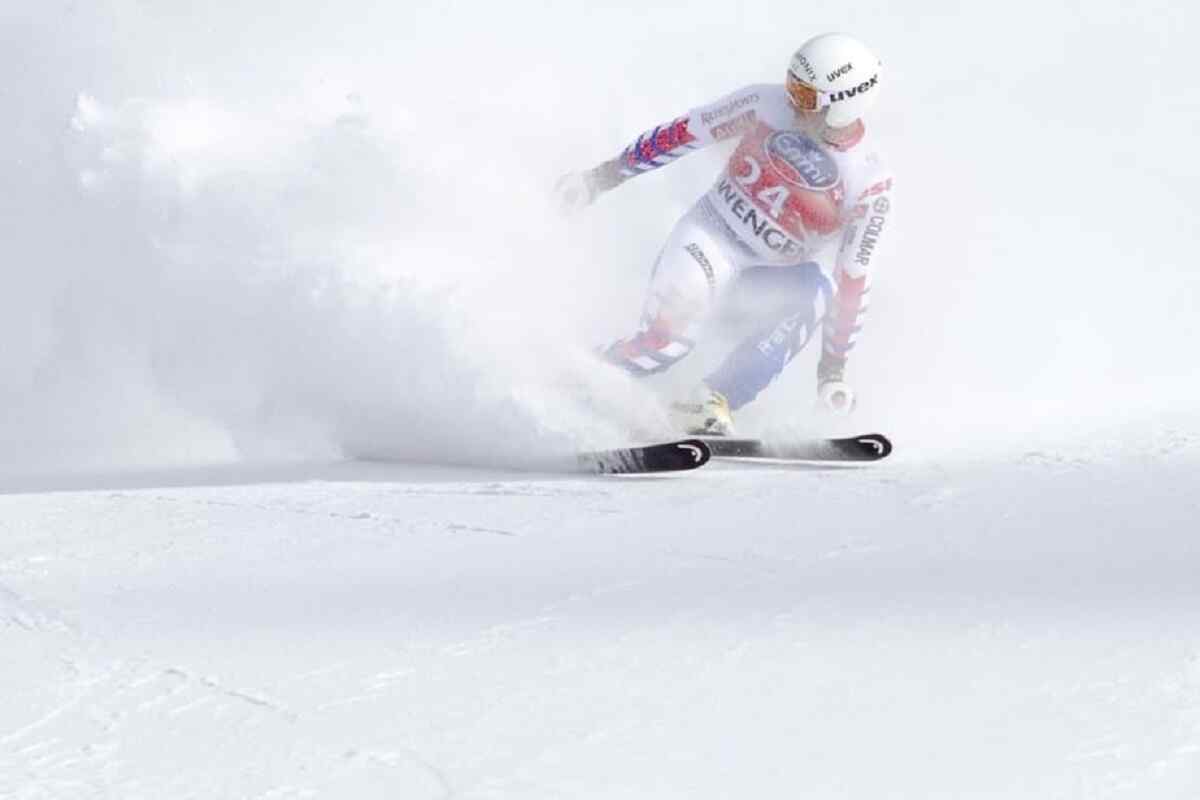 As an Avantlink and Amazon Associate, we earn from qualifying purchases. Disclosure Statement.
Best Ski Helmet with Visor Comparison Table
On Mobile Devices, drag Table left to see more, if necessary.
VIDEO: How To Measure For A Ski Helmet
If you can't see the video below, please allow this site in your Ad Blocker.
RELATED: How Should A Ski Helmet Fit?
Why Buy A Ski Helmet With Visor?
When you look around the snowfields, you'll see many others just like you who are wearing a ski/snowboard helmet. You will also see some people that don't bother with a helmet, but all of them are wearing 'eye protection'. Interesting, yes?
They wear eye protection, sunglasses, goggles or a ski helmet with visor because of the glare from the snow. Even when it is snowing, or the sky is overcast the brightness of the snow can damage your eyes.
SUGGESTED: How Long Do Ski Helmets Last?
Skiers who wear a helmet with visor will never have to worry about losing or misplacing their goggles or sunglasses because the visor is part of the helmet.
Another good reason for buying a helmet with visor is that it is a lot more convenient to simply flip up or down the visor than trying to remember what you did with your sunglasses. Not only that but you will always know where your visor is, even when your helmet is packed away for the summer.
This content was originally published on headsdontbounce.com. If it appears on another website, it is a violation of the copyright owned by headsdontbounce.com.
SUGGESTED: Ski Helmets For Big Heads
The Best Ski Helmets With Visors
---
1. Smith Survey MIPS Visor Snow Helmet
The sixties were an interesting time for idealists, dreamers, and entrepreneurs. One such person was a young man named Robert 'Bob' Smith, a skiing enthusiast, who wanted a better pair of ski goggles. So he designed his own ski goggles and sold them to others while on ski trips.
The big break came in 1969 with Smith's latest fog-free, double-lens ski goggles which he had been working on for several years, were released in partnership with the Obermeyer company. The rest, as they say, is history.
Smith Optics has come a long way since the sixties making their mark in not only eyewear but also protective headwear. The Smith Survey MIPS Visor snow helmet is the latest offering with that distinctive Smith style and quality you know you'll receive in a Smith snow helmet.
The Smith Survey MIPS Visor Ski & Snowboard helmet is ideal for freeride skiers and snowboarders due to its light weight. Constructed with In-Mold technology, the polycarbonate shell with EPS liner is complemented by the MIPS Brain Protection System as well as Zonal Koroyd to protect against angled impacts in an accident.
The soft fleece inner padding provides comfort and warmth when needed and is removable and washable. When it gets too warm, the adjustable vents located at the front of the helmet can be opened to allow cooler air to flow through to the rear exhaust vents for optimal air circulation.
With 4 sizes ranging from 51cm to 67cm, you can use the adjustable dial at the rear of the helmet to further personalize the fit to suit your head size.
The ChromaPop™ visor is prescription glasses friendly and features a photochromic lens with 100% UV protection, anti-fog treatment and soft foam around the nose of the lens. Prices for this unisex helmet range from USD260 – USD290 dependent on size and color chosen.
Fully certified for wherever you'll be skiing or cycling, ASTM F2040, CE EN1077, CPSC, and CE EN1078.
RELATED: Smith Ski Helmet Size Chart
See Video 'How To Measure For A Ski Helmet'
---
2. Giro Essence MIPS Women's Snow Helmet
Giro was founded more than 30 years ago driven by attention to detail. Initially, their focus was on cycling helmets, but in 1999 the Giro Nine Ski Helmet hit the slopes. Amazingly, the Giro Nine Ski Helmet is still available today with added MIPS (Multi-Directional Impact Protection System) technology.
However, today we're looking at the Giro Essence MIPS Women's Snow Helmet with integrated Visor. The Essence was specifically designed for women with its stylized earpads and trim detailing.
Giro states that the Essence will protect you from the elements without interfering with your eyewear or smudging your make-up.
The Giro Essence MIPS Snow helmet uses the very popular in-mold construction whereby the polycarbonate shell is fused together with the EPS inner lining to make it sturdier, provide better ventilation, lighter and cooler than traditional helmets.
The Essence also includes the MIPS brain protection system for maximum protection against rotational impacts.
Incorporating Giro's Stackvent technology, your visor will remain clear of fogging and you can custom tune the air-flow instantly with the control button.
The In Form Fit System allows you to manually customize the fit using the adjustable dial fit system at the rear of the helmet, even while wearing ski gloves. Vertical tuning allows us to adjust for all head shapes!
What's more, the Essence earpads are also compatible with Giro Audio Systems (sold separately). Available in 2 sizes ranging from 52cm to 59cm.
It has an interchangeable visor and comes with two lenses Cat 1 and Cat 3, and has soft foam around the bridge of the nose. Prices for this women's helmet range from USD320 – USD400 dependent on size and color chosen.
Complies with European Standard EN-1077 (helmet), but compliance with EN-174 (visor) is not stated.
If you're looking for a Giro ski helmet with visor, you can't go past the Giro Essence MIPS Women's Snow helmet, which is not only smart and stylish, but as one of only two MIPS helmets in this line-up, it offers additional safety features and excellent protection for any snow sports.
RELATED: Giro Ski Helmet Size Chart
See Video 'How To Measure For A Ski Helmet'
GIRO ESSENCE MIPS DAMEN SKIHELM
---
3. Uvex Helmet 600 Visor Ski Helmet
'Ultra Violet Excluded' was abbreviated to Uvex to begin the brand name in 1964, thirty eight years after the original optical company was founded in Fürth, Bavaria in Germany.
Nowadays, known internationally for quality optics, goggles, and helmets, Uvex has won many innovation awards including "Brand of the Century" in 2010 for their ski goggles. It's little wonder that Uvex products are the choice of Winter Olympics champions.
It has been claimed that the Uvex Helmet 600 visor ski helmet is ahead of its time. But, one thing for sure is that this innovative, German made ski helmet features some great technology to make your skiing trip so much more enjoyable.
Utilizing in-mold technology, the polycarbonate shell, and the shock-absorbing EPS foam liner are inseparably bonded to create a lightweight helmet with high impact resistance. On the inside, the interior comfort padding is completely removable, exchangeable, and washable.
With the Uvex IAS-3D system, you can adjust the helmet width and height to the shape of your head, whether that be round, oval, or any other shape. Combine the IAS system with the Uvex FAS (Fast Adapting System), the webbing can be easily customized to your exact head shape for the ultimate fit.
The adjustable chin straps will always be in the perfect position for your head shape and size, with the monomatic comfort lock, which can be opened and closed with just one hand, well within your reach.
On warm days, adjustable vents at the front of the helmet allow for cool air to enter, while warm air is channeled to the exhaust ports at the rear to escape and your head stays cool. The vents can be closed to suit your needs or as the weather dictates.
The Uvex 600 ski helmet sports an extra-wide visor which gives a panoramic view so you are fully aware of your surroundings while enjoying your run on the slopes. The lower edge of the visor is padded and quickly follows your facial features to reduce cold wind on your face.
The integrated visor has a photochromic lens with an anti-fog coating. Uvex's variomatic technology provides automatic lens tinting, quickly adjusting to any lighting conditions within VLT categories 1 – 2 to allow for skiing in varying weather conditions.
The Uvex 600 visor ski helmet is available in 4 sizes ranging from 53cm to 61cm (20.8″ – 24″), and comes in several color schemes. Weighing in at around 600 – 650 grams. Prices for this unisex helmet vary depending on the size. Suitable for beginner, intermediate, or professional skiers or snowboarders alike.
RELATED: Uvex Ski Helmet Size Chart
See Video 'How To Measure For A Ski Helmet'
---
4. Bollé Backline Visor Ski Helmet
Bollé was founded in Oyonnax France in 1888, yes you read that right, 1888, over 130 years ago. Bollé had been a leader in the manufacture of sunglasses, safety glasses, and goggles before entering the ski helmet market in 2007.
Not being content to follow existing technologies, Bollé has been innovative in exploring creative options to satisfy not only weekend skiers but competitive professionals as well.
The Bollé Backline Visor ski helmet includes those technologies to make the Bollé Backline the robust helmet that you would expect. Starting with the ultra-resistant 'injected ABS' shell with EPS foam lining for extra safety. The integrated ventilation will keep your head cool while you're sweating it out on the slopes.
Achieve a personalized fit using Bollé's Click-To-Fit™ system with its rubberized adjustable dial which you can fine-tune even with your gloves on. Soft and comfortable ear pads to keep your ears warm while still allowing you to hear are removable for washing or replacement.
For additional comfort, the visor has a foam lining along the base of the visor giving a more comfortable seal against the face, as well as a padded chin strap to reduce chafing. The Bollé Backline Visor ski helmet comes with two adaptive cat 1 & 3 photochromic visors.
This Bollé ski helmet with visor comes in 3 sizes ranging from 54cm to 61cm. Complies with European Standards EN-1077 (helmet) and EN-174 (visor).
The Bollé Backline Visor ski helmet will have heads turning as you enjoy your day's skiing or snowboarding.
RELATED: Bollé Ski Helmet Size Chart
See Video 'How To Measure For A Ski Helmet'
---
5. Salomon Driver S Ski Helmet
In 1947 the Salomon family made skis in Annecy, France. A region known as the "Pearl of the French Alps". Now, more than 70 years later, they are still making skis, as well as boots, bindings, bags, clothing, helmets and goggles with an annual revenue of over $1Billion!
The Salomon Driver S helmet combines an injected ABS outer shell with an In-Mold inner shell creating a hybrid with better ventilation and improved Airflow Concept.
The hybrid shell is enhanced by Salomon's patented EPS4D technology which not only provides the channels for improved airflow but maximizes energy absorption and impact protection.
Salomon's Custom Dial Fit system makes for a precise and comfortable fit with the easy dial adjustment which is now integrated into the liner for durability.
The Advancedskin/Activedry inner lining is not only comfortable but quick-drying and is 100% removable and washable for better hygiene. For additional comfort, the chin strap is padded to reduce irritation caused by chafing.
The Salomon Driver S helmet features the exclusive Salomon Motion Shield system that offers a perfect face fit and allows you to keep your prescription glasses on at all times.
The visor is interchangeable to suit the weather conditions without any special tools needed to change the visor.
The Salomon Driver S helmet comes with one Cat 2 visor and is available in 3 sizes ranging from 53cm to 62cm. Prices for this unisex helmet range from USD140 – USD210 dependent on size and color chosen.
Complies with European Standards EN-1077 (helmet) and EN-174 (visor).
Salomon has been playing in the French alps since 1947. As they say at Salomon, "Don't wait any longer. Now, it's time to play".
RELATED: Salomon Ski Helmet Size Chart
See Video 'How To Measure For A Ski Helmet'
HELMET DRIVER SERIES | Salomon Ski
---
6. Bolle Quiz Visor Junior Snow Helmet
Following the success of adult sized visor helmets, Bolle decided it was time for a visor helmet for younger skiers and created the Bolle Quiz Visor Junior snow helmet.
A tough ABS exterior shell with an EPS liner on the inside, the Quiz Visor Junior offers great impact protection for your child's head while they are out on the slopes.
The interior fleece lining will provide comfort and warmth in the cold, all the while the small vents with channeling will provide enough air flow that the head won't get uncomfortably hot. The fleece lining and ear pads are totally removable and washable to keep them fresh and odor-free.
Available in 3 different color schemes and two sizes: XS 49-55cm and S 52-55cm. At the rear of the helmet is a Click-to-Fit dial system so the helmet can be adjusted for a perfect fit. The Orange Gun Cat 2 visor has been treated with Bolle's P80+ anti-fog solution to assure clear vision.
The Bolle Quiz Visor Junior is EN 1077 certified for the helmet, and EN 174 certified for the visor.
RELATED: Bollé Ski Helmet Size Chart
See Video 'How To Measure For A Ski Helmet'
---
7. Salomon Grom Visor Kids Helmet
The Salomon Grom Visor Kids Helmet will save time and reduce headaches for the parents as you will no longer need to waste time searching for the goggles! That's the line that Salomon is taking which is one of the reasons to get a visor helmet that we here at headsdontbounce have always advocated. Great minds, and all that.
The main points about the Grom Visor helmet is that it is certified to the EU standard (EN 1077) as well as the US (ASTM F2040). The visor is rated to VLT Cat 2 and features Salomon's Flash Tonic technology for better eye protection. What's more the visor is removable and changeable whenever you feel the need.
Constructed with a polycarbonate in-mold shell with an EPS liner it provides the impact absorption necessary in the event of an accident. A top quality helmet as you would expect from Salomon which also works well for kids with eyeglasses.
The helmet features removable and washable comfort lining, and a rear dial size adjuster for a customized fit. It's available in several colors and Kids Small 49-53cm, and Kids Medium 53-56cm sizes.
RELATED: Salomon Ski Helmet Size Chart
See Video 'How To Measure For A Ski Helmet'
---
What To Look For When Buying A Visor Helmet?
Visible Light Transmission Rating
Why do ski helmets have visors?
Visors on a ski helmet provide protection to the wearer's eyes from the cold air and snow when the skier is moving downhill quickly. More importantly, ski helmet visors provide protection from Ultraviolet light and bright light reflected from the surface of the snow.
Ski helmet visor lenses have what is called a VLT rating (Visible Light Transmission) which determines how much light is allowed to pass through the lens.
That is, a different colored lens for bright conditions and another one for overcast conditions, and many others for every condition in between.
A VLT rating is given to different lenses relative to the lighting conditions for which they are to be used. VLT ratings are measured in percent, however often you will see it represented as 'Cat 1, Cat 2', etc. Other times the VLT rating may be referred to with an 'S', like S2. The 'S' comes from the numbering system used by Smith Optics.
The table below shows the Category number alongside the Smith Optics number, percentage values, and a description of the lighting or weather conditions.
VLT Ratings Table.
| Cat. No. | Smith Optics value. | % of light allowed through (Approx). | Description of lighting or weather conditions. |
| --- | --- | --- | --- |
| Cat 0 | S0 | 85.00% | It's snowing, or after sunset. |
| Cat 1 | S1 | 50% – 65% | Overcast.  Low light. |
| Cat 2 | S2 | 23% – 36% | Medium brightness. Sunny and cloudy. |
| Cat 3 | S3 | 9% – 16% | Bright and sunny days. |
In addition to having lenses that are rated as above, there are also lenses called photochromic lenses which can automatically adjust to the varying light conditions. These are usually described as suitable for Cat 1 – 3.
Some ski helmets with visors will come with interchangeable lenses which you can switch out as required. Other helmets with visors only come with one lens, which in most cases will be an S2 for average sunny/overcast conditions.
Safety Certification For Goggles and Faceshields
Just like the ski helmet itself, visors and goggles also have to comply with Safety Standards.
The relevant standards for ski visors and goggles are the European standard EN 174 and the US ASTM F659. The British Standard, BS EN ISO 18527-1:2022, has recently been approved, and an Australian Standard is also in the works based on ISO 18527-1.
Consumers need to check that the visor helmet that they are considering purchasing complies with the relevant standards for visors as well as Ski Helmet Certification.
Correct Size Is Everything
As with any other helmet, bicycle, motorcycle, etc., the most important aspect of helmet safety is that the helmet must be the correct size for your head (not your friend's head, not your sister's, but your head), and the helmet must be strapped securely to your head.
Please take the time to measure your head correctly before you buy or order a helmet. Please see the video at the top of this page, 'How To Measure For A Ski Helmet', or our guide 'How to Know Your Helmet Size'.
Frequently Asked Questions
Q. Can the visor break and injure my eyes?
A. Good quality visors and goggles shouldn't break as they need to comply with the correct safety standards for Skiing and Snowboarding goggles. That being EN174 in Europe, and ASTM F659 in the United States.
Q. How can I know the VLT rating of the visor?
A. The VLT rating should be clearly stated on the product that you wish to purchase. If it is not, then you should try a different brand that shows the VLT rating.
Q. What does VLT rating mean?
A. VLT stands for Visual Light Transmission, which tells you how much light is filtered through the visor (or goggles, or even sunglasses). You will have seen how some visors appear to be darker or clearer than others. That is due to the VLT rating.
I hope we have covered the subject of the 'best ski helmet with visor' to your satisfaction. If you enjoyed this article, take a look at the related reads below for some more interesting reads!
If you liked this post, why not share it with your friends.