How Should a Ski Helmet Fit?
Whether you're going to a ski resort or touring the back-country, you need to wear a ski helmet to protect your head and brain from injury in case of a crash or accident. But wearing a ski helmet is not enough.
To make sure you get the optimal head protection from your lid, you must find the proper fit and wear it correctly.
So, how should a ski helmet fit? A properly fitting helmet not only lets you enjoy its protective features but also enables you to navigate the slopes comfortably.
KEY TAKEAWAYS
* Be sure to measure your head first before buying or ordering any helmet.
* Some ski helmets are made for different head shapes. Try to get a helmet for your head shape.
* A proper fitting helmet should be snug and comfortable.
* A proper fitting helmet shouldn't move or slide around on your head.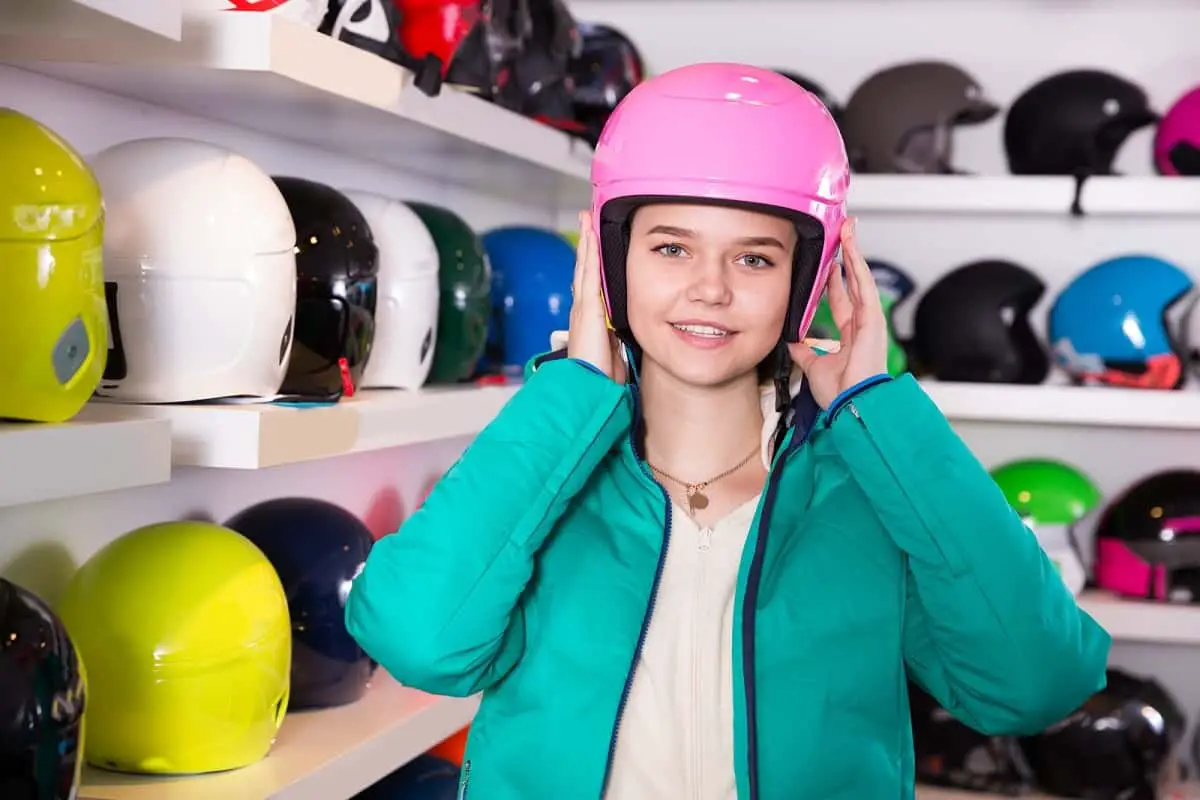 Disclosure: As an Avantlink and Amazon Associate, we earn from qualifying purchases. Disclosure Statement.
Page Content
What Does a Helmet Do?
A helmet is an essential part of your protective gear. Anything can happen on the slopes, and wearing a helmet can be a lifesaver when something unfortunate occurs. The major function of a ski helmet is to provide skiers and snowboarders head protection, coming with features such as a sturdy outer shell and padded inner lining to cushion linear and rotational forces. Ski helmets are also designed with air ventilation systems that allow air to circulate while keeping the head warm.
RECOMMENDED: What Is The Safest Ski Helmet
However, many helmets come with features that cater to your comfort and convenience, too. Some ski helmets are compatible with audio components, allowing you to make voice calls or listen to music without removing your helmet. Other ski helmets have a camera mount so you can record videos of your skiing or snowboarding adventures.
How Should a Ski Helmet Fit?
A ski helmet is designed to provide head and brain protection against injury. When worn properly, a helmet can save your life. Whenever you put your ski helmet on, make sure it doesn't wobble around and cradles your head firmly.
However, a properly fitting helmet should also be comfortable enough that it doesn't cause pain on pressure points. If wearing your ski helmet gives you a headache or leaves red marks on your skin, then it's probably too tight or you have the wrong size and shape.
Follow the tips below to achieve a firm but comfortable fitted ski helmet. Please keep in mind that starting with the right helmet size is the key to a safe, well-fitting helmet. Finally, complete the 'Helmet Fit Check' down below to check your fit.
How to Measure for a Ski Helmet
Finding a proper fitting ski helmet can be challenging, especially if it's your first time to buy or you're renting one at a ski resort. Below are simple tips to consider when you measure for a ski helmet.
Measure your head circumference
If you can't see the video below, please allow this site in your Ad Blocker.
Most helmets come in small, medium, large, or extra-large sizes. These sizes typically have a corresponding measurement in centimeters and/or inches.
To find out the size that fits you, you can use a measuring tape to determine your head circumference. You should wrap the measuring tape around your head. Make sure that it is about an inch above your ears and eyebrows. Take note of the measurement where the end of tape meets itself and then compare it to the ski helmet's size chart.
RELATED: Ski & Snowboard Helmets For Big Heads
Consider your head shape
Helmet manufacturers offer different helmets designs to suit a specific head shape. For example, if your head shape is longer from the front to the back than from one side to the other, you should get an intermediate oval helmet. Meanwhile, if your head shape looks identical front-to-back and side-to-side, consider a round oval helmet.
To get the actual shape of your head, you can use a mirror and place it above your head. You can also ask a friend to take a look on the top of your head while standing from an elevated surface.
Try on the helmet
Once you know your head size and shape, you can narrow down the list of your ski helmet options. Try to wear each one on your list so you can determine which one is the most comfortable. If you prefer wearing a beanie underneath your ski helmet, bring it with you and wear it when trying on different helmets.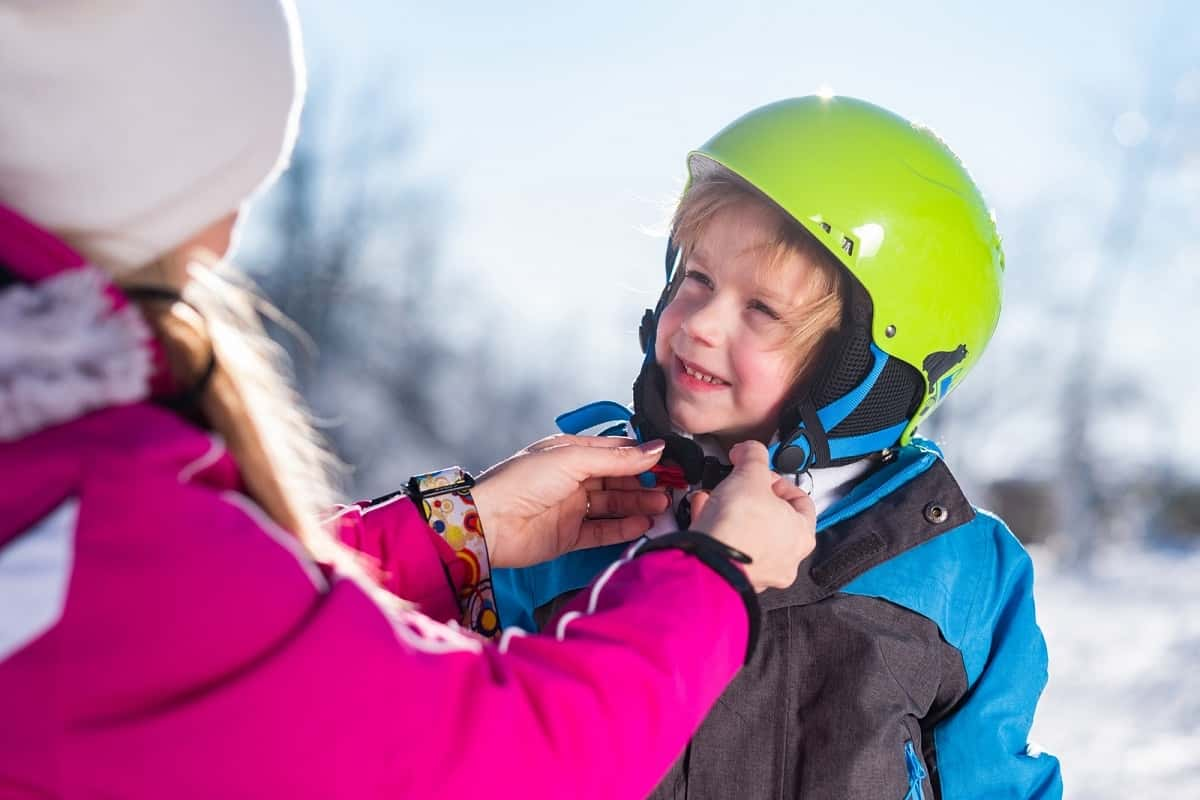 Check the position of the helmet
When wearing a helmet, the front rim should be at a two-finger height above your eyebrows. Make sure that it fits tightly as it sits over your head. It shouldn't move or slide when you move your head.
Check the space between your head and goggles
If your ski helmet doesn't come with a visor because you want to use goggles, you should be mindful of the space between the top of the goggles and the rim of the helmet. Ideally, there shouldn't be a gap between them. However, make sure the front rim doesn't press down on the ski goggles or block your view.
SIMILAR: Best Ski Helmets With Visors
Secure the Helmet
A good ski helmet often comes with a fit adjustment system that allows you to make easy fit customizations. The fit adjustment system is typically found at the rear of the helmet. It is usually an ergo-dial that you can turn using just one hand and even while wearing gloves.
Tighten the Chin Straps
The chin straps secure the ski helmet onto your head and prevent it from coming loose as you go down the slopes or flying off upon crash or collision. When buckling the chin straps, position the bottom strap under your chin and make sure they're tight enough yet can insert a finger or two in between the straps and your chin.
SUGGESTED: Do Beginner Skiers Need Helmets?
Also, pay attention to the side straps – they should be under your earlobes, forming a Y-shape. Lock the sliders to make sure the side straps don't loosen.
Helmet Fit Check
Now that you have your headgear on, you're ready to go. But before hitting the slopes, it is always a good idea to do a helmet fit check so you can be more confident about your safety gear. Below are some tips to remember:
Open your mouth wide as if you're yawning. If the straps pull the helmet down on your head, then it fits just right. Otherwise, check and re-fasten the straps.
Tip or rock your head sideways, forward, and backward. If the helmet rolls, then it needs a bit more tightening. Unbuckle the straps, adjust the fit, and then re-strap the helmet, then check again.
If your helmet has a stabilizer at the rear, check if it fits snugly. Re-tighten, if needed.
With your palm, try pushing your helmet up and backward. If it slides, you need to tighten your helmet.
If your helmet has ear pads, they should press snugly against your ears. The ear pads shouldn't shift when you move your head. If they do, adjust the tightness of the chin strap.
If you're in the market for a new, better-quality helmet with EPP foam lining, then take a look at these helmets. But, if you'd be happy with a helmet for under 50USD (fully certified), then you might like one of these helmets.
What to Look for in a Ski Helmet?
When choosing a ski helmet, you might come across different brands, all offering a variety of designs and colors. While nothing's wrong with picking a helmet that suits your personal style, there are some factors that you should consider, like the ones below.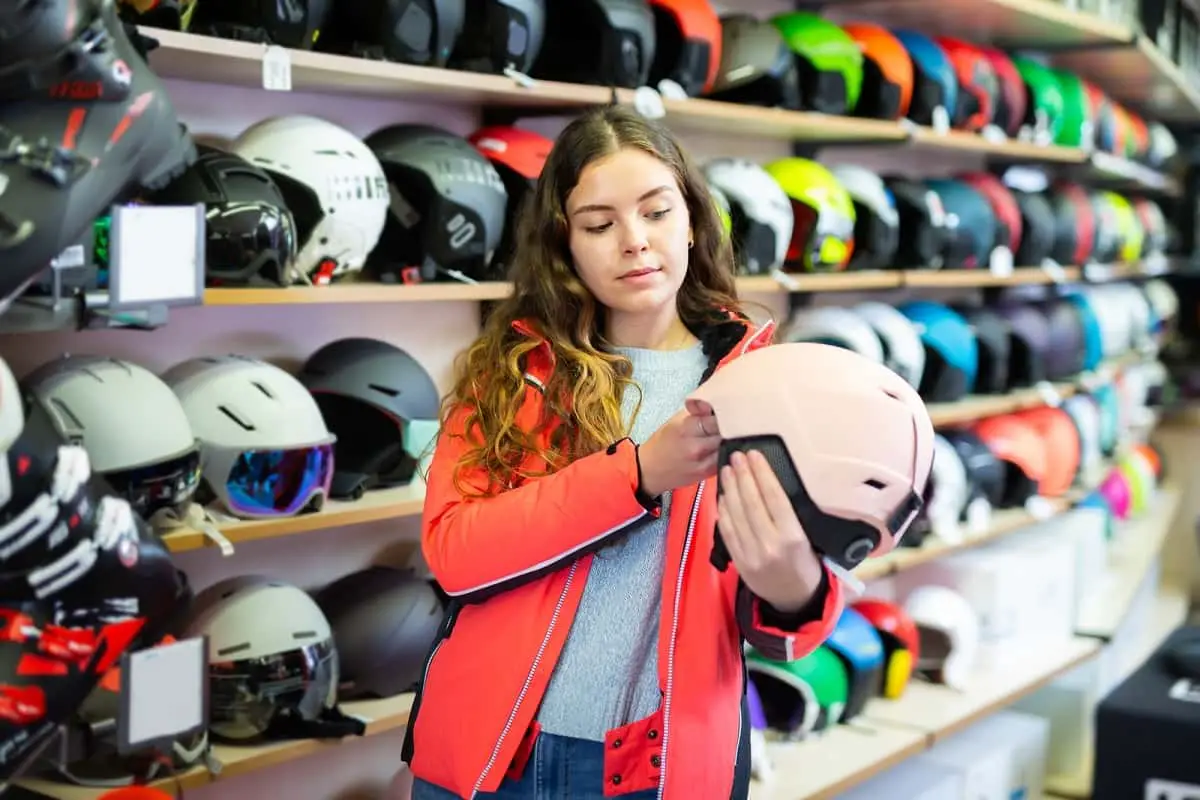 Certification
No helmet can guarantee that it can keep your head completely safe against injury. However, you'd still want to choose a helmet that has undergone and passed safety tests that mimic real-life conditions. Helmets that are safety-certified have a label on the inner shell indicating that they're either ASTM F2040 (US standards) or CE EN1077 (European) certified. Some ski helmets have both safety certifications.
This content was originally published on headsdontbounce.com. If it appears on another website, it is a violation of the copyright owned by headsdontbounce.com.
Beanie-compatible
Ski helmets are built to keep you warm. Ordinarily, you wouldn't need to wear a beanie under a ski helmet, though quite a number of people wear a balaclava during colder weather.
If you feel that wearing a beanie underneath your ski helmet can provide the additional warmth you need, you can always wear one. However, make sure your ski helmet fits properly when you have a beanie on to avoid compromising the safety function of your helmet. Find a beanie that fits tight so it won't ride up to the top of your head or drop to your forehead.
Here are two ski helmets from Smith Optics that are advertised as 'beanie compatible':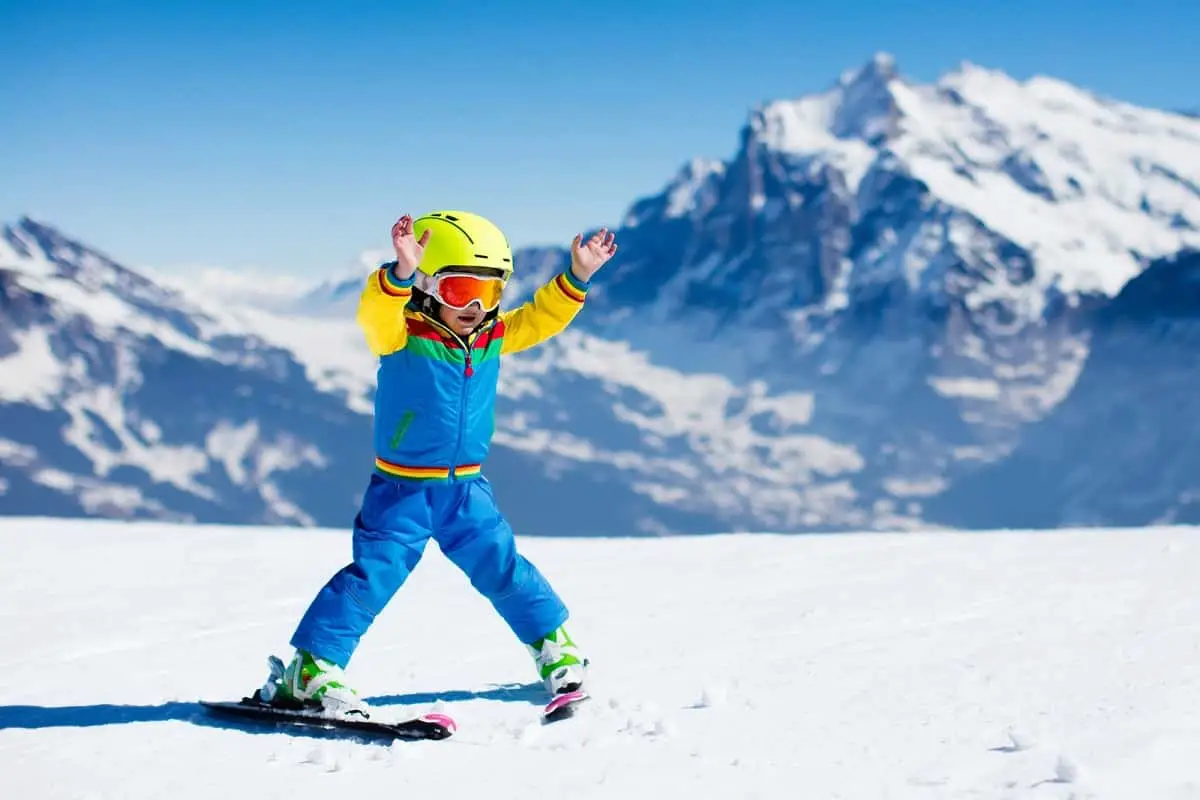 Multi-directional Impact Protection System (MIPS)
A MIPS-equipped ski helmet can protect the head against rotational or angled impact. It is a thin lining called a slip plane that allows the helmet to slide slightly upon rotational impact. The slight movement helps in reducing the force of impact which may lead to concussions or traumatic brain injuries.
RELATED: Ski Helmets With MIPS
I hope we have answered the question of 'how should a ski helmet fit' to your satisfaction. If you enjoyed this article, take a look at the related reads below for some more interesting reads!
If you liked this post, why not share it with your friends.