Best Snowboard Helmet With Bluetooth [2023 UPDATE]
When you want audio while skiing or snowboarding, a Bluetooth ski helmet is the only way to go.  But, even better still are snowboard helmets with Bluetooth actually built-in to the helmet.  And that is what we are focusing on here, a totally integrated system. 
Built-in speakers, and a built-in microphone in a wireless snowboard helmet with Bluetooth.
Imagine being stuck on the ski lift for 2 hours without your Bluetooth-connected music collection to keep you company. Or, maybe you're one of those people who needs to be contactable in case a colleague calls to discuss business. Or, even just chatting with your friends while hitting the powdery back slopes, "I'm right behind you buddy".
You can do all of the above with the right smart ski/snowboard helmet with built-in Bluetooth technology.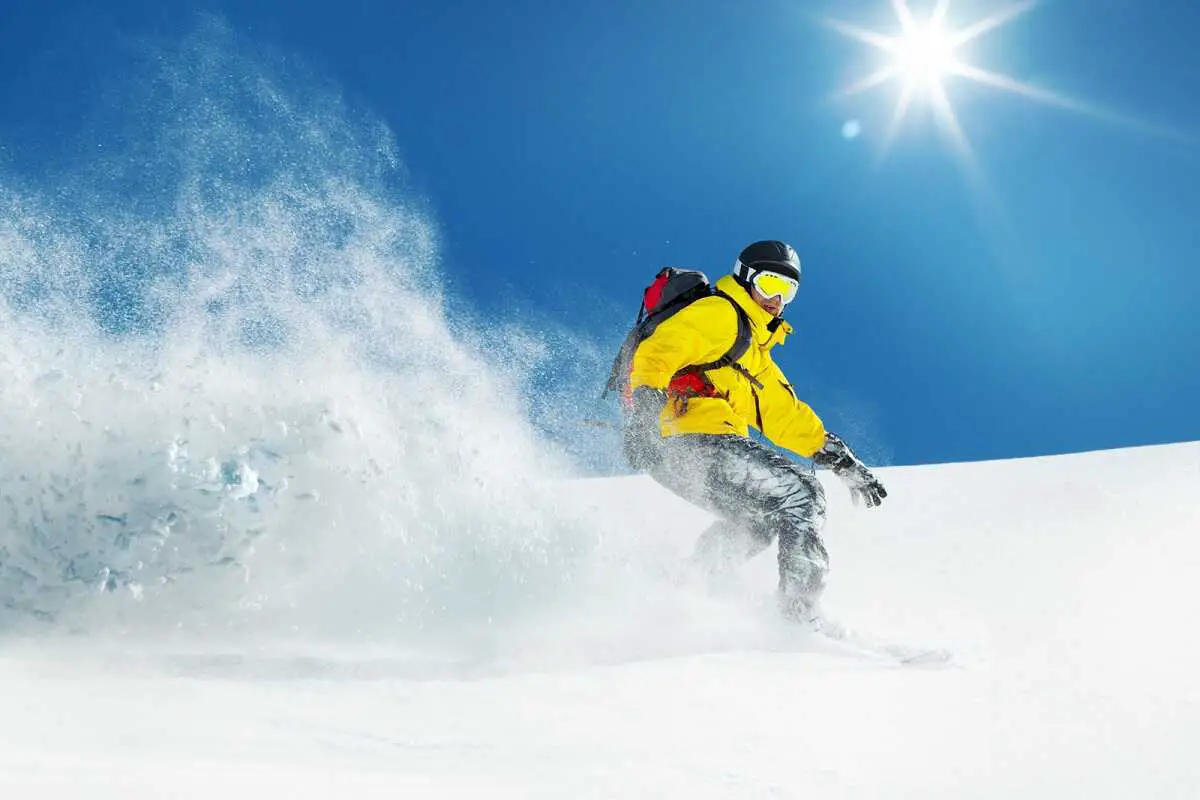 Snowboard Helmets With Bluetooth Audio Comparison Table
On Mobile Devices, drag Table left to see more, if necessary.
VIDEO: How To Measure For A Ski Helmet
If you can't see the video below, please allow this site in your Ad Blocker.
RELATED: How Should A Ski Helmet Fit?
Best Bluetooth Ski Helmet Considerations
First and foremost, as with any helmet for any activity, check that the helmet is in compliance with the relevant Safety Certifications.  In most cases that will be ASTM F2040 in the United States or CE EN 1077 in Europe.
Another important consideration which is often overlooked by many Bluetooth helmet wearers is how safe Bluetooth helmets are. Definitely worth reading about that before hitting the slopes at full volume.
The next thing to consider is how easy it will be dealing with your Bluetooth ski helmet controls, like volume or answering a call.  Keeping in mind that while you are skiing or snowboarding you will most likely be wearing gloves, so you won't want to be removing your gloves every time you need to do anything.
Look for a helmet that has larger buttons for controlling the Bluetooth audio functions.
This content was originally published on headsdontbounce.com. If it appears on another website, it is a violation of the copyright owned by headsdontbounce.com.
And finally, sound quality.  There's really no way you can check how it sounds without actually putting the helmet on your head.  Even better is to try it on and ski down a slope with the wind rushing by.  Now, how does that sound?
Until you buy it and try it, you can only go by the reviews of others who have already bought the helmet to see what they have to say about the sound quality.  Beware, take reviews with a pinch of salt, some reviewers tend to exaggerate or blame the product when they were the ones who made a bad choice.
Try to read many reviews to get an overall picture.
And, as with any helmet, when buying a new helmet, always be sure to buy the correct size helmet. Too tight, or too loose is defeating the purpose of the helmet.  See our guide here on How Should A Ski Helmet Fit.
Ski Helmets with Audio
For some reason, there seem to be fewer choices of wireless Bluetooth ski helmets available this year than there were last year, so it's worthwhile adding a few of the better wired helmet options for those people who would prefer a wired option.
Below the Snowboard Helmets With Bluetooth Audio section you will find some non-Bluetooth snow helmets that are either snowboard helmets with speakers built-in i.e 'audio compatible' snowboard helmets, or 'audio-ready' snowboard helmets which simply means that there is a space for you to install your own speakers, either wired or wireless.
And that brings us to another new section, below that, for ski helmet Bluetooth audio kits which can be very easily installed in your new audio-compatible snowboard helmet. At the end of the season, you can take your Bluetooth speakers out and put them in your bike helmet.
So whether you're looking for a wired ski helmet with audio or a wireless snowboard helmet with Bluetooth audio, or just a Bluetooth audio kit that you can add and remove at will, then I'm sure you will find something on this page.
---
Snowboard Helmets With Bluetooth Audio
1. Sena Latitude Snow Helmet with Built-in Bluetooth
The Sena Latitude snow helmet is a great-looking helmet that is available at an affordable price. Composed of a durable ABS (Acrylonitrile Butadiene Styrene) shell with an EPS (Expanded Polystyrene) liner which provides the foundations of your helmet's safety. On the inside, the mesh liner and black velvet padding provide comfort and warmth.
Also, for your safety and peace of mind, it has ASTM-F2040 and EN-1077 certifications. There is a lithium polymer battery installed which can be charged with a micro USB cable (included).
Featuring Bluetooth 4.1, with built-in speakers and microphone, the Sena Latitude can host four-way intercom chats with your friends via Bluetooth, no App required. The firmware is completely upgradeable, and there is the Sena Outdoor App for both iPhone and Android to configure various other settings.
The Latitude S1 intercom has a range of up to 1 kilometer (0.62 miles), and Talk-time of up to 8 hours. There are 18 active vents to keep your head cool while enjoying your skiing or snowboarding.
The Sena Latitude S1 helmet is available in one color, Matte Black. This feature-packed helmet is a bargain at a very realistic price. The downside is that this helmet is very popular and sells out very quickly! Pre-ordering may be available when sold out.
RECOMMENDED: SENA helmet size chart
IMPORTANT: How to Know Your Helmet Size
---
2. POC Obex MIPS Communication Snow Helmet
Slip the POC Obex MIPS Communication Snow helmet on your head, pair your phone or another Bluetooth-enabled device, then set off for a day of enjoyable skiing or snowboarding on that fine powder.
The Obex Communication snow helmet comes equipped with all you need.  Built-in Bluetooth, built-in speakers, and built-in microphone.
With POC's reputation for quality, not only do you get a great-looking, stylish helmet, but also excellent sound quality from the built-in speakers with POC Aid communication ear pads.
MIPS (Multi-directional Impact Protection System) is a technology to protect your head in some accident situations by reducing rotational impact.  The MIPS slip-plane inside the helmet will slide slightly rather than sustain the full force of an impact.
The helmet itself is made with an in-mold polycarbonate shell fused with an EPS (Expanded Polystyrene) foam liner, plus a tough ABS (Acrylonitrile Butadiene Styrene) top shell with adjustable (open/close) ventilation.
At the rear of the helmet is the fixed goggle clip, and just below that is the size adjustment system which will allow you to achieve the perfect fit without the need for additional padding.  At the front, there are integrated goggle vents to prevent goggle fogging.
Available in 3 sizes ranging from 51 – 62 cm, and two colors, Uranium Black and Hydrogen White.
RECOMMENDED: POC helmet size chart
IMPORTANT: How To Know Your Helmet Size
---
3. Livall RS1 Bluetooth Smart Ski Helmet
You are in good hands with the Livall RS1 Bluetooth Smart Ski Helmet should the unthinkable happen while skiing or snowboarding on some quiet backcountry terrain.  The built-in fall detection and real-time GPS positioning will send an S.O.S message to your emergency contacts through the Livall App on your phone.
Install the free Livall App (iOS/Android) to record your real-time data, including the max slope/ drop/ max speed/ average speed/ current altitude/runs of trips and other data, and to send the SOS message if necessary.
LIVALL RS1 Bluetooth Smart Ski Helmet has a built-in hands-free Bluetooth phone connection, PTT (Push to Talk) walkie-talkie/network chat, live location sharing, fall detection system, and more. Little wonder that it was the winner of the 2018 CES Innovation Awards, Wearable Technologies section.
The RS1 features a high-strength ABS (Acrylonitrile Butadiene Styrene) outer shell with an impact-absorbing high-quality EPS (Expanded Polystyrene) foam interior for comfort and added protection. Clear call quality due to wind noise-reducing microphone and high-quality headphones.
Available in two colors, and two sizes, Medium and Large, with sizes ranging from 54 – 61 cm (21.25″ – 24″), with a fit adjusting dial at the rear, and 15 anti-fogging vents for air-flow. It has CE EN1077 and ASTM safety certifications.
Battery charging time is approximately 2 hours, with an amazing battery capacity of 16 hours for walkie-talkie, and 48 hours for standby.  And it's IPX4 waterproof protected against rain and snow.
On the downside, there may be voice limitations with Apple iPhones above 10.3
RECOMMENDED: Livall helmet size chart
IMPORTANT: How To Know Your Helmet Size
---
Audio Compatible Snowboard Helmets
While a wireless Bluetooth ski helmet can be convenient, there's nothing wrong with a good old wired connection.
Wired connections can also have their advantages. For one thing, they don't need to be recharged! So, if you'd prefer a wired snow helmet, you're sure to find something suitable below.
Audio-compatible snowboard helmets have built-in, removable speakers, and the 'audio ready' ski helmets mean that there is a space for you to install your own speakers. That means you also have the option of installing 'wired' speakers or going for Bluetooth speakers.
---
Audio-Ready Ski Helmets
5. Wildhorn Drift Snow Helmet
The Wildhorn Drift snow helmet is a neat, compact-looking helmet that is also the choice of champions. The lightweight polycarbonate shell and the inner EPS foam lining are fused together using an in-mold technique for better, durable head protection. Fully certified to ASTM F2040 standards as well as the European EN1077 standard.
Sporting supreme comfort from an ultra-plush interior lining, your head will be comfortable all day long. The 13 vents will ensure your head is kept cool or snugly warm with an adjustable slide control mechanism featuring Wildhorn's VNT ventilation technology.
Wildhorn's Drift snow helmet also assures you the perfect fit with their FTA system (Fine Tune Adjustment) dial at the rear of the helmet. Above that is a goggle strap holder to hold your goggle strap firmly in place. The Wildhorn Drift helmet is compatible with many different brands of goggles.
Audio: The Drift is an 'audio-ready' ski helmet such that you can install your own wired or wireless speakers to suit your needs.
Available in a variety of vibrant colors, and three different sizes ranging between 51 – 63 cm (20″ – 24.75″). The Wildhorn Drift snow helmet will have you doing quadruple twisting backflips 60 feet in the air in no time.
IMPORTANT: How to Know Your Helmet Size
---
6. Demon Phantom Snow Helmet with Audio
The Demon Phantom is an audio-compatible ski helmet with built-in, removable speakers and an aux cord so you can connect your phone or another device directly. It comes with a 5-foot cord with volume control which is more than enough for anyone. This snow helmet has some great reviews as it should for such an affordable helmet with speakers included.
The shell is made from durable ABS (Acrylonitrile Butadiene Styrene), with an EPS (Expanded Polystyrene) foam liner on the inside. Soft padding on the inside is super comfortable to keep your head warm on those cool days, with air vents at the front and rear to provide excellent air circulation.
Like many modern helmets, it has a goggle strap holder at the rear of the helmet and a padded chin strap. It is certified to ASTM F2040 and CE1077 standards.
The Demon Phantom snow helmet is extremely lightweight and is available in 4 different matte colors, and 4 sizes ranging from 47 cm – 64cm (18.5″ – 25″). This particular helmet comes with a free balaclava for additional warmth and is great for both skiing and snowboarding.
IMPORTANT: How to Know Your Helmet Size
---
7. TurboSke Summit Series Ski Helmet
TurboSke brings us an 'audio-ready' ski helmet at a very reasonable price. This ASTM F2040 certified helmet has a shell constructed from both polycarbonate as well as ABS (Acrylonitrile Butadiene Styrene). This produces a lighter helmet with a stronger shell in the most vulnerable impact areas of the helmet.
Plenty of ventilation for your head's comfort is provided by the 14 adjustable, well-positioned vents. Two vent adjusters allow you to adjust the front and rear vents individually to suit your needs. On the inside an EPS (Expanded Polystyrene) foam liner provides support for your head, then there is the comfort liner and ear pads which are removable and washable.
At the rear of the helmet is a size adjusting dial to ensure your helmet fits your head perfectly. And, to secure the helmet firmly on your head, the padded chin strap has a Fidlock magnetic buckle which can be easily fastened and unfastened with one gloved hand.
The TurboSke Summit Series snow helmet is available in four colors and 3 sizes ranging from 51cm – 63 cm (20″ – 24.75″). There is also a goggle strap holder at the rear of the helmet to keep your goggle strap in place.
Audio: Being an audio-ready ski helmet means that you can install the speakers of your choice. There is a zipper which runs from ear to ear, and enough room for most helmet audio systems including earbuds.
Despite TurboSke's marketing material showing a helmeted cyclist, this helmet is only certified as a snow helmet not a bicycle helmet.
IMPORTANT: How to Know Your Helmet Size
---
Bluetooth Speakers
---
---
---
Conclusion
There's a lot to like about the Smart helmets as well as the audio-ready helmets. I like the idea of having an App on my phone which can connect to my helmet and send an S.O.S message if I have a fall.
I also like the idea of a PTT chat facility. Not that I necessarily want or need to be chatting all the time, but I think it could be useful when wanting to let family or friends know that I'm heading in, or "let's go and have lunch now". Or even to check where someone is that you haven't visually seen for a while.
SUGGESTED: How Long Do Ski Helmets Last?
I don't necessarily need all the stats that the App can gather, but that could be interesting for comparison over a week or weekend. Also the battery capacity is a big plus as well. And finally, the prices are good. Not really expensive for what you get.
On the other hand, dropping a pair of speakers into the ear pads then removing them when I get home allows me to get more mileage from my Bluetooth speakers than if they were built-in to the helmet. Mmmm!
I hope we have covered 'snowboard helmets with Bluetooth' to your satisfaction. If you enjoyed this article, take a look at the related reads below for some more interesting reads!
If you liked this post, why not share it with your friends.