Best Helmet to Helmet Communication [2023 UPDATE]
Motorcycle helmet communications systems are a minefield and it can be tricky to decide which option best suits your needs as you ponder whether you want to be wired, wireless, pre-installed or if you want to go the D-I-Y route.
This article will cover everything you need to know including what the different types of systems are, what they can do, and whether you can use your current helmet or maybe you were thinking of retiring it and getting something more modern. The best helmet to helmet communication for you may not be the best for someone else.
A common question that we hear about helmet to helmet communication systems is whether they are safe or not. That question is answered on our page 'Are Bluetooth Helmets Safe'.
KEY TAKEAWAYS
* Decide whether you want wired or wireless (Bluetooth).
* Install in your existing helmet or buy a new helmet with a built-in system.
* Depending on which system you choose, you may have intercom, phone calls, messaging, music, radio, GPS systems and more.
* When using a helmet communication system, be sure to maintain focus on the road to avoid being distracted.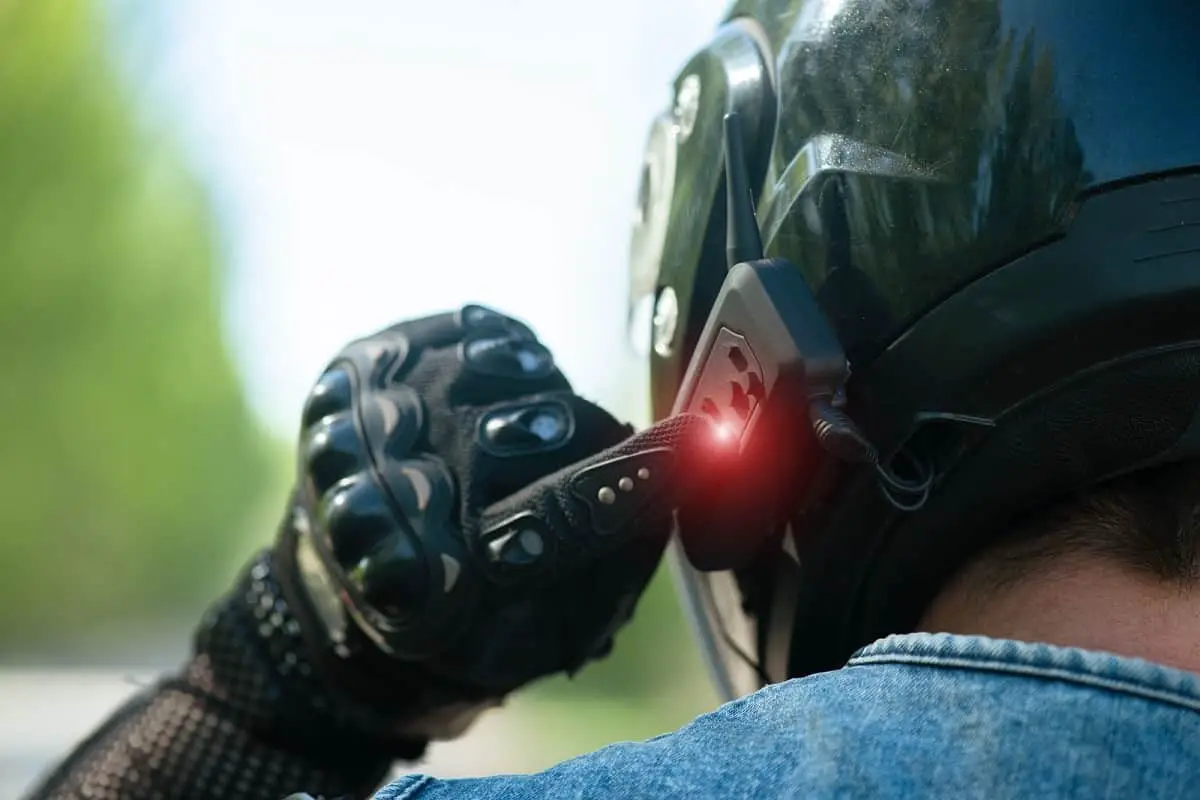 Disclosure: As an Avantlink and Amazon Associate, we earn from qualifying purchases. Disclosure Statement.
Page Content
What Can Motorcycle Helmet Communications Systems Do?
Motorcycle helmet communications systems can do much more than you might think. In fact, paired with an internet-connected smartphone, a motorcycle helmet communication system opens you up to an almost endless list of possibilities.
Of course, it really depends on the type of communications system you opt for whether just a motorcycle intercom or a fully-fledged Bluetooth-ready motorcycle helmet. We will look at the different options a little later on.
Here is a list of some of the things that you could potentially do:
Rider-Rider motorcycle communication
Multi-rider intercom conversations
Make and receive phone calls hands-free
Listen to the radio
Listen to your music from your smartphone
Set up a GPS system either on a standalone device or via smartphone and receive audible directions
Send and reply to messages through voice control
Control your phone via your smartphone assistants (Siri, Google, etc.) voice control to do any of the features that your device is enabled to do using this method
Different Types of Motorcycle Helmet Communications Systems
There are, of course, as many different types of communications systems as there are types of motorcycle helmets, and in recent years technology has boomed in the field opening up the possibilities even more.
Wired Intercom Systems
A method that has been used by bikers and truckers for decades is the radio-based wired intercom systems that use FM or CB radio waves.
The speakers are mounted inside the helmet or like regular earphones used in the ears with a mic attached.
However, they do require bulky equipment to be wired to the headset, and there needs to be somewhere for the actual radio system on the bike.
They essentially work very much like what truckers use to communicate with each other when out on the highway.
Not all that different to walkie-talkies either, very low tech but still effective.
Some bikers combine their CB radio with a Bluetooth headset attached to their helmet. Here's a short example:
UHF CB radio Bluetooth comes on a motorcycle
Earbuds / Headphones / Bluetooth Ear Pieces
Some riders prefer to stick to their trusty earbuds whether that be wireless Airpods or earphones wired to their phones. Earbuds I consider to be marginally acceptable as they are usually fairly unobtrusive.
If the rider's smartphone has voice control they can communicate fairly easily with others by making phone calls.
They can also mount their phone to their handlebars and access the controls there, but that isn't recommended as it requires taking a hand off the handlebars!
Earbuds can become quite uncomfortable inside a helmet in my experience and you don't have easy access to controls like volume unless you have voice commands.
You are also restricted to only being able to communicate with other riders on a physical phone call, there is no intercom ability with this method.
When working in a motorcycle accessories store a few years ago, I had a customer come in and ask for a 2XL helmet. Now, I know a few things about helmets and this gentleman did not need a 2XL lid. When he showed me his current helmet, he had carved out some of the EPS lining and had fitted in a pair of wired, over-the-ear headphones.
I was astonished and equally horrified. Please, whatever you do, don't do this! Any modification to a helmet that requires fiddling with the liner of your helmet is a big 'No No' as it compromises the integrity of the shell and could/will likely cause it to fail to protect you in an accident.
I have seen riders use single Bluetooth earpieces too, this restricts you even further than the limits of earbuds as you can only make and receive phone calls.
This content was originally published on headsdontbounce.com. If it appears on another website, it is a violation of the copyright owned by headsdontbounce.com.
However, having a solid piece of plastic that is quite bulky inside your helmet is going to get uncomfortable, further to which wouldn't be particularly safe in an accident.
Motorcycle Helmet Bluetooth Kit
In my opinion, a specifically designed motorcycle helmet Bluetooth kit is the best way forward for communications with other riders and a whole host of other things too.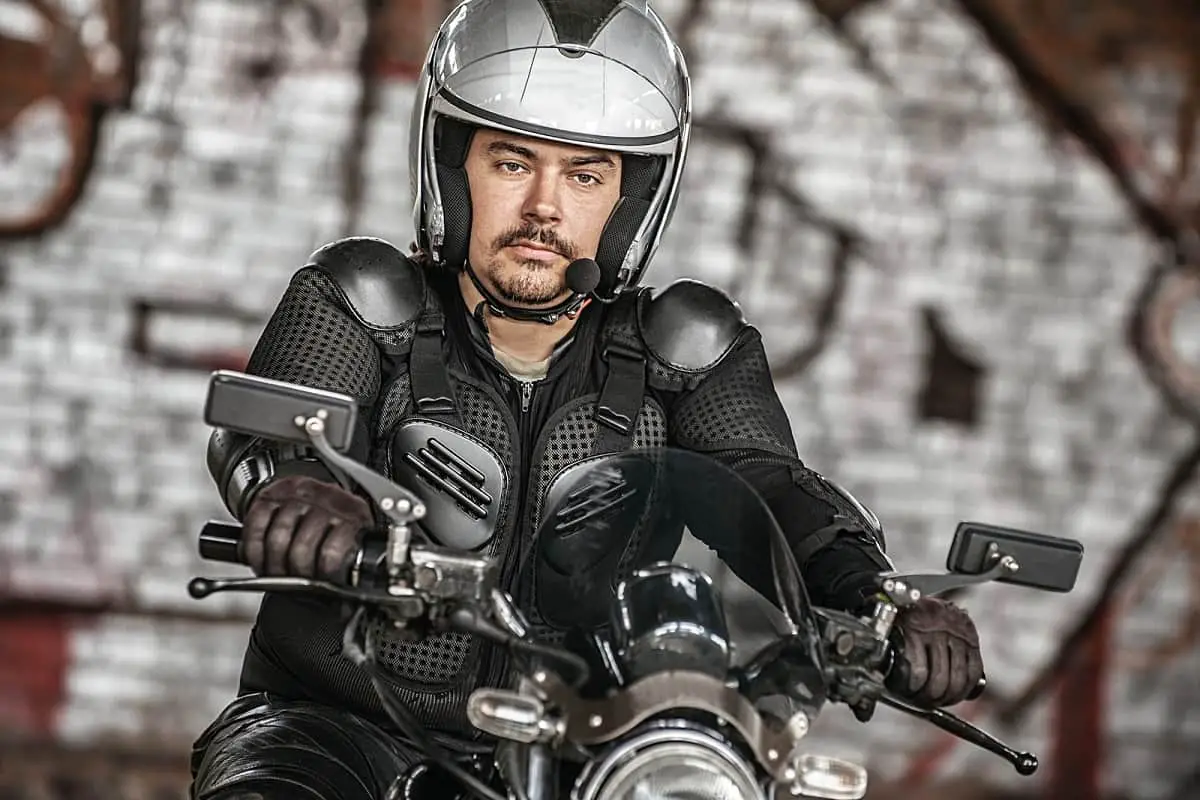 Here you have a choice of getting a motorcycle helmet with an integrated Bluetooth system or one with pre-cut cutouts for Bluetooth motorcycle helmet speakers.
Some communications units are built into the helmet and some are mounted on the outside of the helmet using a bracket.
They are generally compact units with fairly glove-friendly buttons.
SUGGESTED: Motorcycle Helmets For Big Heads
Many helmets today will have cut-outs in the EPS liner to accommodate Bluetooth speakers inside the helmet, and a mic will usually sit on the inside of the helmet to the side or at the front in the chin bar.
Bluetooth headsets allow rider-to-rider intercom communications between those who have compatible Bluetooth devices. You can also listen to music, the radio and in most cases have access to many of your smartphone's features including GPS apps. It is the most versatile option.
More recently 'Mesh' compatible devices have come on the market, these are very similar in the sense that both Bluetooth and Mesh work using radio frequencies that bounce around to keep riders connected.
Sena Spider ST1 & RT1: Using Mesh technology
The physical intercom Mesh units are very similar to the Bluetooth options and many use both Bluetooth and Mesh; this is useful as you can use your Bluetooth to connect to your GPS, but Mesh for your intercom.
Motorcycle Helmet With Integrated Bluetooth
A final option, one that is the newest to the market, would be to go for an integrated Bluetooth motorcycle helmet, where the entire Bluetooth system is integrated into the build of the helmet.
So speakers, mic, control unit, battery are all built into the helmet with no external module at all.
There are two ways to go about getting yourself a motorcycle helmet to helmet communication system, either by using your existing helmet or opting to buy a new one.
Add Bluetooth To Your Motorcycle Helmet
Using your existing lid and buying a motorcycle helmet Bluetooth kit is obviously the cheaper option and also quite easy too.
Most modern helmets will have appropriately sized cutouts in the EPS liner to fit the speakers into and all headsets will come with instructions on how to go about fitting the system into your helmet.
You can check out this video from J&P Cycles where they take you through the process of fitting a Sena unit into a Bell full-face helmet. The concept will be very similar for all units.
Essentially the process breaks down as follows:
Remove the inner comfort liner – headliner and cheek pads.
The speakers will come with sticky pads to adhere into the slots in the side of the helmet (If there are no speaker slots, then place where your ears would be in the helmet, usually the liner will negate any discomfort, but if your helmet is especially tight, the speakers may press on your ears after a while and it can be painful).
The microphone will need to be put in place with sticky pads also either at the front or side of the chin bar.
Start to put the liner back in carefully to tuck the wires inside and out of the way, making sure you leave the connector to the actual Bluetooth unit enough slack to plug in on the side you want it situated.
There are a few different ways to mount the unit, either by sticky pads again or it may come with a bracket which has a clip that pushes up between the outer and inner shell. This bracket, once in place, will then serve as the mounting point for the unit.
Of course, the alternative is to stick with your wireless or wired earbuds in which case there is no need for modification to your helmet. Just remember there is no intercom compatibility so in order to have rider-rider communications it will have to be via phone call and obviously your earbuds will have to have a microphone built-in.
Buy A Bluetooth Ready Motorcycle Helmet
The second option would be to get a new Bluetooth ready motorcycle helmet.
This can mean two things: One, the helmet is simply compatible with a motorcycle helmet Bluetooth kit, in that it will have speaker cutouts; or secondly it could be a motorcycle helmet with Bluetooth communications already built-in.
As mentioned, most modern helmets will be Bluetooth compatible but some go that step further with the Bluetooth kit already integrated into the build of the helmet or at least space for it to be installed.
For example, check out this Revzilla video, below, where they take you through the Shoei Neotec 2 with the Sena SRL Bluetooth kit. The battery slots into a space at the back of the helmet, so there is no bulky unit on the side of your helmet.
The Schuberth C4 (link to Revzilla) is another top-of-the-line motorcycle helmet that works in a similar way to the Shoei. Sena has developed the SC1 headset (link to Revzilla) specifically for Schuberth helmets.
The Sena Momentum Inc Pro Bluetooth helmet is a forward-thinking design where the whole Bluetooth system is integrated into the helmet. There is even an aerodynamic camera fitted to the top of the helmet to record your rides. Also includes an 8-way group intercom, voice command, and intelligent noise control.
The helmet is fitted with the Sena 20S unit tucked away into one sleek package and has universal compatibility with non-Sena units.
Whether you choose to use your existing helmet or buy a new one is a completely personal choice.
Buying a new one gives you options for an integrated system whereas your current one may only be able to have an external control unit attached, depending on your helmet.
It is worth pointing out that most helmets that give you the option to have an integrated Bluetooth kit will likely be top of the line and the most expensive choice of helmet.
Best Helmet to Helmet Communication System
As far as options go, the best helmet to helmet communication system is absolutely a specifically designed Bluetooth headset over and above old-school CB/FM radio intercoms or even just your Apple AirPods.
A Bluetooth headset is a gateway to rider-rider intercom conversations whether individually or as a group. You can connect your phone to answer and receive calls hands-free, use music and radio apps, and use voice commands for anything your smartphone assistant can do.
You can also connect to a GPS system and many headsets are capable of being connected to multiple devices at one time, which is great when talking with another rider while following GPS directions.
There are many brands that produce motorcycle helmet Bluetooth kits, the two leading brands are Sena and Cardo which have a large range of headsets for different purposes.
Which headset is for you is going to depend on your needs.
If you mostly ride solo but want to be able to access GPS, listen to music and maybe occasionally use intercom with another rider or pillion something like the Sena 3s may be an appropriate option.
Simple, low-profile 2-button control unit
Bluetooth 4.1
Crisp audio for GPS, Music, Intercom with one user who could be pillion or riding partner up to 400m away in distance
Voice Commands in 11 languages
Advanced Noise Control and HD audio means that no matter the riding conditions you can hear and be heard
Excellent value for money
For when you plan on riding with more people in a small group occasionally or perhaps want a better range between two users then an intercom system like the Cardo Freecom 4+ may be a much better choice.
Connect up to 4-riders via intercom – GPS, Music, Phone connectivity are all options
Sound is by JBL
Built in Radio to the module itself – no need to connect your phone if you don't want to
Charge while you ride – so never run out of battery juice
Available in Duo packs to help save money for two regular users
Universal Connectivity to any brand Bluetooth intercom
The next step up then if you are part of a riding club or regularly ride in large groups you are going to need something a bit more powerful and versatile. The Sena 50S could be your perfect solution.
Powered by Mesh 2.0 but also equipped with Bluetooth 5
Mesh 2.0 allows for virtually an endless number of users to be connected via intercom
You can operate in Open Mesh mode, where anyone with Mesh can connect into the chat, or as a private group (up to 24 people) and switch between the two
Bluetooth allows for connection to your phone, GPS etc and you can also switch to Bluetooth for a one-one intercom conversation
Voice commands to control the unit
Specific App you can download on phone to organize your settings and controls
Best Overall Value
There are, of course, cheaper options on the market that may suit those on a limited budget that doesn't need a headset with all the bells and whistles.
For example, the Freedconn headset allows up to 3 riders to be connected via Bluetooth intercom and you can connect up to your phone for all those features too.
It is a great budget unit that connects easily to other universal Bluetooth kits, the only downside is comparatively the audio isn't as high quality.
The Freedconn Bluetooth Motorcycle Helmet may be a good budget option for those who are looking for an integrated system in a new helmet:
Bluetooth 3.0 for connectivity
Integrated system
DOT approved helmet
Interchangeable liners for perfect fit
Good reviews
I would be a little dubious about the helmet quality from a safety standpoint more so than the Bluetooth set up, but as it is DOT approved it has passed some safety regulations to be fit for purpose. Again, however, it will not provide the HD audio of a helmet like the Shoei Neotec 2.
The best overall value option pick would be this Yideng duo pack.
You get two units, Bluetooth 3.0 connectivity, and can link up to 3 riders at a distance of 1000m between you.
In terms of a get the job done, no-frills headset, this option is a pretty good choice.
Are Bluetooth Motorcycle Helmets Legal
You are best to check with your individual State laws to confirm whether or not your motorcycle helmet communications system is legal to use.
Some States deem headphones and earbuds illegal whereas others allow the use of just one earbud to be used or one Bluetooth unit connected, leaving one ear free.
In New York, for example, it would be illegal to ride with earphones but you can ride with a Bluetooth headset as they are speakers – which the law deems to be as legal as car stereo speakers.
On the whole, Bluetooth helmet kits that are mounted to the helmet or indeed integrated Bluetooth motorcycle helmets do seem to be legal in most places.
It is a bit of a gray area and the law keeps changing so please refer to your specific States Vehicle and Transportation Law.
Regardless of the law in your area, it is ultimately up to you to be aware of your surroundings and to be able to hear emergency service vehicles or trucks with brake failure bearing down on you from behind.
Sound Quality
Sound quality will vary depending on the kit you buy and the budget you have.
Units using Bluetooth 5.0 and Mesh generally are equipped with better audio systems to provide better clarity to hear and be heard.
Factors such as the positioning of the mic away from a vent, or how great your helmet is at noise-canceling will affect your audio quality.
A full-face helmet with the visor down will be much better than an open-face helmet for using an intercom as the wind/road noise is significantly reduced from affecting the mic.
Final Thoughts
There you have it, a full breakdown of motorcycle helmet communications systems. I hope this has gone some way to explaining the different options out there and helped you work out what is best for your needs.
---
Frequently Asked Questions
Q. Are motorcycle helmet Bluetooth kits universal?
A. On the whole, most motorcycle helmet Bluetooth kits will be universal; it is likely they have special features for connecting to headsets of their same brand but even the top-of-the-line modules will connect to a non-branded unit.
Q. Which is better in a helmet: Bluetooth or Mesh?
A. Mesh works on more frequencies than Bluetooth and when connecting on radio waves it forms a web between users that works lightning fast bouncing back and forth to keep everyone connected; you can also have significantly more users connected at one time.
If a Mesh user disconnects by going out of range, the conversation between other riders can continue, and when back in range the rider will automatically connect back into the conversation.
Bluetooth still delivers clear audio but is reduced to how many riders can be connected at one time and if one user disconnects the whole chain is broken and every rider has to re-connect to the conversation.
There is very little difference between the two other than that so which one is best will depend on how many riders you plan to ride with and if you like the idea of Open Mesh where you can talk to anyone on the road with Mesh connectivity.
Q. Do all motorcycle helmets accommodate headsets?
A. Most modern motorcycle helmets will accommodate headsets and nearly all will have speaker cut-outs inside the helmet behind the comfort liner.
There are some helmets better suited and equipped for a Bluetooth headset but that comes down to personal preference and your needs from the system.
I hope we have covered the subject of 'best helmet to helmet communication' to your satisfaction. If you enjoyed this article, take a look at the related reads below for some more interesting reads!
If you liked this post, why not share it with your friends.