When it comes to motocross helmets, weight matters! Riding with a hefty helmet for an extended period can cause poor posture and leave a crick in your neck by the end of the day.
Worst of all, a heavy helmet will suffocate your face in heat, leaving you drenched in sweat and dehydrated.
To prevent any discomfort, you should switch to the lightest motocross helmet you can find.
KEY TAKEAWAYS
The Airoh Aviator 3.0 dirt bike helmet weighs around 1290g ±50 g (2.84 lbs).
Its light weight is achieved by quality construction and a premium carbon fiber shell.
Ten vents also contribute to the light weight.
The Airoh Aviator 3 carries ECE 22.05 certification.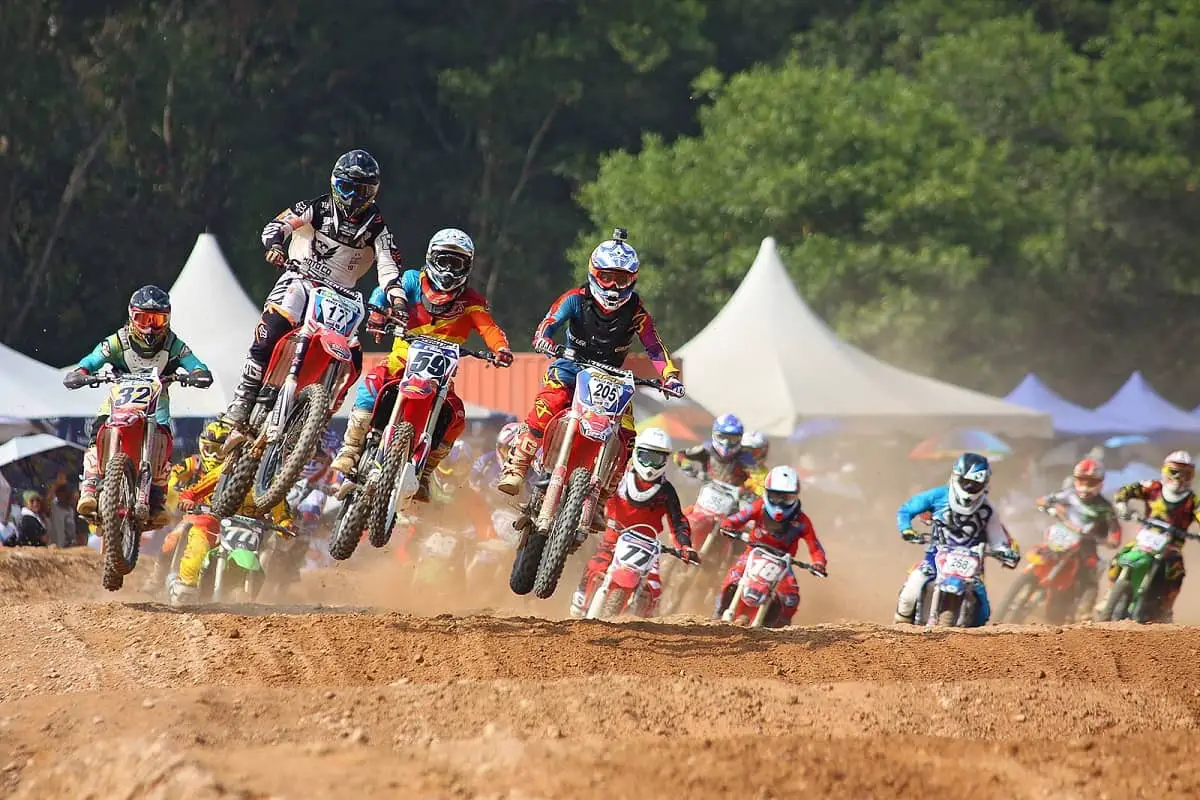 As an Avantlink and Amazon Associate, we earn from qualifying purchases. Disclosure Statement.
Is This The Lightest Motocross Helmet?
The Airoh Aviator 3.0 dirt bike helmet provides you with all the protection you need without putting added strain on your neck. Its light weight helps you maintain balance and proper posture as you ride, without sacrificing any of the quality markers you would expect from a bulkier motocross helmet.
In this article, we'll explore how Airoh managed to produce such a light helmet without limiting any of their safety features. We'll also review the helmet's features as well as what you can expect from wearing it out on a dirt bike course.
The Airoh Aviator 3 at First Glance
Although not as old as some rival helmet companies, Airoh Helmets has quickly racked up more than 100 world championship titles across the world of motorsports in the last 23 years.
Its Aviator 3.0 sums up everything they've worked for in that time and now stands as one of the best, and currently the lightest, dirt bike helmets in the world.
Image:Amazon.co.uk
Airoh Aviator 3 Weight
    • Starts from 1290g ±50 g (2.84 lbs)
Size Range
    • XS (53-54 cm) to XXL (63 cm)
Safety Features
    • AEFR quick release
    • 3K carbon / HPC carbon shell
    • AMS² technology
Ventilation
    • 10 vents located in the top, rear, front, and chin guard
    • Moisture wicking liner
Upkeep
    • AMLS lining system for easy cleaning
Accessories
    • GoPro Mount
    • Hydration system
    • Extended peak
    • Nose and front covers
    • Vent covers
    • Helmet bag
    • Screw and filter set
Compared to previous models, the Airoh Aviator 3.0 introduces a new interior hydration system, more ventilation, and a body that's nearly as light as its predecessor. Despite maintaining such a light bodyweight, the Aviator 3.0 still uses Airoh's patented safety features and proves to be one of the best motocross helmets on the market.
How Airoh Made the Aviator 3 So Light
The Aviator 3.0 can thank quality construction and premium materials for its light weight. The Aviator 3.0 is built using two different graphics constructions, each with their own materials:
The Primal graphic construction is built using a 3k carbon fiber shell
All other color graphics are built using purified HPC carbon fiber
By using high-quality carbon fiber materials, Airoh has managed to balance durability and weight.
RECOMMENDED: How Should A Dirt Bike Helmet Fit?
The interior of the helmet is crafted using Airoh's patented AMS² technology. Two separate polystyrene hemispheres divide the helmet into strategic density zones, allowing it to shift energy away from your head on impact. Between the two hemispheres, a second system of silicone inserts helps the exterior shell remain flexible and shift energy away from your head.
Image:Amazon.co.uk
For added safety, they've included their patented Airoh Emergency Fast Remove (AEFR) system. This helps EMTs quickly remove the helmet's cheek pads to take off your helmet if you crash and are unconscious.
They simply pull out two red tabs at the base of the helmet and can then slide it off to reveal your head.
Additional Enhancements
Another way Airoh has managed to maintain a light weight is by increasing the number of vents in their Aviator 3.0. It has 10 vents located in the front, back, top, and chin guard, maximizing airflow while you ride. This opens up more space in the body of the helmet while increasing the number of vents from 6 in the previous model to 10.
The hypoallergenic lining is built using a lightweight sweat wicking material that can be easily removed for washing thanks to the Airoh Magnetic Lining System (AMLS). Simply detach the lining from the magnets holding it in place, give it a wash, and then reattach it after cleaning.
SUGGESTED: Motorcycle Helmets For Big Heads
This content was originally published on headsdontbounce.com. If it appears on another website, it is a violation of the copyright owned by headsdontbounce.com.
The Aviator 3.0 also comes with a screw and filter kit so you can remove the extended peak, nose, and face guards to further minimize the helmet's overall weight.
Although it doesn't take away weight, we should also mention that Airoh has added a new internal hydration system. Built directly into the liner, a hose feeds through the helmet and into your water supply, allowing you to take a sip of water without stopping to remove your helmet. Although marginally heavier, this is a nice touch you won't find on all helmets.
Where Can I Buy The Airoh Aviator 3?
This lightweight dirt bike helmet is made in Italy, so if you are in Europe or the United Kingdom, you can easily purchase the Airoh Aviator 3 online from Amazon (United Kingdom). The Aviator 3 carries ECE 22.05 certification.
If you are in the United States, unfortunately it doesn't seem to be available at the present time as it does not have DOT certification. Though there is no reason why you can have one shipped from the UK to ride around your own private dirt track.
Conclusion
Dirt biking with a heavy helmet can be uncomfortable and even dangerous. The Airoh Aviator 3.0 has managed to blend quality construction and materials to balance durability with weight. Overall, it is the lightest dirt bike helmet on the market and also one of the toughest. Make the switch today and experience the difference.
Image:Amazon.co.uk
I hope we have covered the subject of the 'lightest motocross helmet' to your satisfaction. If you enjoyed this article, take a look at the related reads below for some more interesting reads!