I walked into a store not so long ago that was selling leather jackets. A little further back were some 'motorcycle' leather jackets bearing the names 'Alpinestars', 'Dainese' and 'Arai' all on one jacket.
I was slightly amused at how obviously fake this stuff was but annoyed at the fact that those who have little knowledge of motorcycle gear would have no idea that these jackets are not the real deal and would do little to protect them in an accident.
Fake motorcycle helmets endanger lives!
I got to the back of the store and then turned to leave when I spotted a 'Shoei NXR' motorcycle helmet on a stand, priced the same as a standard t-shirt.
KEY TAKEAWAYS
Fake motorcycle helmets endanger lives!
Manufacturers and sellers of counterfeit helmets are merchants of death.
Pirated motorcycle helmets are not DOT, ECE or any other Certified or Approved.
Always buy from a reputable motorcycle helmet retailer.
You can save lives by reporting sellers of fake goods.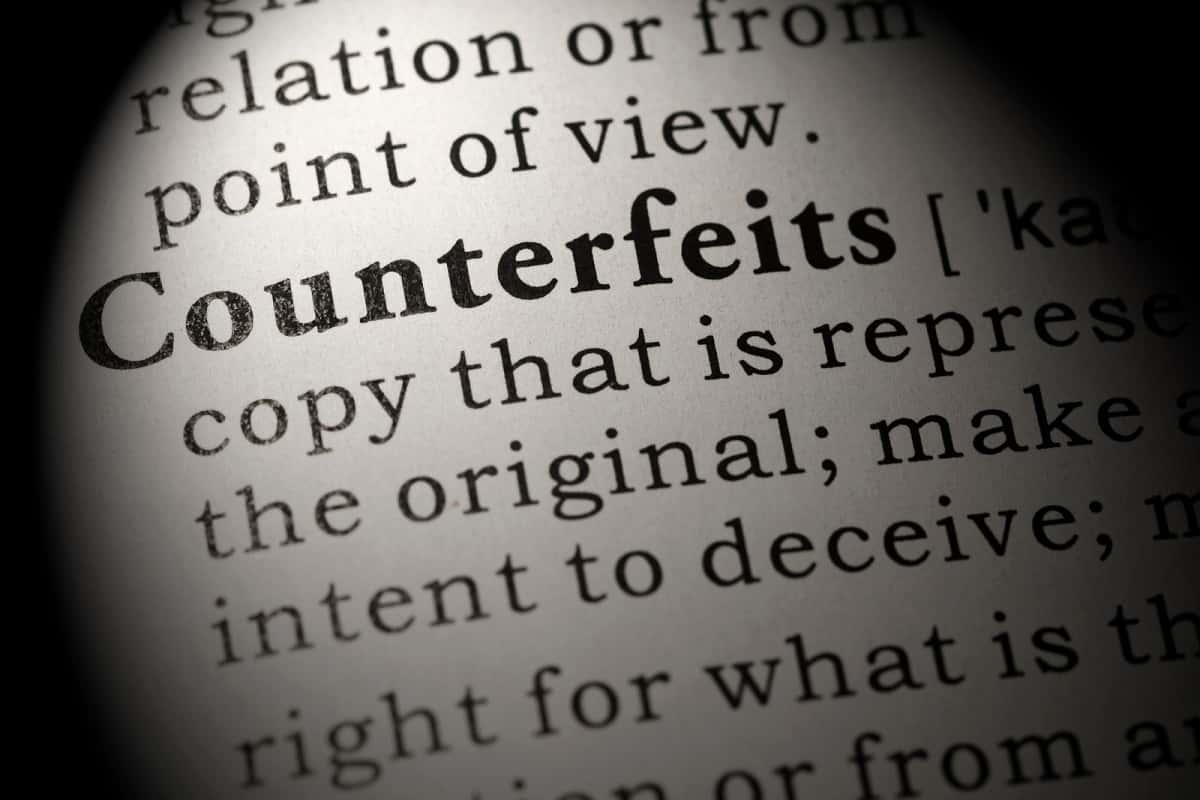 As an Avantlink and Amazon Associate, we earn from qualifying purchases. Disclosure Statement.
Fake Motorcycle Helmets
The reason there are regulations around the world dictating a set of standards helmets have to meet, is that it assures riders that their helmet will deliver a reasonable amount of protection in an accident.
Producers and retailers of fake motorcycle helmets are putting peoples' lives at risk in order to make money.
This article will tell you how to spot a fake motorcycle helmet to ensure you can avoid them, and purchase a real helmet, also I will cover what to do if you do come across pirated helmets.
SUGGESTED: Motorcycle Helmet Communications Systems
How To Spot A Fake Motorcycle Helmet
When a motorcycle helmet is fake or replicates a genuine helmet, it is a big problem. The fact is that a counterfeit helmet is not made of protective materials, it does not have the advanced technology in the inner or outer liner that is produced to be protective.
Thin plastic, polystyrene and foam is not going to protect your head in an accident. Sure it might look like the real deal and be pretty, but you would be just as safe wearing a helmet made from a cardboard box if you choose to wear a fake helmet.
So let's take a look at how to spot a fake motorcycle helmet, so that you can avoid them and keep safe.
Video: How to spot a fake motorcycle helmet
Do Your Research
The saying goes "If it looks too be good to be true, then it usually is."
The number 1 tip to identify an imitation motorcycle helmet is to do your research. Get online and check out the average prices of helmets and familiarise yourself with the big brands and their prices.
Having this information will help you understand when a helmet is priced too cheaply compared to what the market standard is.
RECOMMENDED: Top 6 Best Modular Motorcycle Helmets
For example if you see a full-face Arai helmet for $100 and it isn't in a reputable retailer's massive sale (even then I would question it) then the likelihood is that it isn't a genuine Arai motorcycle helmet.
With the exception of seasonal sales, many manufacturers of motorcycle helmets will set a price band for their helmets to be sold at, this prevents stores from undercutting each other and keeps the manufacturers product at a premium.
This content was originally published on headsdontbounce.com. If it appears on another website, it is a violation of the copyright owned by headsdontbounce.com.
Therefore, it is very easy to get online or check out a few stores and get an understanding of price ranges for the style of helmet you are looking for.
Buy From A Reputable Retailer
A sure way to avoid buying a fake helmet is to only buy from reputable retailers online and in store, such as Revzilla or even CycleGear.
Investigate the store a little by checking reviews from third parties, check for a social media presence and identify the brands they are selling then check them against other stores to see if they match up.
What you can also do is take pictures of the helmet if you have already purchased it and send them off to the manufacturer, they should be able to identify whether it is a replica helmet or one of their genuine motorcycle helmets.
A lot of common sense comes into play with buying a motorcycle helmet. Avoid buying from markets, garage sales, from private sellers on sites like ebay, facebook marketplace etc.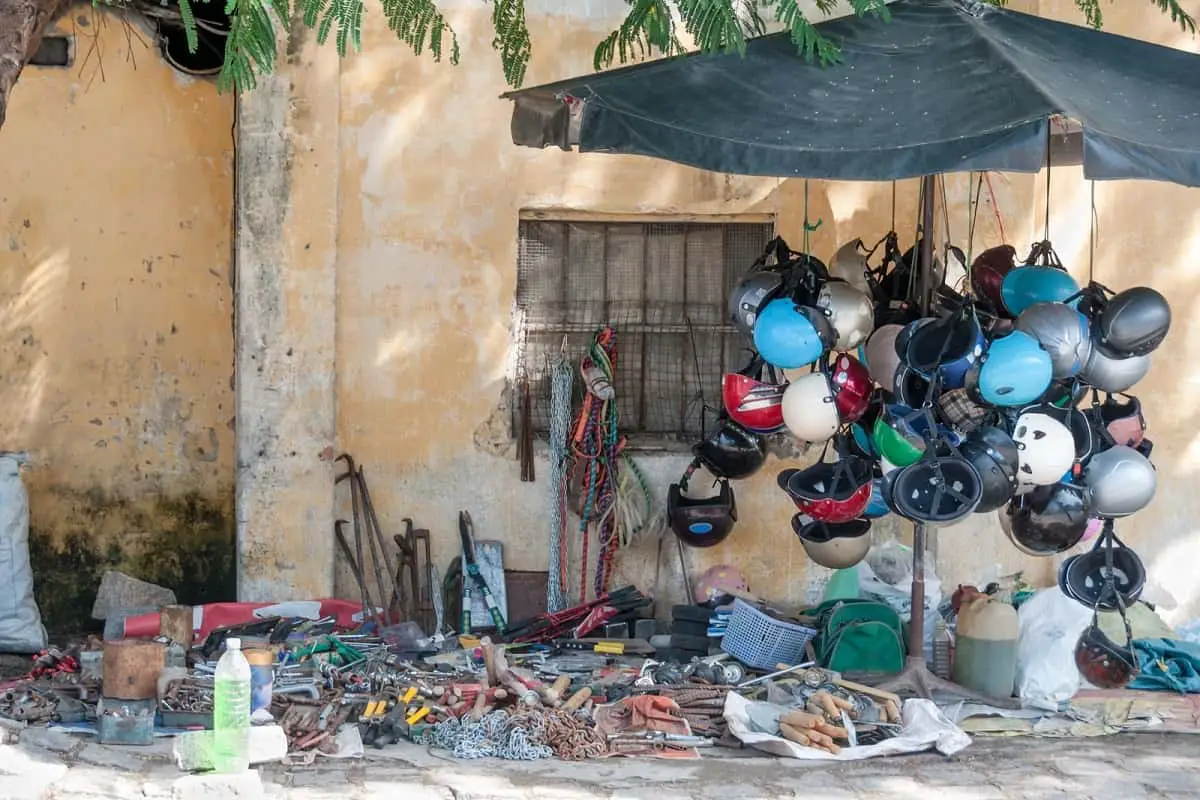 Even if these helmets are not fake motorcycle helmets. You do not know the condition of these helmets and how they have been looked after.
A second-hand helmet can be just as dangerous as a replica helmet.
If the helmet has been dropped or involved in an accident and yet it looks perfectly fine externally; the inner shell integrity could have been compromised and therefore will not be fit for purpose to protect your head in an accident.
It is unlikely that sellers of these helmets will inform you about the potential condition of the helmet.
How To Check Helmet Is Original
A real motorcycle helmet should have the DOT or ECE certification label stitched on the chin strap and it should have a sticker on the back of the helmet.
However, pirated helmets have been spotted with replica stickers and labels stitched in, so this is not a sure way to identify them as a fake.
If you are unsure about a helmet being genuine then do not buy it. If you have already purchased it, then take it to a motorcycle store and compare it to the helmets they have on sale.
SUGGESTED: Tinting Motorcycle Helmet Visor
Does the lining feel the same? Is the graphic the same? Are the vents in the same place? Does the visor operate the same? What about the weight, is that identical? Is it priced similar to what you paid? If you remove the lining from each helmet does your helmet display the same information as the one in the store e.g. production date?
Video: Fake Arai 'Casey Stoner' motorcycle helmet in China
If the answer is no to any of the above then that is enough concern to consider the helmet as a replica.
The store should be able to help you get in touch with the manufacturer/importer/distributor of the brand and they should be able to advise if the helmet is genuine or not.
How To Check DOT or ECE Certification
There are several steps you can take to check for DOT or ECE certification:
Does the helmet have a DOT or ECE sticker on the rear of the helmet? This is not a sure way to prove certification, as unfortunately replica stickers are common.
Does the helmet have a thick inner liner? All DOT helmets require a liner to be at least one-inch thick. Imitation DOT helmets (and ECE) tend to have a thin sheet of foam as a liner.
Does the chin strap feel secure? Tug on it and see if it stays in place or not. DOT and ECE helmets undergo rigorous testing to ensure the chin strap stays in place.
Does the helmet have any decorations such as spikes etc that extend from the helmet? DOT helmets are not allowed to have anything protruding more than ⅕" from the helmet surface.
Weigh the helmet. Counterfeit motorcycle helmets tend to weigh very little, around one pound or under.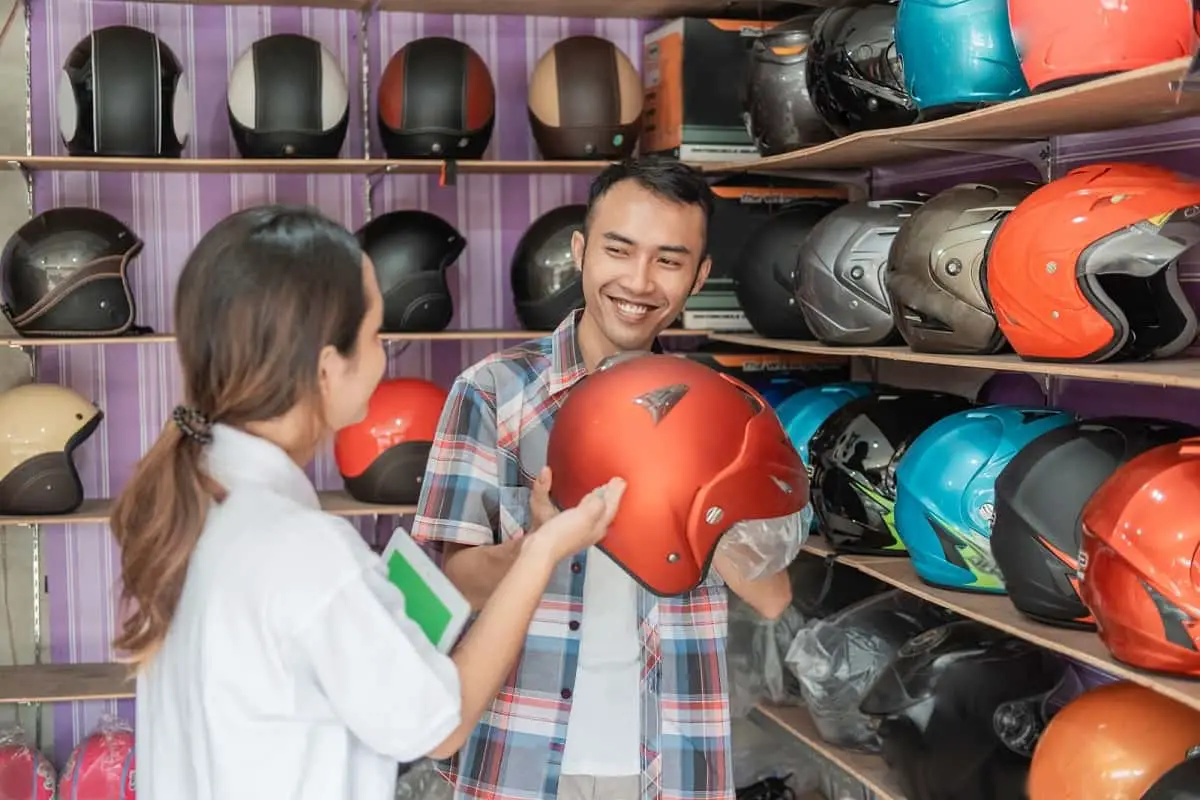 None of these are absolute ways to know for 100% sure that your helmet is genuine as unfortunately fake helmets are getting more and more advanced in replicating real helmets.
You can also check this brochure from the National Highway Traffic Safety Administration on how to identify unsafe motorcycle helmets.
Combining these steps along with the checks mentioned previously will put you in good stead to only purchase a genuine motorcycle helmet.
What To Do About Fake Helmets?
So, what do you do if you come across knock-off helmets?
You can report where you have found fake motorcycle helmets to the following places:
In the United States: Fake goods should be reported by following the appropriate link on the U.S. Government's StopFakes website.
In the United Kingdom: Your local Trading Standards office. Or, the Police Intellectual Property Crime Unit (PIPCU). Find out more about your rights if you find that you have bought counterfeit goods, from the Citizens Advice organization.
In Canada: You can start at the Canadian Anti-Counterfeiting Network (CACN) website.
In Australia: You can report counterfeit goods online to Counterfeit International.
You can also report sellers on sites such as eBay, and Amazon, and the seller will be removed from the site in accordance with their policies. Though it would probably be more effective to report online fraud to one of the organizations listed above so the operation can be shutdown completely.
Don't be shy. Reporting fake, sub-standard goods will save lives.
Video: Fake Motorcycle Helmets can kill!
If you have already purchased a suspected fake helmet, then report to the relevant authorities where you purchased your helmet.
You could also get in touch with the manufacturer of the genuine helmets and inform them about the production of pirated helmets bearing their name. They will likely take action, in order to prevent the continued sale of these helmets.
Final Thoughts
Use your common sense and follow the tips I have provided in this article to make sure you are not caught out with a fake motorcycle helmet.
Don't go for the cheaper option, as a motorcycle helmet is the single most important piece of protective gear when you are in a motorcycle accident, it really does come down to life or death.
Never be fooled into believing that the cheap helmet is a bargain too good to pass up.
I hope we have covered this subject to your satisfaction. If you enjoyed this article, take a look at the related reads below for some more interesting reads!