Top 6 Best Modular Motorcycle Helmets [2023 UPDATE]
One of the best motorcycle helmets around, and possibly the most popular type, would have to be modular motorcycle helmets.  Modular motorcycle helmets offer riders an exceptional blend of features and characteristics, making them more flexible and comfortable than other helmets.
Imagine enjoying the fresh air and talking to your riding buddies with the face shield up or getting full head protection with the shield flipped down.
Simply put, you're getting a full-face helmet and open-face helmet combined as one.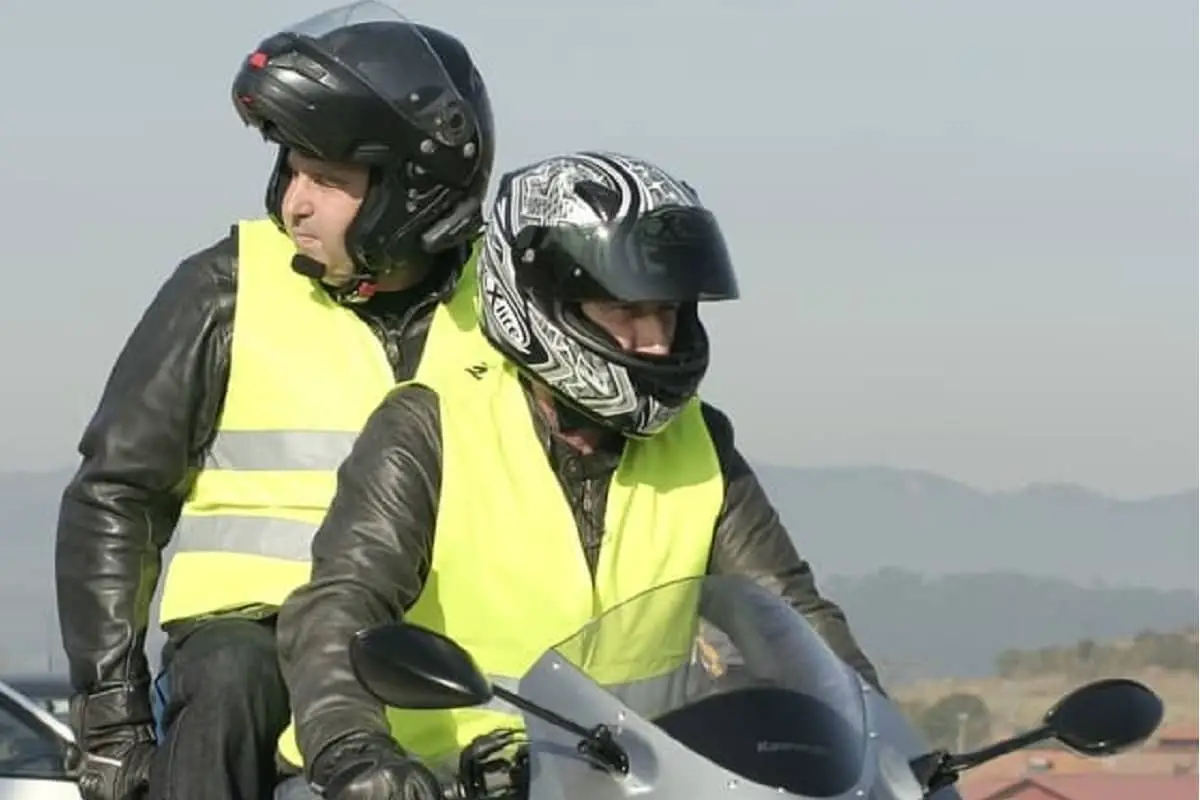 Best Modular Motorcycle Helmets
Finding one of the best modular motorcycle helmets for yourself can be quite tricky because you have to choose from a wide variety of features such as size, shell design, visor, ventilation, and more.
For your convenience, we have researched, and now give you an overview of the Top 6 best modular motorcycle helmets to help make your choice easier.
Our selection below includes modular helmets with sun visor, DOT certification, as well as ECE 22.05 certification.  If you're looking for the best modular motorcycle helmet, I'm sure you'll find it listed in our selection below.
Best Modular Motorcycle Helmets Comparison Table
On Mobile Devices, drag Table left to see more, if necessary.
---
1.HJC IS-MAX II Modular Motorcycle Helmet
The HJC IS-MAX II is a first-rate modular motorcycle helmet that renders your entire ride the safety and comfort you deserve. This model doesn't only meet the Department of Transportation (DOT) safety and quality standards, it surpasses them.
In addition to its multiple and awesome features, its intermediate oval shape fits a larger number of people with wide heads.
Shell Design:
The HJC IS-Max II is lightweight and comes with an outer shell, made of refined polycarbonate composite and a polycarbonate one-button chin bar. It's highly protective and can absorb heavy impacts.
Face Shield:
Unlike other helmets, this one allows you to open its solid face shield's chin bar using gloves and with one hand. In addition, the Pinlock visor of the HJC IS-Max II is optically superior enough to shield your face against UV rays, fogging, and scratching.
Also, the package contains a system for quick slide shield replacement. (Pinlock Insert Lens sold separately).
Ventilation System and Interior:
With an HJC IS-Max II, riders get an Advanced Channeling Ventilation system that is designed to remove humidity or disperse airflow front and back.
The moisture-wicking fabric in the interior gives superior comfort to this awesome design. Besides, the liner and cheek pads are both removable and washable.
If an HJC modular motorcycle helmet is on your radar, then you can't go past the HJC IS-Max II.
Pros:
Sophisticated Polycarbonate composite shell
One-Button Chin Bar
3-stage adjustable internal sun visor
Advanced Channeling Ventilation System
Cons:
Size concern for some riders
Not Quiet enough according to some reviewers
IMPORTANT: How to Know Your Helmet Size
---
2.Nolan N100-5 Modular Motorcycle Helmet
With Nolan modular motorcycle helmets being one of the top 5 key players, it's little wonder that the Nolan N100-5 comprises multiple premium quality features. 
This DOT approved marvel is clean-looking in and out, which makes its overall appearance sleek. A helmet with an aerodynamic shell shape, Italian styling, widescreen, and air booster technology for its innovative ventilation system and more, is worth your money.
Shell Design:
With its lexan polycarbonate outer shell, you get a resin that is superior to regular thermoplastics and able to resist strong impacts in a crash. For a better fit, riders get two shell sizes.
There is also a dual-action opening system that makes raising and lowering the chin bar with a single hand easier among other sophisticated features.
This content was originally published on headsdontbounce.com. If it appears on another website, it is a violation of the copyright owned by headsdontbounce.com.
Face Shield:
The ultra-wide and tall face shield is great for eye-wear and an improved field of vision. The shield's ratchet visor comes with 5 positions, and its design allows for opening with a single central tab.
You also get a pre-fitted anti-fog insert of Pinlock Max Vision. Regarding a sun visor, this one is VPS and offers UV 400 protection and excellent scratch resistance.
Ventilation System and Interior:
The Nolan N100-5 has a good ventilation system engineered with air booster technology which enables chin guard air intake and extraction at the rear.
In addition to single-block cheek pads, it also has neck roll and a clima comfort interior liner that is removable and washable.
Pros
Premium quality construction materials
Pinlock lens included
Lighter than most helmets
Excellent fit and comfort
P/J Homologation (can ride with the chin guard down (P) or up (J))
Cons
Only 2 shell sizes (though not really an issue)
Nolan recommends only N-Com Bluetooth for Nolan helmets
IMPORTANT: How to Know Your Helmet Size
---
3.LS2 Valiant II Modular Helmet
If you had an LS2 motorcycle helmet in mind, then there are plenty of reasons why the LS2 Valiant II Modular helmet is the one you should be considering. 
As a P/J homologated helmet for motorcycle riders who enjoy the safety of a full-face helmet as well as the opportunity to ride in the same helmet with the front open, it's one of the top best flip-up motorcycle helmets on the road today.
Shell Design:
Built with LS2's proprietary Kinetic Polymer Alloy (KPA) which potentially rivals carbon fiber in strength, it's not only durable but also flexible and lightweight.
KPA is LS2's contribution to the current advances in the management of energy on the head during an accident, from its flexibility and the polymer shell.
For superior energy displacement, it comes with multi-density EPS for advanced impact absorption. DOT approved, the shell comes in two different shell sizes. However, it would be fair to say that its level of protection is remarkable for such a modern and stylish helmet.
Face Shield:
The face shield and visor are what make the LS2 Valiant II Modular helmet a good choice for today's motorcycle enthusiasts. When it comes to visibility, the UV and scratch-resistant shield offers a broad field of vision for better peripheral and downward vision.
Besides an easy-to-flip chin-bar, the pinlock ready face shield can be easily removed and the built-in sun visor can be easily raised or lowered by a lever on the side.
Ventilation System:
The ventilation on this aerodynamically designed shell has seen improvements on the original LS2 Valiant with better adjustable vents built into the chin bar along with larger vents in the top of the helmet. Exhaust vents at the rear complete the cycle of optimal in and outflow of hot air.
Channeling in the EPS lining directs the incoming air to flow through cooling your head as it passes on to the rear outlets. While some people feel that the ventilation is inadequate we found that it was plenty cool and the airflow could be felt easily.
Pros:
Kinetic Polymer Alloy shell.
Multi-density EPS for better impact absorption.
Laser Cut Cheekpads.
Drop-down inner sun visor.
Removable polycarbonate shield.
Quick-release Chinstrap.
Well-placed Front Vents with inner channeling.
Scratch Resistant UV Faceshield.
Cons:
Some people find sizes run small.
A little noisy at high speed.
IMPORTANT: How to Know Your Helmet Size
---
4.Shoei Neotec 2 Modular Motorcycle Helmet
Shoei modular motorcycle helmets have a reputation for top quality, and the Shoei Neotec 2 is no exception.
The Shoei Neotec 2 is a great piece of work that offers impressive versatility as both an open-face and full-face helmet combined. This modular helmet is one of the best long-distance touring helmets for motorcyclists.
It helps in improving comfort, aerodynamics, airflow, and many more performance dynamics. Shoei has made this helmet better than your regular modular helmet.
Shell Design:
The Shoei Neotec 2 is your opportunity to get an advanced integrated matrix plus technology, referred to as AIM+. It's a matrix of numerous compounds like organic fibers, fiberglass, and sythetic resin.
This is what renders the shell lightweight and yet strong and protective to your head.
Face Shield:
The helmet contains a newly created built-in QSV-1 inner sun visor, for quick relief from harmful UV rays. It uses a CNS-3 base-plate system that offers a seamless and user-friendly procedure for shield change.
Besides, it has a seal for protection against wind and rain, which reduces noise too. Also, the advanced 3D interior liner system Shoei offers can disperse moisture relatively faster.
Ventilation System and Interior:
Using the Shoei Neotec 2 modular helmet helps you get optimal airflow and noise level balance. It has top vents designed to engineer the passage of cool air to the rider's head via the EPS liner with the exhaust vents ensuring that the interior of the helmet is void of any hot air and noise.
Pros:
EPS liner with multi-density.
AIM+ (Advanced Integrated Matrix).
CNS-3 type plate system.
QSV-1 inner sun visor.
4 varying sizes for most head sizes.
P/J Homologation (can ride with the chin guard down (P) or up (J)).
Cons:
IMPORTANT: How to Know Your Helmet Size
---
5.AGV Unisex-Adult Sport Modular Helmet
If you haven't yet considered picking any of the high-end flip-up options above, then look closely at this AGV Sport Modular Helmet. This compact gear is super-lightweight and yet full of sophisticated features for your safety and comfort.
Shell Design:
The shell and chin are extremely sturdy, thanks to its 100% carbon fiber construction. Every rider wants a helmet built to withstand the heaviest impact possible and this shell design fulfills that expectation in 3 sizes alongside a 5-density EPS structure constructed in 4 sizes.
Face Shield:
This DOT and ECE 22.O5 certified modular motorcycle helmet shield offers enough room for your prescription glasses.
It also comes with an anti-scratch GT3 visor that helps to limit air drafts and noise. Besides, the design is such that you need no tools to rapidly remove and replace the sun visor.
Ventilation System and interior:
Enjoy IVS (Integrated Ventilation System) that includes a massive and effective front vent, chin guard vent and a shell extractor at the back for great airflow.
The internal chin channels provide airflow evenly where necessary throughout the visor surface. All the parts are engineered to be removed and washed easily.
AGV modular motorcycle helmets are sturdy, feature-packed, and represent good value for money.
Pros
Shell and chin in 100% Carbon Fiber.
Super Lightweight with plenty of features.
Offers 190° horizontal human eye-like view.
Quietness, aero stability and ventilation.
Titanium Double D retention system.
DOT and ECE 22.05 certified.
Cons
A little expensive.
Can be noisy at high speed.
IMPORTANT: How to Know Your Helmet Size
---
6.Shark EVO One 2 Modular Motorcycle Helmet
If you're looking for the best, then you can't really go past a Shark modular motorcycle helmet.  With the features and characteristics that rank it on top, get the Shark EVO One 2 to enjoy both worlds of the full face and open face helmets during your touring trips.
Shell design:
Constructed with an injected thermoplastic resin shell, the Shark EVO comes in two shell sizes (XS-MD, LG-XL). Its shape is more oval alongside a fantastic design and style with your safety and flexibility the center of focus.
Face shield:
The face shield is a show of clever engineering. When in open-face mode, the interior anti-scratch sun visor also offers protection. "Auto-up / Auto-down" system allows to automatically lift the visor while raising or lowering the chin guard with optimized chin guard locking system.
Ventilation System and interior:
An air inlet is located in the chin-bar with an additional two vents on the top of the shell which provide adequate ventilation.
The vents can be open and closed with a toggle. The internal CoolMax liner provides a comfortable fit which is removable and washable.
Pros
Chin curtain (integrated) fastening with magnetic reinforcement.
Airborne noise reduction.
Eyeglasses friendly.
Two shell sizes.
P/J Homologation (can ride with the chin guard down (P) or up (J)).
Cons
IMPORTANT: How to Know Your Helmet Size
---
Summing Up
The designs of the best modular helmets are all standard, and therefore the difference between them isn't that big.
From a pricing perspective, some modular helmets differ widely, but there's a helmet for everyone's budget. Besides, there are a few key aspects to help you choose from the best modular motorcycle helmets above.
Safety: Our list considers safety as the most important factor to consider. Exceeding safety standards and being DOT approved means a helmet is reliable and trustworthy.
Also, venting, for air intake comes next, likewise, air noise reduction and sizing are essential because some manufacturers can give rather inaccurate size charts.
Having the necessary safety certifications is just the first step in protecting your head. The second, and most important step, is wearing a helmet that fits properly. Not too tight, and not too loose. See our article on How to Know Your Helmet Size, the principles are the same for all types of helmet.
If you liked this post, why not share it with your friends.