What Is A Modular Helmet?
Modular motorcycle helmets, like most other helmets, come in multiple styles and options, making choosing a suitable one to wear quite perplexing. Different modular helmets come with different features and capabilities.
Apart from considering essential factors such as safety and visibility, other aspects like convenience and comfort will also influence your decision on which modular helmet to choose.
So, what is a Modular Helmet?
KEY TAKEAWAYS
* Modular motorcycle helmets are a cross between open-face helmets and full-face helmets.
* Modular helmets are often referred to as a flip-up helmet.
* Modular helmets are convenient having the ability to flip-up the front without needing to remove the helmet.
* Modular helmets can be heavier and more expensive than a full face helmet.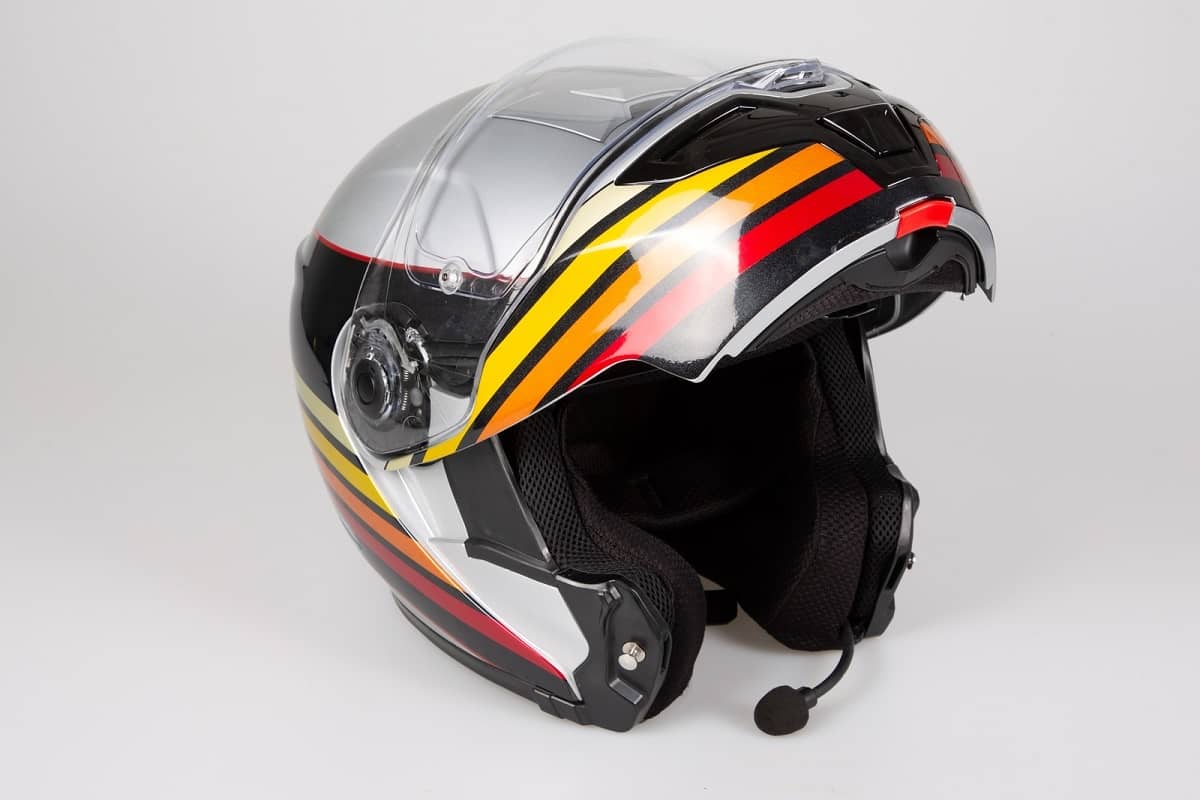 Disclosure: As an Avantlink and Amazon Associate, we earn from qualifying purchases. Disclosure Statement.
Page Content
What Is A Modular Helmet?
Modular motorcycle helmets are a hybrid that occupy the middle ground between open-face helmets and full-face helmets. As the name suggests, 'modular' implies that the helmet is segmented or composed of different parts.
As with all modern helmets, we can ride safely without the fear of falling and injuring ourselves. In addition, a modular helmet allows us to talk to other riders whilst riding as it needs only to flip the front module up to talk or have a drink after parking without the need to completely remove the helmet.
Modular helmets are so popular nowadays that nearly every category of motorcycle rider wears them for their safety, convenience, and comfort. However, that doesn't mean that modular helmets don't have a few drawbacks such as being a bit heavier than a standard full-face helmet and possibly a little noisier than full-face helmets as well.
RELATED: Top 6 Modular Motorcycle Helmets
When a rider wears a full-face helmet, it covers their entire head and face, unlike a three-quarter helmet that covers only their head, leaving out the face. As a hybrid of both the three-quarter helmet and full-face helmet, the modular motorcycle helmet is in-between while bringing in a greater level of comfort.
Some people misconstrue the open-face design of the modular helmets as a means to accommodate smokers. While this is not true, it may, however, be influential in a smoker's choice to wear a modular helmet.
How Is A Modular Helmet Different From A Full-Face Helmet?
The most obvious difference is that the modular helmet can be changed from a full-face helmet to an open-face helmet by lifting the chin guard and visor. Opening and closing the front module with the click of a button.
With the front section raised on the modular helmet, you can breathe fresh air or have a drink by simply flipping up the visor which exposes the entire face when taking a riding break.
Modular helmets appear more modern and futuristic, with many modular helmets having built-in accessories that are not standard in most regular helmets.
This content was originally published on headsdontbounce.com. If it appears on another website, it is a violation of the copyright owned by headsdontbounce.com.
The modular helmet is superior when it comes to comfort but only if you pick the correct size and wear it properly. A poor-fitting helmet can lead to headaches and limit your safety in an impact. Both the full-face helmet and the modular helmet have strong safety features, but the modular helmet wins hands-down when it comes to comfort.
Is A Modular Helmet The Same As A Flip-Up Helmet?
Yes, modular helmets are often referred to as flip-up helmets. Modular implies that the helmet is comprised of different modules, while flip-up means the design allows a rider to flip up the front section whenever they come to a break and want to breathe fresh air or drink some water. The terms modular and flip-up are used interchangeably by helmet vendors and motorcycle riders.
Can You Wear A Modular Helmet Open?
Rolling around at low speeds can be nice with a bit of fresh air blowing on your face, however, riding at speed can be a completely different ballgame. While cruising at a higher speed, a modular helmet in the open position can cause problems not only with aerodynamics but also with bugs and wind in your eyes making it somewhat dangerous.
These problems have been addressed by the Shark EVO which has very cleverly covered the legalities by having the helmet certified as both a full-face as well as an open-face with a visor (aka jet-style). Not only that but the chin-bar can go all the way back and lock into position, while an independent front visor protects your eyes.
Are Modular Helmets Noisy?
Helmet noise can be a difficult thing to evaluate as different ears hear different things. How much noise you hear can also be a result of how you sit on your bike, up high or crouched over. Speed, prevailing winds, and numerous other factors need to be considered on an individual basis.
SUGGESTED: Motorcycle Helmets For Big Heads
That said, if we want to make generalizations, then, yes, modular helmets are usually noisier than full-face helmets, but it's not necessarily true for all helmets or all riders. The reason that modular helmets are noisier is due to the join of the chin-bar to the main body of the helmet where the wind will always whistle through getting louder as speed increases. Many riders wear ear-plugs to offset this problem.
Are Modular Helmets Safe?
Manufacturers and importers need to comply with all the safety standards required of them so that we can be absolutely certain about the safety of any model of flip-up helmet we're putting on our heads.
No helmet guarantees your survival during an impact. Helmets only help to reduce the risk of head injuries, and modular helmets are built to be as good as the best protective helmet on the market in compliance with the relevant standards.
Motorcycle helmets have different shells to provide the best protection possible for your skull if you do have the misfortune of having an accident. The outer shell of modern motorcycle helmets needs to be strong to survive impacts at high speeds against hard surfaces. To ensure their strength they are often made from materials such as a polycarbonate composite, fiberglass or kevlar.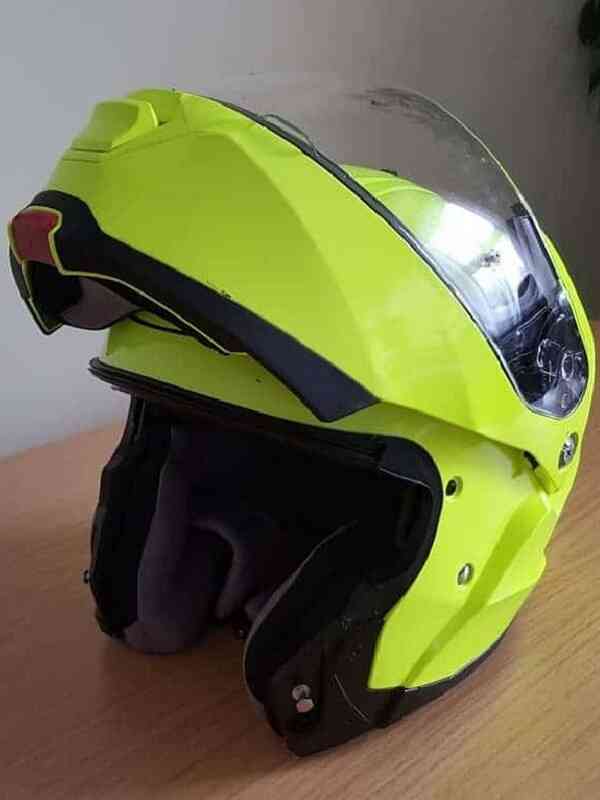 Pros And Cons Of Modular Helmets
Owning a modular helmet is the best way riders can get the benefit of both an open-face and a full-face helmet. With a modular helmet, you get a flexible visor or chin-bar designed to be moved up and down with only the touch of a button. A modular helmet can also offer protection in changing weather conditions, whether it's sunny or suddenly it starts to rain.
IMPORTANT: Are White Motorcycle Helmets Safer?
The rider gets the convenience of chatting with other riders during the course of the ride. A modular helmet also lets you wear it comfortably while wearing prescription glasses. Additionally, you can still enjoy cool fresh air or you have the option to close the visor when wearing your modular helmet.
Pros:
Maximum Versatility
Intercom and Bluetooth available
Better fresh air and breathability
Better Visibility,
Easy Communication
More Ventilation
Convenience
Cons:
Weighs more than other helmets
Less Noise Reduction unlike Full-face helmets
Usually more expensive than a Full-face helmet
What Are The Top Best Modular Helmets To Look For?
Modular helmets come in several brands and models and among them are the top best with the quietest and highest quality, features, visibility, and protection. We did our ranking of the top 6 best modular motorcycle helmets based on vigorous research and talking to professional riders who have used several types of modular helmets.
Some riders prefer an open helmet that allows you to enjoy enough breeze during their summer ride while others like prioritizing safety and durability.
Here are the current 6 best modular helmets on the market:
HJC IS-MAX II
Nolan N100-5
Scorpion EXO-AT950
Shoei Neotec 2
AGV Unisex-Adult Sport
Shark EVO One 2
Want to know more about the above listed modular helmets? See our article 'Top 6 Best Modular Motorcycle Helmets' for a complete breakdown.
The above selection has one thing in common, their shells, which are some of the best and strongest materials in the industry. They provide greater safety and especially relative lightness despite the wealth of features they offer.
Final Thoughts
If you want a helmet that gives you the best of both worlds, pick the modular motorcycle helmet. It gives you much enjoyment, durability, flexibility, and safety at the same time. While the market is saturated with different types of motorcycle helmets, we think you can find a flip-up helmet that fits your riding requirements and budget.
Most modular helmets are not designed to wear open-faced when riding. The flip-up or open-face option serves primarily for riders who prefer getting some fresh air, drinking water in between rides or chatting with their riding buddies. This versatility and comfort of modular helmets is the reason they are extremely popular nowadays with many manufacturers offering wide-ranging modular helmets in multiple shapes, colors, and sizes.
I hope we have answered the question of 'what is a modular helmet' to your satisfaction. If you enjoyed this article, take a look at the related reads below for some more interesting reads!
If you liked this post, why not share it with your friends.