Can You Wear A Bike Helmet Skiing?
Those people who are fortunate enough to live in close proximity to snowfields will more than likely have their own ski helmet, just like the average urban cyclist will have their own cycling helmet.
But, if you're a once or twice a year skier, you probably don't want to spend a lot of money on a ski helmet that's going to spend most of its life in a box in your closet. But, you already have a bicycle helmet, so, can you wear a bike helmet skiing?

Take a look around you on the snowfields. Nowadays, the majority of people are wearing helmets, but not all of them.
So, if not everyone is wearing a ski helmet, surely it shouldn't be too difficult to blend in wearing a bike helmet, right? It's not like anyone's going to bother you, is it? Some might laugh, but where is the problem? There is no problem. Or is there?
Well, that depends.

KEY TAKEAWAYS
* Bicycle helmets are not designed nor certified for skiing or snowboarding.
* There are no federal statutes mandating the wearing of ski helmets, however some states and private resorts may have their own rules.
* For the once or twice a year skier, new ski helmets are available at incredibly cheap prices.
* Dual certified helmets are available with both ski and bicycle helmet certification.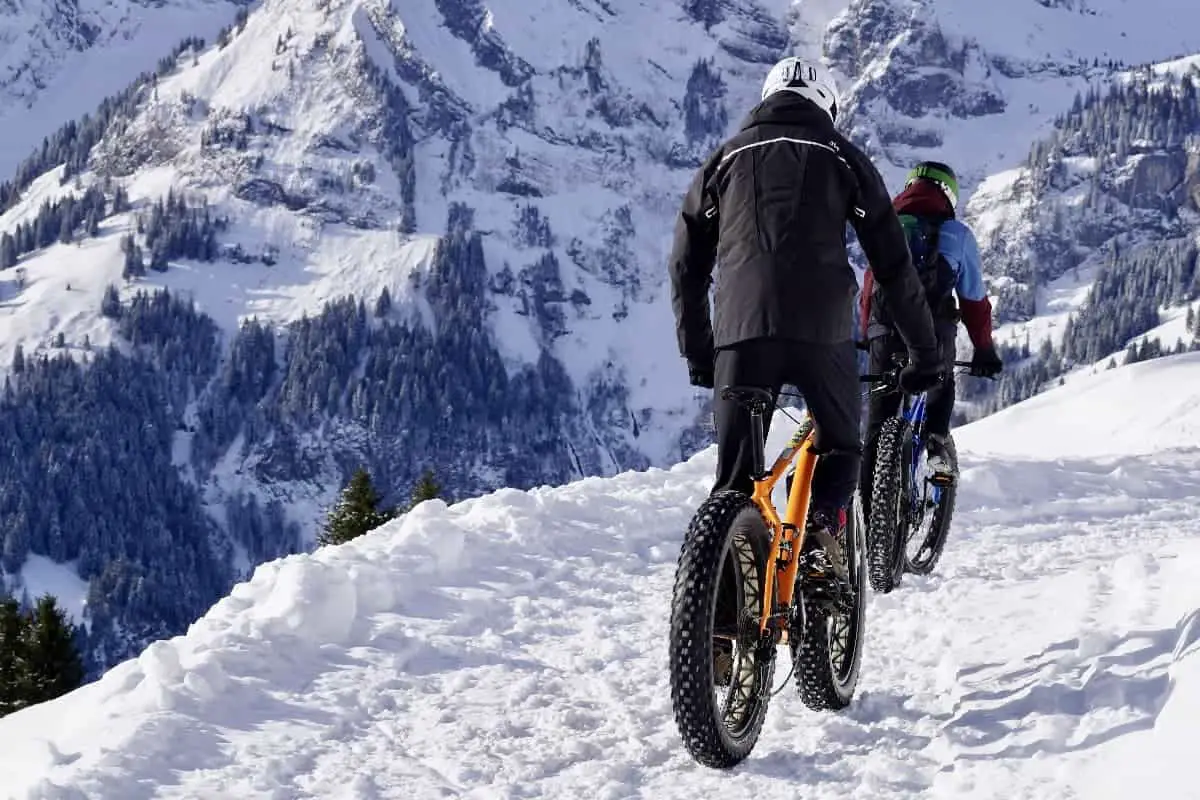 Disclosure: As an Avantlink and Amazon Associate, we earn from qualifying purchases. Disclosure Statement.
Page Content
Can You Wear A Bike Helmet Skiing?
There are no federal statutes making the wearing of ski helmets mandatory, so you have no legal obligation to wear a 'ski' helmet, right?
RELATED: What Is The Safest Ski Helmet?
Think again.
The laws governing the wearing of helmets are state laws and can vary from one state to the next. Some states have already implemented their own statutes regarding the wearing of ski helmets, just as some states have bicycle helmet laws.
Take New Jersey for example:
"A person under 18 years of age engaged in the activity of downhill skiing or operation of snowboards, including the use of ski tows, lifts and tramways, shall wear a securely fitted protective helmet.  As used in this act, "helmet" means a type of molded headgear equipped with a neck or chin strap specifically designed by the manufacturer to be used while engaged in the activity of recreational downhill skiing."

N.J. Stat. § 5:13-12
Therefore, in New Jersey, if you are under 18 years of age, you must wear a helmet, and that helmet must be a ski helmet. In New Jersey, if you are under 18 years of age, it is illegal to wear a bicycle helmet when skiing!
RECOMMENDED: Ski Helmets with MIPS
This content was originally published on headsdontbounce.com. If it appears on another website, it is a violation of the copyright owned by headsdontbounce.com.
On the other hand, if you are 18 years of age or older, you can wear a bike helmet, or even no helmet at all while skiing in New Jersey. Right?
Maybe.
Some ski resorts have their own rules regarding helmets. Before heading off on your skiing vacation, you would be best advised to check with the resort about the state laws as well as their own rules regarding the wearing of helmets.
In some resorts, these rules relate only to minors, and some resorts have helmet rules that apply to resort employees as well.
So now you might be thinking that if there is no state law to force you to wear a ski helmet then how can they stop you from skiing with a bike helmet.
SUGGESTED: Snowboard Helmets With Bluetooth Audio
How can their resort rules stop you from skiing? It's not like they're going to call the police on you or anything is it?
Probably not, however, they can ban you from using their ski lift and other facilities. That said, I doubt that a ski resort's local rules will ban you for using a bike helmet instead of a helmet designed for the 'activity of recreational downhill skiing'.
They'd more likely ban you only if you outright refused to wear any helmet at all.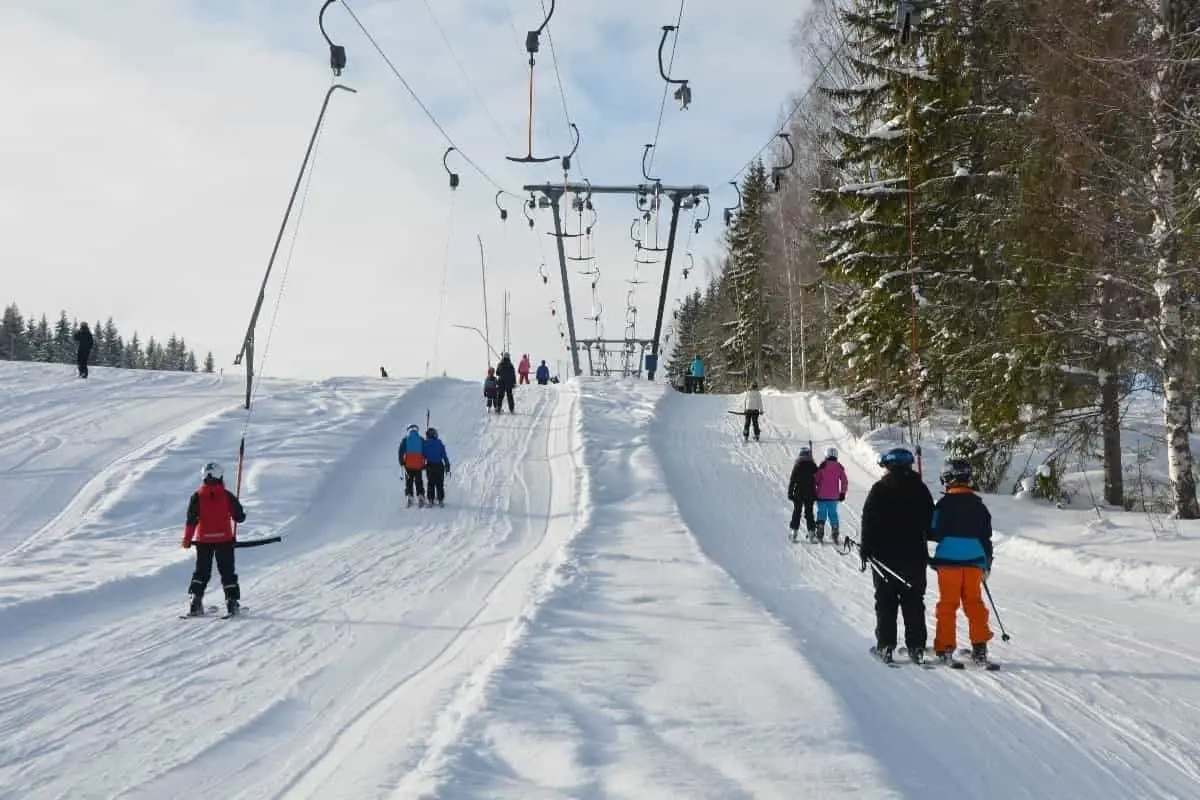 Good Reasons Why Not To Wear A Bike Helmet Skiing
Different helmets are designed and constructed for different purposes, which is why there are different safety standards for the different types of helmets.
You wouldn't wear a hockey goalie's helmet for cycling, nor would you wear a bicycle helmet when playing football, in fact, they wouldn't even let you on the field.
Different helmets provide varying levels of protection to different parts of the head depending on the activity.
What this means is that just because there may be no law stating that a 'ski' helmet must be worn, or there may be no resort enforced rules, doesn't mean that wearing a 'bike' helmet is a reasonable alternative to a ski helmet.
Ski helmets have more protective coverage at the back and sides of the helmet covering the ears and providing extra warmth to the skier's head in general.
Bike helmets usually have lots of vents to keep the cyclists head cool. Ski helmets, on the other hand, have fewer vents which can often be open and closed as needed due to changing weather conditions.
RELATED: Ski Helmets Vs Bike Helmets
Keep in mind that while it's great skiing under a clear blue sky, if a blizzard drifts in during the day your bike helmet isn't going to provide you much protection at all.

In fact you'll probably be more concerned about getting frostbitten ears than hitting your head on a rock or tree.
Can You Rent Ski Helmets?
Of course, there is always the option of renting a ski helmet. Every city and town in close proximity to any snowfields has Snow Equipment Rental shops.
The cost of rental can be quite reasonable, however, the closer you get to your destination the more expensive rents can become, though renting at your proposed resort can be more convenient because you don't need to transport ski equipment on or in your vehicle.
RECOMMENDED: How To Know Your Helmet Size
Ski helmet rental charges can vary from place to place. For example, some rental places will charge $10 for one day, or $10 for one weekend, or even $10 for one week.
Other places will provide helmets free of charge when renting a complete package of skis, poles, and boots. Then there are some that will charge a small fee for a one-day rental, a larger fee for two days, and more again for three days, etc.
If you are going to be staying at a nice resort for the week or weekend, they will often have good value packages which can include accommodation, some meals, as well as equipment rental.
It's definitely worth your time to check their website for special deals before making a booking.
VIDEO: How To Measure For A Ski Helmet
RELATED: How Should A Ski Helmet Fit?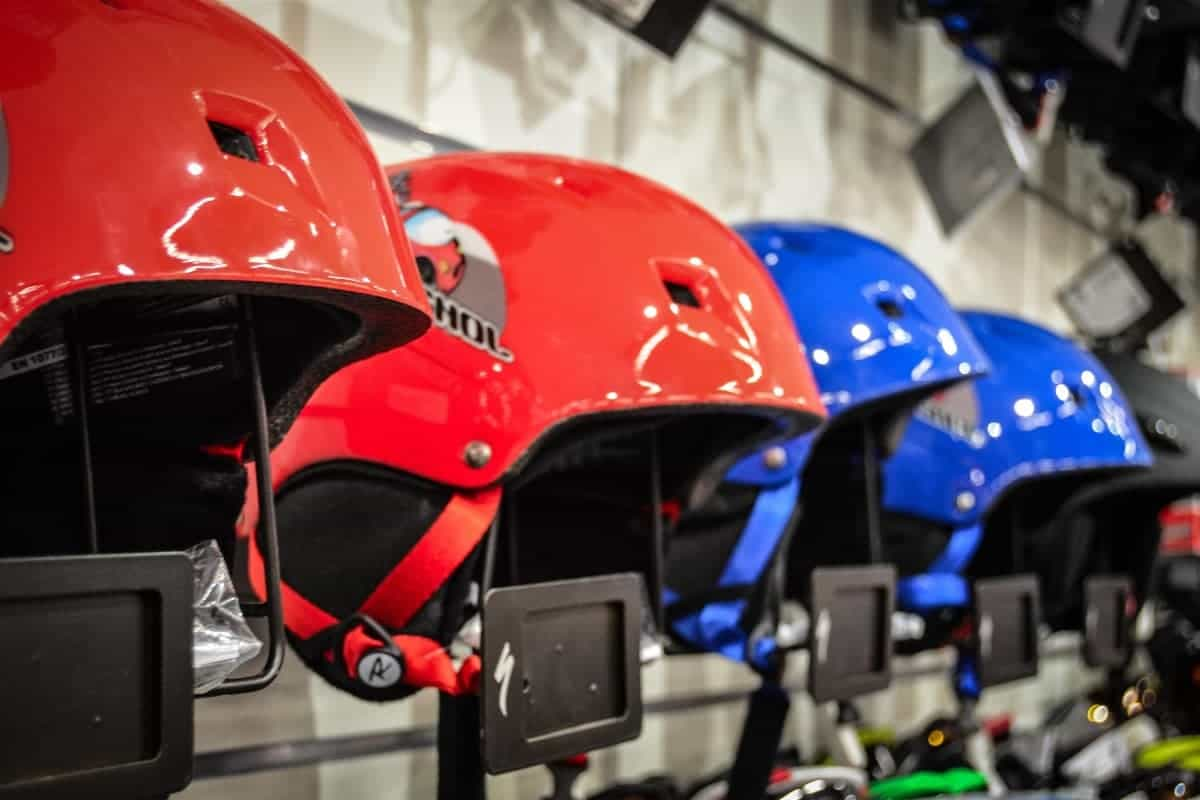 How Much Does A Ski Helmet Cost?
If I were to tell you that a ski helmet can cost up to $700 – $800, you'd be like "Woahhh, get outta here! Where's my bike helmet?"
But it's true. Anyway, the key word there is 'can', 'can cost up to $800'. But, that's not what you're looking for if you're just a casual weekend skier.
There are lots of leading brands in the $100 to $200 range, but believe it or not, you can buy a good branded, certified helmet for $30 to $50 or less.

At that price you could quite easily use it once or twice a year then put it away until next year without breaking the bank.
Take this one for example. A very popular helmet from Outdoor Master, fully certified, at an affordable price. Affordable meaning less than 50 USD, which is very reasonable for a fully certified helmet.
SUGGESTED: Ski & Snowboard Helmets for Big Heads
At those prices, it is definitely worth considering when comparing to the price of a rental which has been on a lot of different people's heads with no guarantee of its condition either.
And yet, having said that, there is still an even better option. Read on.
A Dual Certified Helmet
If you're really determined to get by with just one helmet, then you should buy a helmet that is specifically tailored to your needs.
What you need is a dual certified helmet that is certified as both a bicycle helmet as well as a certified ski helmet rolled into one.
And, in case you're wondering, yes it really does exist. And, the best news is that it can fit into the under $50 budget!
Take a look at this Retrospec Zephyr Ski/Snowboard & Bike Helmet. It comes in 3 sizes and 11 color options. Is certified EN 1077:2007 for Ski Helmets and CPSC 16 CFR, Part 1203 for Bicycle Helmets.
Not only that but it actually looks pretty good too. And, as mentioned above, it can be had for less than $50.
The added bonus is that you get to use it all year round, even if you only ski once a year.
On the other hand, if you're in the market for a good-quality helmet with EPP foam lining, then take a look at these helmets. But, if you'd be happy with a helmet for under 50USD (fully certified), then you'd be a fool to pass up one of these.
Summing Up
Wearing a bicycle helmet for skiing is not really a good idea, simply because bicycle helmets are not designed for the snow.
The best option really would be to buy a budget ski helmet or the dual certified helmet, depending on your own requirements.
Your choice. What would be most suitable for your current lifestyle?
Alternatively, no helmet is required for building a snowman or two.
Frequently Asked Questions:
Q. What is the difference between a bike helmet and a ski helmet?
A. A bike helmet and a ski helmet are designed for totally different usage. Bike helmets will often have a lot of air vents to keep the rider's head cool, while a snow helmet will have very few vents which can be closed when the weather turns. Also, bike helmets provide protection at the top, sides, and back of the head. A snow helmet provides better coverage around the ears and back down to the nape of the neck as many skiers/snowboarders tend to hit their heads by falling backward. Snow helmets have more internal fabric lining to keep the skier's head warm as well.

Q. Do you need a helmet to go skiing?
A. That depends where you are and where you plan to go skiing. Helmet laws can change from country to country, state to state, and even from one ski resort to the next. Your best bet would be to contact the ski resort that you plan to visit and ask them about the laws or rules in their area.
Q. What is a MIPS snow helmet?
A. A MIPS snow helmet is a ski/snowboard helmet that has MIPS technology built into the helmet. MIPS (Multi-directional Impact Protection System) provides an additional layer of protection by helping to reduce rotational forces on the brain during some kinds of impacts or falls. Read more about Ski Helmets with MIPS.
I hope we have covered the question of 'can you wear a bike helmet skiing' to your satisfaction. If you enjoyed this article, take a look at the related reads below for some more interesting reads!
If you liked this post, why not share it with your friends.