Best Bike Helmets for Women [2023 UPDATE]
Bike helmets are designed to protect your head from injury in case of an accident as well as provide comfort and style. However, there are different types of bike helmets for women.
Some are designed specifically for women while others are gender neutral.
Bike helmets for women are usually smaller than men's bike helmets as women tend to have smaller heads and more slender features overall.
Furthermore, many women prefer a more feminine helmet design, so a lighter, more stylish helmet may be preferred by some riders.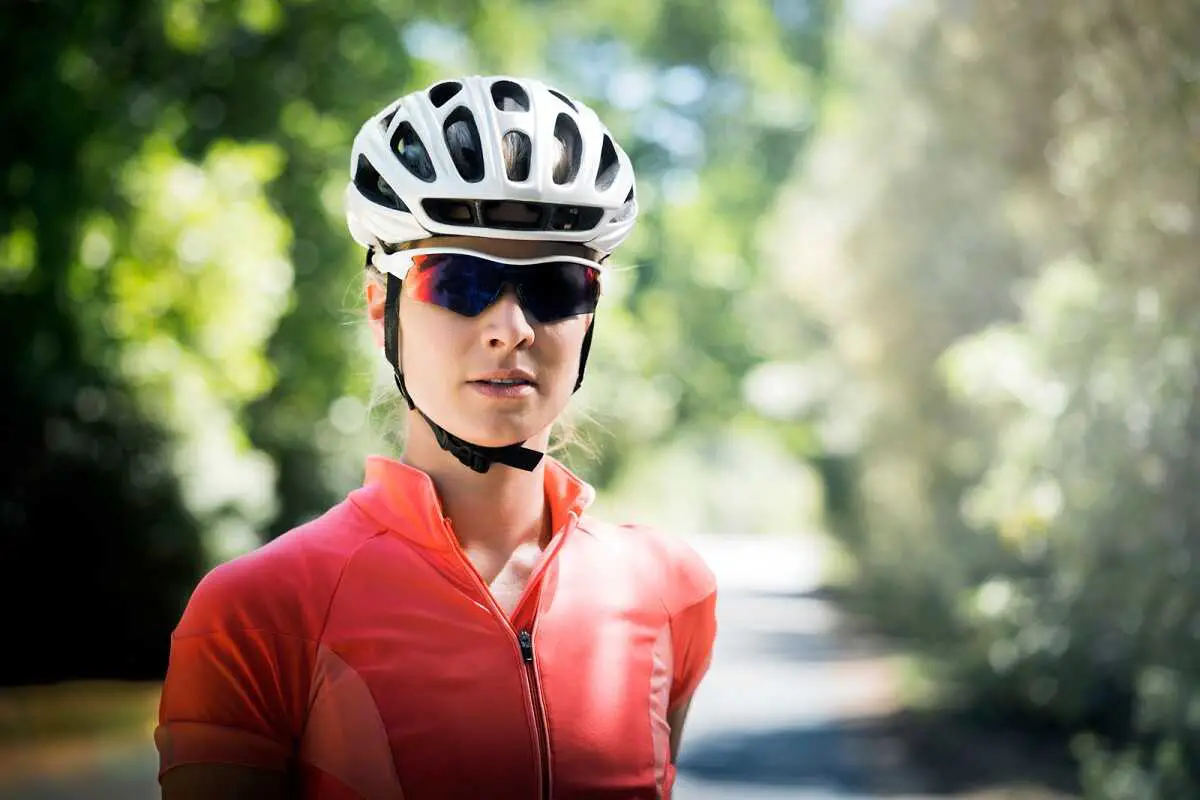 Best Bike Helmets for Women Comparison Table
On Mobile Devices, drag Table left to see more, if necessary.
VIDEO: How To Measure For A Bike Helmet
RELATED: How Should A Bike Helmet Fit?
Best Bike Helmets For Women
The women's bike helmets selected below are a mix of attractive, stylish, and fashionable but overall lightweight and where possible a range of vibrant colors, though that might not always show in the image shown.
This content was originally published on headsdontbounce.com. If it appears on another website, it is a violation of the copyright owned by headsdontbounce.com.
---
1. OutdoorMaster Skate & Cycling helmet
The OutdoorMaster Skate & Cycling helmet is a great-looking commuter-style helmet that has become very popular among women of all ages. Eleven brilliant, modern colors enhance the look of the helmet which would be well suited to a city commute as it would be for recreational cycling.
So now you've seen the helmet (above), the current price is unbelievable at less than $40 for a CPSC and ASTM certified helmet with a 1-year warranty included, plus free shipping (USA only) and 30 days return.
OutdoorMaster makes attaining the perfect fit easy with a rear dial fit system as well as two different sized removable internal pads to achieve a comfortable, snug fit. There are 12 strategically placed air vents to keep your head cool while cycling or skating.
Available in 3 sizes ranging between 46 – 60 cm (18.1″ – 23.6″), this helmet is for multi-sport usage. The CPSC certification covers cycling, mountain biking, and kick scooters, while the ASTM certification means that you are covered for inline skating as well as skateboarding.
More on the specifications: it has a durable ABS shell with a shock-absorbing EPS foam liner on the inside. The internal padding is removable and washable, the padded chin strap can be adjusted in two places to make for a more snug fit, and the straps will always sit flat on the side of your head.
This helmet represents awesome value at such an amazing price.
IMPORTANT: How to Know Your Helmet Size
---
2. Giro Trella MIPS Bike Helmet For Women
The Giro Trella is part of the Giro 'women's helmet series' which are helmets that are specifically designed to suit the demands of women. The Giro Trella MIPS bike helmet for women has a modern and stylish look without being overly extravagant. The cloth visor at the front gives it a look that will be as at home on the city streets as it would on any rural trail.
An in-mold polycarbonate shell fused to an EPS (Expanded Polystyrene) foam liner makes for a sturdy, comfortable, and lightweight helmet. For added safety, it also comes with MIPS (Multi-Directional Impact Protection System) built-in. MIPS will provide added protection in the case of an angled impact.
Available in 3 different color options, and one size only – Universal Women's size (50 – 57cm / 19.75″ – 22.5″). The Roc Loc Sports adjustable fit system can easily customize the fit and tension while allowing room for a ponytail.
Eighteen large air-vents, and quick-dry padding will keep your head cool and comfortable no matter how you choose to ride. The Giro Trella MIPS cycling helmet would have to be one of the most inexpensive helmets with integrated MIPS available today.
IMPORTANT: How to Know Your Helmet Size
RELATED: Giro Helmet Size Chart
---
3. Thousand Heritage Bike Helmet
The Thousand Heritage bike helmet is a very neat, no-frills, unisex helmet that has become very popular among women as a commuter helmet as well as a good all-around cycling helmet. Simplicity seems to have been the key to this helmet's success.
No doubt, Thousand's anti-theft and accident replacement guarantee sends a strong message that this helmet manufacturer truly believes in their product.
Go ahead and buy it just for the replacement guarantee, but I think I'll buy it simply because it's a great looking and stylish helmet. Not only that but it has CPSC and CE EN bicycle certification along with ASTM F1492 certification as a skateboard helmet! What more could you want?
Other features include an easily adjustable Dial-fit system, a one-handed magnetic buckle on vegan leather chin straps. Seven air-vents and three cooling channels will keep your head cool while enjoying your daily commute, a recreational ride or kickflipping your skateboard.
The Thousand Heritage bike helmet seems to work well with long hair, braids or a low ponytail, but a high ponytail may be pushing it a bit. It is available in 3 sizes ranging from 54 – 62cm (21¼" – 24½").
IMPORTANT: How to Know Your Helmet Size
---
4. Thousand Chapter MIPS Helmet
The Thousand Chapter MIPS helmet is like an advanced version of the Thousand Heritage helmet, except that the Chapter MIPS is more stylish and has a lower profile appearance than the Heritage.
The Thousand Chapter has built-in MIPS technology which utilizes a slip-plane system to make the helmet safer in an accident as it reduces the rotational forces on your brain. In addition to MIPS, the Chapter helmet comes with a magnetized 50-lumen tail light that is easily removed and can be attached to your bike with the supplied adaptor.
Another difference between the Heritage and Chapter is that the Thousand Chapter's brim is removable and interchangeable with the different colored brims that are available from Thousand. You can wear a different colored brim to suit your appearance or mood.
With four vents on top and four at the rear, the internal channeling gives an even airflow to keep your head cool on your ride. At the light weight of 370 grams (Medium size), the CPSC and CE EN certification and stunning good looks you won't want to ride without your Thousand Chapter MIPS helmet.
Also, standard on Thousand helmets is the PopLock secret hole for securely locking your helmet, as well as the replacement guarantee if your helmet is damaged in an accident.
IMPORTANT: How to Know Your Helmet Size
---
5. Bell Spark MIPS Mountain Bike Helmet For Women
Like Giro helmets, Bell also manufacture bike helmets for women that fit the bill of smaller sized, lightweight and comfortable.
The Bell Spark MIPS Mountain Bike Helmet for women is a great looking helmet if you're into Mountain Biking or even if you just like a helmet with a peaked front to shade your eyes and nose.
With an improved Ergo-fit system which is integrated with MIPS (Multi-Directional Impact Protection System) you have a more comfortable feel all around. MIPS is a safety feature which is designed to reduce rotational forces resulting from certain impacts.
The fusion in-mold polycarbonate shell bonded to the EPS (Expanded Polystyrene) liner creates a sturdier helmet for your safety. No-Twist Tri-Glides keep the retention chin straps flat and properly positioned, not twisted or tangled.
The Bell Spark MIPS gives you fit, function, safety, and style. It even accommodates a low ponytail quite nicely.
It has 13 large air-vents and is CPSC and CE EN Certified. It is a one-size-fits-all Universal Women's size (50 – 57cm / 19.75″ – 22.5″), and the Ergo-fit system will adjust accordingly. The Bell Spark is not an expensive helmet, so it's nice to see another MIPS helmet at a reasonable price point.
IMPORTANT: How to Know Your Helmet Size
---
6. Bern FL-1 Libre Bike Helmet
Yet another unisex bike helmet that ticks all the boxes for what to look for in a women's bike helmet. For a start, the FL in this helmet's name stands for 'feather light'. How light? At 8.7 ounces (248 grams), it must go close to being lighter than a feather. That's pretty impressive.
Another word worth mentioning in this helmet's name is 'Libre'. Libre means liberty or freedom. With such a light weight and a huge amount of ventilation, 18 vents to be precise, you can easily enjoy your liberty to ride without being encumbered by a heavyweight load on your head.
Liberty and freedom can sometimes mean 'free', but although this helmet is not free, I think you will be pleasantly surprised at just how close to free this helmet actually is.
Designed as a recreational road bike helmet, the in-mold polycarbonate shell with an EPS foam liner has a sweat-wicking polyester lining to keep your head dry and cool no matter how hard you push yourself.
It is available in several color choices in 3 sizes ranging between 52 – 62cm (20.5″ – 24.5″), and is fully CPSC 1203 certified for the United States, as well as EN 1078 certified to EU standards.
IMPORTANT: How to Know Your Helmet Size
---
7. Giro Montara MIPS Mountain Bike Helmet For Women
It doesn't really matter that you like the Giro Montara MIPS helmet because it has a nice visor at the front to keep the sun out of your eyes, or whether you've decided you want to give mountain biking a try. It's a neat helmet nonetheless.
One of the nice features of the Giro Montara is that it has a camera mount on the top ready and waiting for you to mount your GoPro so you can record your adventures.
It has cutting-edge safety features such as integrated MIPS (Multi-Directional Impact Protection System) to protect your head in case of an angled impact. It also has roll cage reinforcement to provide extra strength to the helmet for additional safety.
The Giro Montara comes with the Roc Loc 5 Air adjustable retention system to allow you to fine-tune the fit to suit your head size. Inside it has Hydrophilic X-Static Anti-microbial padding to keep your head dry and comfortable. Montara boasts 16 wind tunnel vents with internal channeling for enhanced air-flow.
The Giro Montara bike helmet for women passes the ponytail test, works fine with braids, and a high ponytail can pass through above the Roc Loc retention system. Sizes range from 51 – 59cm (20″ – 23¼") in either a Small or Medium.
The Montara is part of what Giro calls their 'Women's Series'. Giro bike helmets for women are "a diverse collection of helmet styles, fits and prices tailored to the demands of female riders". The male counterpart to the Montara is the Montaro (with an 'o' at the end).
IMPORTANT: How to Know Your Helmet Size
RELATED: Giro Helmet Size Chart
---
Bike Helmets for Women – What To Look For
There are several things you should consider when buying a women's bicycle helmet:
Size: It is of the utmost importance that the helmet fits correctly. A snug all-round fit is ideal and can be achieved by correctly measuring your head circumference. See 'How Should A Bike Helmet Fit' for suggestions on how to achieve the optimal fit.
Style: There are plenty of styles available for women. Most manufacturers offer a variety of options for road cycling, commuting or mountain biking helmets. A good rule of thumb as far as style goes is to go with whatever looks to match your personality and riding needs.
Comfort: This is another important factor to take into consideration. Many women prefer to wear a lightweight helmet that doesn't weigh down their head putting strain on the neck and shoulders. You should also check to see that the helmet has adequate ventilation to keep your head cool in warm weather.
Safety Features: Safety is very important when choosing a bike helmet. Make sure the material used isn't flimsy or easily damaged; sturdy material like ABS or polycarbonate is ideal. Also, an impact attenuation technology like MIPS or SPIN are highly recommended to help absorb energy during an accident and help to reduce head and brain injuries.
Price: Price shouldn't be the only deciding factor but if you're on a tight budget or just want to save money then you may need to compromise on other features.
Certification: In the United States, CPSC 1203 is the required certification for any bicycle helmet sold within the country. The CE mark indicates that the product meets European safety standards.
Safety Certification guarantees that the helmet has been tested to the required standard, including the helmet's construction, peripheral vision, impact absorption, retention system strength and effectiveness. There will be a label inside the helmet showing the relevant certification.
Hair Style
Another important consideration is your hair style, and/or the length of your hair.
It can be difficult to wear a helmet if you sport a bee-hive like Marge Simpson. But, for everyone else, if you usually tie your hair back in a ponytail, you might want to consider a helmet that has a wider opening between the dial fit adjuster and helmet shell to accommodate your ponytail.
You can slip the ponytail in between the lower edge of the helmet just above the dial fit system.
On the other hand, if you wear your ponytail low, it will usually sit quite comfortably below the dial fit system without any problems. Most women's helmets can be worn with a ponytail in some form or another, but often the manufacturer will mention that the helmet is ponytail friendly to aid you in your search for the ultimate helmet.
Hair, both long and short, can and will get caught inside the helmet from time to time. To avoid this, you can wear a scarf or a head wrap over your hair when wearing your helmet.
If you liked this post, why not share it with your friends.